Feature
FORM GUIDE: The favourites for pole, points and victory in France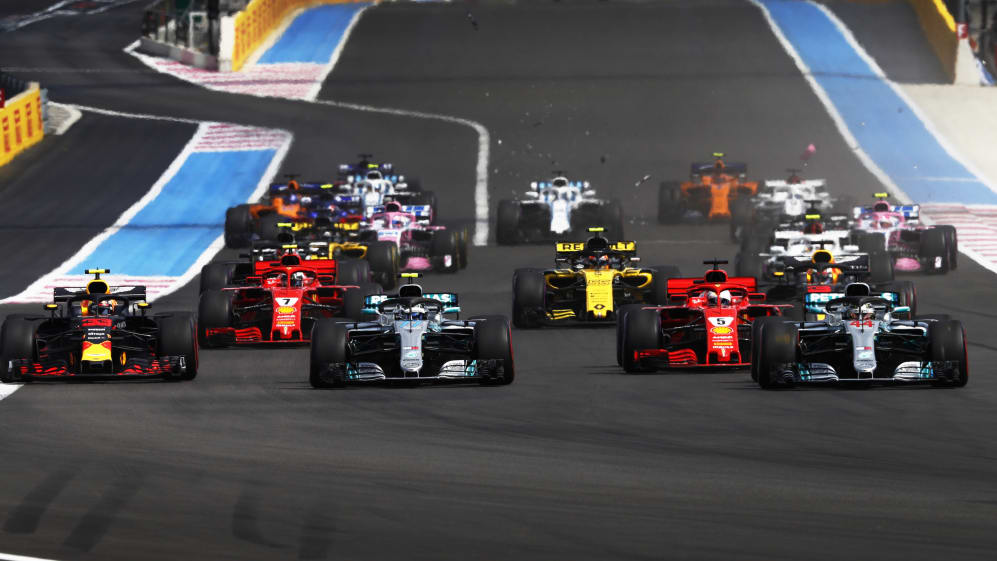 Circuit Paul Ricard may have only returned to the F1 calendar in 2018 – but if you're cunning, there's still plenty of data to infer how the 2019 French Grand Prix weekend could pan out. Check out who we think is going to do the business this year.
Who's the top tip for pole?
Let us level, reader – the last two polesitters at Paul Ricard were Lewis Hamilton for Mercedes in 2018 and Nigel Mansell for Ferrari in 1990. Clearly there isn't a wealth of obvious data for us to go on here, so we need to be creative. We can start by making some useful comparisons, both to last year's action in France and this year's race at Barcelona.
Why Barcelona? Because, like Barcelona, Paul Ricard is a testing circuit par excellence. The track can reportedly be run with 167 different layouts, and the one they've settled on for F1, as Mark Hughes puts it in his Tech Tuesday piece about the track this week, "demands a mix of excellence in every area in much the same way as the Circuit de Barcelona-Catalunya".
READ MORE: Mark Hughes and Giorgio Piola on why Paul Ricard provides the ultimate test for an F1 car
Backing that up, in 2018, the top three on the grid at Paul Ricard was exactly the same as at Barcelona, Hamilton from team mate Valtteri Bottas from Ferrari's Sebastian Vettel. In 2019 in Barcelona, the grid was another front row lock-out for Mercedes, Bottas comfortably ahead of Hamilton, with Vettel once again third.
That would suggest that the completeness of the Mercedes package which proved so indomitable around the Circuit de Barcelona-Catalunya a month ago will mean the Silver Arrows are odds-on favourite for another front-row lock-out here. You just need to take your pick as to whether you think Bottas or Hamilton will be the driver ahead – with Bottas currently leading their pole battle three to two.
A worrying addendum if you're Ferrari. Vettel's 2018 qualifying gap to Hamilton was 0.173% in Spain and 0.412% in France. In 2019, Vettel was then a full 1.148% adrift of Bottas in Spain – meaning that if that Spain-to-France trend from 2018 continues to this year, the rest of the field could find themselves over a second off the Mercs in qualifying at Paul Ricard. Eek.
FAN VIEW: Two-thirds of F1 Play gamers have chosen last year's French Grand Prix winner Lewis Hamilton to take the race victory for Mercedes again this season.
Who's looking good for the win?
Not wishing to repeat the caveat above, with Hamilton having won all three of Spain 2018, France 2018 and Spain 2019, the five-time champ looks to be the driver to back. But fortunately, Formula 1 is rarely so simple – and the opening lap of the 2018 French Grand Prix saw two favourites for victory hobbled early doors, when Vettel and Bottas made contact, meaning that, having been second and third on the grid, by the end of lap one, they were 17th and 18th.
WATCH: Re-live last year's French Grand Prix
Now yes, in that instance, Hamilton managed to come through intact and buzz off to take the win. But the whole sequence from Turns 1-4 is fraught with potential flashpoints that could majorly shape the race in the first couple of hundred metres. A locked Ferrari brake (as per 2018); a fired-up Bottas keen to make an impression, having now not won a race since Baku in April; a Pierre Gasly looking to take risks at home to get some balance going in his favour at Red Bull: all these and more could turn the Grand Prix on its head come race day.
Watch Vettel and Bottas's crash from 2018 to see what we mean…
FAN VIEW: Charles Leclerc is the most popular pick for fastest race lap with over a quarter of F1 Play entries having chosen the Ferrari man to pick up that crucial extra point in the closing stages.
Who's a podium outsider?
One of the beneficiaries of that contact between Bottas and Vettel last year was Max Verstappen who, from fourth on the grid, then made it up to second by the end of lap one, the position he'd go on to finish the race in. So having been on the podium in both France last year and Spain this year, the Dutchman meets all our prognosticating criteria for taking his third podium of the year in France this time out.
Would we be brave enough to stick our necks on the line and posit the chance of a non-top three podium in France? We would not. Although Carlos Sainz ran as high as third for Renault at Paul Ricard last year before being hobbled to eighth with an MGU-K problem, while Kevin Magnussen finished sixth after a swashbuckling drive, the natural superiority of Mercedes, Ferrari and Red Bull meant that neither of those two had a realistic shout of tasting the champagne at Paul Ricard last year.
So barring a first lap carambolage as the French like to call it – 'big crash' for us Anglophones – expect a combination of silver, red and dark-blue-and-fluo-orange overalls on the rostrum in 2019.
FAN VIEW: Daniel Ricciardo's recent uptick in form has caught players' attention - over half of all F1 Play entries have picked the Renault driver to finish top of a group including team-mate Nico Hulkenberg, Kimi Raikkonen's Alfa Romeo, the Haas pairing and the two McLarens.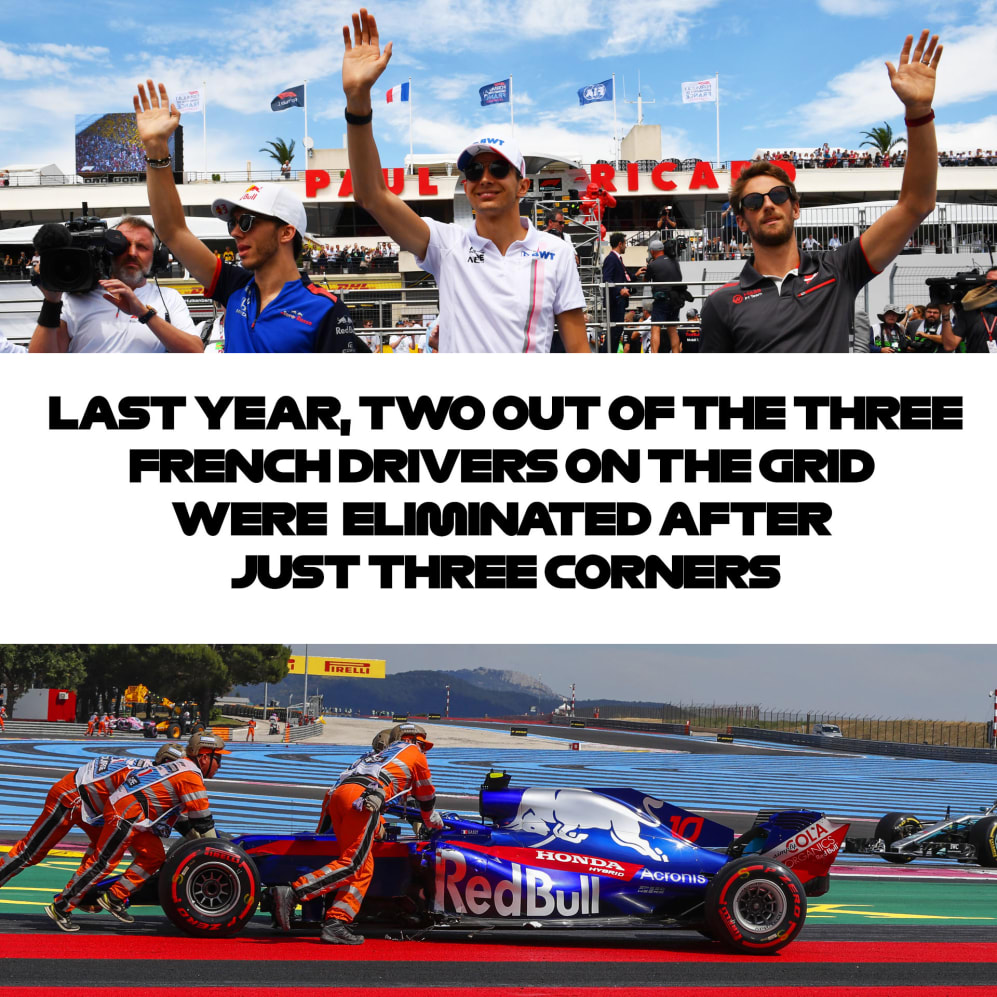 Who'll hoover up any points on offer?
Encouragingly for Kevin Magnussen after the worst experience he's ever had in any race car in Montreal (his words, not ours), the signs are looking good for a repeat of his midfield-leading performance from France a year ago. You'll remember, too, that the Haas driver led the midfield in Spain this year, and if the hot hot heat predicted on the Cote d'Azur this year allows the Haas VF-19 to fly rather than falter, it could be a badly-needed good weekend for the Americans.
Look too for strong showings from Renault and McLaren. The Renault power unit appears to be making strides, with Daniel Ricciardo having been third in Montreal's speed trap during both qualifying and the race, while Renault will also have some chassis tweaks which they hope will allow them to build on their best weekend of the year in Canada last time out.
READ MORE: Renault targeting Canada form repeat for home race
Sainz, meanwhile, had a great Spanish Grand Prix, finishing eighth to Magnussen's seventh, and that form, combined with his strong performance in France 12 months ago, could help McLaren to do big things at Paul Ricard.
FAN VIEW: Romain Grosjean has retired from three of the seven races so far and F1 Play gamers predict he could be an early casualty again in his home race - one in six predict the Frenchman will be the first driver to retire on Sunday.
F1® Play is a free-to-play predictor game that gives gamers the chance to win fantastic prizes. Up for grabs this weekend is a VIP trip for two to the 2019 Formula 1® British Grand Prix, including flights from anywhere in the world, accommodation in a five-star hotel, transport to and from the Silverstone circuit where VIP Paddock Club passes will provide prime viewing, paddock tour, pit-lane access as well as fine dining and hospitality.
The F1® Play App can be downloaded from the App Store or Google Play or you can play online at www.F1play.game