Feature
FORM GUIDE: Who is set for a win in the 2022 Azerbaijan Grand Prix as Perez enters the fray
Sergio Perez's Monaco Grand Prix win has opened up the championship fight, but can he overhaul Red Bull team mate Max Verstappen or Ferrari's Charles Leclerc on the streets of Baku? Head to F1 Play to join in and take on our predictor game.
Vying for pole
In four Grands Prix, Ferrari and Mercedes have two pole positions apiece in Baku, with Leclerc being the last driver to take P1 on the grid here back in 2021. Four red flags helped the Monegasque's case that Saturday, with Yuki Tsunoda and Carlos Sainz bringing that session to an early end with their respective incidents.
Leclerc's pole here in 2021 was therefore something of a shock, but he stands a chance of becoming Baku's first repeat F1 pole-sitter here this year. After all, he mastered the streets of Monaco a couple of Saturdays ago…
F1 NATION: Will sparks fly in the Land of Fire as the title battle heads to Baku?
On his home streets this season, Leclerc was backed up by Sainz for a Ferrari one-two. But the picture could change in Azerbaijan as Red Bull are said to have the straight-line speed advantage over their rivals.
Not only that, there's also something of a dilemma facing the contenders this weekend when it comes to wing levels – and that means Mercedes could even enter the fight. They're outsiders, but sacrificing wing level could see them crash the party in qualifying…
Despite that danger, it's likely to be a four-driver scrap for pole position in qualifying for the 2022 Azerbaijan Grand Prix, while Mercedes' George Russell and Lewis Hamilton have a slim chance on Saturday. Note that Baku hosted the European Grand Prix in 2016.
TECH TUESDAY: Winging it – the crucial choice facing Ferrari, Red Bull and Mercedes at Baku
Pole positions in the last four races:
• 2021 – Charles Leclerc (Ferrari)
• 2019 – Valtteri Bottas (Mercedes)
• 2018 – Sebastian Vettel (Ferrari)
• 2017 – Lewis Hamilton (Mercedes)
FAN VIEW: Baku is another street circuit, but it's a very different one to Monaco. Max Verstappen leads the F1 Play voting to be fastest over a single lap after Red Bull were very much second best to the Ferrari for quali pace last time out. There is good support for Sergio Perez and a little for Lewis Hamilton and George Russell.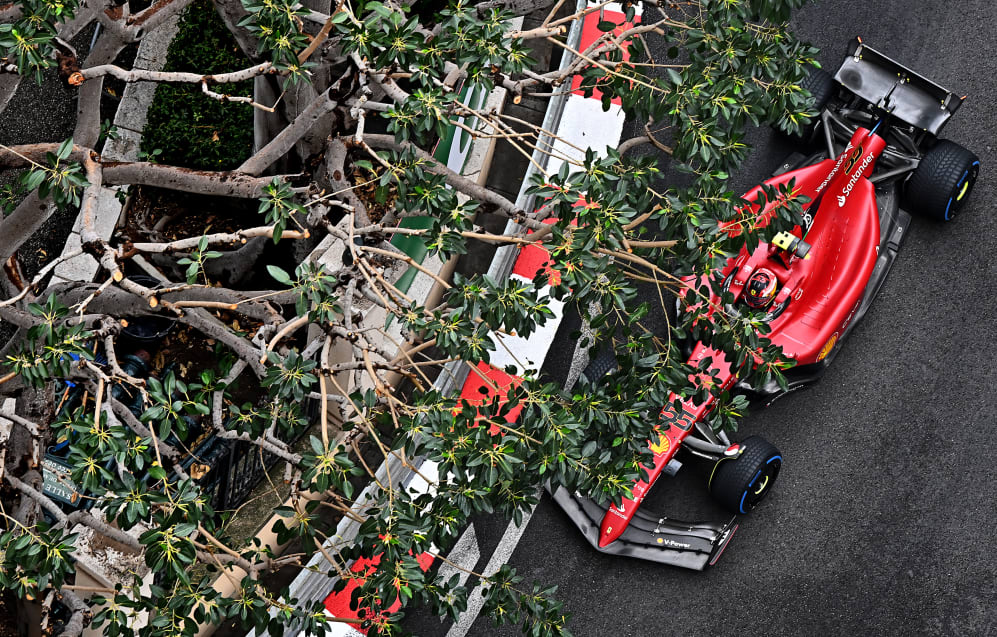 In the mix for victory
Azerbaijan loves to put on a show, so much so that we've had four different winners since the GP began in 2017. And although Ferrari have taken two pole positions at Baku, Red Bull have secured victory twice, as have Mercedes.
Furthermore, only in 2019 was there a winner from pole position – Valtteri Bottas – while Daniel Ricciardo won from 10th in 2017 and Perez from sixth in 2021 for Red Bull. So it's fair to say that it's unlikely, but not impossible, that the pole-sitter will hang on for victory around here.
After Perez's Monaco win, can he make it two in two? The Mexican took podiums here for Force India in 2016 (at the European GP) and 2018 and won for Red Bull when Verstappen crashed out in 2021, the champion-to-be having led 29 laps. Note that the Dutch driver has only finished one Azerbaijan Grand Prix, with P4 in 2019 (although he was P8 in 2016). Perhaps he can finally be first to take the chequered flag in 2022.
READ MORE: Why 'smart, capable' Sainz can still be a factor in the 2022 title fight
As for the Ferraris, Leclerc's results at Baku read P6, P5 and P4 over his last three respective appearances; Sainz has a best finish of P5 here for Renault in 2018. Both will expect to be strong in Azerbaijan but there are myriad factors, including collisions and Safety Cars, that could derail the race leader, whoever that may be.
Mercedes are outsiders for victory this weekend – unless chaos goes in their favour. And chaos could strike; there were six retirements here in both 2017 and 2018.
WATCH: Why do F1 cars spark? Tech expert Albert Fabrega has the answers
Wins in the last four races:
• 2021 – Sergio Perez (Red Bull)
• 2019 – Valtteri Bottas (Mercedes)
• 2018 – Lewis Hamilton (Mercedes)
• 2017 – Daniel Ricciardo (Red Bull)
FAN VIEW: Things could not be closer than they are right now, with Verstappen edging out Leclerc by a handful of F1 Play votes – it is recount territory. There is support for Perez on the back of his terrific victory in Monaco and likewise for Sainz after he followed the Mexican home in the Principality.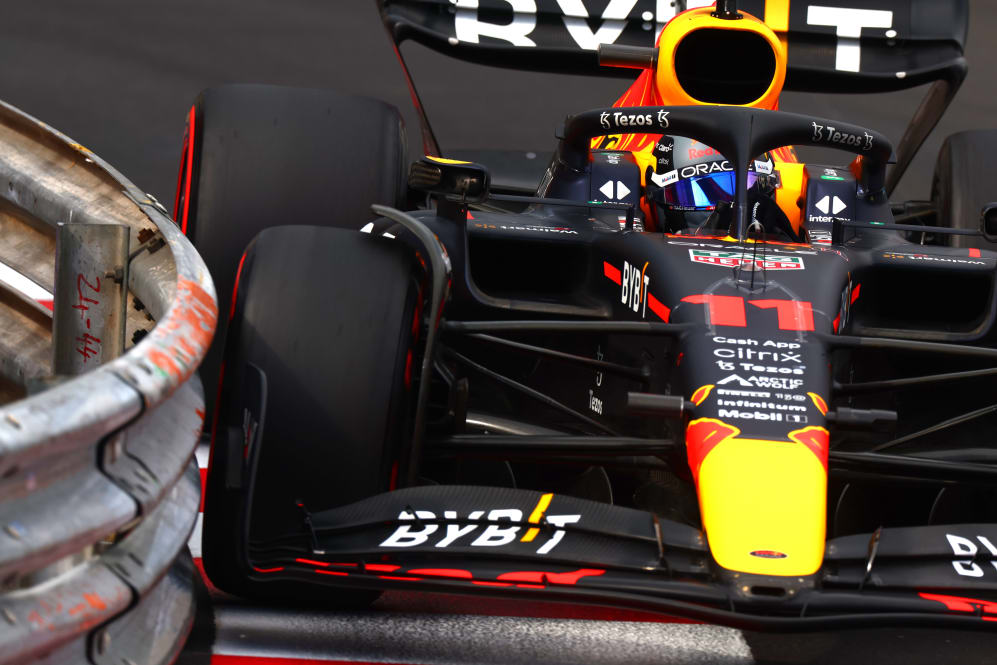 Podium outsiders
Unlike Monaco, there's no rain forecast this weekend – but that doesn't mean you shouldn't count on a mixed-up podium. In just four Grands Prix, Baku has seen six different teams land on the podium (seven if you differentiate Aston Martin and Force India) and a staggering eight different drivers finish in the top three.
Again, much of that is down to the spike of retirements that Baku attracts, with its long straight leading on to a complex of winding, narrow corners that can encourage some drivers to take a chance. Only one out of the last four races has been untouched by a Safety Car, the general lack of run-off triggering just one Virtual Safety Car in the last four GPs.
READ MORE: Russell admits he expected to be a race winner at this stage of the season
So, Safety Cars are likely, as are shock podium finishers. Outside of the top four drivers, Russell and Mercedes team mate Hamilton should be considered long shots for the podium, while Aston Martin's Sebastian Vettel has fared well here in previous years. Don't forget Lando Norris, the McLaren driver hopefully back up to 100% after a bout of tonsillitis. He's a constant threat to the top teams when things don't go their way…
Podiums in the last four races:
• Mercedes – 4
• Ferrari – 2
• Force India/Aston Martin – 2
• Red Bull – 2
• AlphaTauri – 1
• Williams – 1
FAN VIEW: Russell is unsurprisingly the pick of the drivers expected to challenge Red Bull and Ferrari after posting seven consecutive top-five finishes in 2022. The lack of love for Hamilton from F1 Play voters is very evident at the same time – he even trails McLaren man Lando Norris in the voting to finish in the top three in Baku.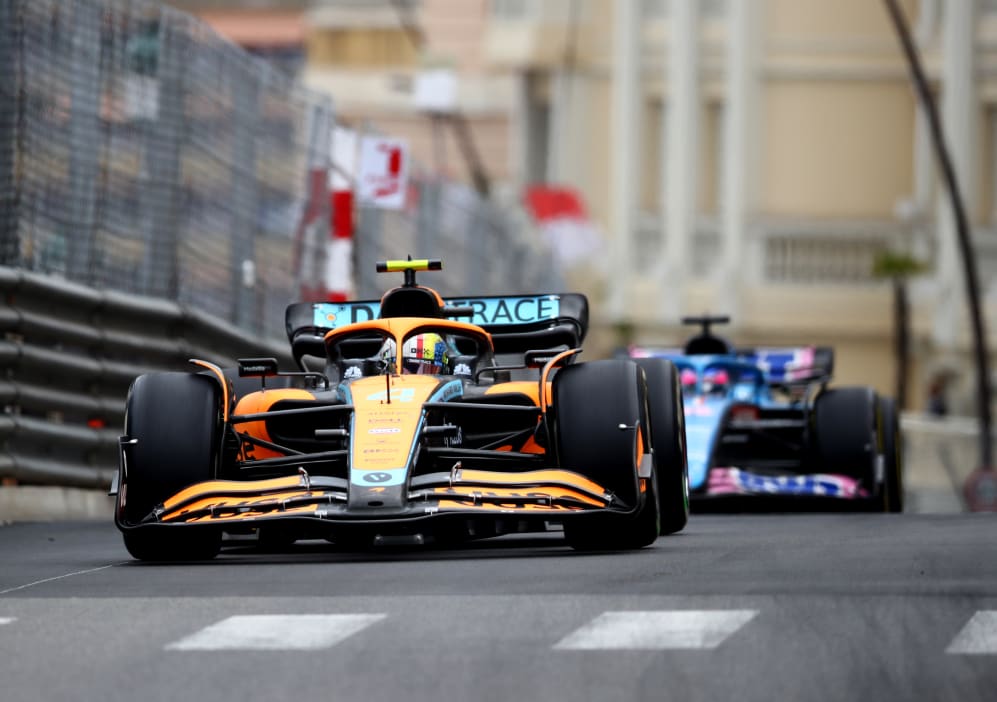 Points potential
The top 10 could be open to literally anybody on the grid, given how generous Baku tends to be. But the Ferrari-engined Alfa Romeos of Valtteri Bottas and, to a lesser extent, rookie Zhou Guanyu, should be regarded as favourites to score a few points. Haas have fallen behind recently, but Kevin Magnussen managed P7 here for the American squad in 2017.
WATCH: Relive last year's rollercoaster Azerbaijan Grand Prix
Alpine are another team to watch, with both Esteban Ocon and Fernando Alonso likely to fight for points, the latter having scored in the last two consecutive races while Ocon faltered in Monaco with a five-second penalty.
Neither Pierre Gasly nor Yuki Tsunoda scored in Monaco but both will be hoping to unleash the power of the AlphaTauri's Red Bull PU, considered class-leading by many, to get back on the scoresheet – Gasly saying ahead of the weekend that he wanted to "defend" his podium here from 12 months ago...
Points in the last four races:
• Mercedes – 96
• Ferrari – 84
• Red Bull – 62
• Aston Martin/Racing Point/Force India – 51
• McLaren – 32
• AlphaTauri/Toro Rosso – 26
• Williams – 19
• Alpine/Renault – 18
• Alfa Romeo/Sauber – 11
• Haas – 6
FAN VIEW: Valtteri Bottas (Alfa Romeo) and Fernando Alonso (Alpine) are both hotly fancied by F1 Play gamers to score again in Azerbaijan after claiming points in Monaco. There is also plenty of support for Aston Martin man Sebastian Vettel and a little for Yuki Tsunoda and Pierre Gasly of AlphaTauri.