Former team mates Ocon and Perez explain 'unfortunate' crash that put them both out of FP1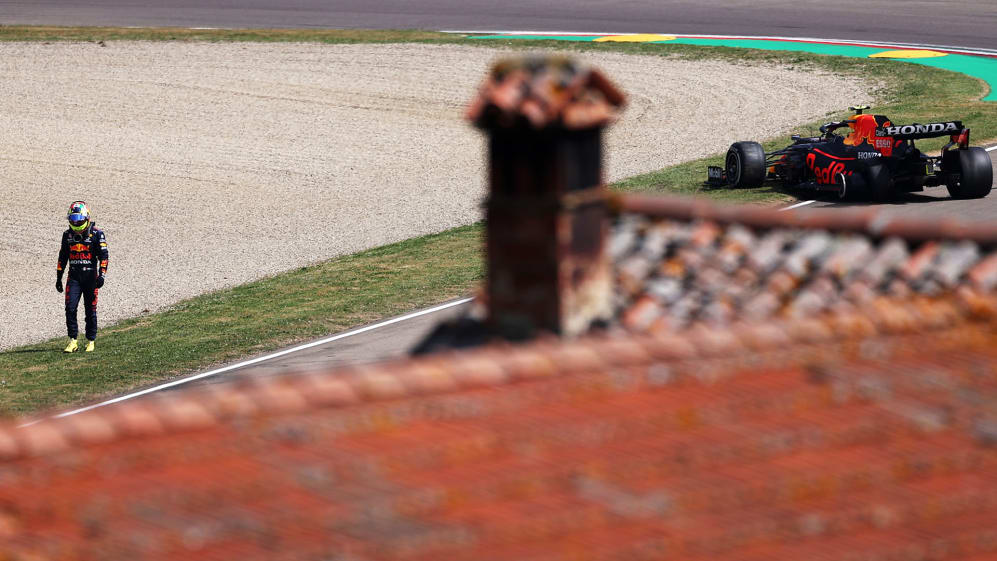 Esteban Ocon and Sergio Perez have had their fair share of run-ins over the years, but there was no war of words between the pair after an incident in Free Practice 1 of the Emilia Romagna Grand Prix weekend which saw Perez's Red Bull and Ocon's Alpine collide.
With drivers having lost radio communication for part of the first practice session at Imola due to a technical fault, Ocon was on a slow lap and Perez on quick one as the two drivers approached the Villeneuve chicane. Ocon reduced his speed to let Perez by, but Perez misjudged the Alpine's pace, the pair touching as the impact punctured the Mexican's rear-left tyre – while Ocon was also forced to pull up at the side of the track and have his car recovered back to the pits.
READ MORE: Stewards take no further action over Ocon-Perez FP1 clash that triggered red flags in Imola
The stewards investigated the mishap after the session, before ruling that no further action was necessary – with Perez explaining his side of the story after FP2.
"We didn't have radio so I think that was a miscommunication there," explained Perez, who also suffered an additional spin in FP1. "I thought Esteban was slower than he was and I misjudged going into the apex, but he got just bad timing from myself."
Ocon – who enjoyed a famously fraught team mate relationship with Perez at Force India, involving a number of on-track collisions between the two – called the incident "unfortunate", meanwhile, adding: "Checo was on a slow lap, he was touching his steering wheel or something and we both collided at the entry of the corner.
"It's unfortunate but we spoke about it and the stewards also said that it wasn't a big deal. The more worrying thing was the damage for both of us, but it didn't compromise our sessions for [FP2], and that's the most important. We went out on time and the guys here in the garage did a fantastic job, so happy days."
WATCH: Leclerc ends up in the barriers after losing control of his Ferrari in FP2
Perez would eventually end FP2 in sixth place, as team mate Max Verstappen suffered a driveshaft issue early on in the session. Ocon, meanwhile, was the fastest Alpine in P11 – and said he was pleased that the contact with Perez hadn't compromised his chance to learn about the new upgrade his team had brought to Imola, and which he hoped would allow him to make it to Q3 this weekend.
READ MORE: Verstappen says Mercedes Imola pace 'no surprise', as he reveals cause of FP2 failure
"I think it was a very good recovery [from the crash]," said Ocon. "We missed one [soft tyre run] but managed to recover that in FP2. I think we have a solid base to work from, still a few things to work on here and there, but the car feels pretty decent. It's going to be tight, as always, to get into Q3. But I think if we get into Q3 it's going to be a good session tomorrow."