Formula 1 hosts F1 Esports Women's Wildcard Experience Day ahead of 2022 season launch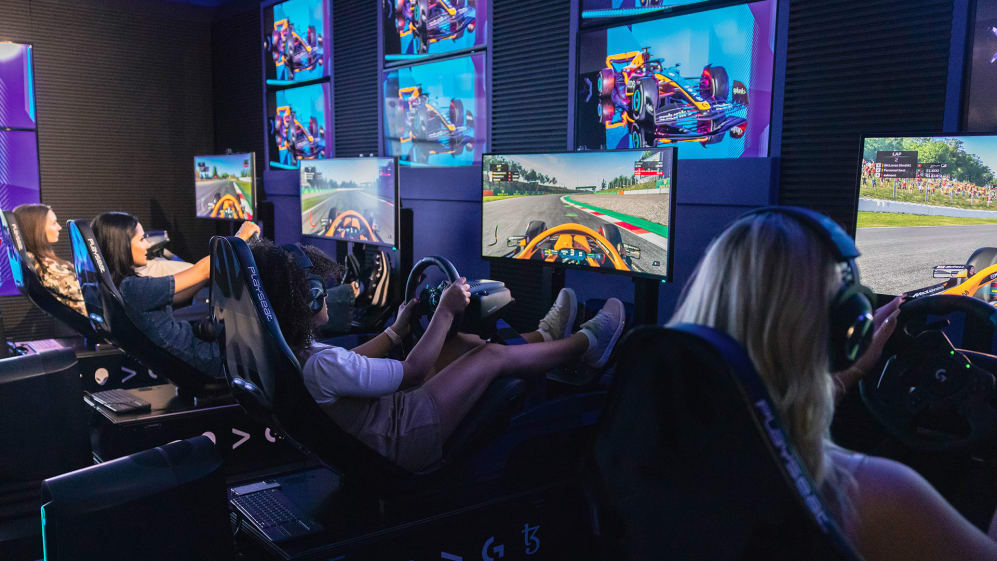 Formula 1 yesterday held an F1 Esports Women's Wildcard Experience Day in the McLaren Shadow Studio at the McLaren Technology Centre.
Hosted by Natalie Pinkham and with a number of female F1 content creators and sim racing influencers in attendance, the Women's Wildcard Experience Day showcased the sport's ongoing commitment to support the inclusion of women in both motorsport and esports.
First launched in 2021, the Women's Wildcard represents another route into F1 Esports for female participants. The initiative was born from the desire to create a space that encouraged more females to take part and submit time trials via the official F1 video game, with the fastest securing a spot in the F1 Esports Pro Exhibition for the chance to be selected by a team for the Pro Championship later in the year.
READ MORE: F1 Esports sees record-breaking viewership and engagement figures in 2021
The Experience Day guests documented their time on the sim racing rigs, created bespoke content for their channels and provided their audiences with information on how to actively participate in the Women's Wildcard themselves. This year's Women's Wildcard submissions open on Tuesday May 17 2022 and close on Monday May 23 2022.
"It was a pleasure to support the launch of F1 Esports' Women's Wildcard for 2022," said Lindsey Eckhouse, Director, Licensing, ecommerce and esports, McLaren Racing. "I am passionate about making esports a more accessible and welcoming space for women, and the talent and creativity in our Shadow Studio today highlights why diversity is so important!
"The Women's Wildcard is a fantastic platform, and I look forward to following this year's edition. This event underpins McLaren Racing's value of promoting diversity, equality, and inclusion, and esports has an exciting role to play in this mission."
READ MORE: 'If you can see, you can be it' – Jamie Chadwick on the F1 Esports Women's Wildcard series
Speaking of the event, Ben Pincus, Director of Commercial Partnerships, Formula 1, said: "The F1 Esports Women's Wildcard represents a fantastic opportunity for females to participate in esports and experience another aspect of our sport. "Formula 1 continues its efforts to create a more diverse and inclusive esports space that's accessible to all, and I look forward to seeing the platform continue to grow. I am grateful to McLaren Racing for hosting [the] event in their incredible Shadow Studio, and for showing their support and continued commitment to making esports more welcoming to women."
Formula 1 is committed to building a more diverse and inclusive sport, encouraging people from all backgrounds to get involved, with the aim of creating a sport that reflects the world in which we race.