Podcast
FORMULA WHY: What makes F1 Sprint weekends harder – your questions answered in our new podcast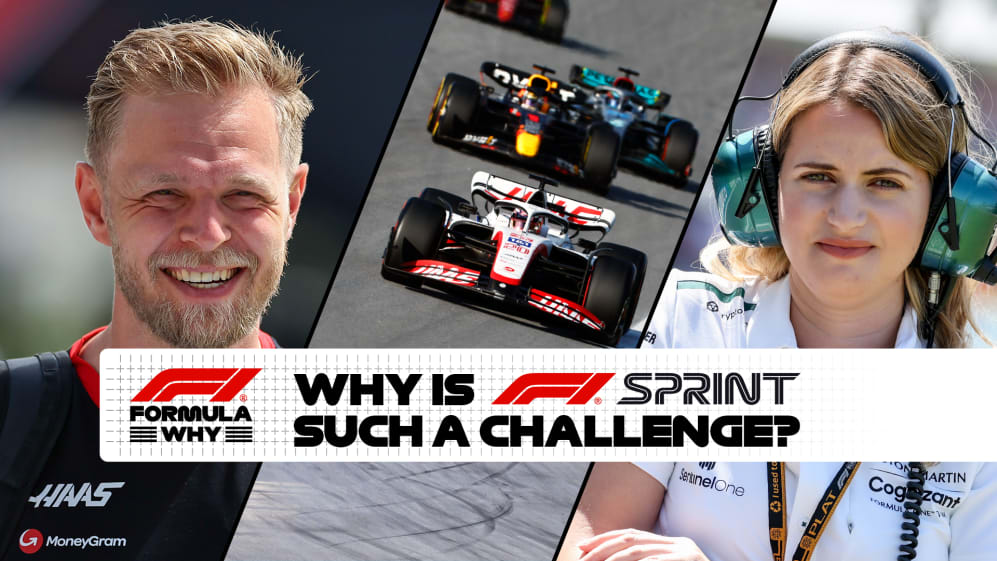 The revised F1 Sprint will make its debut at this weekend's Azerbaijan Grand Prix, and to help you get up to speed with the ins and the outs of the format, you can listen to the first episode of F1's brand new podcast Formula Why.
The podcast that is hosted by Katie Osborne and Christian Hewgill, will see the pair answering 'why?' questions each week, with the aim to give fans more knowledge about how Formula 1 works.
Their first assignment is to answer Crystal, from New York's question about what makes the F1 Sprint much harder for the teams. And they are joined by last year's pole-sitter for the Sprint in Brazil, Kevin Magnussen, to explain what makes an F1 Sprint weekend so much more different from a normal Grand Prix weekend.
NEED TO KNOW: The most important facts, stats and trivia ahead of the 2023 Azerbaijan Grand Prix
Magnussen explains how Sprint weekends put extra pressure on the drivers, as he also reflects on that rainy evening in Sao Paulo, what it meant to him and his Haas squad.
Also stopping by for a quick chat is Magnussen's race engineer Mark Slade, who explains what his role within the team entails, how the Sprint weekend format gives engineers little time to find the ideal set-up, and why that may not always be a bad thing.
Lastly, former Head of Race Strategy at Aston Martin, Bernie Collins, also joins the podcast to talk about the role of a strategist before, during and after a Grand Prix. She also explains how the lack of a second practice session on a Sprint weekend impacts their role, why tracks like Baku are chosen for the 100KM dash, and much more.
READ MORE: 'Exciting, cool and more pressure' – Drivers eager to try out new F1 Sprint format at the Azerbaijan GP
Formula Why will join in-depth interview podcast Beyond The Grid and race analysis show F1 Nation in the official F1 podcast line-up, and you can listen to the first episode in the player above or click here to listen.
If you want to get involved in Formula Why, you can suggest a question for the podcast to answer by recording a voice note and emailing it to Why@F1.com.