Feature
NEED TO KNOW: The most important facts, stats and trivia ahead of the 2023 Azerbaijan Grand Prix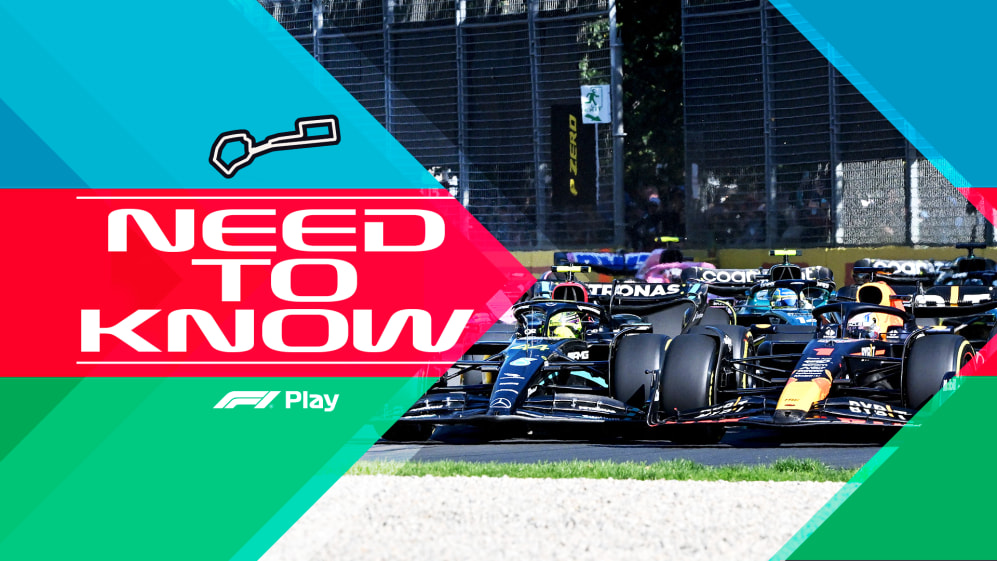 After a month-long break, Formula 1 bursts back into life with the Azerbaijan Grand Prix, where the first F1 Sprint of the season will also take place. As we build up to the on-track action, here's everything you need to know for this weekend's visit to Baku, featuring expert insight from former F1 driver Jolyon Palmer and former F1 strategist Bernie Collins, along with the fan view via our F1 Play predictor game.
In a tweak to the F1 Sprint format for the 2023 season, Friday's running will feature an opening practice session and qualifying hour to set the grid for the main Grand Prix, with these outings kept apart from the Sprint offering.
READ MORE: Download the F1 race calendar to your device
Saturday will essentially become a standalone segment of the weekend, as a new 'Sprint Shootout' sets the grid for the continuing 100-kilometre Sprint and bears no impact on the main event – in theory encouraging drivers to push more given that incidents will not compromise their Sunday starting positions.
Vital statistics
First Grand Prix – 2017 (2016 as the European Grand Prix)
Track Length – 6.003km
Lap record – 1m 43.009s, Charles Leclerc, Ferrari, 2019
Most pole positions – Charles Leclerc (2)
Most wins – Daniel Ricciardo, Lewis Hamilton, Valtteri Bottas, Sergio Perez, Max Verstappen (1)
Trivia – At its narrowest point (the Turn 8/9 'Old Town' complex), the circuit is just 7.6 metres wide
Pole run to Turn 1 braking point – 141 metres (shortest on the calendar)
Overtakes completed in 2022 – 40
Safety Car probability – 50%
Virtual Safety Car probability – 33%
Pit stop time loss – 20.40 seconds (including 2.5s stationary)
FAN VIEW: With Max Verstappen winning two of the first three races, a whopping 85% of F1 Play gamers expect him to claim the top step of the podium in Azerbaijan. Red Bull team-mate Sergio Perez accounts for another 10%, while gamers give Lewis Hamilton a better chance than Fernando Alonso of claiming a first win of 2023.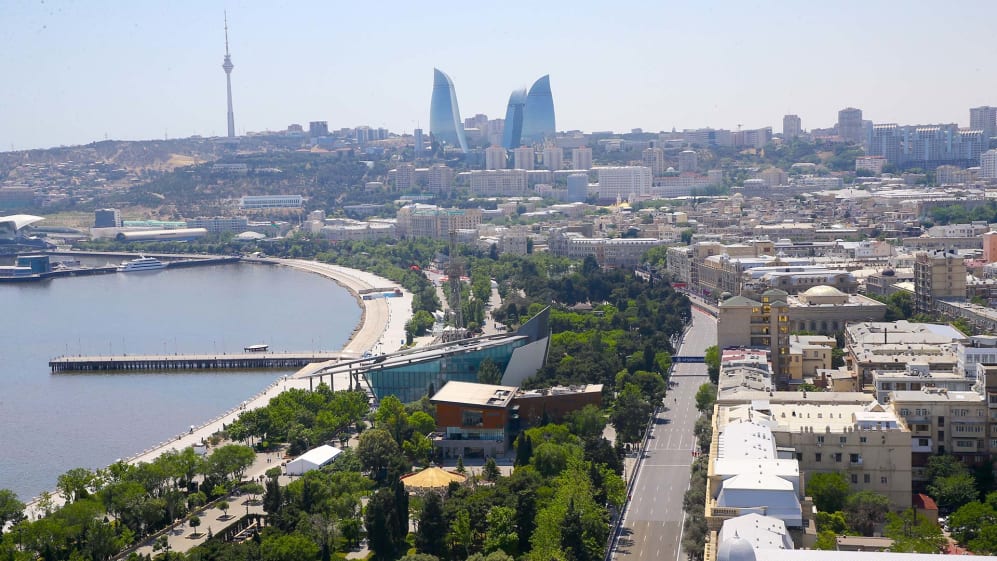 The driver's verdict
Jolyon Palmer, former Renault F1 driver: A long lap – there's so much to put together in Baku, with lengthy straights and big braking zones in the first sector, before a winding second sector and a tough third sector.
Braking for Turn 1 is tricky; the corner comes quickly after the start-finish line, but it somehow seems to take such a long time to get there from the final turn. With some slipstream, whether you luck into it or orchestrate it, you can gain a huge amount of time.
READ MORE: Russell teases 'big changes' to the W14 after trying developments in the Mercedes simulator
That's something to watch for in qualifying, but out laps are also important; the track surface isn't so abrasive, so with a slow out lap you could fail to warm up the tyres and lock up into Turn 1.
The notorious castle section in the middle of the track is narrow and a place where accidents can easily happen, but the trickiest corner is probably Turn 15, where you're accelerating towards the end of the lap.
Turn 15 is an unsighted left-hander in which you're braking slightly to the right, then you've got to slow it down and not get into the run-off area, and avoid the looming walls in the process.
READ MORE: Aston Martin explain how producing a competitive car has made race weekends 'more challenging'
It's all about the braking and, like at any street circuit, there's plenty of time to be gained if you can carry sufficient speed out of the apex – just don't get greedy with the apex and clout the wall.
Azerbaijan GP pole-sitters
2022 – Charles Leclerc (Ferrari)
2021 – Charles Leclerc (Ferrari)
2019 – Valtteri Bottas (Mercedes)
2018 – Sebastian Vettel (Ferrari)
2017 – Lewis Hamilton (Mercedes)
Azerbaijan GP winners
2022 – Max Verstappen (Red Bull)
2021 – Sergio Perez (Red Bull)
2019 – Valtteri Bottas (Mercedes)
2018 – Lewis Hamilton (Mercedes)
2017 – Daniel Ricciardo (Red Bull)
FAN VIEW: Reigning double world champion Verstappen is heavily favoured to be fastest over a single lap on Baku's streets, receiving around 70% of the F1 Play votes so far. Gamers are also nibbling at Alonso, Hamilton, George Russell and Charles Leclerc, who share the majority of the remaining votes.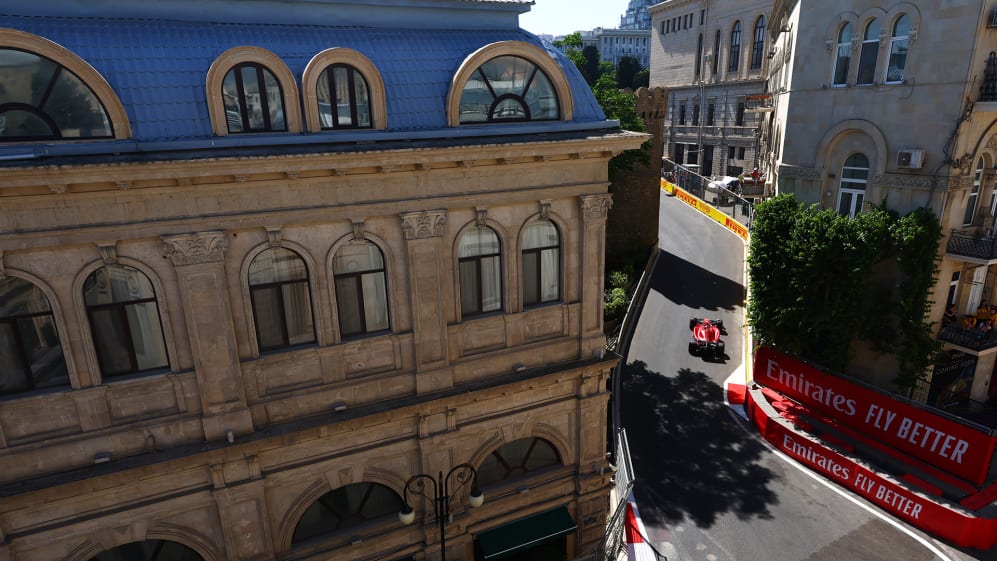 Strategy and set-up keys
Bernie Collins, former Aston Martin F1 strategist: Baku's streets play host to the first of six scheduled F1 Sprint events in 2023, but drivers and teams will have the aforementioned revised format to contend with – and adapt to as quickly as possible – over the course of the weekend.
Alongside these session changes, an important factor teams will need to be on top of is the tyres, with F1 supplier Pirelli picking the three softest compounds from their range for the first time this season: the C3, C4 and C5 rubber. Intriguingly, the new 'Sprint Shootout' will enforce mediums in SQ1 and SQ2, and softs in SQ3.
READ MORE: Pirelli 'happy' with tyre development in 2023 as they talk plans for their future in Formula 1
Wind is another big consideration across the weekend at this venue, as it is often funnelled by the historic buildings at the side of the track and can be very strong in force, while often changing dramatically in terms of speed and direction on any given day.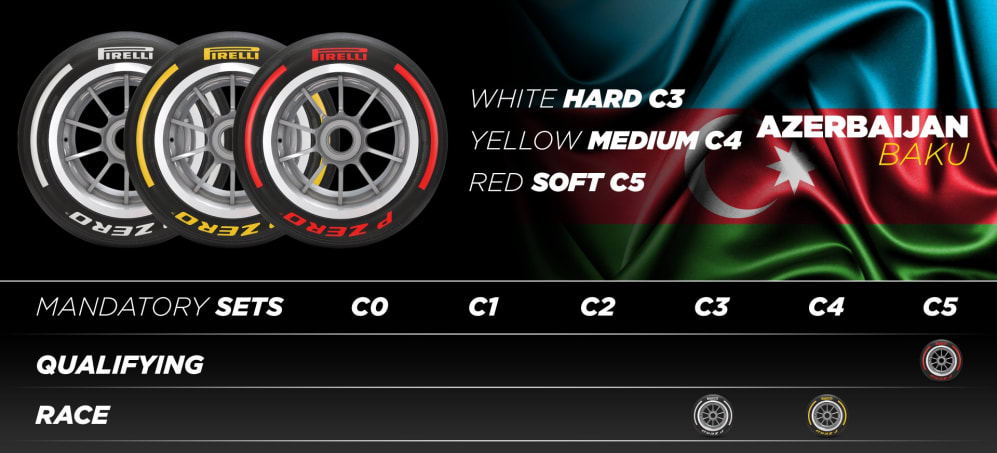 Then there is the emphasis on straight-line speed, given the flat-out stretch from Turn 16 to Turn 1 that is more than two kilometres in length. This also creates a little bit of a headache for drivers in qualifying when they will ideally want to have a tow out of the last corner but be in clean air for the rest of the lap.
As for strategy, Baku has typically been a one-stop race over the years; low degradation and high track improvement means the undercut is not a powerful tool and overcut opportunities often feature across the 51-lap encounter instead.
WATCH: What are sustainable fuels, how are they made – and how could this affect you?
However, as the circuit is lined by walls from the start to the end of the lap, the chances of Virtual Safety Cars and Safety Cars are high, along with the likelihood of red flags – see the track blockages at the tight 'Old Town' section during previous events.
FAN VIEW: With Red Bull, Aston Martin and Mercedes filling out the podium spots so far this season, it is Ferrari who are currently ranking as outsiders for a rostrum on F1 Play. But there is still support for Leclerc, while team-mate Carlos Sainz – caught up in drama in Australia last time out – also collects some votes.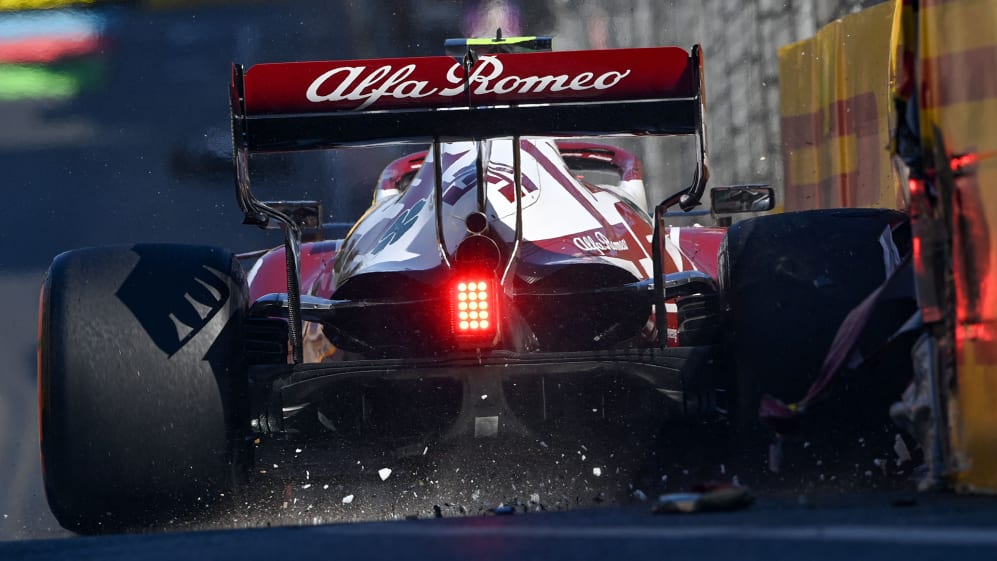 Current form
Red Bull hit the ground running in 2023 to comfortably take victory at the first three races of the season, with drivers Verstappen and Perez logging particularly impressive one-two finishes in Bahrain and Saudi Arabia.
But gaps between the teams were closer last time out in Australia, with Mercedes giving Red Bull a run for their money in qualifying and putting up a fight in the early stages of the race, before Verstappen found a rhythm and stretched his legs.
READ MORE: 'I don't see him being a Fernando Alonso' says Horner as he discusses Verstappen's future in F1
Heading to Baku, teams will be interested to find out how the pecking order takes shape on another completely different circuit, with the advantages and weaknesses of the 10 cars up and down the pit lane yet to be completely understood as Formula 1 embarks on a record-breaking 23-round tour of the globe.
While you would be brave to bet against Red Bull continuing their strong run, Mercedes, Aston Martin and Ferrari have all shown rapid pace – and the potential to challenge – so far, and all it could take is a track specific feature, tyre windows or weather conditions to transform the front-running battle.
There will also be eyes on upgrades in Azerbaijan, with McLaren one team that has been particularly vocal about a new package. This area could be crucial as the campaign develops, especially with races ramping up from now until the summer.
FAN VIEW: Alpine star Pierre Gasly is strongly fancied via F1 Play to grab points this weekend after that unfortunate late collision with team mate Esteban Ocon in Melbourne. Ocon is also strongly supported, while Lando Norris and Oscar Piastri (McLaren) are expected to go well. Alex Albon (Williams) is another driver attracting plenty of support.
Iconic moment
Azerbaijan has played host to some action-packed, drama-filled races since the country arrived on the F1 calendar some seven years ago, with the high-speed Baku venue and its fearsome concrete walls catching out plenty of drivers.
But one moment that remains in the memory for another reason is Daniel Ricciardo's incredible overtaking display during the 2017 encounter, the highlight of which was a three-car pass down the main straight and into Turn 1.
READ MORE: Ricciardo says scarcity of free F1 seats for 2024 'doesn't scare me'
Running behind Renault's Nico Hulkenberg and the Williams cars of Felipe Massa and Lance Stroll, the Australian used the slipstream to perfection before slamming on the brakes at the last moment and somehow keeping it out of the wall.
Watch Ricciardo's stunning move in the video player below.