Podcast
FORMULA WHY: Why F1 pit stops are so important and what makes a super-fast stop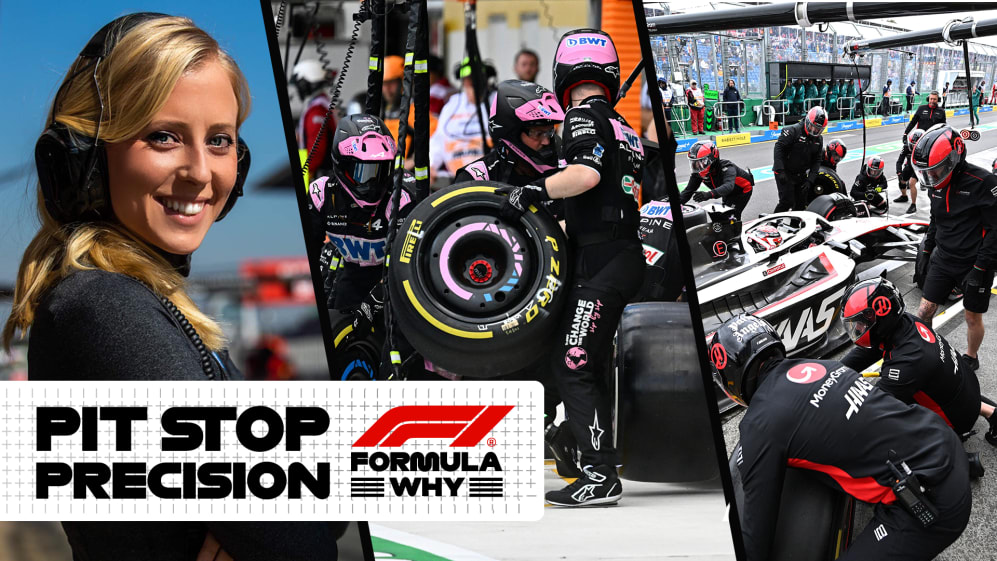 Pit stops are a big part of Formula 1, but just how vital are they to a team's success on a Sunday? Well, the Formula Why crew and their host of special guests are here to give you all the information you need ahead of the Canadian Grand Prix.
The new Formula Why podcast, hosted by Katie Osborne and Christian Hewgill, will see the pair answering 'why?' questions each week, with the aim of giving fans more knowledge about how F1 works.
F1 NATION: Mercedes on the move, Aston's upgrades and 50 years of the Safety Car – it's our Canadian GP preview
In this week's episode they are joined by Haas driver Kevin Magnussen, Alpine's Pit Stop Performance Coordinator, Connor Swan, as well as human performance expert Gemma Fisher, who revolutionised F1 pit stops at Williams in the mid-2010s.
Magnussen gives an account of what the drivers need to do during a pit stop, and how they must focus on the tiniest of details to make sure that they can have a quick stop, as well as to protect the mechanics who are putting their bodies on the line.
Next to join the show is Fisher, who opens up about her background and what her role as a human performance expert involves. She also reveals how she got into Formula 1, what it takes to get the mechanics ready to be able to perform as fast as possible in a pit stop, and plenty more.
Lastly, Swan joins the duo to discuss his role at Alpine, as he gives an insight into how much they train to be ready for Sunday.
BEYOND THE GRID: Stefano Domenicali on leading F1, the sport's future, Max Verstappen and more
Swan also explains how they know who is at fault for a failed pit stop, how much pressure the mechanics are under when the driver makes their way into the pit lane, the intra-team rivalry between the mechanics and much more.
Formula Why joins in-depth interview podcast Beyond The Grid and race analysis show F1 Nation in the official F1 podcast line-up, and you can listen to the latest episode in the player above or click here to listen.
If you want to get involved in Formula Why, you can suggest a question for the podcast to answer by recording a voice note and emailing it to Why@F1.com.