Feature
Friday Pace Analysis – Mexican Grand Prix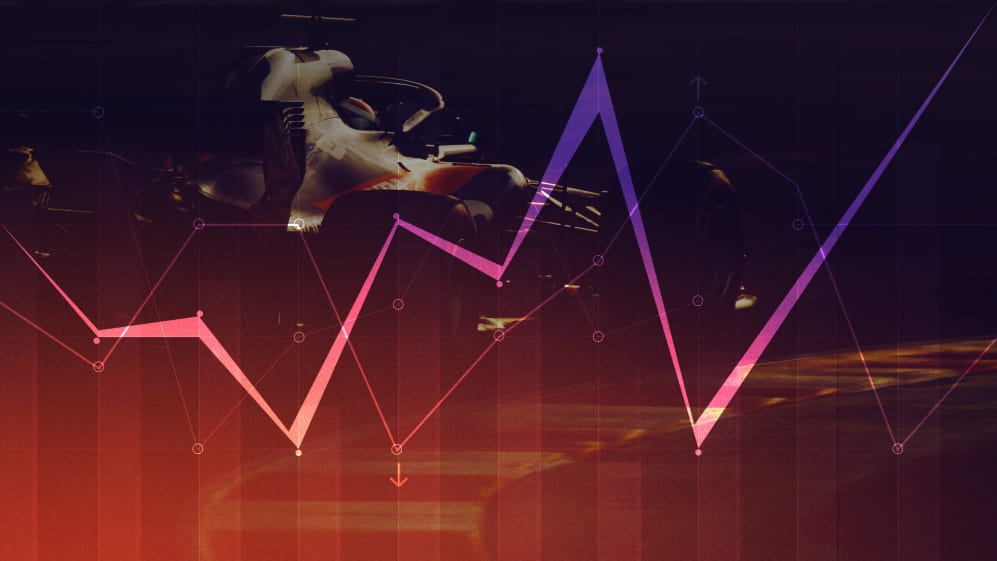 Graining. That was the talk of the town at the Autodromo Hermanos Rodriguez on Friday afternoon as Formula 1 drivers slid around and skated off during the two 90-minute practice sessions. Who managed the tyres best? Let's crunch the numbers.
ONE LAP PACE
Mexico has been Red Bull territory over the last couple of years, Max Verstappen climbing aboard the top step on both occasions. But they weren't automatically favourites heading into this weekend. That tag belonged to Ferrari – and they delivered on it on Friday.
Best single lap
1 Ferrari (Sebastian Vettel) 1m16.607s
2 Red Bull (Max Verstappen) 1m16.722s +0.115s
3 Mercedes (Valtteri Bottas) 1m17.221s +0.614s
4 Toro Rosso (Daniil Kvyat) 1m17.747s +1.140s
5 McLaren (Carlos Sainz) 1m18.079s +1.472s
6 Renault (Nico Hulkenberg) 1m18.261s +1.654s
7 Racing Point (Lance Stroll) 1m18.362s +1.755s
8 Alfa Romeo (Kimi Raikkonen) 1m18.681s +2.074s
9 Haas (Romain Grosjean) 1m18.766s +2.159s
10 Williams (George Russell) 1m19.968s +3.361s
The 4.303km circuit features one long straight in the opening sector – and it's here where Ferrari rack up a huge advantage that makes them close to invincible when focused on one-lap pace.
Sebastian Vettel was the stronger of the two Prancing Horses, but it was far from a smooth day for the four-time world champion. "I was the king of Turn 1 in terms of going through the grass," he said. "I like mowing the lawn."
READ MORE: Vettel predicts tight Mexico qualifying despite Ferrari Friday pace advantage
Joking aside, Vettel will head to bed pretty happy with his efforts on Friday having proved not only that Ferrari are favourites for pole but also that he has the early edge on Leclerc.
Red Bull, mind, are very much in the fight – despite Verstappen playing down their chances for qualifying. The Dutchman didn't put a foot wrong all day as he ended up just over a tenth of a second shy of pace-setter Vettel.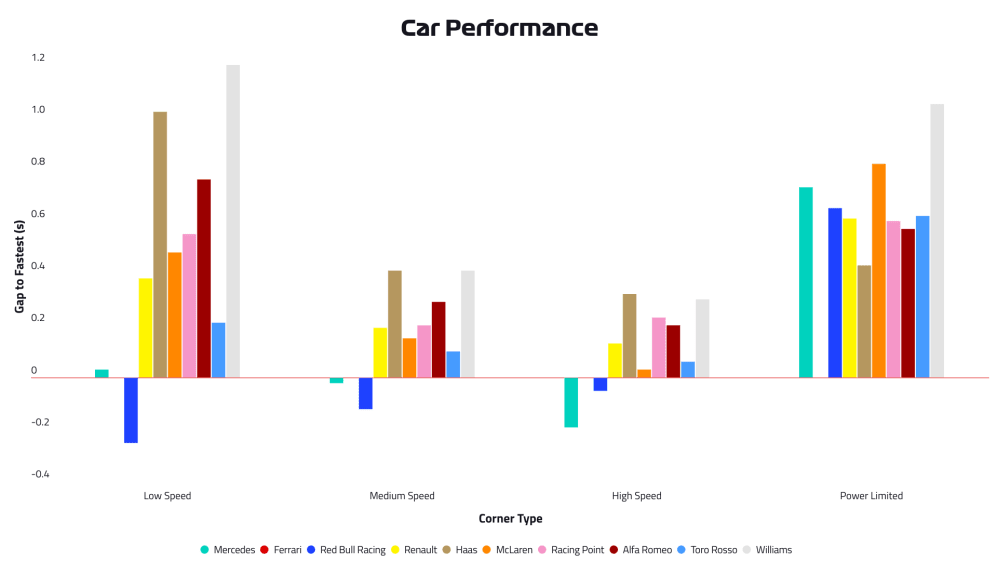 The RB15 is well-suited to the Mexico City track as it has plenty of downforce and good mechanical grip. This plays well because the circuit is located some 2,285m above sea level, with the air considerably thinner and thus putting downforce at a premium. As you can see from the car performance graphs, Red Bull are pushing home their advantage in the low and medium speed corners, making them the car to beat in the second and third sectors.
Mercedes were some way off in the best single lap metrics, their straight line deficit to Ferrari quite considerable. After a solid FP1, the team made some changes during the break but that seem to have been a mistake, with both Lewis Hamilton and Valtteri Bottas slipping backwards.
READ MORE: Wolff calls Mercedes performance 'not good enough' after disappointing Friday in Mexico
The Toro Rossos was the surprise package, the Honda-powered cars comfortably ending up best of the rest with Danill Kvyat and Pierre Gasly both inside the top 10. The high altitude means there's less oxygen going into the engine, which puts a greater stress on the units – but the Honda seems to be excelling in such conditions, boding well for the weekend.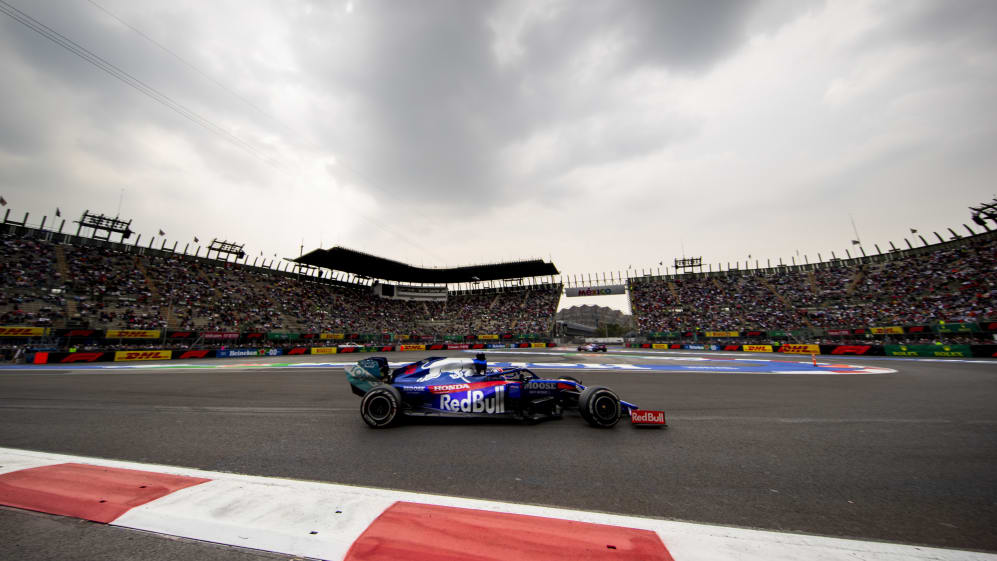 RACE PACE
Throughout the two practice sessions, drivers were sliding off track with tail-happy cars that were not enjoying the low-grip conditions. Graining was an issue across the field in FP1, with the situation improving marginally in the afternoon, courtesy of some rubber having been laid down.
But with rain forecast for Friday evening, the drivers can expect to find a green track when they return on Saturday for final practice and qualifying. Mercedes will be keen to use FP3 to assess overnight changes as they chase performance across both single lap and long run pace.
Traditionally, they dominate our race pace data rankings, the Silver Arrow a well-oiled machine as Hamilton and Bottas get in a groove and clock up the long-run data – but they aren't top of the pile this week.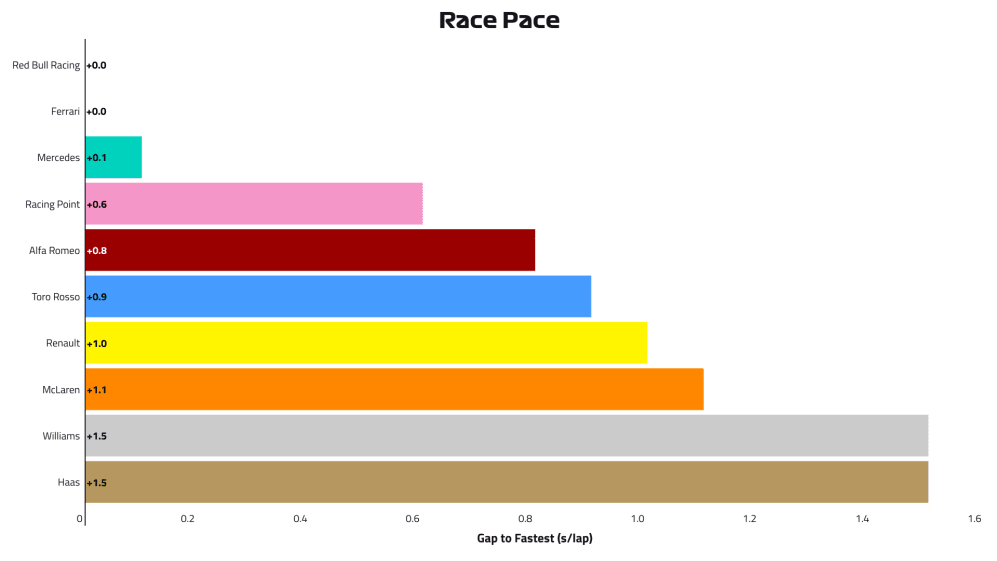 There's absolutely nothing to choose between Red Bull and Ferrari at the front, both cars looking pretty handy on the soft tyre in particular, with Mercedes around 0.1s/lap adrift in third.
Red Bull might be hurt by a lack of long run data, though, as Alexander Albon's crash early in FP2 meant they had to rely on Verstappen to gather the information on softs and mediums. The Dutchman managed 13 laps on the soft and 20 on the medium. That's around half of what Ferrari and Mercedes managed.
Intriguingly, Mercedes split their running, running the hard with Bottas and medium with Hamilton. Ferrari, in contrast, opted simply to focus on the medium and did not bother with the hard.
It's Racing Point who emerged as the strongest midfield outfit, with both home hero Sergio Perez and Lance Stroll – who got up close and personal with the barriers in FP1 – suggesting they are in good shape for the rest of the weekend.
They were 0.3s/lap quicker than Alfa Romeo, who were well-matched by Toro Rosso, Renault and McLaren. Their drivers all referenced how critical tyre management will be on race day, meaning it is very tricky to predict who will come out on top in the battle for points behind the big three teams.
VERDICT
The weather could play a key role in how this weekend unfolds, with rain falling a few hours after the end of running and thunderstorms predicted overnight. That'll likely hamper teams gathering representative tyre data in FP3, leaving an air of unpredictability as to how the rubber will behave on Sunday afternoon.
After Friday practice, Hamilton suggested we could see "three or four" pit stops, which would really mix things up. "This place is so aggressive with the tyres," he said. "You have maximum downforce and low air density, so you're just sliding around quite a lot – it's going to be interesting."
If Ferrari can execute a clean qualifying, a front row lock-out beckons, with Verstappen best placed to give them grief. But come race day, it's really all to play for, with Mercedes closing up and right on the pace with Ferrari and Red Bull.
Whether it'll be enough to give Hamilton a car capable of sealing his sixth world title in Mexico remains unclear – he needs to finish 14 points clear of team mate Bottas. But he'll certainly give it a good go. The scene, then, is set for an absolute cracker of a weekend. Buckle up!