Feature
From Silverstone to Singapore – Hamilton's top 10 Formula 1 pole positions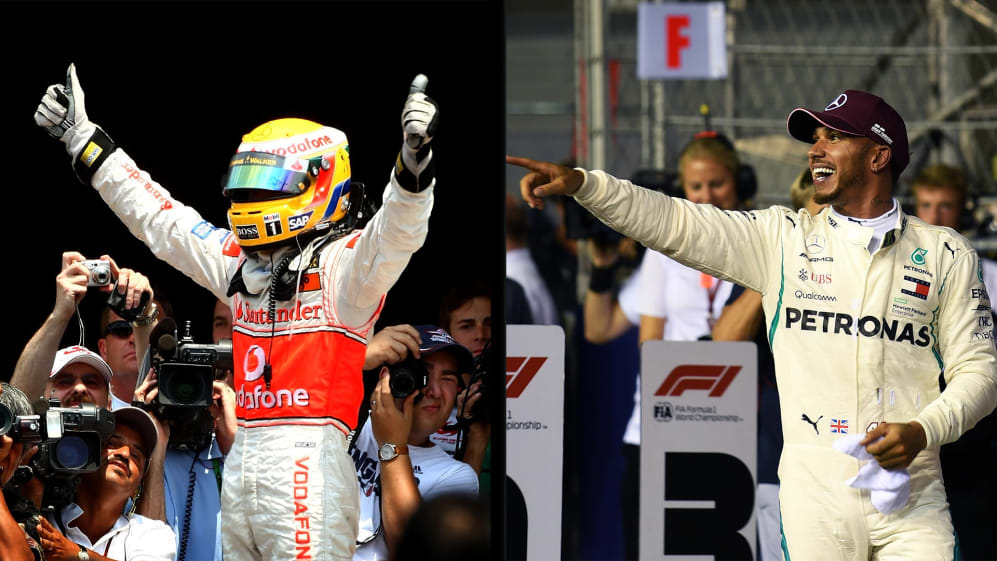 Already a two-time pole-sitter by the time he arrived at Silverstone for his first ever home Grand Prix in 2007, Hamilton now had a chance to cement his place in the hearts of Silverstone's capacity crowd.
With a first Q3 effort only good enough for P4, it seemed this wouldn't be his day, but he channeled the energy of Il Leone Nigel Mansell, pushing his McLaren right to the edge to snatch pole from Ferrari's Kimi Raikkonen by over a tenth of a second.
"And that is why the world is talking about Lewis Hamilton. Pure genius," said the commentator. Indeed.
WATCH: Discover how Hamilton went from 22-year-old rookie to six-time champ in Rise of the Rookie
9. Australia 2018
All hopes were on Hamilton to beat rivals Ferrari after Valtteri Bottas lost his car at Turn 2, but there was no need to be worried for the Mercedes pitwall.
Hamilton already had provisional pole from his first flying lap, improving by four-tenths in the first sector alone on his second run. A perfect mix of precision and aggression gave him pole, purple in all three sectors to boot, by a full 0.664s over Raikkonen.
WATCH: 2018 Australian Grand Prix highlights
8. Abu Dhabi 2009
The highs of his first title in 2008 were dashed as Hamilton and McLaren dropped back down to earth in 2009.
Amid Brawn's fairytale season, and with Red Bull on the rise, McLaren struggled, but in Abu Dhabi the MP4-24 came good. This scintillating pole lap was delivered with Hamilton in imperious form and he took his fourth pole of the year by a massive 0.667s over Red Bull's Sebsatian Vettel.
READ MORE: I was there… for the very first Abu Dhabi GP
7. Monaco 2015
This was the town where Mercedes team mate Nico Rosberg had grown up, and in 2014, took pole to leave Hamilton fuming. The stakes were high, the tension unrelenting – but Hamilton would put that that right with a dominant performance.
In Q1 and Q2, Hamilton was behind Rosberg but hammertime came in Q3 when Rosberg blinked into St Devote and Hamilton managed to take his first Monaco pole by over three-tenths.
WATCH: The extraordinary 2015 Monaco Grand Prix...
6. Great Britain 2018
Hamilton was left shaking after taking his sixth pole position at Silverstone, which spoke volumes about his physical and mental commitment.
Title rival Sebastian Vettel laid down the gauntlet in Q3 and it would take a big final lap for Hamilton to defeat him. A first sector saw Hamilton's W09 dart through Maggots-Becketts like a fighter jet, and the wonder lap was completed in front of a delerious crowd of home fans.
WATCH: Re-live the 2018 British Grand Prix
5. Hungary 2012
Ruthlessness from Hamilton in Hungary as he was in a league of his own that Saturday, providing an early benchmark to bat away challenges from Lotus's Romain Grosjean and Ferrari's Sebastian Vettel. Then, with the sun baking the circuit, Hamilton improved by four-tenths.
Budapest's tight corners threatened to send him sideways at points, but deft dabs of opposite lock and an academic approach to the Hungaroring's apexes make this a beautiful onboard to pore over.
4. Italy 2017
Treacherous wet conditions at Monza required a show of exceptional skill from Hamilton and he delivered at the Temple of Speed, keeping his car right on the limit throughout on the slickest of surfaces. That title rival Sebastian Vettel could only qualify eighth underlined Hamilton's mastery on the day.
Moreover, Hamilton made it a record-breaking 69th pole position, surpassing Michael Schumacher's record in the process.
3. Canada 2007
In the sixth race of his F1 career, Hamilton arrived at the Circuit Gilles Villeneuve for his maiden Grand Prix at the track and it seemed he was happy to play understudy to team mate and reigning double world champion Fernando Alonso on Friday.
But then on Saturday, Hamilton was 0.036s ahead of Alonso in Q2 and, as the Spaniard ran wide at Turn 10 in Q3, Hamilton swept to a majestic maiden pole position by a commanding 0.456s.
READ MORE: McLaren's Hamilton-Alonso line-up 'strongest there's ever been' says Pedro de la Rosa
2. Styria 2020
Wet weather meant the final free practice session for the Styrian Grand Prix was cancelled in 2020, but the weather cleared enough to allow qualifying to go ahead at the Red Bull Ring. And it was Hamilton who looked most comfortable throughout, providing us with a reminder – as if one was needed – as to why he belongs in the pantheon of all-time great F1 drivers.
Although Verstappen spun out of contention, Hamilton didn't rest on his laurels and lit the sectors up in purple, taking pole by a staggering 1.2 seconds with this incredible lap.
1. Singapore 2018
A pole position lap for the ages. Not an apex was missed in this display of pure skill and composure as Hamilton broke the track record by more than three seconds under the lights of Marina Bay – and no one was more surprised to take it than Hamilton itself.
The Mercedes W09 car was seemingly at odds with the tight and twisty streets of Singapore and Hamilton almost exited in Q1. But on his final flying effort, he produced a lap that left rivals spellbound.
Hamilton called it "magic", Toto Wolff dubbed it "stardust". Whatever the superlative, we couldn't agree more.