Feature F1 Unlocked
FULL TRANSCRIPT: Read every word of ex-Minardi owner Paul Stoddart's fascinating Beyond The Grid interview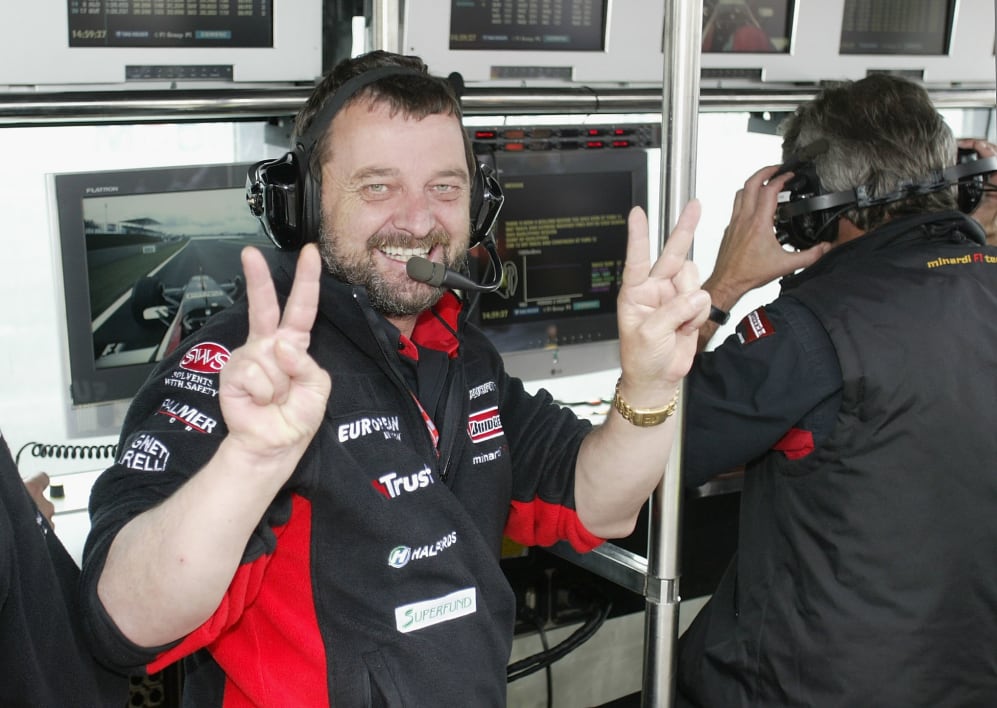 On this week's episode of Formula 1's Beyond The Grid podcast, Tom Clarkson sits down with former Minardi owner Paul Stoddart, who reminisces about the team's day of days at the 2002 Australian Grand Prix – and explains how he came to own the outfit in the first place, and what makes former drivers Mark Webber and Fernando Alonso so special...
Below you can read the full transcript of the episode – or alternatively, listen below in the audio player or head here to catch it on your preferred platform.
Tom Clarkson: Paul, thank you for your time. It's great to have you on the show. Five glorious years in Formula One as owner of Minardi in the 2000s. Can we start by reflecting on your day of days, Melbourne, 2002. How do you reflect on that one?
Paul Stoddart: Well, first of all, it's nice to be talking to you mate. Melbourne... it wasn't just the day, it was the whole week. So that week we were flying our first 747, the other part of the business, the airline was flying its first 747. So we turned up to a brass band red carpet being met by the Premier of Victoria. All the fanfare that goes with it, you know. Our own 747 jet with all the cars on board, including our two seater. And we were the, I suppose, the heroes of Melbourne. I mean, Mark was definitely the hero of Melbourne and this is all the week before the Grand Prix. So we're just expecting to have all the press and all the hype and all the good things that happen when you've got a home town boy and me as the team owner and a home country driver as in Mark Webber.
So we had a lot of fanfare and everything and we're worried about the cars, you know, when knowing that we're going to struggle to get Alex Yoong a second driver to qualify because he's still at 107% rule then. So we have all the build up by the time we get to sort of Saturday, for the serious stuff with qualifying. It's pouring rain in Melbourne, which does happen from time to time. And I remember talking to the track commentator out the front of the Minardi garages after we'd done our first run. And Mark was in 12th and Alex was in, I think 17th, but he was within 107%. And the track commentator said to me, "Paul, I guess you want all these fans to get out there and pray for the sun to come out so you can have another run." I said, "hell no, I want to do a rain dance. I want it to stay how it is because we're safely inside 107%" – and I kid you not all those fans in that stand opposite the main straight literally stood up and did their version of a Mexican wave and the clouds opened up and it poured and that was it.
So we qualified. So I thought, right, we've done our first bit. So the next day, the race and I thought, right, well, we're in. We got both drivers in. And that really mattered because all our money that year was coming from Malaysian government and, having the Malaysian driver not qualify at the first race would not have gone down very well with our sponsor.
So, off we go. Famous accident, cars everywhere. And our two cars get through. And I'm thinking to myself, I can't believe our luck. You know, we might get a you know, if we are really lucky, we might get a top ten finish here with Mark. But not long into the race, about lap three, I find out that Mark has got a terminal differential problem.
It wasn't expected to last more than another five or ten laps. So we got out of the 53 laps we're worrying virtually from lap five that we may find ourselves with a DNF. So anyway, as the race progresses and different other cars pull up, etc, etc, we find ourselves in the closing laps in fifth place – and not just in fifth place, but we had Mika Salo, who's a driver well known to me in the Toyota, which was their first race right behind in sixth and closing on Mark very fast. And we had Yoong believe it or not, in seventh. So Minardi was fifth and seventh. So we expected to lose fifth to Salo and then coming out of turn three unexplainably – and I've seen it and I've spoken to Mika privately over the years – he spun and when he spun he basically spun for no reason. There was just no reason for that Toyota to spin. Anyway, it cemented us getting fifth place and Michael Schumacher, who came to our after party, after all that happened, we just did an impromptu party, said after the podium, Barrichello, Michael and Todd invited me and Mark into the Ferrari garage and Michael said he said, "You know what? For the last three laps" he said, "I thought the race was over. The crowd were on their feet." And he said, "I'm just catching the diamond screen. And they're just focused on you, Mark. You know, nobody cared," he said, "when I won the race, I went up to the podium and yeah, there's hundreds, maybe a thousand people in front of me. I looked left down the pit lane and there were tens of thousands of people down the end with you and Mark."
And of course, in Formula 1 history, not only are they the most, as it was in those days, two points for fifth place, not only is it the most famous two points in the history of Formula 1, but it is the only time there's ever been two podiums in Formula 1. Ron Walker, bless him, came up to me and Mark and said, "come with me, you've got to go up on the podium." Steve Bracks, who was the Premier of Victoria at the time, was up there and they were yelling about doing two podiums. And I'm immediately thinking, hell, we're going to lose our points here. And I'm saying, "Ron, have you cleared this with Max and Bernie?" "Yes, yes, yes, I've cleared it." I said, "Are you sure? Because they can strip as to the points." He said, "yes, I've absolutely cleared it." So Mark and I looking somewhat a little bit nervous, go up on the podium. The crowd is just unbelievable. The now filled the pit line and we've got, I don't know, easy 10,000 people standing out there.
And of course, they've got the champagne up there and they gave us boxing kangaroos, believe it or not, because you couldn't give us trophies and Australian flag and all that good stuff. And then music started and I thought, oh no, please don't play the national anthem. You know, we will be done for this. And to all expat Australians, the old Qantas theme song 'I still call Australia home' is pretty emotional and that's what they played. So you had me and Mark in tears, champagne going everywhere, a very happy Melbourne crowd and still 21 years later, to this day, when I get back to Melbourne each year people say, you remember when you won that race back in 2002?
TC: It felt like a win
PS: It did. And to top that off, it's the only time I've personally driven my two seater around a live race track. So what was organized on that Sunday was that at midday I would go and do three laps with a passenger and so that was all pretty spectacular. But, of course, I remember Charlie Whiting, bless him, saying to me, "Paul, don't you go off, it's too late. We do not have any time to clean the track up. Whatever you do, do not go off." So I did the out lap, I did the flying lap, and on the in lap I started to be stupid and wave to the crowd because they were all going crazy and just coming out of turn three. I'm waving to the crowd and the next thing I'm in the gravel. And I thought, Oh God, if ever there's a God, please get me through this gravel. And I managed to drive through it and come out the other side. I did put stones all over the track, but I'm not responsible for that first Charlie incident.
TC: What did Charlie say?
PS: He didn't speak to me.
TC: Paul, of all of the Melbourne Grands Prix I've been to, that is the one.
PS: That's the moment it's voted... The Melbourne Grand Prix for their 20th anniversary, did a survey of the most fantastic moments in their 20 years, we're number one.
TC: Absolutely. A. the fifth place with Mark Webber. But also, you know, there was the incident at the first corner. The race just had it all. Even the rain the previous day.
PS: Let me tell you something else about that night, right? It was the first race that Murray Walker, the great famous Murray Walker, had not done. And Murray was a good friend of mine. And that particular night I rang Murray from the track at about 9:00 in the evening, just before I was going over to see the marshals to thank them. And so Murray was in tears. He was in floods of tears because he knew what it meant. And that was a great moment. But then we walked across the other side of the track to the marshals tent, where they have their after race party and the marshals that were down there came and spoke to me, two of them, and they said, "you know what? Once those Minardis went through, there was nothing, we ran out of cranes" – and they did. And the marshals carried that last Sauber off the track so they wouldn't put the red flag out. And that's a true story. The marshals carried that Sauber. They ran out of all recovery vehicles they had, and they still had one car in a dangerous position. And they just grabbed the car about 16 of them, apparently. So I've never been able to find it on the tapes, but I believed the story because it was told with such sincerity.
TC: You just had everyone batting for you. You really did. Now, how were the emotions in those closing laps? Because you say the dif problem, you expect it to go at any time.
PS: Well, a lot of people that know me know I'm a horrible chain smoker, but I was pretty good. The only three people I know that used to occasionally sneak a cigarette on the pit wall was Flavio, good old Nicki Lauda and me. And we all really didn't do it very often, like we really didn't. That day there's a lot of shots of me with my head down and luckily you can't see the cigarette smoke. But I was so nervous and I kept having again, sadly we miss him, John Walton, our team manager at the time, and John said to me, "Paul, just calm down. It's not over. It's not over." And I remember those words time and time again. It's not over. It's not over. But when it was over, I mean, it wasn't just me. It was all of the mechanics, everyone. I mean, just balling their eyes out. And another little story that perhaps might be interesting to your listeners: teams like Minardi don't keep cases of Moet Chandon or Veuve Cliquot. We don't have champagne because what for? We're not going to use it. And that day I realized it was literally as we passed the chequered flag that we needed some champagne. And I literally said to our catering staff, go and borrow some champagne. Tom, they didn't have to do that. I still get emotional now. All the other teams were walking down with cases.
TC: It's just really true story. That's fantastic, isn't it? Formula 1 is a family actually, for all of the politics and the behind the scenes bickering that you sometimes hear, it is a family with everybody...
PS: And we knew that probably more than most because obviously and now other guys with the airline we used to fly a lot of the teams, you know. So in 2002 that particular year, we used the 747 to go that fly away races. We used to have Jordan, we used to have some of the McLaren engine boys, we used to have Jaguar, Murray Walker.
TC: Murray Walker of course, who you just mentioned, he used to fly with you.
PS: Yeah, in 2002 until we stopped. But yeah, now we had four or five teams. I mean, I remember some horrendous things that we did on the flights, which I'm not going into...
READ MORE: World's first official Formula 1 Exhibition opens in Madrid with a host of incredible displays
TS: I came on a few of them.
PS: Yeah, we certainly worked hard and played hard.
TS: Stoddy we are sat in Ledbury in the UK, you know, the HQ of European aviation, your business clearly hugely successful business. I just wanted to ask, given how much you've achieved in your business life, where does that weekend in Melbourne 2002.
PS: No question.
TS: Of everything you've done in your life?
PS: Happiest day in my life. And I've sold businesses for a lot of money, nothing touches that Sunday in March 2002, I was just a... but as I said at the start of this wasn't just the day. The Sunday was obviously fantastic, but it was the whole week before that. I mean, as I mentioned, we had a Malaysian sponsor, so we had Dr.M, the Malaysian Prime Minister. I remember poor old John Prescott, who was the deputy PM of the UK. I remember him having to wait out in the anti room when he was trying to catch a flight back to England because Dr. M, the Prime Minister, was in his Prime Minister's office in K.L. with me on the floor working out what decals to put you know, 'Go Malaysia' all these various decals where to put them on the car and I walked out and I just said to John, I said, "John, I'm really sorry. It wasn't me, it was Dr. M" and things like that. So, I mean, on the way to Australia, we'd come through Malaysia, we pulled up to the VIP terminal, the Prime Minister's terminal, had all the Malaysian press, etc., etc. We even did a run with two seaters around the Twin Towers in K.L. and I had to drive that one.
And I remember in the afternoon we went to the rehearsal and I said, "guys, what are all these white seats with covers on right in line with where I'm supposed to pull up in the two seater?" They said, "Oh, that's where the PM and the cabinet are going to be sitting." And I said, "You've got to be joking. If I have cold tyres, you've got cold brakes and I've got an electronic throttle. If that thing goes open throttle, it won't matter if I stand on the brakes. That's what I'm going to wipe out all the cabinet." And they said "that won't happen, won't it?" But I said, "Well, you better hope it doesn't." I said, "have you got a medivac helicopter and I'd assume something happened with the pilot" and they said, "yeah". I said, "well, I'll tell you what, if something goes wrong, I'm going to be straight in there, kick the pilot out and I'll be in Singapore in 20 minutes." Anyway, obviously nothing went wrong.
TC: Melbourne 2002. You'd owned Minardi for what, 15 months? I think at that time. What did that result do for the team?
PS: Well first of all Minardi that year we had, it's strange how I do remember this but I do, our budget was $28 million. Now to run an entire Formula One team on $28 million and to actually come ninth in the championship because you may recall there was 11 teams that year, but Arrows sadly failed halfway through the season and Toyota, who had spent, because they started the campaign in the middle of 01, and they had spent 1.5 billion USD and we beat them. So probably doesn't need to say much more than that.
TC: Real David and Goliath.
PS: Yeah, it was. I mean, our entire budget for all five years of that wouldn't match the big teams catering budget. Just wouldn't. And you know we had 18 million the first year and I probably put an extra 15 in to get it going. We had 28 million in the second year. Third year with Jos Verstappen and Justin Wilson we were running on a 35 mil budget, fourth year we had a little bit more. We probably were getting into the low forties and we finished in 05 with the same sort of budget, low forties. So you know, for value for money, I think Minardi clinched the title of having the best value for money for every point it ever scored.
TC: Certainly. Tell us, tell us how you came to own Minardi?
PS: Well, that was a story on its own. We're talking about the 15th of December 2000. I'm in Nice looking at buying a boat. I get a phone call from Mike Gascoigne. He says Flavio wants to talk to you. So I talked to Flavio and he says "Paul, you interested in buying a Formula 1 team? We looked at it with Renault engine. It's not going to happen. They're on their knees. You can buy them cheap." So I didn't take much more persuading than that. I literally got on the plane, flew my own plane over to dear old Faenza, Forli airport, which is near Faenza. I went and met with Giancarlo and we did a deal that day. So the biggest asset I bought was Fernando Alonso, who was the test driver and we had no car and we had six weeks and three days to get to Melbourne. And all we had was a wooden mock up with a Renault engine in the back. So very quickly I had to decide how to do this, but also they were very down stuff. A lot of staff had left, so we decided there was only one way we could do this. We had our own Formula 3000 racing team here where the two seaters are now, and I had about 35 staff working, so we banged all the 35 staff in with their overnight bags in the plane, flew to Faenza, beefed up their workforce, I went and quickly did a deal with Bernard Ferguson of Cosworth. He couldn't sell me the engine and he couldn't build the engines. So I bought the rights to the engine and we turned the engines into an engine shop here, took five people from Cosworth and built our own engines. And all this was being done whilst Gunter our first designer that was changing the mock up to a Cosworth engined car.
And we had to build all that and pay suppliers that hadn't been paid and work that was non stop and all the nightmare which you get going into a bankrupt company and get to Melbourne. So the only way we could do all that was use all our resources. And honestly, it's another Minardi record. No one started a Formula 1 team in six weeks and three days. I can promise you that. And when we got to Australia, I come off the pit wall, Fernando had finished 12th. Tarso Marques by the way, his car wasn't built. We only concentrated on Fernando's car and we only had the chance to do one straight line test in Italy before the freight went to Australia. And so we were building Tarso's car physically from the ground up in the pit lane in Melbourne. And so sadly it had an alternater failure and didn't finish the race, but Fernando finished in 12th place and I came off the pit wall thinking, wow, you know, we got here and I walked in and I saw all these people crying in the garage. And I'm sort of looking at them and I'm saying, what are you crying for? You know, we finished. And they are crying from pride. Nobody, nobody thought we could ever do that, but we did.
TC: And did you doubt that you could do it?
PS: Oh, mate, there were times, I mean...
TC: In that six week period...
PS: I'll tell this story, it's a little bit naughty but it's true. We had everybody involved. The pilots were flying us over. We had one plane dedicated to Minardi to just make sure, because we were so tight before the freight left, that to get this shakedown run, we weren't going to make it. We just weren't. And so we were all working like these guys that went over with an overnight bag. They stayed six weeks. They never went home. We didn't have enough hotel rooms. We used to keep people, who had hot rooms. So basically, you once you did 12, 15 hours, you couldn't keep your eyes open anymore, you would go back to the Catalina Hotel and we had a master keys and literally go into a room, kick somebody who'd been there for 10 hours, told them to go back to work and finish what you were doing, and you took the bed. And that was true. We were about six rooms short for the people we had and we just made it work. But anyway, this one night when we had to have two titanium exhaust brackets that were being made up in Nottingham, and if we didn't get them, we couldn't run the car. Just the way that exhaust worked and the way the whole thing worked, we couldn't run the car.
So these two brackets, I was told that they were going to be dispatched at 5pm and it didn't happen. They said 8pm they were supposed to get on the flight from Coventry and it didn't happen. And at that point I had the plane in Forli and I said to the two pilots, they said to me, they said, "do you want us to go back to Coventry? Because these people are clearly going to be late." And I thought about it for a few minutes because it was a fair bit of cost and we were not exactly flush with money. And I said, "yeah, you'd better to do it." So these two guys flew back and they sat at Coventry until 3 am in the morning when those parts turned up, they put them on board. You hand little tiny bag of parts flew back to Forli. I didn't take any notice I was staying there all night and so was Fernando for that matter. You know, Fernando put in plenty of all nighters helping to build the car. And I walked outside the factory and it was thick pea soup fog. I mean, I couldn't see the bloody car. So I thought, no, you know, come on. After all this effort and I knew the plane had gone because it's a two and a half hour flight. So I already knew they were airborne. I thought, I don't know why I'm going to do this, but I'll drive to the airport. I'm too tired to do anything else.
So I drive to the airport and I couldn't see the bloody terminal from the car park. And I just sat there and sat there. And then all of a sudden you hear this absolute roar of the thrust reversers on the BAC 111 and they're on the ground. So I wait for them to come through and we had a fantastic relationship with Forli. Everybody just knew us, looked after us. They come and I said to the captain, who I won't name, I said, "did you see anything?" And of course the F-111 has a what's called a Cat III auto land, which means it lands itself. But legally you've still got to be able to see a little bit. And he said "it's best we don't discuss that. Anyway, here's the parts."
We went back, fitted the parts of the car and ran that day, and that was the only shakedown, that was on the Wednesday, and on Thursday, the freight went. So there was so many stories, not quite as extreme as that, but, you know, last minute things like having to offer suppliers double the money so they do ours in front of somebody else's. And it just went on and on but we did it. And the rest, as they say, is history.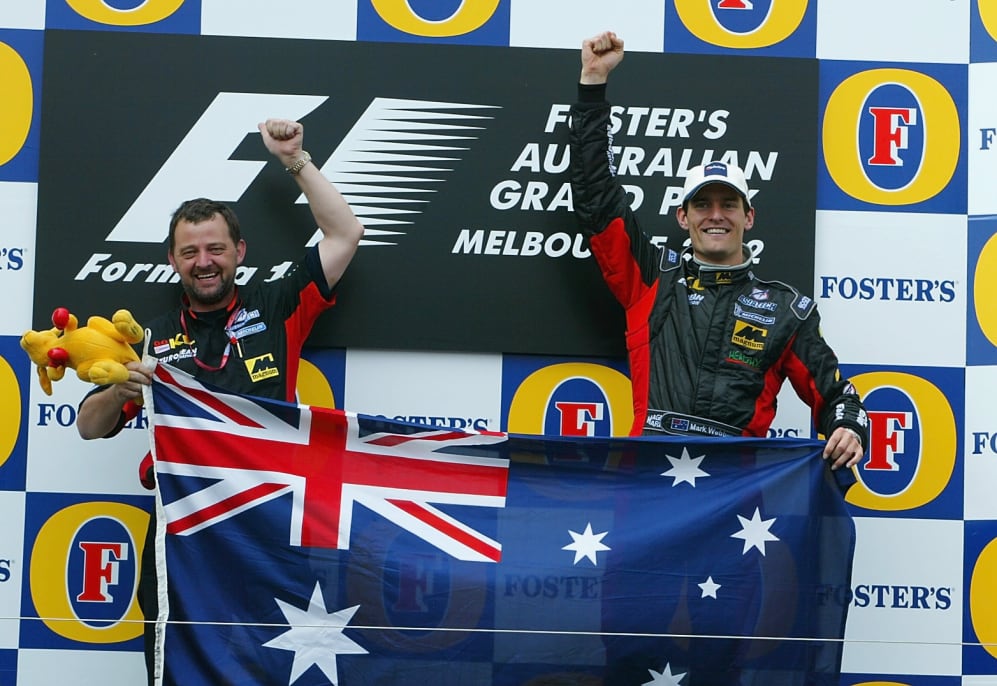 TC: And how prepared were you for all of that?
PS: I mean, not at all. I'm buying a boat. I'm buying a boat in Nice. I haven't got me eyes. No, that's actually not totally true. In '99, I tried to buy a percentage of Eddie, of Jordan, and in 2000 we took a look at buying Arrows until we did the due diligence and then we had to walk away from that one.
TC: So it been on your mind?
PS: It had been on my mind. I wanted to get into team ownership in F1, but believe me, in the middle of December, I did not expect to be going and buying a foreign team in a foreign country. That was the last thing on my mind. But I'm glad I did.
__TC: And you had to tell your family, Christmas is off this year, isn't it?
PS: No Christmas. Christmas day I spent in the factory there.
TC: Paul, just more on the topic of other opportunities. Is it true that you came close to buying Tyrrell? But then British American Tobacco got there in front of you?
PS: Ken bless him, knew his health wasn't great and wanted to see the business be passed on before it went down. I'd made an offer of $20 million, BAT through Craig Pollack's consortium had made an offer of a bit more than that. But they didn't want Tyrell, they just wanted the racing entry. And so what happened is that I ended up buying all of Tyrrell's assets, everything the cars, the factory, even Ken Tyrell's desk. I mean everything, every piece of equipment, the historical collection, everything. So, you know, come again. So I spent, so it's actually another funny story because I actually went to the Japanese Grand Prix in '98 as team principal, because what happened is that the deal I'd done with with Craig, with Craig Pollack, was that we bought everything that when the chequered flag went down. It belonged to us.
Everything. I mean, everything. And of course, the chequered flag went down. But of course, when we did this deal much earlier in the year, there was no thought about a tyre test that might be going to happen straight after the Japanese Grand Prix. So BAT as it was before or BAR, Whichever way you want to look at it, had to ask me permission. Could they use the cars again as the test was coming up? And of course I said yes, but it was you know, it was a moment, though, I was on the pit for all those years anyway, because I used to be for Jos Verstappen, I was the pit board guy. Then after that, obviously I think it was Ricardo. I did in '98, '99 it was Damon Hill and 2000 it was Jos again. So had some pretty good times.
TC: Were you frustrated that you weren't able to go racing as Tyrell?
PS: Yeah, I was. I'd love to have had that, but you know, things are meant to happen. I mean, more recently in recent years, I found out the whole reason of how that deal happened whilst Bob Tyrell was negotiating with me, Ken was negotiating Bernie. So I never stood a chance.
TC: And Bernie wanted BAT in the sport.
PS: Bernie wanted BAT in the sport. So that's everything's meant to happen. But, you know, you mentioned or I mentioned there Bernie, he's my hero.
TC: Why do you say that?
PS: Oh, everything. Everything. I mean, he welcomed me with open arms and I came into the sport a few times through the years when we had little disputes, he helped me out. And Bernie is one of the, I mean, it's a dying breed of people these days, sadly. But if he shakes your hand, that's it. I mean, I remember I needed $5 million in 'O2. We were really in the s***. We really were. And and I said to him, Bernie, I'll give you a couple of 747s as security. And he just shook my hand. He said, "Stoddart, just go and do what you have to do." And then, of course, the famous or infamous Friday the 13th in Montreal, in '03, when I'd had enough Minardi was going out of business and we had all these T-shirts printed and we were 50 copies of the Concorde Agreement had all been printed off and put in press packs.
And that was going to be the end of it because and it's a long story, so won't bore your listeners with it. But basically F1 had agreed to give financial support to the three independent teams.
TC: The fighting fund, wasn't it? That's what we called it.
PS: Yep. Jordan, Sauber and Minardi. We'd given on some technical regulations where they needed our signatures back in the January of 2003 and the fighting funding wasn't forthcoming. So by the time we got to June, Minardi was on its knees. We had no money and Bernie initially said, you know, so I left to sort himself out. Then there was this infamous press conference where it's just me sitting there for the first 7 minutes before any of the other team principals that were supposed to be in that press conference turn up. And then the whole lot of them turn up, including Bernie, having had a little meeting with themselves where they were going to supply an engine to Jordan, and suddenly Eddie was not going to be part of the fighting fund. And I was well prepared for that meeting. And I sat there with a folder and in that folder it had some very interesting things.
And many of the documents in it had been given to me by other people, like, for instance, Benson and Hedges saying that if Jordan didn't get the fighting fund, they were going to have to pull out. And of course, who gave me that document? Eddie Jordan at 6 am in the morning. Some stuff on other teams, but in particular one on Ferrari. You know who gave me that document? Well, unfortunately, he passed away recently. There was a story. So, you know, I was well prepared, also prepared to go through with it, if we'd have gone down, we weren't going to go down with a pack of lies being told. We were going to go down with the truth being told. And the truth at that time might have embarrassed a lot of people.
TC: It's so funny hearing you telling these stories because my memories of you at the time, are you absolutely prepared to say what you thought at any moment? You weren't going to be intimidated by anybody?
PS: Truth will always come out.
TS: Yep, but did you enjoy the politics or did you find it exhausting?
PS: Sadly I didn't, Tom. In the beginning, I really didn't. You know, in 2001, when we had an incident in May, May the 8th, God knows how I remember these days when it was a public bank holiday here. And I walked into that office that we were just down in the racing section and found we had fax machines in those days. And I found that my Technical Director had just been poached by Toyota and had resigned there and then on the spot, even though he had a two year contract, things like that happened and I didn't want to get involved in the politics, especially with Toyota and Ove' Anderson, who's a lovely guy who, you know, again, quiet individual. But, you know, we at Minardi were seriously screwed up.
And again, Bernie comes in, deals are done, Toyota paid some compensation, all went away. In 02, of course we had a great year, but 03 we were in a position where we were fighting to survive. And by the time we got to that Friday the 13th in Montreal, it was going to be over. So we went through this press conference where effectively I might have briefed one or two journalists if it went bad. There was a few questions that might have been good to ask. And one of them asked the question, and poor old Eddie, who was sitting directly behind me, and to my left, started to define the fact that Jordan was a race winning team. Jordan wasn't like Minardi whilst he felt sorry for me, you know, Jordan was a race winning team and it didn't need any charity or any fighting funds, especially after the fact that he was 7 minutes late was because of they just promising four engine supply.
So all this was going on and I just opened a folder I had in front of me to the actual letter that he'd given me 6 am in the morning from Benson and Hedges saying they had enough. And as he was going through, giving his speech about how great Jordan was, I'm just banging on this letter and he spots it. And because the FIA stenographer, they presented me with the actual legal record of the interviews and they've typed in this 17, "um ah um ah um" – 17 of those.
TC: From EJ?
PS: From EJ. At which point he says, "I've got nothing more to say." And I closed the folder. But anyway, that all went on and I was determined. That night we called a press conference, you may recall, at 5 pm we said there's going to be a Minardi press conference at 5 pm. So Pasquali who everybody knows in F1 will know that he was Bernie's PA for want of a better word. Pasquali comes to me and says, "Paul, Bernie needs to see you now." And I said, "Pasquali, I've got a lot going on." He said, "no, no, Paul. Mr. Ecclestone," he called him, Mr. Ecclestone, "needs to see you now." So when you get summoned, you go. So I go up to the tower in Canada and I walk into Bernie's office and he says, "Stoddart," he said.
TC: Sorry, did he call you Stoddart?
PS: Oh, yeah, yeah. "Stoddart, what do you need to keep going?" I said, "Bernie, I need the fighting fund." He said, W"ell, how much should you need?" I said, "I don't know. I need four mill now." He said, "right, you've got it, I own half your team. Now get on with it and stop calling press conferences." Now that was it, that was it Tom. Tom, it was a handshake. And by the time I got back to the motor home in a couple of hours and I cancelled the press conference, I couldn't pay any of the goddamn suppliers. Magnetti Marelli did not want paying. Tyre don't bother about paying for them. Everything became free because Bernie was now a half owner of Minardi and I struggled to even pay bills.
And this is why you asked me why I've got so much respect for Bernie Ecclestone. That was on June the 13th, 2003. In August of 2003, myself and my finance director went up to Princess Gate to see Bernie, to actually give him the shares and to do our deal. So I went up to his office and he said, "Stoddart are you out of the s***?"
I said, "well, Bernie, you know I am. I said, most people don't want paying anymore." He said, "fine, keep your shares." That's the testimony to Bernie Ecclestone. Now, what he did actually put in we gave him the money back, obviously, but that's it. And then two years later in '05 who do you think it was that introduced me to Dietrich Mateschitz in Turkey? Bernie Ecclestone.
TC: What is interesting is that he was as interested in you as he was Ferrari. That's the impression I'm getting.
PS: Well, I don't think I claim to that. But I'd just say that with Bernie, he kind of knew that well, I'm sure he did know and does know that I admire him as a person and I admire Flavio. You know, I know things get said here, there and everywhere, but I always had the utmost respect for Flavio and the ultimate respect for Bernie Ecclestone.
TC: Interesting that you mentioned Flavio because, um, we we've mentioned two brilliant racing drivers in Mark Webber and Fernando Alonso so far. I want to go into more detail about them in a minute, but is it a coincidence that both of those guys were managed by Flavio Briatore?
PS: Not really, because you got to remember the circumstances. Both of them had links to me, but in the case of Flavio, he had Fernando's management contract and he needed to put Fernando in a race seat. So doesn't it make sense to appoint somebody who's going to take Fernando for no money in a race seat to buy a team that was about to go under? So Flavio is not stupid. He's a brilliant businessman and we've we've had a great relationship.
In the case of Mark, I had Mark's contract or 20% of it, and I sold that out to Niki Lauda at the end of 2002 because we needed to pay for our engines. And effectively my interest in Mark's contract was let go because of the fact that we needed to pay for our engines.
RISE OF THE ROOKIE: Mark Webber's journey from dirt bike rider to F1 championship contender
TC: There's a great story going around that Mark wasn't signed for the whole season in 2002, what was the initial deal?
PS: So the initial deal was a couple of races. Now one can argue was that two or three, it's verbal anyway, couple of races and we shall see how we go. The races specifically was Australia and Malaysia. Well after Australia, needless to say, we didn't need to talk about any other races. He proved everything. He didn't really need to prove to me because I already knew him from when he was driving for me in F3000. But what I wanted to make sure is that A. he didn't fit the car all that well.
It was tight and I just wanted to make sure that it was going to go okay and we were going to all get along. And so it was just provisional. But how it actually came about is even funnier because in September of 2001 at the Indy Formula 1 race that year, Mark and I passed each other going opposite ways on an escalator in a shopping centre in Indianapolis and said hello.
And we started talking. And he said, "Well, what's the chances?" And I said, "Well, Mark I don't know. I need to get funding for the seats. They've all I got to sell." And at that time we were close to closing the deal with with Go Malaysia or Go KL, but we hadn't actually closed the deal. And I said, "look, if I can do anything, I will have to wait till we sign the Malaysian deal." It was really close, but it's not done yet. So we had been discussing the seat as far back as September of 2001. And I have to say that Ron Walker, bless him, was the one who really just did not leave me alone. Every 5 minutes the phone's going "Paul, Paul, can we get Mark in it?"
TC: Because he desperately wanted an Aussie on the great family? Ron Walker, Of course, the boss of the Melbourne Grand Prix.
PS: The boss of Melbourne Grand Prix. He sadly passed away in 2018, but he was known as Mr. Melbourne. He was the person that got the Grand Prix with Bernie away from, well not with Bernie. He got Bernie to take the Grand Prix away from Adelaide, which is also a very popular Grand Prix, and he made sure that the Government put in the support that was needed to make the Grand Prix special. And I think everybody that's involved in F1 will agree that Melbourne is special. It's one of the favourite Grand Prix, if not the favourite Grand Prix every year. But anyway we were pushing more and more. I was getting, I was just literally been driven insane, in a nice way, by Ron saying, "come on, you know, Aussie team, Aussie driver, imagine what it's going to do for Melbourne." And so finally we signed the Go KL deal, we got the commitment from them and I was able to give Mark a free drive.
TC: And was there any money coming from Melbourne?
PC: Mark had a bit of Telstra sponsorship, but to be honest it wouldn't have paid the food bill. No, they, they were hoping to get sponsorship, but it's not easy.
TC: What impressed you about Mark Webber?
PS: Same with Fernando. And by the way, Mark should have been world champion in 2010. He should have been world champion. There's a feeling, you know a driver that is a real driver, a complete driver. He's not just able to drive, but he's also got the technical knowledge, the technical feedback, the feel for the car almost. People can say the field by the seat of his pants because that's what makes a F1 driver special.
And you know, we've all got your Lewis Hamilton, your Sebastian Vettel, etc., etc. of that sort of era. Obviously Michael Schumacher and I mean I had the privilege of going behind Michael Schumacher of all my drivers, sorry I'm digressing here, but I just remembered this, he's the only driver out of 70 Formula 1 drivers. He's the only driver that I ever got behind in our two seater. You know, I didn't get behind Fernando. I didn't get behind Mark. I didn't get behind all the other people.
TC: Jenson and Max and all the others...
PS: All the rest of them. And the day that we were down at Ferrari. Michael all went round, and it was 24 people on that team that day, just running one car and we went round, he went round and he shook hands and introduced himself to every single person in the team. Thank you for coming here today. Thank you for doing this. And he said to me in the morning, he said, "Paul, you know, you should get in the back, I'll give you a run." And I said, "Michael, it's your day," I said, "you've got Jean Todt, you've got Rory, he should have had Ross, you've got your wife, Carina, Stefano Domenicali, all these people that were going to go in the car, I said "Michael, it's your day, I'm okay."
And so we went and had, we were at Fiorano, and we went and had lunch in Enzo Ferrari's restaurant and Michael had gone unbeknownst to me out to the track and said, "guys, is Paul's race suit and helmet here?" And they said "yes it's in the back". "Can I have it please?" So Michael walked in middle of the restaurant, plumps all my race kit down on the table and says "I'm not asking you, I'm telling you, go and get changed."
So I did seven laps behind a seven times world champion, who in my book is the greatest driver of the era and why did I think this? Well, because in those seven laps, the only difference in the lap times was fuel load and tyre degradation. We were passing the same on the on the bridge it goes over a bunch of coloured bricks. My eyeline was passing that same brick every time, and it was a short, sharp lesson in how to drive my own car, evidenced by the next day I had to drive a two-seater at Imola, not a track to be taken lightly. And I had an Austrian journalist with me and I put it in the wall on the first lap and I said to him, "are you okay? You okay?" "Yeah, I'm okay. All my life I want to ride in a Formula 1 car and now we've crashed. Fantastic." And my heart's pumping away. And I said afterwards I was asked, how did you crash it? Because in all the years I've done 1500 passengers myself, thousands of thousands of laps, and I only had two crashes and that was one of them. And the journalist said to me, he said, "what happened?" I said, "simple: I did seven laps behind Michael Schumacher yesterday. I tried to drive the car the same way he did, and I ran out of talent." And that's the truth. Just hit the wall. But no, Michael was outstanding.
TC: A wonderful story about Michael.
PS: Oh, and people that don't know Michael, you know, it was a lot in bad press in the years. But when you see how drivers get harassed and when I say that it's not really harassed, they're so popular that everybody wants a piece of them. And they are at a race weekend to do their racing. So you can understand why they, you know, not saying I agree with it because I think the fans are ultra, ultra important. But I can understand why after a while it just gets a bit much. And particularly if something's happened and Michael perhaps had a reputation, he really didn't deserve. Michael was the nicest guy you could ever hope to meet, and honestly, he cared. He went and met every one of the team when he came in and he went and say goodnight to them every time he went out. He was so respectful of the job that everybody did for him.
TC: I hear that the whole time about Michael. But I think some of that reputation isn't fan related. It's it's borne out of Adelaide 94, Jerez 97.
PS: It is, It is. But I think Ross is the best one I've ever heard describe this because Ross was close on both of those occasions. And Ross will say that Michael had his moments where he did things that the normal Michael wouldn't do. And both of those occasions are such examples where, you know, the red mist you can call it, red mist if you want it, that absolute overriding desire to win at any cost. But I can forgive him for those few occasions. And I think if you talk to Damon, he's forgiven him as well. I mean, look, life moves on.
TC: Damon has the ultimate respect for Michael Schumacher. No, we digress. We were talking about Mark Webber and now you say obviously proper racing driver. I did want to ask you about the Spanish Grand Prix in 2002, because obviously you'd had the high of Melbourne first race, the four races later we go to Spain. Not a great memory for you in the team because you have the wing failures in practice both front and rear. Webber has the rear one on the pit straight. I'd like to know from a team perspective, but first from a Webber perspective, how did he deal with those failures and the fact that you withdrew the cars?
PS: Well, he was pretty good, actually, because first of all, I've had a rear wing failure and it's not fun. It is really not fun. And he didn't come and complain about the car. We took a team decision with Tredozi, our engineer to withdraw the cars. And it was hard because that year we had Asia-Tech as a sponsor and a free engine supplier and they were not impressed that we withdrew the cars. But the front wing, okay, it happens. It's not as dangerous, but a rear wing coming off at 300Ks is not funny. And I had to take the responsibility. I asked Gabriele Tredozi, our chief designer, I said, "Gabriele, can you tell me categorically that the other wings can't, can't not won't fail, can't fail?" He said, "Paul I can't. You know, we can test them. We have tested them. We can jump on them. We can stand on them. But to say that it can't fail, I can't give you that assurance." So I was from a point of view of everybody's safety, I had to withdraw the cars. It was a low point. But no, I don't recall Mark ever complaining about it. Probably we didn't actually discuss it, to be honest, but probably he would have quietly thought, thank God for that.
TC: Because having been through that kind of thing before with Mercedes at Le Mans.
PS: Especially the fact that he'd taken flight twice with the Mercedes. So, yes, I think everybody agreed that we had to do it.
TC: And from a team point of view, you say Asia Tech weren't impressed, but did it cause you issues with Bernie Ecclestone, with other team?
Hell no. Bernie was all for it. You know, Bernie's attitude was, you've got to do what you got to do. No, there was no issues. Apart from the fact that obviously there was sadness from people in the team. But everybody understood. There's a time when you do things, you know, and look, F1 is all about risk. That's why we all love it so much. If Tredozi had said to me, "Paul, I don't think you're going to fail," that would have been good enough. I would have then gone and asked both the drivers and said, what do you think? And if they both were happy to race, I would have said, okay. But when he said, I can't give you an assurance. It's a bit like the old Bridgestone and Michellin tyres in '05 when Michellin in couldn't give an assurance at the time that the tyres wouldn't blow and the teams had to withdraw. Sad as it is, if there's a point where you really, really think something could be unsafe, you've got to draw a line.
TC: Now, you sell Webber's contract to Jaguar, to Niki Lauda at the end of August.
PS: My interest in it.
TC: Or your interest in it?
PS: Yes.
TC: How many options were there on the table? Because I think at the end of 02 Webber...
PS: I would have loved to have kept him on. That's just for starters. I would love to have kept him, but I knew we weren't going to do another year with Asia Tech, so we needed an engine for 03. So it was really a no brainer, sad as it was because I've got the utmost respect for Mark. I mean, honestly, you know, world champion at least once or twice he should have been.
TC: And was in sports cars. Let's talk about Fernando Alonso. Did you know what you were putting in your car in 2001?
PS: Pretty much, I'll tell you for why. Because being a competitor to him in Formula 3000, in 2000, I saw him drive that wet race in Spa that year.
TC: Which he won.
PS: He won. Which was a masterpiece of driving. And so my knowledge of Fernando was that he come to my attention throughout that year in 2000. But he was never out of my mind after that brilliant race in spa.
TC: Okay, that's interesting because Bruno Junquiera had won the championship that year and he was in the running to get the Williams driver with Jenson Button for 2000, didn't get it. But all the talk pre-season was about Bruno and not Fernando.
PS: But Fernando, in those days and still even when he was with us, was very quiet, very unassuming, just got on and did the job and it took, I suppose, a race like spa to where I was actually genuinely watching the whole race, not just catching highlights, as you quite often did with Formula 3000 races. I watched that race and what I saw in him that day was this is a guy that's destined to be world champion even before he had even got in an F1 car. And I wasn't wrong, except he should have four not two.
TC: And then when he got in one of your cars, can you tell us a little bit about what you saw that confirmed your view?
PS: Well, we've already touched on it. So first race, Melbourne, 2001, a car that has had one straight line test for 50 kilometres. That's all it had. And he rings its neck and brings it home in 12th place. So that's the first race he does for me. The last race he does for me is Suzuka, in '01, 53 laps again. So, Fernando, in those days, we still had the Sunday morning warm up. And it was a tradition that if a driver was leaving, that you took all the fuel out of the car and you let him have the glory lap. And that was all agreed with me. I was called to a Team Principals meeting whilst that Sunday warm up was going on and Fernando, for whatever reason, him and his engineer Alex had disagreed about him having a glory run.
So Alex put fuel in the car. So Fernando didn't really get his glory lap and he came in, very few times did actually Fernando complain, but that was one of them. He came straight to me and I'd just come out of a meeting. I didn't even know about it. And he said, "I didn't get my glory lap, they put fuel in my car." I said, "look, I can't do anything about it. I'm really sorry, Fernando. I did say to give you the glory lap," you know, so I was at ease with him, but Fernando wasn't going to leave it at that. If anyone looks at the history of that race in Suzuka '01, Fernando put in 53 qualifying laps and if ever the world needed to know how good he was, look at the tapes on Suzuka 2001, says it all.
TC: How early in that season did you know that you were going to lose him?
PS: Oh, I knew I was going to lose him. You know, Flavio had the contract. He was only on loan, lease, whatever you want to call it, but he was only with us for 2001. Now, Fernando was not happy about that and he certainly wasn't happy about doing a year testing with Renault the next year. He wanted to stay in the race seat and I was happy to keep him in the race seat, but they wanted him as test driver. My dream team, my dream team was Mark Webber and Fernando in the same car.
TC: Amazing. And apparently that nearly happened at Ferrari. Do you think are you surprised that Fernando is still going?
PS: No, I'm not really surprised because if you're good enough and Fernando is good enough, if you are determined enough and you have still got that fire in your belly to want to go out there. And if they can't win the race, do the best possible thing you can do, then he's certainly no slouch. So he's still up there with them.
And the race craft, the ability, the natural talent, the hunger, it's all still there. None of that's going away now. Age is going to catch up with him, but it hasn't yet. I reckon he's got a few years left and I think he'll be a massive asset Aston Martin, provided there's no politics in the team. If Fernando is left to do what Fernando can do, which is be a team leader, drag Lance Stroll up the ladder a little bit, gets the backing. I mean the team is a fantastic team. You've got to go back right back to the Jordan days. It's a fantastic team and I think if you get Fernando leading that team and being able to influence that team, you're going to have a happy Fernando and a happy Lance stroll because at the end of the day that team will go forward.
TC: Is that the crucial point, though, that Fernando Alonso has to be the main man?
PS: He does, and that's the only caveat I put on this move. If they don't recognize what a champion they've got, it's to their detriment because if you work with Fernando, you get everything. If you work against him. We all know the results.
TC: 2003 you replaced Webber with Jos Verstappen. It was his last Formula One contract. First up, how quick was Jos?
PS: Oh Jos was quick. Let's just say that Jos had lost nothing. But bear in mind, I'd worked with Jos. I had worked with him 97 with Tyrrell in 2000 with Arrows and then obviously 2003 with us. So I knew how quick Jos was. I knew that even though you might argue he was getting on in his career, that again, the hunger was there, he was up for it. But sadly, in 2003, we really didn't have the car for him. It was just how it was.
TC: Did you see any traits in him that we're now seeing in in the boy, Max?
PS: Well, I saw it in Max. So in I think it was August or September that year, we held an event with the two seaters, all eight of them, at Rockingham. And we had one of the first ever Formula 1 simulators that were just coming out in those days. And so anyway, this very young, cheeky Max is saying to Jos, "come on, Dad, I want to have a race with you in the simulators." So eventually Jos gave in and had a race with Max. You want me to tell you or you tell me who won the race? I think Max knows that. Max did.
TC: Max aged very small?
PS: Yeah. Max would have been what, five or six somewhere there. So he showed what he's got back into early as that. And, you know, we are not surprised, you know, with Sophie and her background, his mother, obviously, and Jos' his background, why would you be surprised? Perhaps as to how good he is. But I also remember seeing him at the Autosport Awards before he joined Toro Rosso. And again, he was with Raymond Vermeulen, the manager, and he was so shy at those awards and so nervous. And I thought, Oh God, Max, I hope he can get through this. And of course he did. And you know, he went on to great things. It was, I think Toro Rosso saw very early in the stages he was the chosen one, then of course, going in in Barcelona and winning the first race. I mean, it doesn't get any better than that. And yes, a two time world champion. But I think we all know there's a lot more to come.
TC: Now, you mentioned Red Bull, you mentioned Toro Rosso, so perhaps now's a good time just to talk about the sale. Bernie introduced you to Red Bull?
PS: So, it's Turkey 2005 in Bernie's motorhome.
TC: Had you told Bernie that you were looking for?
PS: The whole world knew. So, we'd had at that point 48 offers. In fact, I'm not going to do it, but in this draw is a €10 million bounced cheque from one of the previous contenders. And the cheque was so bad that we go to our bank account... you can't really get to a German bank and say, you know, is this cheque any good? It just came back. Insufficient funds. So I finally got our manager to ring and they said, "if you took all the zeros off it, we still wouldn't cash it." So it was complete fraud. So I'd had 47 previous contenders. At that point Eddie Irvine was conducting, he was in Faenza that weekend conducting due diligence from buyer number 47, actually in the factory, in Italy, whilst Bernie's got me in the motorhome. And so I won't say the price, but basically I walk in, I meet Dietrich Mateschitz for the first time and in 10 minutes the deal was done. We shook hands and that's all you do with Bernie and with Dietrich Mateschitz. We shook hands and I had certain things: I wanted all the staff to be kept on, I wanted to stay in Faenza. They were my conditions because I wasn't going to sell them out, and Dietrich said yes to both of those things. And the only caveat he put on it, actually he didn't – we just shook hands and that was a quick meeting – but then I dealt with his number two and we basically agreed that if there were any staff that he couldn't keep, that they get paid a full year salary. No question asked.
So that was on the Turkey weekend. We announced it in Spa when we signed the deal and that was pretty emotional. And then, of course, the last race in China was also emotional, but we went through it. And then I remember 24th of October 2005, in London, in the Red Bull Solicitors offices, and we're actually signing the final contract, the transferring money and everything. And I remember two things from Dietrich Mateschitz. He said I was drinking Red Bull. So first of all I was told that Mr. Mateschitz does not drink champagne, that all his deals are toasted with Red Bull. So the toast we were talking about was in Spa, were in the solicitor's office in October, we signed the contract etc. and he did everything, every single thing was just honoured to the nth degree.
And he paid some people like Giancarlo Minardi, he paid him more than he had to pay, right? You could not, I mean, honestly, you could not have a word and I will not have a word said against Red Bull or Dietrich Mateschitz. They just honoured everything, and where there was any doubt on anything, they honoured it anyway. Just brilliant, brilliant, proper people to deal with.
TC: What drove you to sell the team?
PS: Money. We could see that we were struggling every I mean, budgets of 20, 30, 40 million, there just nothing in Formula 1. It was a graft and an effort. It was relentless trying to find sponsors, trying to find money, because you're always going to be running around the back of the grid. It's a vicious circle. You're in a position where you don't have 150, 200 million to run, and therefore you're not going to attract good sponsors. You know, I was selling sponsorship that to big teams were getting 50 mil for, I was selling it for a mil. That's just the reality of the situation. Now, there was a new Concorde agreement coming out in '06, and it had a couple of Minardi provisions in it. We were the only team allowed to continue using the V10 engine, right through till I think it was end of '06 or whatever, but everyone else had to go to V8s, but we didn't.
That was a cost reason because we were building our engines and so I just knew that it was time to go. You know, I love Formula 1. I still love Formula 1. And luckily, 20 years later, well, you know, 17 years later, we're still using the two seater. We're still getting the buzz, the two seaters is brilliant. You know, three, four and a half thousand passengers, 70 drivers, nine or ten of them world champions. That gives me my F1 fix.
TC: Was it ever discussed you staying at the team after the Red Bull buyout?
PS: No. No, no, no, no, no. Right from day one it was an absolute buyout, so there was no question of me staying on. I just wanted to make sure that my staff in Faenza were going to be protected and that the factory wasn't going to close. Now, I'm sure Red Bull had plenty of times when they would have wanted to have close Faenza, move it to whatever. No, they honoured much more than I could ever have expected. They honoured every part of that agreement.
TC: And only three years later, the team wins a race with Sebastian Vettel at Monza. Well, did you take a little bit of pleasure from that?
PS: I was crying. I don't mind admitting it and I did a lot of press interviews that day and I couldn't help saying that it was Minardi's first victory and then correcting myself and saying Toro Rosso. But no, it was unbelievable. But I tell you, I saw the emotions. Obviously I wasn't there, but I saw the emotions on TV, there wasn't any more than it was in Melbourne in 2002, because still, as I said before, to this day, everyone thinks we won that race. But yes, well done Sebastian.
TC: By the way, were there any ramifications of you being on that podium in 2002? You know, Ron said, oh, it's all sorted.
PS: It was all sorted.
FULL TRANSCRIPT: Read every word from four-time world champion Alain Prost's insightful Beyond the Grid interview
TC: Was it?
PS: Both Bernie and Max had been spoken to. I think the fact that they did play 'Still Call Australia Home' probably saved the day. If they'd had played the national anthem, which they were going to do, I think we might have been in a bit of trouble.
TC: One of the drums that you banged very hard back in the day was budget caps, reducing the costs in Formula 1. Of course that is now happening, but go back to the early 2000s when you were saying we need to reduce costs, how was that by the establishment? And I'm talking Ron Dennis at McLaren and talking Jean Todt at Ferrari.
PS: Well, Ron, bless him, I had an interesting relationship with Ron because if we go back to the Friday the 13th, 2003, the press conference, I'd been in Ron's motorhome beforehand and he said to me, "Paul, you know, I'm sorry, but if the heat's too much, you've got to get out of the kitchen, you've got to pay your way, etc. etc." And I had a lot to say that day. But the next race, which was France, which was Magny-Cours in 2003, was probably, not a lot of people know this, but it was all going to come to a head in a big way because I won't mention who it was this time, but a certain person in authority had suggested to me that all the cars in 2003 were running illegally because traction control had been banned.
And of course, I kept scrutinising my 2001 car because we used to use it for demos at all the two seater events. So I had a legitimate scrutinized 2001 car that was 100% legal, and it might have been a suggestion to make this fighting fund move on a little bit that perhaps I ought to suggest to everybody that I've just realised that all the cars in 2003 were running illegally and that I'd changed my car and I was going to run my scrutinised 2001 cars at that event and suggest everybody else sort theirs out.
Now, a lot of people came in and I'll watch the names here, but a lot of people knew this was happening. A lot of team principals knew this was happening. And it got to the point where Bernie had called a team owners meeting up in his block. And there's a lovely picture of me and Ron walking down the hill, were coming back from that meeting where he's got his arm on my shoulder. And what he's actually saying is, "Paul, I'll give you one thing. You've got big balls. I promise you, don't go any further with this traction control issue. I promise you that I will get that fighting fund. It was 2.8 million. I will get that fighting fund through for you. And if I don't, I'll put it in myself."
And from that day onwards Ron and I got on fine. And his comment about if the heat in the kitchen is too much get out and I was lucky enough that year to have soup in Ron's kitchen at the McLaren Technical Centre. And it was very good soup. And we were we were good from that day onwards. But sometimes you have to fight, you know, you have to fight now. Would I have gone through with that? No, I would not. I was always prepared to play the politics to a level, but at any point where it interfered with the proper racing, I would have withdrawn. Either in Melbourne in 2005 or Magny-Cours in 2003. I would never let the politics ruin the racing. We were all there for the racing. We all loved the racing. But sometimes particularly as a back of the grid team, you need to actually flex your muscles. You need to you need to stand up for yourself. Otherwise you'd just be run over. You know, it's now called the Piranha Club for nothing.
TC: There was talk of you coming back in 2008.
PS: Yes, there was some. I did look at it seriously. At that point I felt there was just a chance that the new teams would, because don't forget there had been a new Concord Agreement, there is a lot more money involved now. And I felt that at that point in time we had a chance. But Dave Richards was also looking at it and I felt that we didn't have his resources and I didn't feel I could go through it again. So we didn't put up a formal bid. We did go through the motions. We did look at it. I had an engine supplier, had all the equipment to build a car, but not guaranteed enough money to run.
TC: So when David Richards and Prodrive didn't take that 12th entry, how did you feel about that?
PS: I still felt even more assured that I'd done the right thing.
TC: By not going in?
PS: By not going in. Because if Dave Richards and Prodrive felt it was too risky then thank goodness I did too.
TC: Yeah. Okay. Gut reaction. How much of all of your big decisions have been led by your gut?
PS: All of them. It's what you do. Good, bad or ugly. You do it. And like Bernie, I'm a person that if I shake somebody's hand and no matter what the paperwork says, it's the deal that you do. And if you honour that deal, you're not going to go far wrong in life.
TC: Yeah, well, that final one for me, Paul, thank you so much for your time. It's just, what do you make of F1 today?
PS: I think they've now gone to a level where I'm not sure it's an F1 car as much as a spaceship these days and I'm interested to see how they do continue to keep to the cost cap because the cost cap is said about the right place in my belief. But it's good and it's still good racing and I really welcome, I'll say, Ross Brawn, but obviously there are other people like Pat Symonds that are involved, but certainly the changes made last year have given us some really, really good racing. Now, you know, the cars can overtake. They're not going to be washed out the minute they get behind the car in front of them.
So, I think in that respect, I think the tech regs are in the right place. I worry about the technology, but that's just probably because I'm in my sixties and I'm used to having lovely loud engines and all that kind of good stuff. So I guess if I was given it a mark out of ten, it's probably an eight or nine. It's not too bad.
TC: And what do you make of teams being profitable?
PS: Yeah, that's an interesting thing. You can actually make money in F1 these days. I think the reason, now don't get me wrong, back in the day when we said that Toyota invested in 2001 second half of '01 and all of '02 1.5 billion, but in those days Ferrari and McLaren, they're all spending four or 500 mil. But if you didn't put a cost cap in, it would have got to the point where only one or two or three teams could ever be successful. Whereas today you can have your moments where you know a AlphaTauri as it was, can win with Pierre Gasly, someone else can win, you know, you can get the odd wins, which I think is what keeps people excited.
You know, the power of the underdog is unbelievable. The people want to support. They want to see different people win races. They don't want to see Ferraris and Mercedes and even Red Bull to just keep winning all the races. And I think we're in a position now where we've certainly got some good drivers in F1. You know, I can think of six people that deserve to be world champion. They won't all end up there because of the cars that they're driving, but put them in the right car and you're not just talking about the ones or the twos as you might have been doing in years gone by. You're talking about almost half the field is capable of being world champion. So I'm very impressed with the driving standards. I'm very impressed with the lack of stupid accidents, they still have them, but lack of stupid accidents that have happened in, lap one incidents where people have got red mist and don't really think about what they're doing.
TC: Melbourne 2002.
PS: Melbourne 2002 being a great example. But you also nowadays can make money, as you rightly say, with Formula 1 and and that's tempting, but I'm too far gone for it now. I'll just sit back and watch it.
TC: But it's been so awesome to speak to you. Thank you very, very much for your time.
PS: My pleasure, Tom.
To read on, sign up to F1 Unlocked for free
You'll unlock this article and get access to:
Live leaderboard data
Epic experiences and rewards
Money-can't-buy competitions