Furious Mazepin hits out at Schumacher over Q1 Vettel incident, as stewards clear drivers of blame
The Dutch Grand Prix stewards have cleared Nikita Mazepin, Mick Schumacher and Sebastian Vettel of any wrongdoing after a heart-stopping moment at the end of Q1, which saw a squabbling Mazepin and Schumacher block Vettel – with the Haas team mates at odds over who was at fault.
Vettel was charging into Turn 13 around the narrow Zandvoort track when Mazepin jinked in front of him as he fought for track position with Schumacher.
But although the stewards looked into the incident after summoning all three drivers before them, no further action was taken, with the stewards reporting that: "There is no doubt that the lap of [Vettel] was compromised, however we note in particular the comment of [Vettel] that 'there were too many cars in the one place.'"
READ MORE: Verstappen delights home fans after edging out Hamilton to take thrilling Dutch GP pole
So that was the matter settled – or rather not, with a furious Mazepin initiating a war of words at Haas after suggesting that he was attempting to redress a running order contravention by team mate Schumacher, which had led to Vettel being blocked.
"I'm really annoyed to be honest," said Mazepin. "How the rules in a Formula 1 team works, one weekend you're the first car, next weekend you're the second car. This weekend it was my turn to be the first car.
"I once in Imola overtook the first car when I was the second car and I got a b********* from the team," he added. "And now this has happened to me for the second time where my team mate overtakes me and then bumps me into the traffic and then f**** my last attempt in qualifying on purpose.
"So I'm not happy because if you do it once and you didn't know about it, that's fine, but when you do it twice, that's deliberate… There shouldn't be any tension like that in the team, so I'm f***** off."
READ MORE: Watch the moment Verstappen sends the Zandvoort crowd wild as he takes pole for the Dutch GP
Schumacher, on the other hand, didn't feel he had a case to answer, telling the media: "From my point of view I did everything the right way. It was discussed publicly on the radio. Obviously you can't hear that but it was, so obviously we're both in a situation that wasn't great because the last corner wasn't easy.
"Sebastian… is the last person I want to block on this grid, so very sorry for that and also to Aston Martin. But we'll try to do our best in the race tomorrow."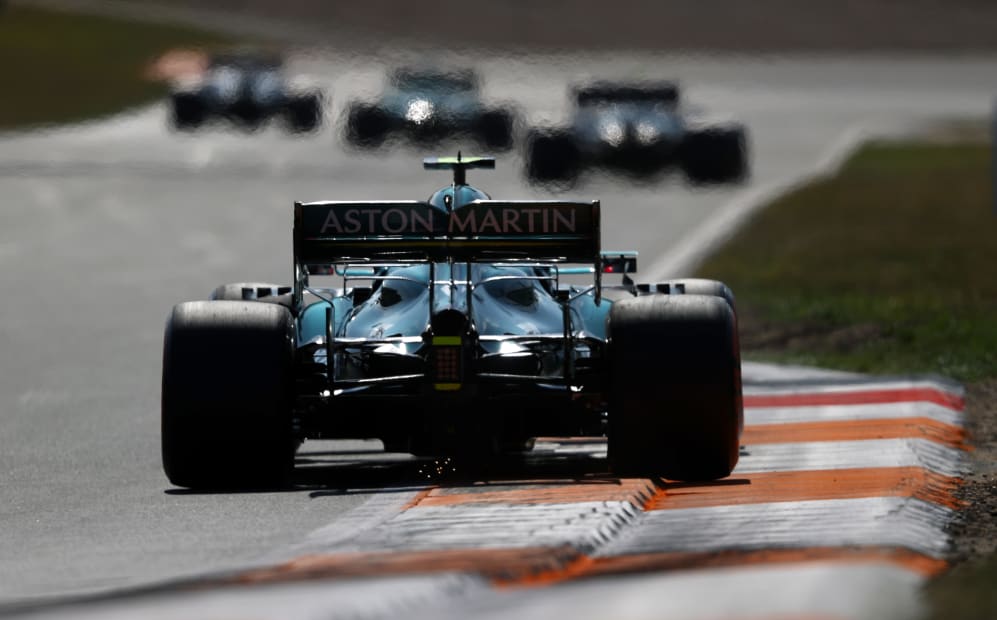 Pushed on the state of his relationship with Mazepin, meanwhile – with the pair having endured a number of edgy moments as team mates so far this year – Schumacher replied: "Again, I think whatever happened before, they're always different situations. I think in this one, there's no reason to complain. I don't really to know what to say more."
HIGHLIGHTS: Catch up on all the action from qualifying for the Dutch GP at Zandvoort
While both Haas drivers were out in Q1, Vettel was the biggest loser from being blocked, ending up P17 as Aston Martin team mate Lance Stroll wound up P12 on the grid.
But Vettel, who'd run in the top 10 in both Free Practice 2 and 3 after suffering a power unit issue in FP1, was philosophical about being impeded by the Haas pair.
"I think if it wasn't for them, it would have been the next car ahead – there were just too many cars in the same spot," said Vettel. "In terms of timing, I don't think we were in the right place today. We didn't go with the track and the most improvements, so we were just slow and lap time was difficult to get… We didn't expect it to be that tight for us."