Feature
GALLERY: Lewis Hamilton's stylist Eric McNeal talks us through the 7-time champ's best outfits from 2022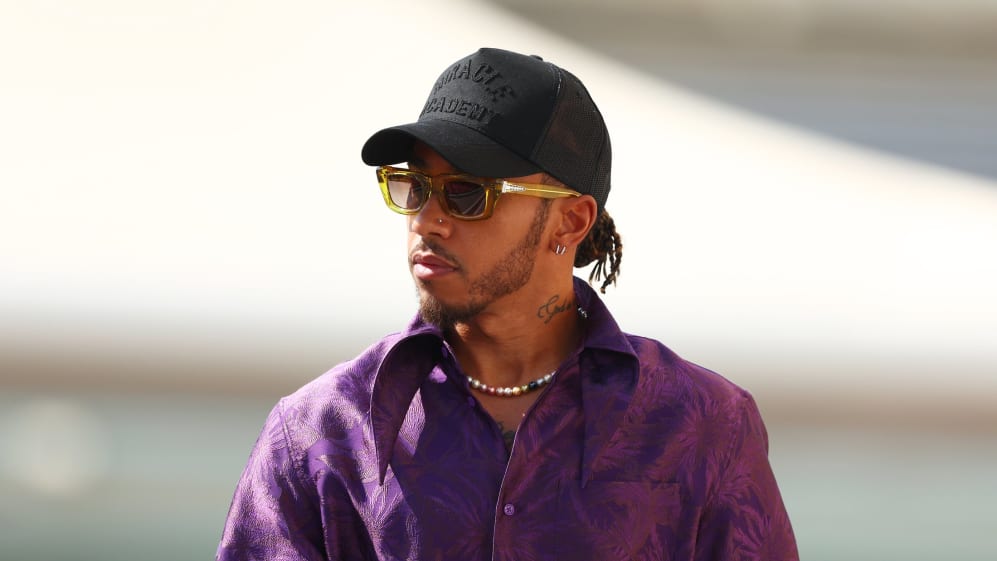 When Lewis Hamilton enters the Formula 1 paddock he is usually greeted with an army of cameras all waiting for him at the gates in a bid to capture his latest fashion ensemble. And while you may see what he is wearing and you may know the brand, you may not know the story behind each of his looks.
So, to help with that, we enlisted the help of Hamilton's stylist Eric McNeal, who took some time away from his New York fashion week preparations to give us an insight into their partnership and the thinking behind just a few of last season's looks that McNeal himself styled for the seven-time world champion.
GALLERY: Take a closer look at the Mercedes W14 2023 F1 car and livery
Ferragamo from head to toe in Austin
Eric McNeal: "It was one of [Maximilian Davis'] first collections at Ferragamo and also, he's British as well, so him and Lewis have a relationship. So, I just thought it would be great for us to just give that space to Max for his first appointment and also, I just love seeing Lewis in these silhouettes. I love how flowy it is, and I love how confident Lewis looked in the look."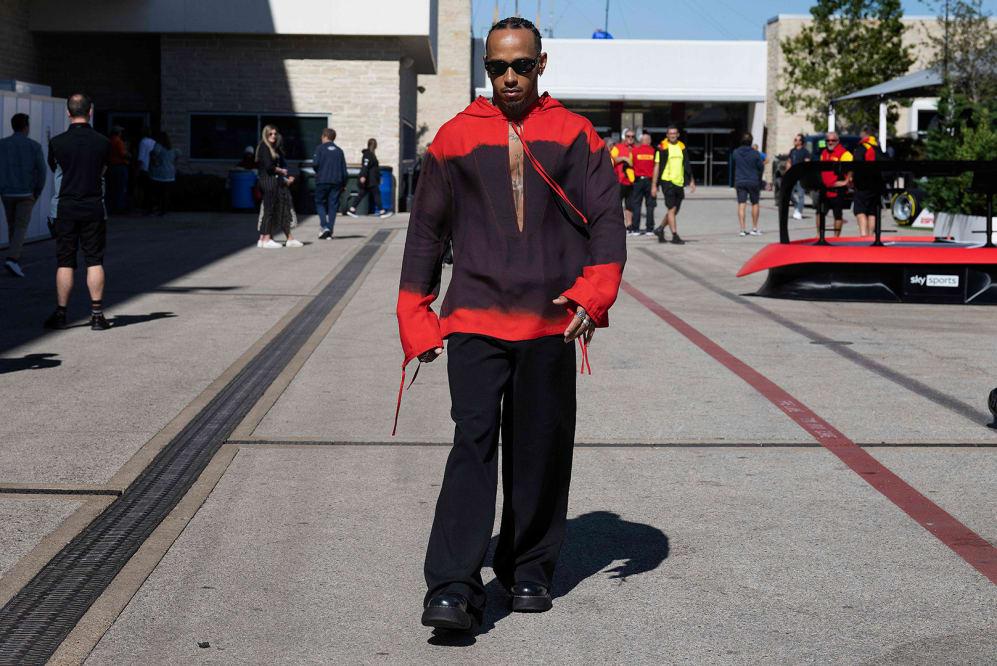 Tracksuit but with a twist in Mexico
EM: "This look is by Acne Studios, and I just love to put a spin on a track suit. You can't see it, but in the back there's a beautiful painting of a cat, and I just thought it was just super unique, very quirky. I love taking a spin on the tracksuit.
"I think the tracksuit is such a British thing and I love that it was just a more fluid way, not your typical hyper masculine way of wearing a tracksuit. I think it was silk, and it had a net underneath it, and it just was really beautiful, and I love the colours.
READ MORE: New Mercedes livery shows 'we mean business' says Hamilton, as he vows to get back to winning ways in 2023
"And the picture in the back of it was something that I loved because both me and Lewis, we love animals. And I just thought it was just funny to have, a tracksuit, a silk tracksuit with the cat on the back."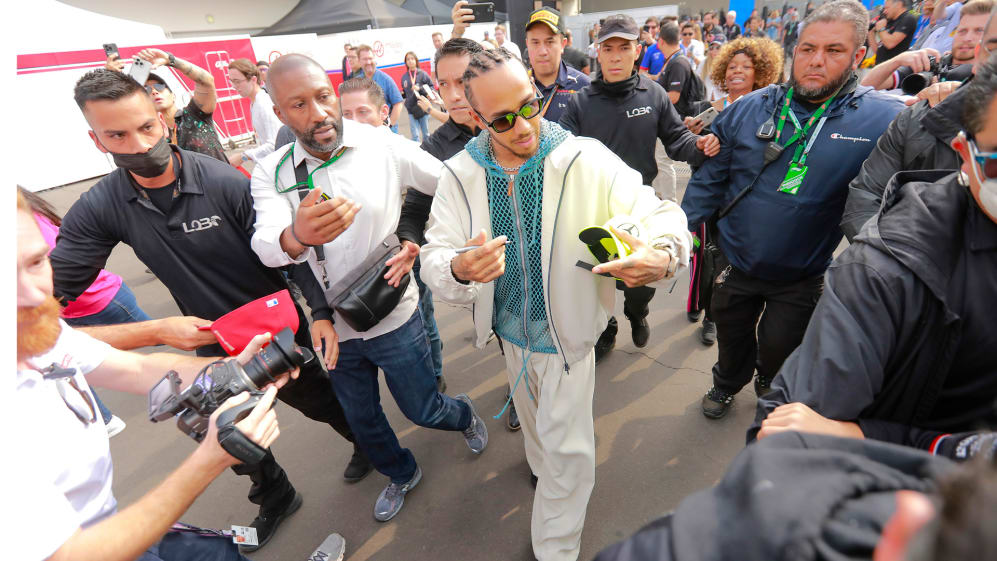 Sleeveless sweater vest in Texas
EM: "This is one of my favourites because it's by Tommy Hilfiger. Obviously, Tommy is a huge part of the F1 family, and we love working with them. I've been working with Tommy Hilfiger for years, and I just love every time I go in and do fittings with them, because they have the best things that fit Lewis' aesthetic so perfectly.
READ MORE: Mercedes explain choice of naked carbon for new W14 F1 car
"I love this vest because the seasons change all the time. And I just felt that it was perfect for the weather, perfect colour. I love Lewis in red. If you notice, he wears red a lot. I love that it just was very very masculine, and also he looked really confident in it."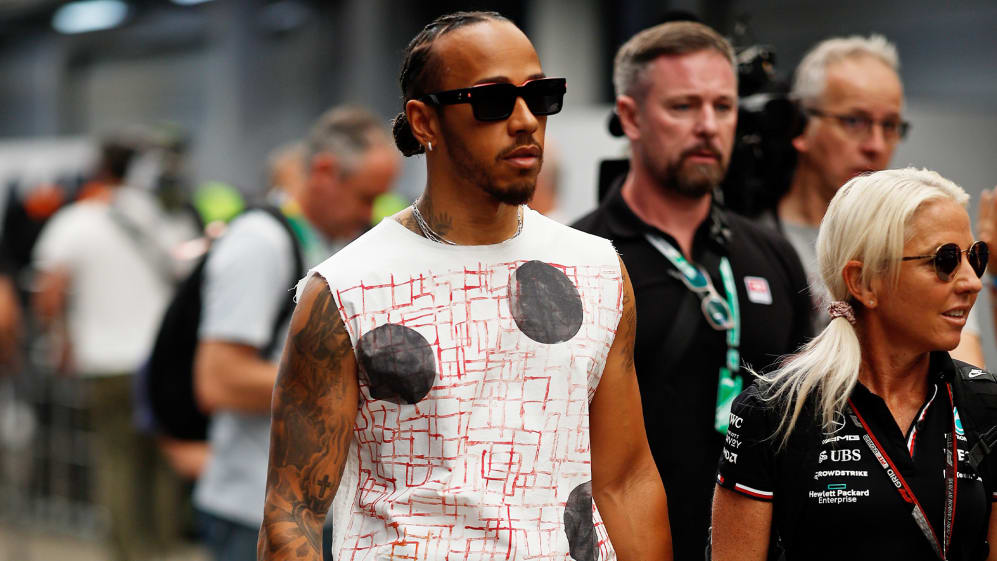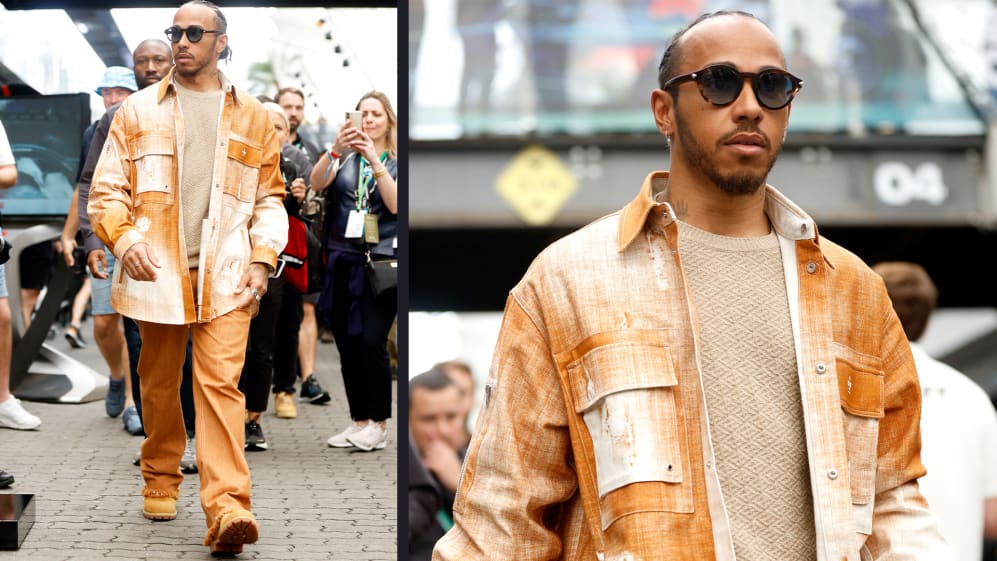 Louis Vuitton set by Virgil in Austin
EM: "This one is Louis Vuitton by Virgil Abloh. I love this because like I said, I love monochromatic matching sets. I think Lewis pulls off prints so well and the shape was just really different and unique. I love it so much."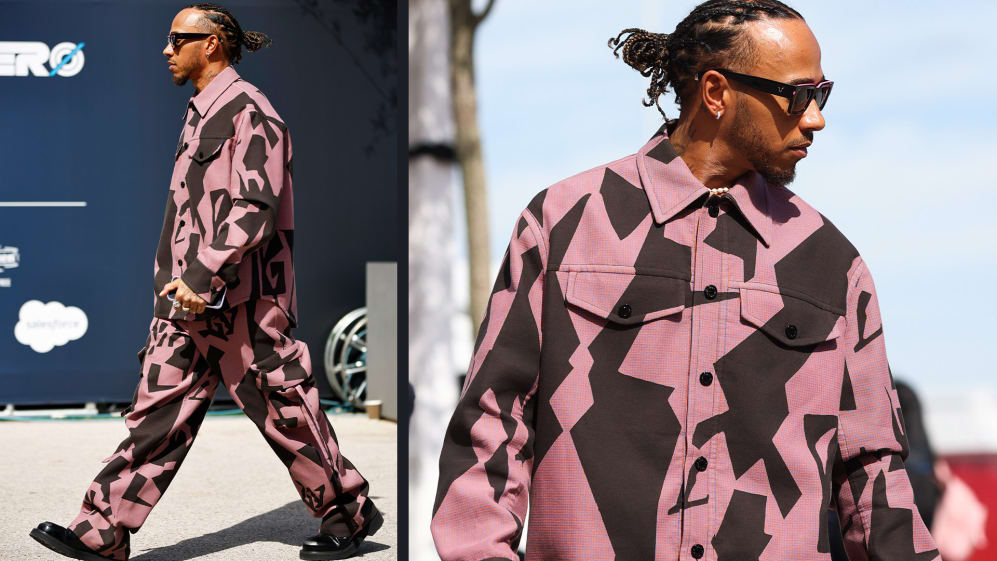 Keeping it light in Abu Dhabi
EM: "This is another Tommy Hilfiger. I love this look because it's a collaboration with Martine Rose. Obviously, I love Martine. She's also another Brit, and I just thought it was just like a nice casual.
READ MORE: Hamilton explains how racing became his 'superpower' amid 'the most difficult part of my life'
"You know, it's so hot in there. So, I think that you have to really dress for the weather, and I just thought this was perfect. I think the team at Tommy Hilfiger, they have so much to choose from, so it's always a pleasure working with them."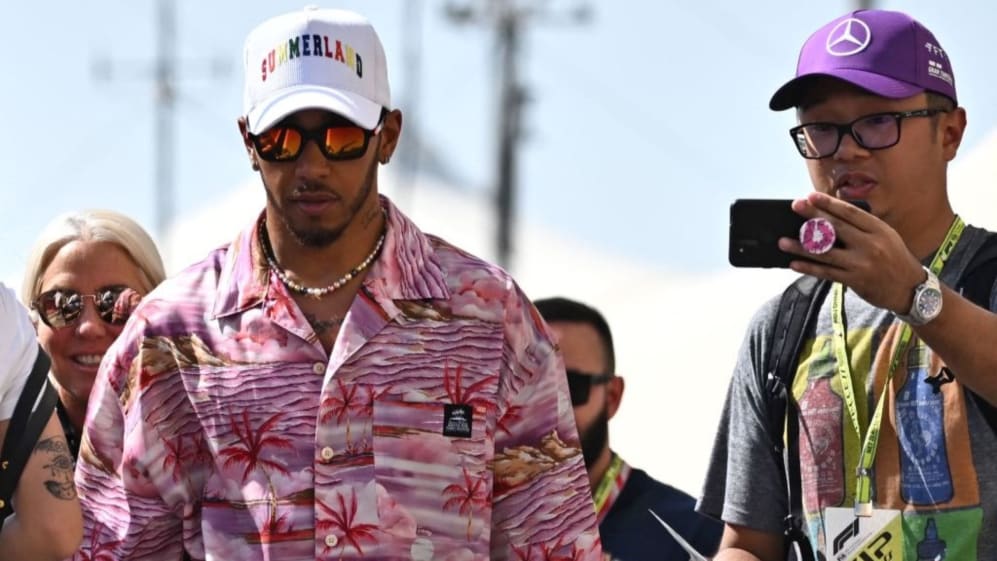 Beating the Singapore heat
EM: "This is Versace. I love a vest. I think Lewis… he's always in such great shape and I was just like, why not? Let's just show off your arms. It was just a really simple outfit, and I love the colour."