Feature
GALLERY: Supercars, surfing and crocodiles – here's what the drivers have been getting up to Down Under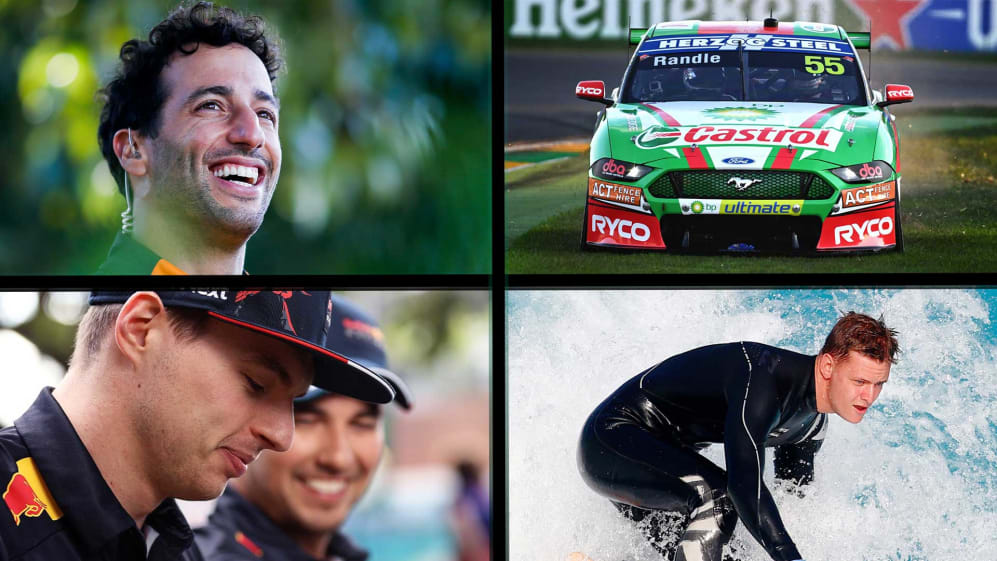 Australia's back on the calendar after two years off, and the drivers have been making the most out of their return to Melbourne. Check out what the likes of Daniel Ricciardo, Fernando Alonso and Mick Schumacher have been getting up to...
Sergio Perez and Fernando Alonso
Red Bull's Sergio Perez and Alpine's Fernando Alonso brought the thunder Down Under, taking the wheel of V8-powered Australian Supercars on Thursday. Perez drove a Red Bull Ampol Racing Commodore, while Alonso wheeled Thomas Randle's Tickford Mustang – champion Jamie Whincup showing the pair how it's done before the F1 drivers had a go.
Oops! Error retrieving Twitter post
Max Verstappen
Reigning champion Max Verstappen has been digging into Australia's favourite spread: Vegemite. We don't think Perez was too keen.
Oops! Error retrieving Twitter post
Daniel Ricciardo
"Oh my god, can I feel you?!"
Homecoming hero Daniel Ricciardo faced a heartwarming reception from the fans at Albert Park. The McLaren driver visited his family farm ahead of the Grand Prix too as he got some much needed rest ahead of a challenging home race.
Ricciardo also unveiled a colourful new helmet design for the race, which we'll see on track very soon.
Oops! Error retrieving Twitter post
Valtteri Bottas
Alfa Romeo's Valtteri Bottas tried out some Aussie rules with the Tigers – Richmond Football Club – and seemed to fit right in.
Oops! Error retrieving Twitter post
Mick Schumacher
Haas's Mick Schumacher not only met Robert Irwin at the Australia Zoo, but hanged 10 with pro surfers Isabella Nichols and Connor O'Leary in the bluest of waters. The German racer seems to have fared pretty well, given the shots below – and his team seem to be riding a wave too...
"I went to see Byron Bay, went to Brisbane and went to visit the Australia Zoo, so [my time has been] filled with a lot of action, filled with meeting great people and having great experiences," he said in an interview.
READ MORE: 'It's like arriving late to school' says Vettel, as he prepares for first race of 2022 in Melbourne
Oops! Error retrieving Twitter post
Oops! Error retrieving Twitter post
Guenther Steiner
Schumacher's team mate Kevin Magnussen delivered Haas Team Principal Guenther Steiner a massive cake for his birthday on Thursday. "The biggest birthday present for me was Bahrain this year, where we were back where we want to be," said the Haas chief.
Oops! Error retrieving Twitter post
Oops! Error retrieving Twitter post
Alex Albon
Ahead of his arrival in Australia, Williams driver Alex Albon returned to Thailand to visit the Wat Sakaeo orphanage, around 80km away from capital Bangkok, which houses and provides education for almost 2,000 kids from across the country.
Oops! Error retrieving Twitter post