Feature
FORM GUIDE: Who's looking good as F1 returns to Melbourne?
Round three of the 2022 season is upon us, as the drivers and teams head Down Under for a welcome return to Melbourne, and the Australian Grand Prix. Here are the favourites for pole, podiums, points and victory on the reworked Albert Park circuit, as we see how you've been voting on F1 Play, our fantastic Grand Prix predictor game.
Vying for pole
Coming into Melbourne, you'd be brave to bet on any team other than Red Bull or Ferrari taking pole position. Charles Leclerc claimed the opening pole of the season in Bahrain, while a stunner from Sergio Perez in Jeddah saw the Mexican claim his maiden pole… on his 215th time of asking!
READ MORE: Vettel's return and a reworked track – 5 storylines we're excited about ahead of the Australian GP
None of the four drivers in those teams – that's Leclerc, Perez, Carlos Sainz and Max Verstappen – have ever taken pole position here. Of those, Verstappen has qualified highest with his P4 in 2018 and 2019, while Perez has never qualified higher than 10th here (Leclerc's best is P5, Sainz's P7).
Mercedes' Lewis Hamilton holds the record – jointly shared with Ayrton Senna, Michael Schumacher and, er, himself – for the most poles at a single venue with his eight Melbourne pole positions, including the last six on the bounce.
But with Mercedes having been, on average, around 0.7s off pole in the first two races, and Hamilton recovering from his shock Q1 exit in Saudi Arabia, he looks unlikely to claim the outright record of nine this weekend.
READ MORE: What time is the 2022 Australian Grand Prix and how can I watch it?
Incidentally, with the Albert Park track having been reworked for 2022, qualifying speeds should be over the 150mph average mark for the first time since the race debuted in 1996.
Pole positions – 2015-2019:
2019 – Lewis Hamilton (Mercedes)
2018 – Lewis Hamilton (Mercedes)
2017 – Lewis Hamilton (Mercedes)
2016 – Lewis Hamilton (Mercedes)
2015 – Lewis Hamilton (Mercedes)
FAN VIEW: In 2021, it was Verstappen vs Hamilton for F1 Play gamers; now it's very much Verstappen vs Charles Leclerc. The pair dominate the voting so far for Melbourne, with a tiny gap between them. Leclerc leads the way right now – unsurprising after claiming pole in Bahrain and outqualifying Verstappen again in Jeddah.
In the mix for victory
Similar to the fight for pole positions in 2022, we've witnessed what is very much a two-team race for supremacy in the Bahrain and Saudi Arabian Grands Prix – and effectively just two drivers too, with Verstappen and Leclerc having provided us with some delightful racing entertainment so far.
Of those two, Verstappen has the better record in Melbourne, having finished on the podium here in 2019 – in Red Bull's first race with Honda power – while Leclerc's Ferrari debut that year saw him finish a distant P5.
READ MORE: First victory main target for 2022, says Sainz
Carlos Sainz and Sergio Perez will be keen to show that they're in it to win it this season too, Sainz having now finished on the podium in both Grands Prix, while Perez was unlucky in Jeddah that his pole on Saturday became a P4 on race day.
To mention Mercedes again, Hamilton has strangely only scored two Melbourne victories compared to his eight pole positions here – while it will be interesting for team mate George Russell to benchmark his F1 progress, having made his debut here in the very recalcitrant Williams FW42 back in 2019.
Wins – 2015-2019:
2019 – Valtteri Bottas (Mercedes)
2018 – Sebastian Vettel (Ferrari)
2017 – Sebastian Vettel (Ferrari)
2016 – Nico Rosberg (Mercedes)
2015 – Lewis Hamilton (Mercedes)
FAN VIEW: We have a very similar story here – Leclerc and Verstappen dominating the F1 Play voting and just the slim margin between the pair. Leclerc again has a slight edge, while seven-time world champion Lewis Hamilton has just 2% of the votes so far. That emphasises the extent of Mercedes' struggles in 2022.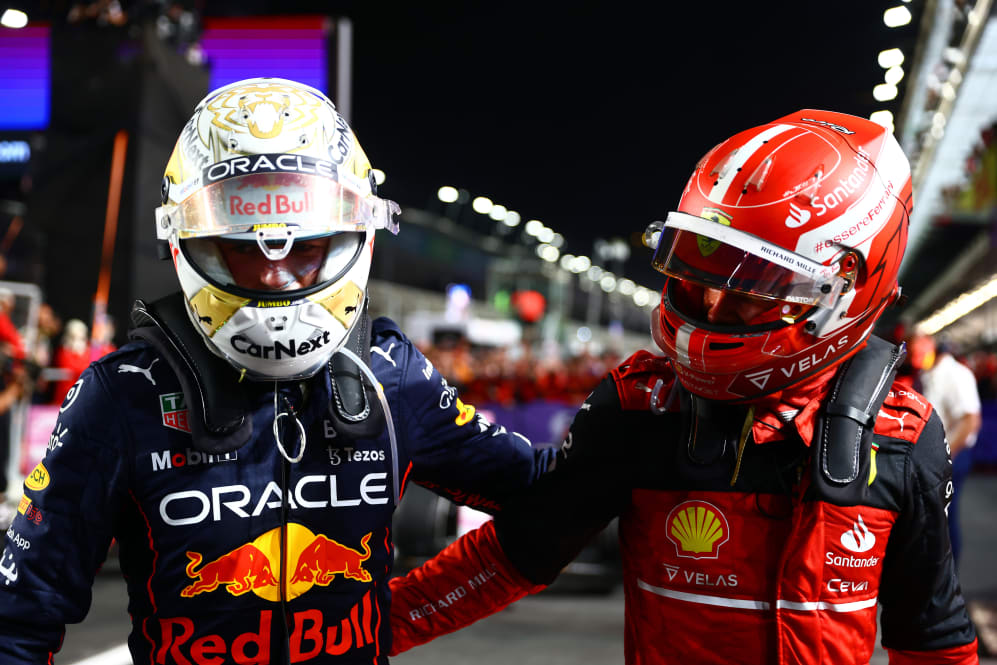 Podium outsiders
Hard as it is to credit, this is the category Mercedes appear to find themselves firmly in as the opening stages of the 2022 season unfold.
The team are confident that they've got sufficient margin over the chasing pack to be the third best squad with a bullet. But at the moment, it looks as though the Silver Arrows will need to watch, vulture-like, for any misfortune befalling the Ferrari or Red Bull drivers to pounce for the podium, as Lewis Hamilton did in Bahrain.
But given they're coming off the back of a Saudi Arabian weekend which saw a Mercedes fail to start in the top five for the first time since the 2013 Italian Grand Prix, confidence has surely been shaken.
READ MORE: What's the weather forecast for the 2022 Australian Grand Prix?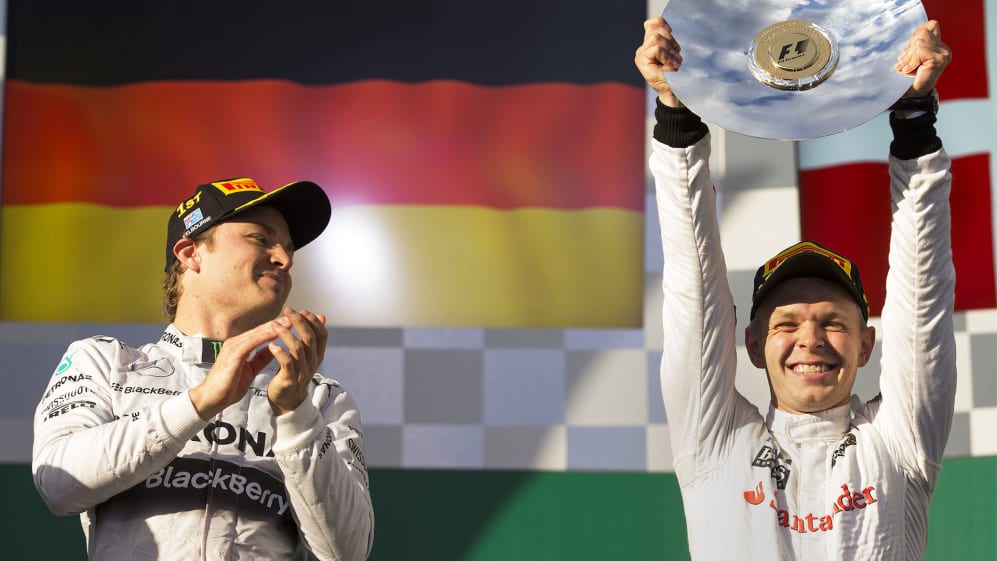 Beyond the top three teams, we're really looking at proper outsiders for the podium. But it's worth noting that Kevin Magnussen – who's enjoyed a fine return to F1 this year – started the 2019 Australian Grand Prix P7 and finished P6, while Melbourne was also the setting of his only F1 podium, and in his very first race!
READ MORE: 'It's like arriving late to school' says Vettel, as he prepares for first race of 2022 in Melbourne
Elsewhere, look to Alpine, who are keen to stake their claim as at least the fourth strongest team on the grid in 2022 – with Fernando Alonso claiming ahead of the race that the team deserve to be "much higher in the standings" than their 16 points shows. As you can see below, Alonso's even been getting his eye in for this weekend with some laps in a Supercar – although some of his lines through Turn 1 left a little to be desired...
Podiums – 2015-2019:
Mercedes – 9
Ferrari – 5
Red Bull – 1
FAN VIEW: We never thought this would happen, but it's almost a case right now of Hamilton and his Mercedes team mate George Russell being outsiders to grab a spot on the podium this weekend. The Ferraris and Red Bulls dominate the F1 Play voting for the top three spots, with the Silver Arrows some way behind.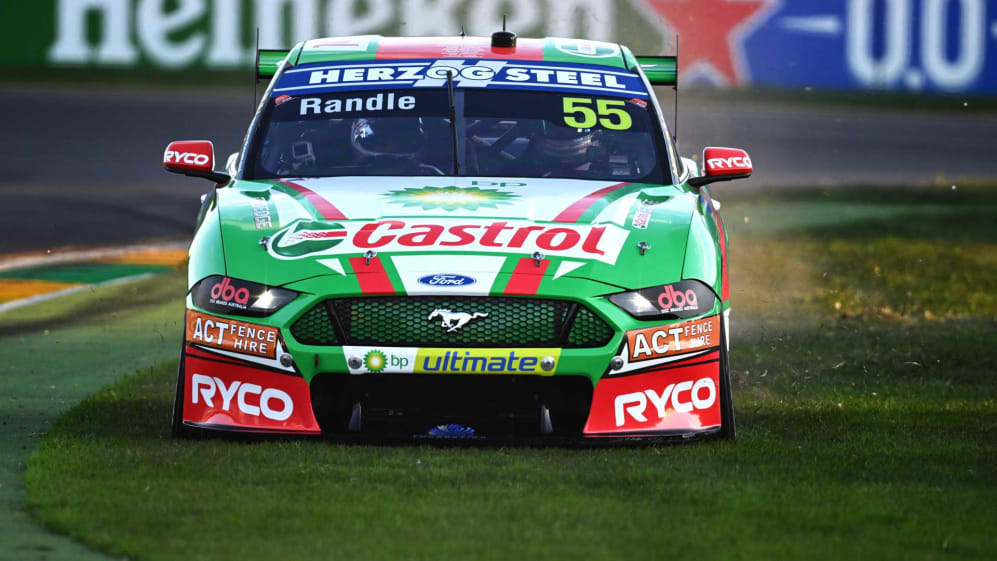 Points potential
Two drivers who'd love some points this weekend are Daniel Ricciardo and Sebastian Vettel. Ricciardo has yet to score in 2022, as he prepares for his first home race since his disastrous 2019 Australian Grand Prix, where on debut for Renault, he ran over a grate at the start and was ultimately forced into retirement.
READ MORE: Ricciardo 'a big bundle of excitement' ahead of Melbourne return
Vettel is set to make his first start of 2022 this weekend, having been side-lined with Covid-19 in Bahrain and Saudi Arabia. He, too, will be keen to take both his and Aston Martin's first points of the season, at a track that's tended to be a happy hunting ground for the German, a three-time winner here.
Williams are the other team still to score this season, although with the squad yet to finish higher than P13, the Grove outfit may need to rely on an attrition-heavy Aussie race to get on the board. Still, it's not unheard of at Albert Park…
Points – 2015-2019:
Mercedes – 185
Ferrari – 129
Red Bull – 65
Williams – 34
Racing Point/Force India – 22
Alfa Romeo/Sauber – 18
Alpine/Renault – 13
McLaren – 12
AlphaTauri/Toro Rosso – 12
Haas – 8
FAN VIEW: Once we get past the major players, the midfield battle on F1 Play is a fascinating one. There are a number of drivers again fancied to go well, including the Alpine pair of Fernando Alonso and Esteban Ocon, McLaren's home favourite Daniel Ricciardo, Alfa Romeo's Valtteri Bottas and Kevin Magnussen of Haas.