Gasly warns that 'Ferrari haven't shown true pace' in Hungary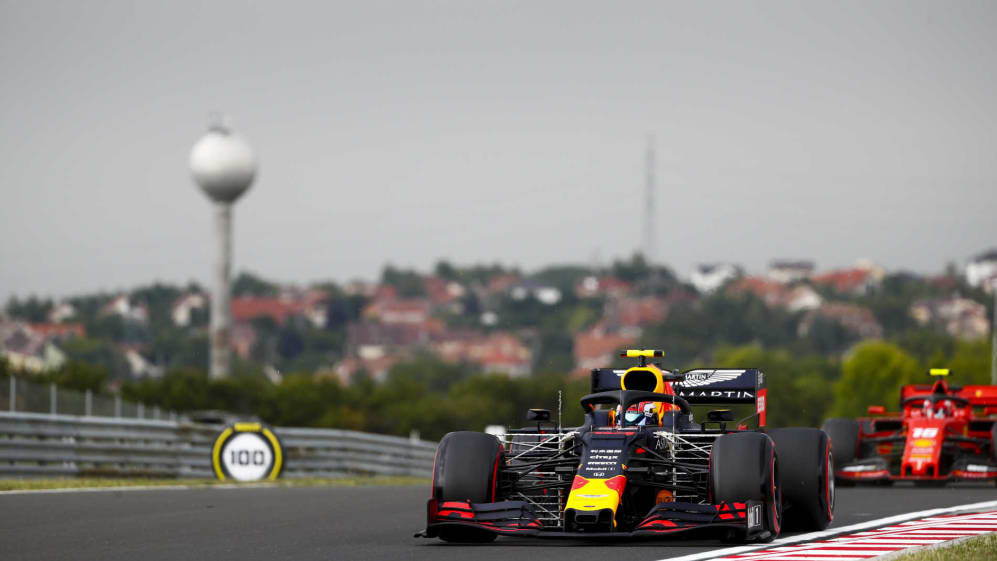 Although Pierre Gasly topped Friday's second practice session at the Hungaroring, the Red Bull driver came away wary of rivals Ferrari and Mercedes' pace, with the Scuderia in particular having likely not shown their true speed in the damp conditions.
It's taken 12 FP2 sessions this season for Red Bull to occupy either of the top two positions, and today Gasly – who crashed out in Germany – led team mate Max Verstappen in FP2. Yet, asked what significance his time-topping status had, Gasly replied, "not so much."
"I think Mercedes are really fast in FP1 and also in FP2," he said. "Ferrari, I don't really think they showed their true pace, but we know they are going to be there in qualifying.
"I think it's going to be pretty tight tomorrow but with the conditions the same and quite unpredictable, not too much to think about now – we'll see tomorrow what happens tomorrow."
It was strong for us on the dry and the wet
Verstappen, meanwhile, was more conscious of the Mercedes threat, after a day on which not everything went perfectly for the German Grand Prix winner, who damaged the front wing of his RB15 and then spun twice in FP2 as he complained about instability.
"Initially, I was happy in FP1 then we tried a few things which I was not so happy about, so I was just having a really strong front and losing the rear," he explained. "I think it's important that we tested those things because then in FP2 my car was again in a nice balance.
"We seem to be competitive and I still expect Mercedes to be a little bit ahead of us, I think tomorrow will be an interesting day."
MUST-SEE: Albon 'bounces back' from Turn 14 impact
Verstappen was only a tenth off pacesetter Lewis Hamilton in FP1 and the big positive for Red Bull is that their car seems to be working well in all conditions.
"I think the main thing for us is that FP1 was strong and FP2 was strong also," added Gasly. "It was strong for us on the dry and the wet. So far I am happy with the car on the few laps we did, so let's see what we can fight for tomorrow."
Given the changeable weather above the Hungaroring, Ferrari's potential and Mercedes' visible pace, Gasly concluded that "tomorrow could be very unpredictable like today. The weather seems similar to today, so it could be really tricky."
Verstappen, aiming to make Dr Helmut Marko's aim of five race wins a reality this season, put it more tersely: "It's close. It's all pretty close!"
And long may it continue.