Feature
Guanyu Zhou: Getting to know China's great F1 hope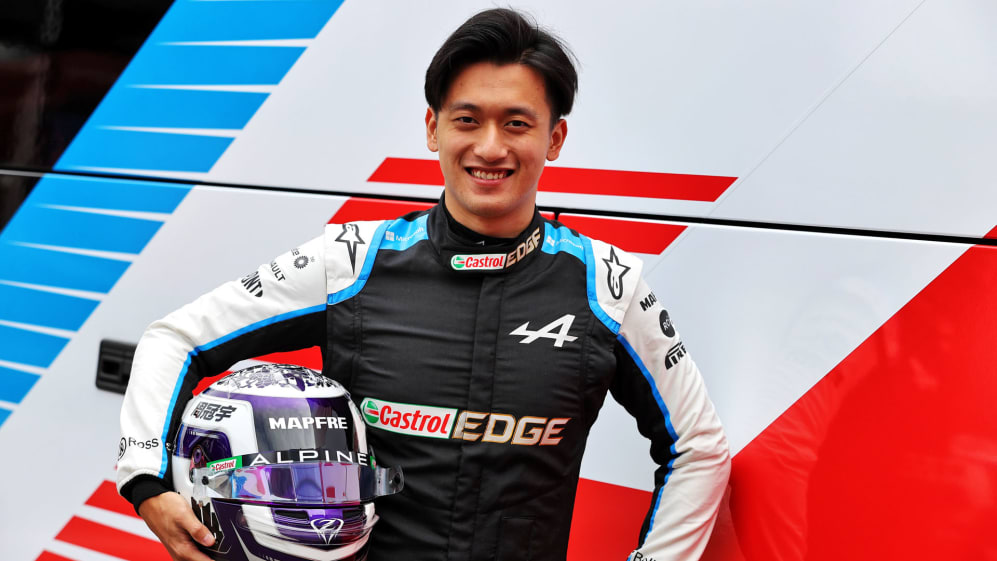 When Guanyu Zhou turned a wheel in this year's Alpine Formula 1 car in first practice for the Austrian Grand Prix, he became only the second driver from mainland China to have done so. There are plenty of challenges ahead to make the next step as China's first full-time Grand Prix driver. But there is no doubt, he is their best shot. So how did he get to where he is now, test driver for Alpine and second in the F2 standings?
His reaction to his first experience of a motorised vehicle wasn't what you might expect. "I was scared," he says with an honest frankness when we chat outside the Alpine hospitality unit. "I was seven, which is pretty late for a first time in a go-kart, as most start when they are three or four. I was in the back of a two-seater go-kart with my dad driving. I had my eyes closed for the whole time. I didn't open them once. It was like being on a rollercoaster!"
READ MORE: Chinese rising star Guanyu Zhou targeting F1 seat in 2022
That kind of experience would be enough for any child to want to make it stop. And that's initially what Zhou asked for. "I was going to go home," he says. "But my parents said – 'you are here, so you may as well have a go at driving yourself'. So I forced myself to try it – and I loved it, and have done ever since."
Having swapped the toy cars his family used to buy him as presents for the real thing, and with his own fingers gripping the steering wheel and feet controlling the pedals, Zhou's feeling about karting changed in an instant. "It became excitement rather than fear after the first lap," he adds. "You feel like you're in control. It's hard to describe. I was just really enjoying the speed."
Zhou had been bitten by the racing bug. Every weekend and as much as he could after school, he was at the track. After a few months, the manager said he could use the outdoor circuit if he could source his own set of wheels. "They saw I was loving it, and I was quite fast – quicker than most of the adults," he says. His own kart bought, it only took a few weeks before he had decided a racing career was for him.
The way forward was not clear, though. Motorsport in China was niche. In Europe, there were plenty of karting schools, and a trail of drivers who had been there and done it, providing a series of well-trodden paths for would-be racers to follow. Zhou had none of that. He and his parents, who have always been supportive of his dream, were learning as they went along so it was slow-going. "It was hard," he says. "We were asking a lot of people to figure what is best. We did make a few decisions that were not the best – but I think that is understandable when you don't have anyone to show you the right direction."
READ MORE: Alonso says Zhou 'executed FP1 perfectly' in his place at the Red Bull Ring
Like many drivers outside of Europe, Zhou realised he had to leave his homeland and head West to give himself the best shot of making his dream a reality. He left the bustling metropolis that is Shanghai and swapped it for the quieter historic South Yorkshire city of Sheffield in the United Kingdom. "We knew the UK has the strongest level of drivers," he says. "So we knew we had to move there."
A 12-year-old growing up in a city that couldn't be more different to Shanghai, and where he didn't speak the language, was something of a baptism of fire. But he embraced the challenge. "I had no choice but to adapt," he says. "School was very different. For example, I never studied science in China so I had no baseline. You also have to learn the language. In my first year, I couldn't really understand much but spending time with only English people helped me a lot."
Second in his first Italian F4 championship, having joined the Ferrari Driver Academy, was followed by three campaigns in Euro F3. He then switched allegiance to Renault's junior programme, with the carrot of time in Formula 1 machinery, while dovetailing his duties with a first campaign in F2.
Since then, Zhou has clocked up thousands of miles in two-year-old machinery, courtesy of Renault's (now Alpine's strong testing programme. "To be doing two-year-old car testing was big. That's the way I wanted it be, to get myself as prepared as possible while I'm doing the F2 season so I can be ready for whenever I get a chance [in F1]."
It proved a clever move, with Zhou getting the chance to test alongside his idol Fernando Alonso in current machinery at the end of year Abu Dhabi test in 2020, before taking the double world champion's seat for FP1 in Austria earlier this year. "Fernando was my F1 idol," he says. "2005 was the first time I got into F1 after attending the first ever Chinese Grand Prix the year before. I never expected to be driving in his seat. He's helping me a lot and is very open with information. Before I had my FP1 chance, we were already speaking with each other about the car, how it feels."
They say you should never meet your heroes, but in coming face-to-face with Alonso, Zhou's vision of the Spaniard 32-time Grand Prix winner has only been enhanced. "He's even kinder and more generous with his time than I expected," he says. "To be a world champion helping a young driver hasn't happened often in my experience. What he has done for me is quite surprising."
Zhou's first time in the car on a race weekend proved to be a success, with the team impressed by the job he did and the level of feedback. His opportunities of progression, though, are limited. With Alonso contracted for next year, and Esteban Ocon in the seat until at least the end of 2024, a race opportunity any time soon is looking difficult. A step up to reserve is the obvious next step, allowing time for Alpine to work out how best to forge a path for their juniors in the years to come.
"My all-time goal is to be a Formula 1 driver," he says. "Right now, I'm trying to win the F2 championship, to do well, and hopefully that opportunity in F1 will come."
If he makes it into F1, as mainland China's first Grand Prix driver, he'll delight a nation that is already starting to get more behind him and motorsport in general. "It is quite crazy back home," he says. "In these past few years, the number of people who know about motorsport in China has been growing massively. I'm happy to carry the Chinese flag and to make people back home proud. I haven't reached yet the top level, but that's the goal."