Haas drivers accept 'firm' rules from Steiner after scraps and close calls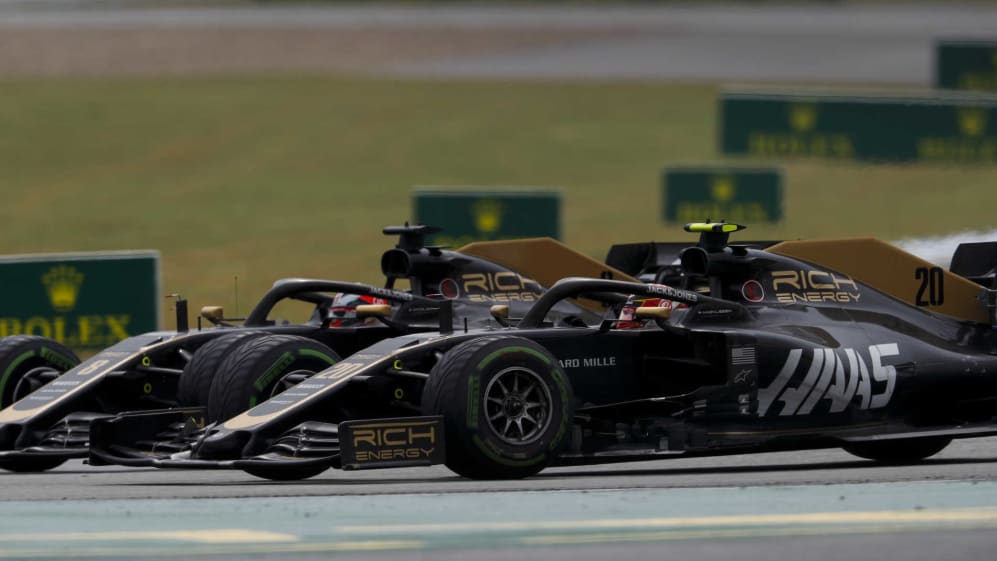 Rules of engagement have been set for Haas drivers Kevin Magnussen and Romain Grosjean before the Hungarian Grand Prix, after a collision at Silverstone cost them points and a close scrape at Hockenheim threatened a repeat.
Team Principal Guenther Steiner promised "firm" measures after a double retirement from the British Grand Prix and the latest coming together at the German Grand Prix. And while at Hockenheim, Steiner confessed to being "baffled" by the repeat of hostilities, he has now set out clear rules for his drivers to make sure it doesn't happen again.
Exasperatedly, he said: "You think one starts sixth, one starts 12th, you're like 'alright then, this will be fine this weekend'. And then after I don't know how many laps, there they are, crossing over with each other all the time, and we are sitting up there like 'should we say something, should we not?'
"I try to avoid to say something because it's not what we want to do, but at some stage we have to, we are forced to do those things. But I'm sure when I tell them what to do, they are never near again each other for the rest of the season – that is what will happen hopefully.
READ MORE: Grosjean and Magnussen's driving 'not acceptable' says furious Steiner
"It's the only solution, to be firm with them, and tell them what to do, and when they get close to each other, go from there," Steiner added. "I need to come up with something better that we get proper control of it and move forward from there, because it is not acceptable towards the team."
The drivers played down the situation, however, with Kevin Magnussen saying that the incidents had been "blown out of proportion" and that his relationship with Grosjean was still amicable.
"Apart from those incidents on track I feel like we have a pretty good working relationship," said Magnussen. "Romain is a cool guy and we actually have a good time when we go to work so it's being blown out of proportion a little bit. And I know you guys love a little bit of conflict and stuff like that but it isn't as bad as it looks."
FORM GUIDE: The favourites for pole, points and victory in Hungary
Grosjean concurred and compared the situation to football, where there isn't team radio or as much scrutiny into intra-team relationships.
"In Formula 1, it's great that everything is broadcast but you make a story out of nothing," he said.
"Our relationship is good. When you're driving at 300kph, obviously you're not going to say 'oh please, I think I was in [the] right and he was in the wrong and please, would you mind if I get my position back…?' You'd say 'f*** off, give me my position!'
"Unless you want us to be very, very boring or remove the microphone from the helmet then I think it's always going to happen."
As for the new rules of engagement and Steiner's tougher stance, both drivers have accepted it.
"We're here to do the best for the team and if that's the solution, the short-term fix, then why not?" said Grosjean. "As I say we're not here to fight for first or second in the world championship, I don't really give a damn if I finish 14th or 16th at the end. We don't have a fast car at the minute and the focus is on getting that car to work well."
Magnussen added: "At the end of the day, it doesn't really matter what we think, we just respect what's being said and required from the team and I can understand the team's point of view.
"We have had a pretty bad experience at Silverstone and clearly they want to avoid that happening again and we're just going to deal with it the way that we're required and make the best for the team, as Romain said."
Haas' recent problems mean that they sit eighth in the constructors' standings ahead of the Hungarian Grand Prix, tied on 26 points with Alfa Romeo.