Hamilton calls Verstappen's pace 'impressive to watch' as he applauds Mercedes improvements following P2 Sprint finish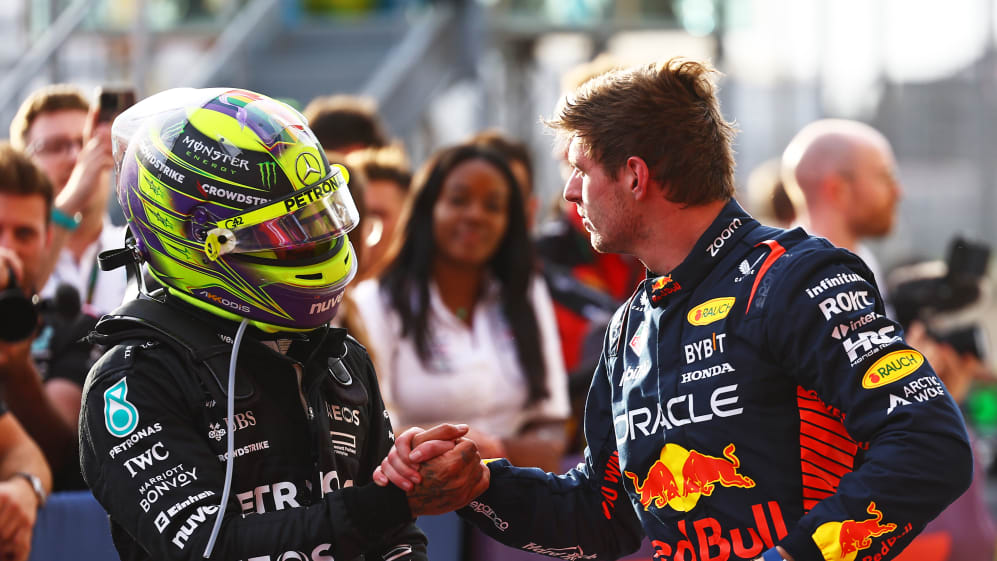 Lewis Hamilton claimed an impressive second place at the Sprint in Austin and, while he was happy with his and Mercedes' showing, he reserved special praise for Max Verstappen's pace after he was unable to match his rival's "undeniable" speed.
Hamilton continues to have an impressive weekend in Texas as he followed up his third place in Friday's qualifying with a P3 effort in the Shootout. He returned hours later for the Sprint to make his way past Charles Leclerc at Turn 1 on the opening lap to move up to second.
READ MORE: Verstappen hopes Red Bull's pace will be 'even better' for United States GP as he takes 'straightforward' Sprint win
The seven-time world champion looked like he could match Verstappen in the opening few laps as he stayed within DRS range. However, he couldn't maintain the gap, as Verstappen pulled out a lead of nearly 10 seconds at the chequered flag.
Reflecting on his 19-lap Sprint, Hamilton said: "That was a fun race. Good start down to Turn 1. Good battle with Charles and then I was trying early on to get closer to Max, but their pace is just undeniable at the moment.
"But I'm happy. We are a little bit closer. We've still got a long way to be able to eek the pace that he was doing throughout the race but nonetheless I'm really happy to be back on the podium."
Hamilton later added: "I was trying to lean on [Verstappen], but I knew that he was finding it easy just to keep that gap around a second. I didn't know he would pull away like he did, but he just had so much rear end, he was just cruising. It was impressive to watch."
Asked if his performance on Saturday gives him confidence for the race, Hamilton replied: "Good learnings today in terms of balance. Got to make some tweaks for tomorrow in order to make the stints that we need to do.
READ MORE: Leclerc remains hopeful for Ferrari victory in United States GP despite losing out to Hamilton in Sprint
"But I'm happy. We have made an improvement with the car, still a long, long way to go. We need a lot more than what we've brought but I know the guys are working on it."
Verstappen will start Sunday's race from sixth on the grid and, while Hamilton is happy that it will allow him, Leclerc, and Lando Norris to battle for the lead at the front, he is not hopeful of keeping the Dutch driver behind for much of the afternoon.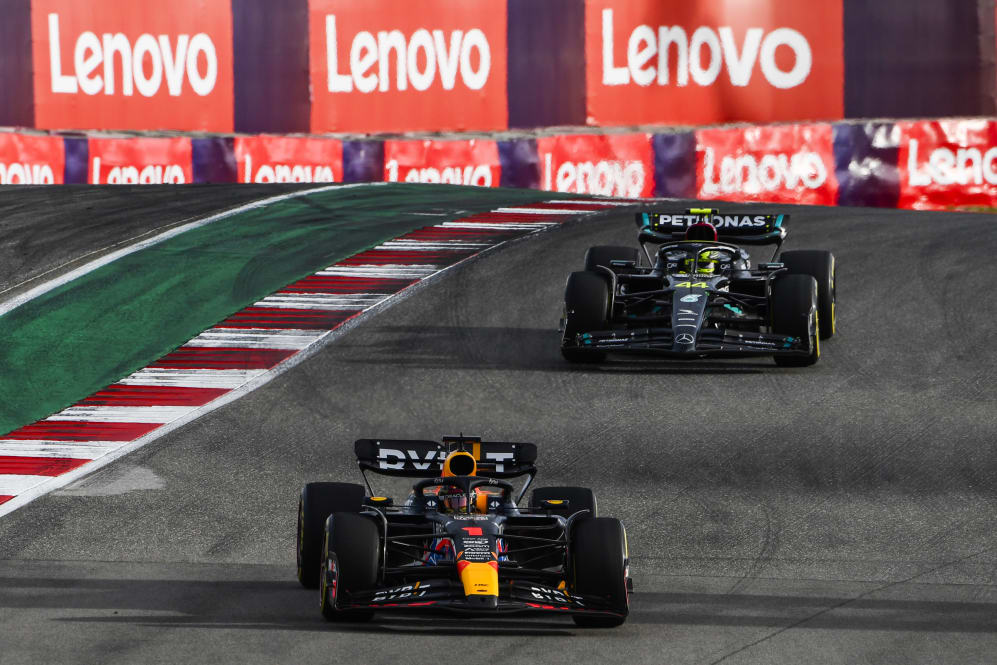 "I think that will be helpful for us at the front," said Hamilton when asked about Verstappen starting sixth. "I think ultimately, he will be breathing down our necks before too long with the pace that he had today.
FACTS AND STATS: Hamilton's best Sprint result for over two years as the Mercedes man takes second
"But I think that will open up for a good fight with Charles and Lando. We are all quite similar in pace so hopefully we get to have a good battle tomorrow. If we can all keep Max behind that would be awesome but if not, no worries."
His team mate, George Russell, qualified eighth but was given a three-place grid drop for impeding Leclerc in the Shootout. He was then given a five-second penalty for gaining an advantage on Oscar Piastri after leaving the track in the Sprint.
The Mercedes driver then came across the line in seventh but he dropped down to eighth behind Pierre Gasly once his penalty took effect. Speaking afterwards he said: "I think it was a fair penalty to be honest.
HIGHLIGHTS: Catch the action from the Sprint in Austin as Verstappen takes victory
"I knew Oscar had the right to push me off, I was hoping he didn't but by that point I sort of committed to it, and I thought what will be will be. Ultimately the five-seconds was fair.
"[It] was a shame I couldn't get past Carlos [Sainz] because I think I could have pulled the five seconds to Gasly. But in the end, it's been a scrappy day, in the stewards twice, hopefully a cleaner day tomorrow."