Hamilton credits extra sim work and 'energy of the fans' after beating Verstappen in British GP qualifying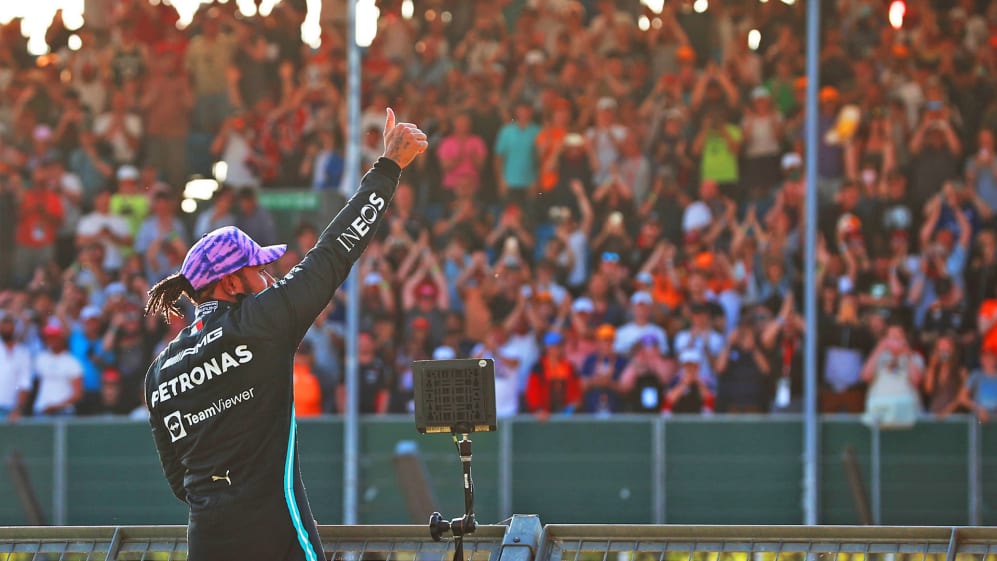 Lewis Hamilton set the fastest time in the British Grand Prix weekend's Friday qualifying session, meaning he'll start the inaugural F1 Sprint on Saturday in P1. And the notoriously simulator-shy Hamilton credited extra sim work on Friday morning for a lap that electrified the entire Silverstone crowd.
With just one free practice session on Friday that kicked off at 1430, ahead of qualifying at 1800, Hamilton decided to put his morning to good use with a session in Mercedes' Brackley simulator.
And although Red Bull's Max Verstappen was able to take a dominant fastest time in FP1, Hamilton then hit back with provisional P1 in Q3 – while he might have gone even faster on his second Q3 run had he not made a mistake at Vale, with his first lap still good enough to put him 0.075s ahead of Verstappen.
READ MORE: Hamilton digs deep to beat Verstappen in qualifying and seal top grid slot for F1 Sprint
"I'm over the moon," said an ecstatic Hamilton, after climbing up on the fence to celebrate with his British fans. "That first lap was great, the second was looking even better but I just lost the back end in the last corner, so my heart was in my mouth as I came across the line.
"But I could see the crowd and it was really reminiscent of my first pole here in 2007... I couldn't have done it without all these guys here so big, big thank you.
"I said we had this morning free and I was like, 'Look, instead of being stood around and wasting time, let's get to it,'" explained Hamilton of his morning simulator session.
"So we did a practice session this morning and I was just trying to develop it, trying to give the guys as much information as possible so as we're developing the car, we're squeezing absolutely every ounce of performance from this thing.
READ MORE: 'We won't stop fighting' – Mercedes 'not ready to give the baton to Red Bull' says Wolff
"Coming into it, I was hopeful that with the great work we've done together in the team, plus the energy of the fans, it would get us there. This is down to the fans I think."
The result marks the first time that Hamilton has been fastest in qualifying since the Spanish Grand Prix in May. But crucially, it wasn't a pole position for the seven-time champion, with that being decided by the result of Saturday's inaugural F1 Sprint.
And Hamilton warned that the hard work would really begin tomorrow, especially starting the 17-lap, pit stop-free encounter alongside Verstappen.
"It feels like such a long time since we've been able to get anywhere near [Red Bull] so this is incredibly special and obviously to do it on your home turf, there's no greater feeling," said Hamilton.
READ MORE: Everything you need to know about the F1 Sprint format – including how it works
"That's only one step forward. We've got obviously that race tomorrow which is going to be incredibly tough, but I think I've got the car in a good place. But that's when the work gets done, these next two days."