Report
Hamilton digs deep to beat Verstappen in qualifying and seal top grid slot for F1 Sprint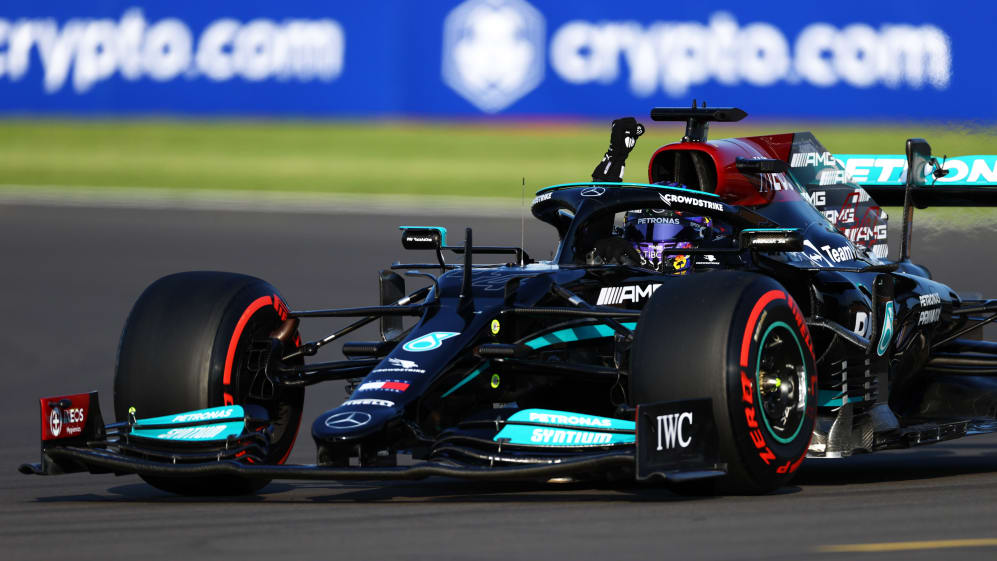 Lewis Hamilton put in a sensational qualifying lap to light up Silverstone and ensure he will start the first-ever F1 Sprint from P1 ahead of title rival Max Verstappen.
This historic Friday evening qualifying session, which sets the grid for the first-ever F1 Sprint on Saturday as opposed to Sunday's British Grand Prix itself, saw the drivers giving it their all for P1 on soft tyres only - as per the regulations on this experimental weekend.
READ MORE: Verstappen says his Red Bull 'felt weird' as he misses out on P1 for Sprint – but vows to bounce back
Mercedes may have taken nine of the last nine pole positions available at this track but Verstappen fired the first shot for Red Bull, topping Q1 by 0.035s ahead of Hamilton. But Hamilton bounced back in Q2, his time there nearly a half a second faster than Verstappen's. That left the 90,000-strong crowd salivating for Q3 in the evening sunshine.
And in the final segment, Hamilton went fastest with his first effort – a 1m26.134s – for provisional P1. Could Verstappen respond this time? On his final run, Hamilton set two purple sectors but failed to improve with oversteer at Vale. The Dutchman, however, was slower in sector 2 and his third sector wasn't good enough; the crowd went wild as he missed out on P1 by 0.075s at the flag, ensuring Hamilton took top spot.
FORMULA 1 PIRELLI BRITISH GRAND PRIX 2021
Great Britain
2021
Qualifying results
POSITION
TIME

1

Lewis

Hamilton HAM

Mercedes

1:26.134

2

Max

Verstappen VER

Red Bull Racing

1:26.209

3

Valtteri

Bottas BOT

Mercedes

1:26.328

4

Charles

Leclerc LEC

Ferrari

1:26.828

5

Sergio

Perez PER

Red Bull Racing

1:26.844
Mercedes' Valtteri Bottas took third, 0.194s off the pace, while Sergio Perez lost his P4 time for a track limits infraction at Stowe and finished fifth overall, promoting Charles Leclerc to P4 for Ferrari.
McLaren's pair Lando Norris and Daniel Ricciardo made it through to Q3 and were around seven-tenths off the leading pace, lining up sixth and seventh respectively.
READ MORE: Hamilton credits extra sim work and 'energy of the fans' after beating Verstappen in British GP qualifying
George Russell, a stellar seventh in Q2 for a second-consecutive Q3 appearance, managed to qualify eighth overall for Williams with a sole flying lap, alone on track in the final segment, as his home crowd cheered his every move in an electric atmosphere at Silverstone. He beat Ferrari's Carlos Sainz, who finished P9, and Sebastian Vettel – the four-time champion rounding out the top 10 for Aston Martin.
Surprise drops out in Q2 were AlphaTauri's Pierre Gasly in P12 and both Alpines – Fernando Alonso losing out by a whisker to the McLaren of Norris as he starts P11 for Saturday's first ever F1 Sprint.
AS IT HAPPENED
Q1 – Hamilton a whisker behind Verstappen as Tsunoda and Raikkonen miss out
A sold-out crowd – only the minority clad in orange for Max Verstappen this time around after the last race in Austria – roared the drivers along under the waning sun at Silverstone in this unusual Friday session. Yet it was the Red Bull championship leader who topped the timesheets in the opening segment with a benchmark time of 1m26.751s. As per the F1 Sprint weekend rules, only soft tyres were available in all three segments of qualifying today.
READ MORE: Everything you need to know about the F1 Sprint format – including how it works
Lewis Hamilton made a late dash for P1 but could only finish 0.035s behind Verstappen, in second, with Ferrari's Charles Leclerc shrugging off a shake of the tail at the final corner to take third in this session for Ferrari ahead of Sergio Perez.
The Aston Martins of Lance Stroll and Sebastian Vettel found themselves in the drop zone, behind Williams' George Russell, as the session neared its end. They made it out of Q1, however, with AlphaTauri's Yuki Tsunoda ultimately missing out on Q2 for the fifth time this season – this time by 0.026s to Stroll in P15.
Alfa Romeo's Kimi Raikkonen, 17th, was out in Q1 for the fourth-consecutive round ahead of Williams' Nicholas Latifi, and both Haas racers, Mick Schumacher one place ahead of Nikita Mazepin.
Knocked out: Tsunoda, Raikkonen, Latifi, Schumacher and Mazepin.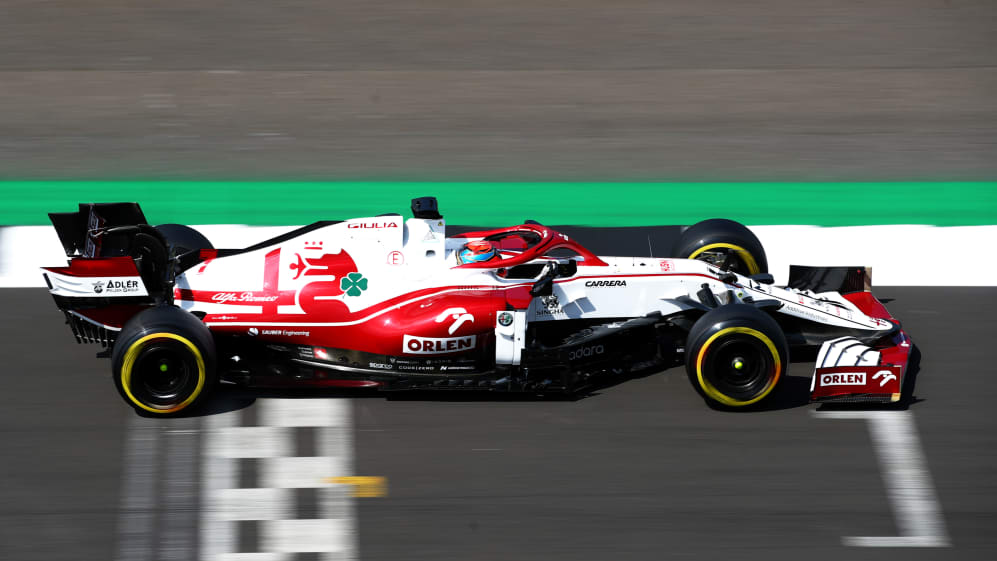 Q2 – Hamilton bounces back while Gasly and the Alpines get knocked out
With the sun setting and temperatures dropping, the drivers wasted no time to begin the second time-attack at Silverstone. And the laps came thick and fast in Q2 with Hamilton briefly owning the P1 spot– until Verstappen immediately responded with a lap of 1m26.504s to eclipse his rival by 0.098s.
Game on. Behind the title protagonists were the Mercedes of Bottas in third and the other Red Bull of Perez in fourth.
Fernando Alonso's first flying lap wasn't ideal, while team mate Esteban Ocon seemed far more comfortable having received a new chassis and MGU-K for this weekend.
Antonio Giovinazzi, gearing up for his 50th Grand Prix start, was slowest after his first effort with a mistake at Turn 9. Aston Martin's Stroll, Alonso, Russell and AlphaTauri's Pierre Gasly were at risk of exiting Q2 as the timer ticked away.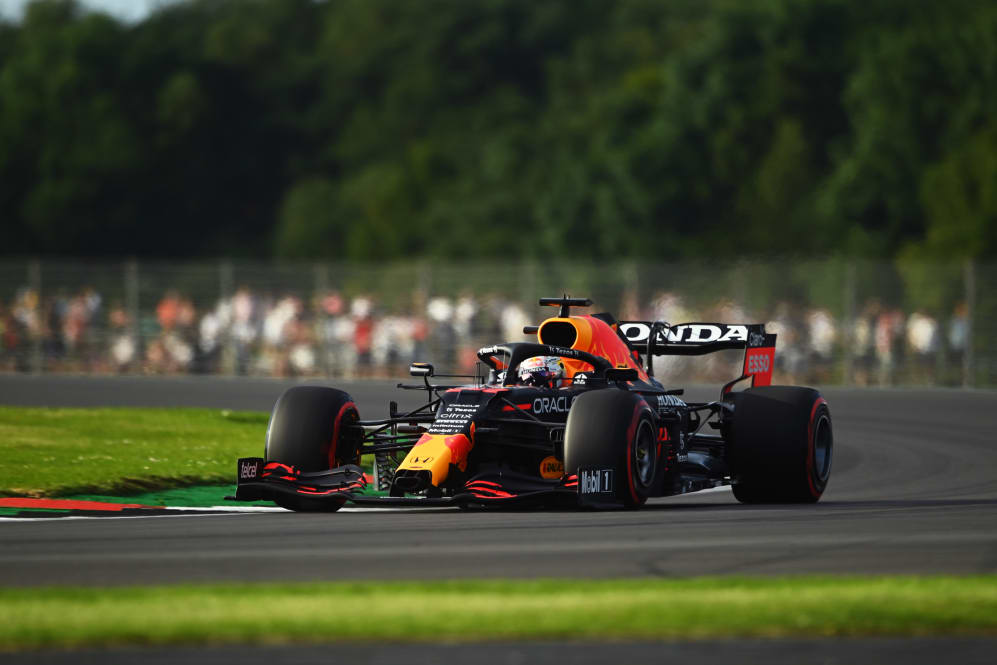 As for Ferrari, their talisman Leclerc was clamouring for a slipstream after he took P8 with his opening tour, team mate Carlos Sainz in seventh, until late improvements put them fourth and fifth.
With the shadows looming menacingly, the black Mercedes of Bottas, and then Hamilton, emerged first; Leclerc following Sainz out; and then a flurry of challengers to follow – with McLaren's Ricciardo out last.
READ MORE: 'We are all going into an unknown' says Leclerc after securing P4 for Saturday's F1 Sprint
Hamilton's first sector heralded an improvement of two-tenths over his personal best and it was clear that Red Bulls weren't so comfortable. The Briton delivered, improving to 1m26.023s and going 0.292s faster than Verstappen for P1.
The biggest cheer, however, was reserved for Williams' Russell, who made it to P7 in Q2 with a stunning effort – a second off Hamilton – giving Williams a consecutive Q3 appearance for the first time since 2017.
The McLarens scraped through, Ricciardo in ninth to end a three-race Q3 drought, and Lando Norris 10th. That left both Alpines out in Q2, as well as AlphaTauri's Gasly who failed to reach Q3 for only the second time in 13 races.
Knocked out: Alonso, Gasly, Ocon, Giovinazzi and Stroll.
Q3 – Hamilton and Verstappen go toe-to-toe in a nailbiting session after Russell's heroics
Fired up, and seemingly rejuvenated after his Q2 triumph, Hamilton was determined not to give his rival Verstappen a tow in the final segment. Sainz led the drivers out for the top-10 shootout, with Hamilton, then Verstappen at the rear.
A Euro-2020-esque cheer went out as Hamilton set the benchmark time – while Verstappen said: "I just don't get what's going on," complaining of understeer – as the Mercedes was 0.172s ahead of the Red Bull on the leaderboard.
READ MORE: 'We won't stop fighting' – Mercedes 'not ready to give the baton to Red Bull' says Wolff
Sitting third early on was Bottas, while Perez was fourth – fending off the challenge of the McLaren pair – after the first laps were laid down. Ferrari's Sainz and Aston Martin's Vettel struggled to set representative times, however, and were in eighth and ninth. Cue a short lull in the action…
…Which was then interrupted by the resplendent Williams of Russell - alone on the track - who revelled in his second Q3 appearance for Williams to set a brilliant lap of 1m26.971s as the hordes of British fans cheered him on, that time provisionally setting him seventh.
As Russell finished his lap, Hamilton emerged for his final run with the chequered flag looming and lit up the first two sectors in purple. But then, at Vale, the back end of his W12 stepped out. He saved the car, but his lap was ruined. The benchmark for Verstappen was 1m26.134s.
The crowd's roar was silenced in a shroud of suspense as the Dutchman, having previously complained of understeer, set a personal-best first sector. His second, however, wasn't so solid, and while he rallied in the final corners, his ultimate time was 0.075s off the pace. Hamilton made history once again: for the first ever F1 Sprint, he will start first on the grid.
READ MORE: Russell vows to 'go for it' in F1 Sprint after 'incredible' home crowd roars him to P7 in qualifying
Bottas ensured Mercedes would have both cars primed to pincer Verstappen for the start of the Sprint as he qualified third ahead of Ferrari's rapid Leclerc, while Perez missed out on P4 and a second-row start for Red Bull with his time chalked off for a track limits infringement at Stowe.
McLaren lined-up sixth and seventh, Norris ahead of Ricciardo, while Russell's sole lap time will see him start eighth for the Sprint. Ferrari's Sainz struggled in Q3 and will start ninth, ahead of Aston's four-time champion Vettel in P10. Crucially, however, those who made it to Q3 will not be consigned to starting on the tyres on which they set their Q2 times.
The crowd will return tomorrow to witness a momentous day at Silverstone as the first-ever F1 Sprint beckons. Join us for live coverage and up-to-date reaction for FP2 and Sprint on Saturday.
The key quote
"We've been missing this for a whole year. I've lost my voice a little bit. I'm so grateful to see everyone here; we've missed you for a whole year, so to come to the Silverstone Grand Prix and have a full crowd like this, you see the energy and when I was coming into it, I was hopeful that with the great work we've done together in the team, plus the energy of the fans, it would get us there. This is down to the fans I think." – Lewis Hamilton
What's next?
FP2 follows on Saturday at 1200 local time before F1 Sprint makes its debut. Read our primer for a refresher on the brand-new F1 format before history is made at Silverstone, with title rivals Hamilton and Verstappen starting on the front-row.
And the action continues on Sunday, of course, with Saturday's Sprint setting up the grid for the 2021 British Grand Prix.
F1.com will have live coverage and up-to-date reaction throughout the British Grand Prix weekend.