Hamilton delighted to take P2 after 'hardcore' blistering presented 'unexpected challenge'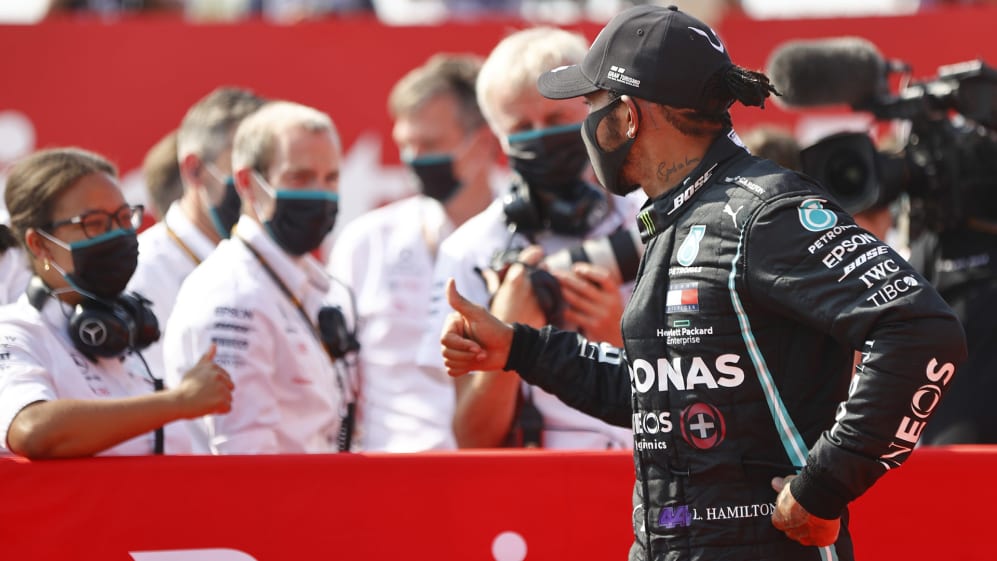 Lewis Hamilton may have retained a 30-point lead at the top of the drivers' world championship, but he certainly had to work for it at the 70th Anniversary Grand Prix, overcoming what he described as "hardcore" and "unexpected" blistering on his tyres to snatch second.
Mercedes were favourites for victory at Silverstone, entering the race with a 100% victory record in 2020 so far. But a combination of warm temperatures and a range of compounds which were a step softer compared to the last event at the same venue meant it was Red Bull and Max Verstappen who emerged as the strongest package.
READ MORE: Max Verstappen defeats Mercedes duo to seal brilliant Silverstone win
Valtteri Bottas fended off an attack from Hamilton at the start to lead from pole position, but they couldn't shake the hard tyre-shod Verstappen in third. It soon became clear that their medium tyres were blistering, forcing earlier stops.
"It was a massive challenge," said Hamilton. "Congratulations to the Red Bull team and to Max. Look at their tyres - they don't have the problems we had today. It is definitely unexpected to have the blistering as hardcore as we experienced it."
READ MORE: 'As a team we were sleeping' – Bottas points finger at Mercedes strategy as he slips from pole to third
Hamilton ran a longer second stint than team mate Bottas, and at one point looked like he was trying to make a one-stop work, only to pit late for fresh hards which gave him the performance to pass Charles Leclerc and Bottas – who was running a longer final stint and struggling - for second.
"It was such a difficult race," he added. "I mean I love a challenge so it was good but it was an unexpected challenge we were having. At the last race we had understeer and we were suffering with front tyres blistering and running out - then this weekend the complete opposite. The left-rear - there was nothing you could do. We were trying to go slow through the corners to save it and it wouldn't work.
"It's a real shock and I couldn't then attack Valtteri. I was blown away but I was really grateful in the second stint I was able to extend. I was thinking at the time 'should I stay out?' but I knew I couldn't match Max's times at the end so he probably would have caught me.
"The tyre might have blown up and if the rear goes, that's a spin or a crash in the wall so I think it was a good decision at the end by the team."
Considering the race looked bleak at stages midway through, Hamilton was pleased to salvage second, after a trio of victories. That leaves him 30 points clear of Verstappen, who moves into second, with Bottas dropping to third, four points further adrift.
"It was an exciting race even for me with the struggle that we had, keeping the car on the track and not losing our cool and bringing it home and getting the points," he said. "So I'm really happy with it."