Hamilton expecting close fight with Red Bull in 'killer' Spanish heat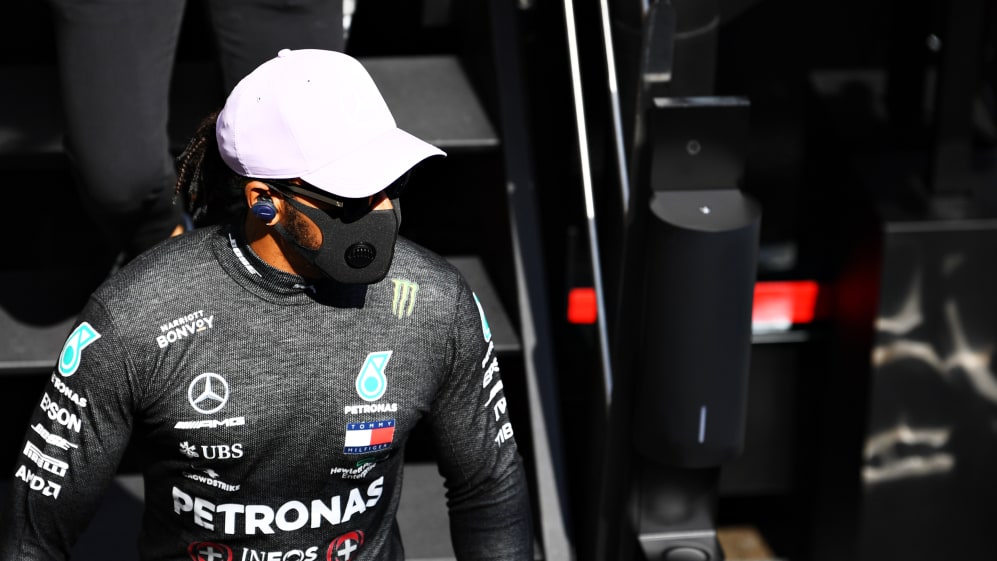 After their troubles in Silverstone, Mercedes got back up to speed by finishing one-two in both practice sessions in Spain on Friday – though Lewis Hamilton remained distinctly cautious afterwards, suggesting Red Bull would be a major threat to the Silver Arrows once more.
One week on from second place in the 70th Anniversary GP, where Red Bull's Max Verstappen took the spoils as Mercedes struggled mightily with blistering amid the high temperatures, Hamilton finished second and first in FP1 and FP2 respectively in Barcelona.
And though Pirelli have selected harder tyre compounds for Spain than for the last race at Silverstone, the six-time world champion said the high temperatures in Catalunya were making life difficult for the tyres once more.
READ MORE: Recording kit and PlayStation, but no cooking – Hamilton offers a glimpse into living at the track
"It's definitely quite tough out there," he explained. "This is the hottest it's been, I don't think I've been to Spain when it's this hot, normally we're here in February and March or early May. It's beautiful weather but it's a killer in the car and it's obviously very tough on tyres as well.
"But it's been an okay day, well it's been a good day, second session was better for me, and then the long runs, we look very close with the Red Bulls so I think it's going to be a close race."
The key question though is whether Hamilton, a four-time winner in Spain, foresees a repeat of the blistering issues that cost them so badly last time out. That, says Hamilton, is too hard to call at this point, noting that Mercedes had no issues at the same point in Silverstone.
"I didn't see any blistering, but we didn't see any blistering last Friday also," he said. "I really can't say too much, it felt okay, we're just about to do a debrief so I'll find out where we stand in that respect.
"But the long run didn't look too bad, I don't know how much further we could go as opposed to how much further Red Bull could go compared to us, that will determine whether or not it's a one or a two-stop this weekend."
READ MORE: FORM GUIDE - Can Verstappen's record in Spain translate into back-to-back wins for Red Bull?
Hamilton's team mate Valtteri Bottas, quickest in the first session, was hopeful that the characteristics of the Circuit de Barcleona-Catalunya might help the Silver Arrows to some extent in their battle against blistering.
"I think the tyres on this kind of rough track, the tyres are wearing instead of blistering, so I think for us it is only a good thing," said the Finn. "But we did long runs with all the compounds today so there will be lots of learning points before we start racing.
"It's always the track, the temperature and then it's the car and the set-up of the car. We've learnt no doubt and if we were back in Silverstone again I'm sure we could do a better job but yeah the main thing now is maximising this weekend in terms of tyre performance."
READ MORE: Odds and betting lines for the Spanish GP – Should you back Verstappen for another win?
Mercedes have a formidable record in Spain. The team have taken seven straight poles in Barcelona and won five of the last six races. A podium for Hamilton this weekend meanwhile will move him one ahead of Michael Schumacher at the very top of the all-time list.