Hamilton fight was 'fun' says Schumacher after missing out on points in Austria Sprint
Mick Schumacher says his fight with seven-time world champion Lewis Hamilton, where he was able to keep the Mercedes behind for several laps in the F1 Sprint in Austria, was "fun", admitting that it was "surprising" that he could "fight him that long".
The Haas driver showed strong pace throughout the 23-lap encounter at the Red Bull Ring, working with team mate Kevin Magnussen in front to stay in his DRS and help keep Hamilton, behind in ninth, at bay.
But after intense pressure, Schumacher dropped out of DRS and eventually lost the position to Hamilton, crossing the line ninth, one place outside the points.
READ MORE: 'We cannot afford to do what we did today' says Leclerc after battling team mate Sainz in Sprint
"I think that the fight with Lewis was quite fun," said Schumacher. "I think it was surprising to see that we were able to fight him that long and also the Red Bull behind us [of Sergio Perez] wasn't massively quicker, so yeah, a nice feeling.
"I think that we could have had points today but for some reason or another we weren't allowed to do that, so something to be discussed."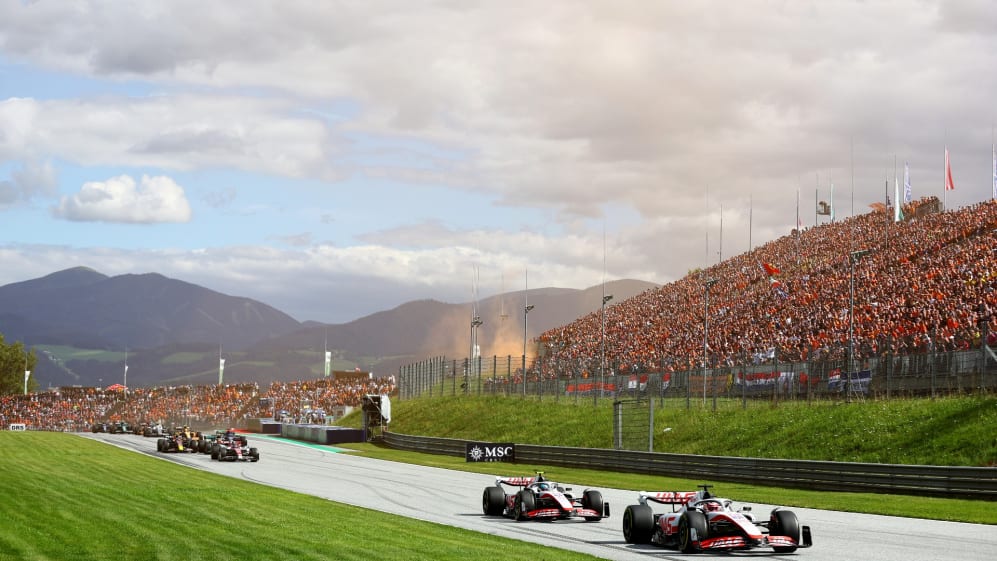 Explaining that last comment more, Schumacher said: "We were told to keep position even though I felt I was quicker, so we will have to have a look."
When Magnussen, who finished a strong seventh to score two points, was asked about Schumacher's comments, the Dane replied: "Mick could have held Lewis. It looked like it was pretty consistently impossible for Lewis to get past him when he had DRS, but then he lost DRS at the end and then got passed because of that.
READ MORE: Mercedes pace 'not where we hoped' says Russell after P4 finish in Sprint, as angry Hamilton reflects on Lap 1 crashes
"The team asked me to slow down to give Mick DRS, but it was already the next lap just after they asked me to do that, that he got overtaken. So, it's not that I didn't want to help out, it just happened in a bit of a rush."
Haas got both cars into Q3 for the second time in three races, but were only 15th and 18th in second practice on Saturday morning, which left Magnussen worried about their prospects in Saturday's Sprint.
READ MORE: Alonso calls failure to start Sprint 'frustrating' after issue costs him P8 grid slot
"Quite happy with that," he added. "We didn't look so strong this morning, I got a bit nervous about our pace.
"We made some changes, of course the limited amount of changes you can with the cars being in parc ferme, but it seemed to straighten it up and get the pace back."