Polesitter Hamilton delighted to find edge over Bottas in Q3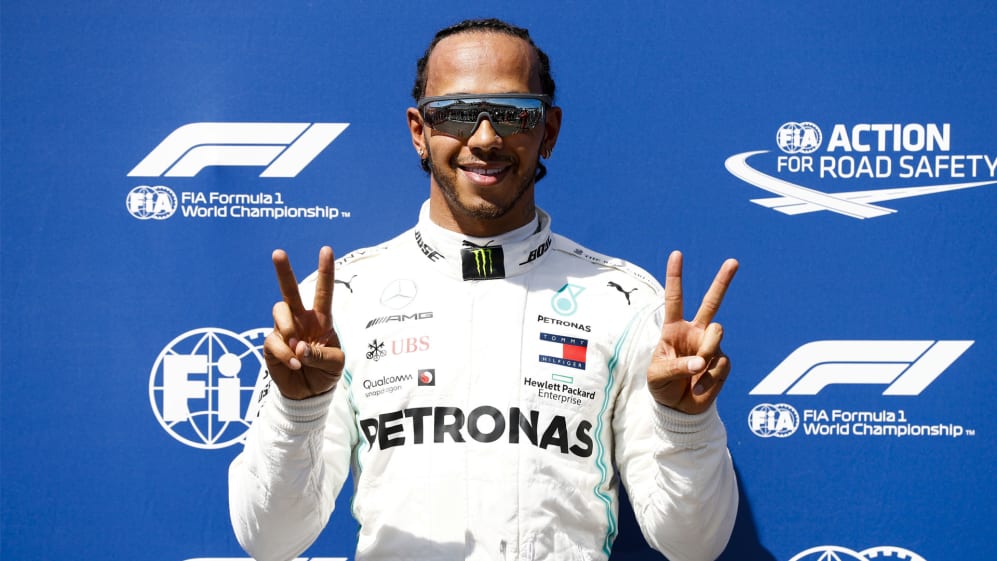 Lewis Hamilton secured his second French Grand Prix pole position in a row with a lap that established a new track record at the Circuit Paul Ricard – but it could have been even better, according to the five-time champion, had he not made a small mistake in the track's second-to-last corner.
Hamilton was setting a searing pace on his final qualifying effort when he lost the back end of his Mercedes W10 in the last sector. But with no improvement coming from team mate Valtteri Bottas – who'd led Q1 and Q2, and who'd been Hamilton's only realistic rival in Q3, with Ferrari's Charles Leclerc ending up over six-tenths adrift in third place – Hamilton came across the line to record career pole number 86.
READ MORE: Hamilton beats Bottas to French GP pole as Vettel is only P7
"Through Q1 and Q2, I think Valtteri just had the edge and I was still dialling in the car," said Hamilton afterwards. "Once I got to Q3, I knew where I had to find the time and it was just about going and doing it.
"The first lap was fantastic – really, really happy with it. However, I knew that it was still relatively close in several areas which I could improve, and so I went out for that second run. The second run, I was on for one of the best laps that I'd done.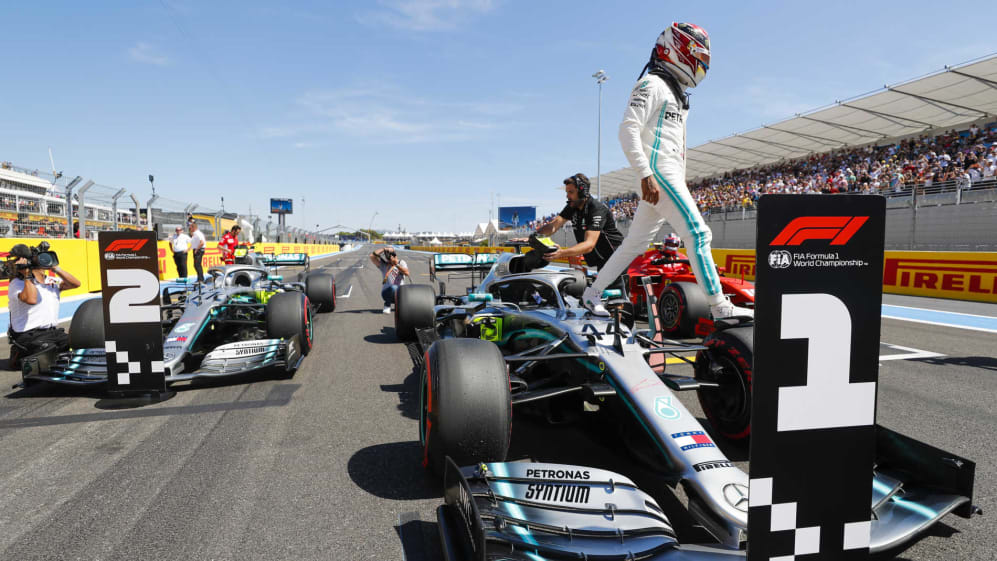 It's crazy, because it never gets old, it never gets easier. If anything, it gets harder and harder to get these poles
"I was up, I think, four and a half tenths coming into the second-to-last corner and I think I just lost the back end partly through [the wind], or maybe going too quick. But nonetheless, really, really happy.
"It's crazy," he added, "because it never gets old, it never gets easier, it's always such a challenge, regardless of what position you're battling for… If anything, it gets harder and harder to get these poles, Valtteri's been doing some epic laps through practice and qualifying in these first races."
"I've just been chipping away, chipping away," added Hamilton, "and the last two laps [in qualifying] were the ones."
From the outside, the Mercedes front-row lock-out – and with Ferrari only occupying one spot on the second row of the grid with Leclerc, while Sebastian Vettel is set to start the French Grand Prix in a lowly P7 – makes it appear as though Sunday's race should be a matter of course – particularly with our pace analysis from Friday showing Mercedes with a 0.7s per lap race pace advantage over Ferrari around Paul Ricard. But Hamilton was nonetheless wary of the Scuderia threat come race day.
"The Ferraris have obviously been near on our tail," said Hamilton. "Obviously a bit of a bigger gap today between us and them, but I'm still thinking the race is going to be a close battle, so I'm grateful to be where I am."
Hamilton will line up on the grid on Sunday chasing his sixth win in eight races, as he continues to enjoy the best start to a season since his career began back in 2007.