Hamilton 'grateful' for congratulatory text message from old foe Alonso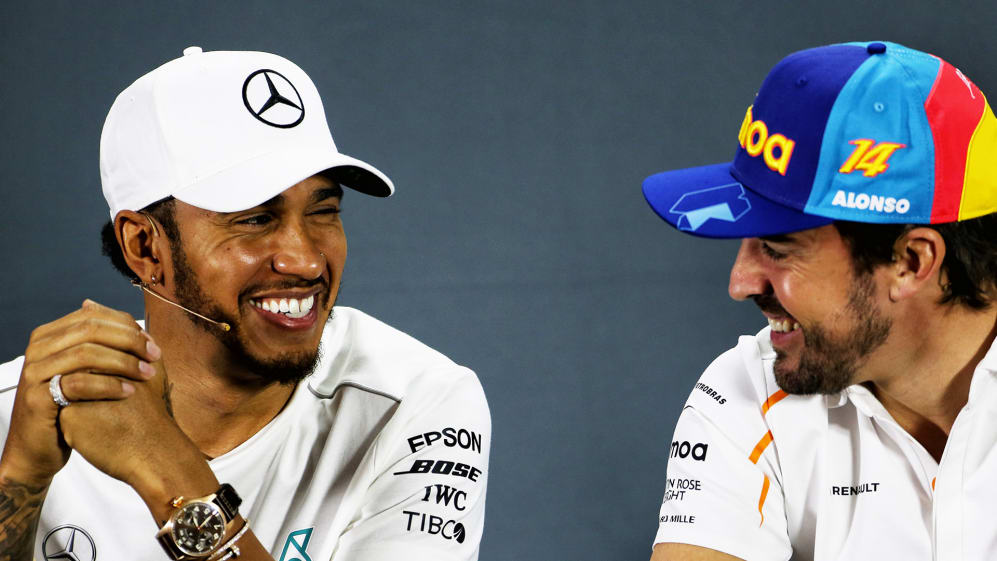 Four hundred. That's how many messages Lewis Hamilton reckons he got after winning his sixth world title in Austin. One of those came from former McLaren team mate Fernando Alonso, and it was clear it meant a lot to the Mercedes driver…
Hamilton fought a tense – and at times bitter – battle with Alonso for the 2007 world championship, in his rookie F1 season. The rivalry came to a head in Hungarian GP qualifying that season and got so heated that the partnership ended after just a year when Alonso parted ways with the iconic British outfit.
READ MORE: Why Hamilton's sporting greatness transcends Formula 1
Since then, Hamilton's relationship with Alonso has improved – with the duo going on to fight each other for Grand Prix wins – and the respect between the two world champions has grown, particularly as the Spaniard headed into the latter stages of his F1 career.
"I got a text from Fernando as well which was pretty amazing," said Hamilton as he spoke to media ahead of this weekend's Brazilian Grand Prix. "I was really grateful for that, because obviously we've gone through a whirlwind of experiences together over the years.
"In all honesty, I always have respect for what he achieved and his ability, and also seeing his growth through his period of time at McLaren."
READ MORE: 'Huge amount of respect' between Vettel and I – Hamilton
Hamilton has had a challenging relationship with other drivers in the heated pursuit of victory, with Ferrari's Sebastian Vettel one of them. The Briton admitted in Austin that the pair have developed a deep mutual respect for each other – with Hamilton expanding on what it means for rivals at the peak of their sport to have a high opinion of each other.
"Recognition is not something that drives me, but it definitely is an honour when you have other drivers, particularly Seb, that you respect so much for their ability, and over the years you've commented on their ability and you've got belief in their ability, and you've then built a rapport that is constantly growing," said Hamilton.
"For them to take a moment to come and show that bit of respect is amazing. Each of us know how hard it is to do what we do.
"Us 20 drivers particularly know how hard it is to do what we do, and only a few of us truly know how hard it is to win on a consistent basis year on year, and Seb is one of those."