Hamilton hopeful Mercedes can challenge Ferrari in Austin while Russell is left mystified by lack of pace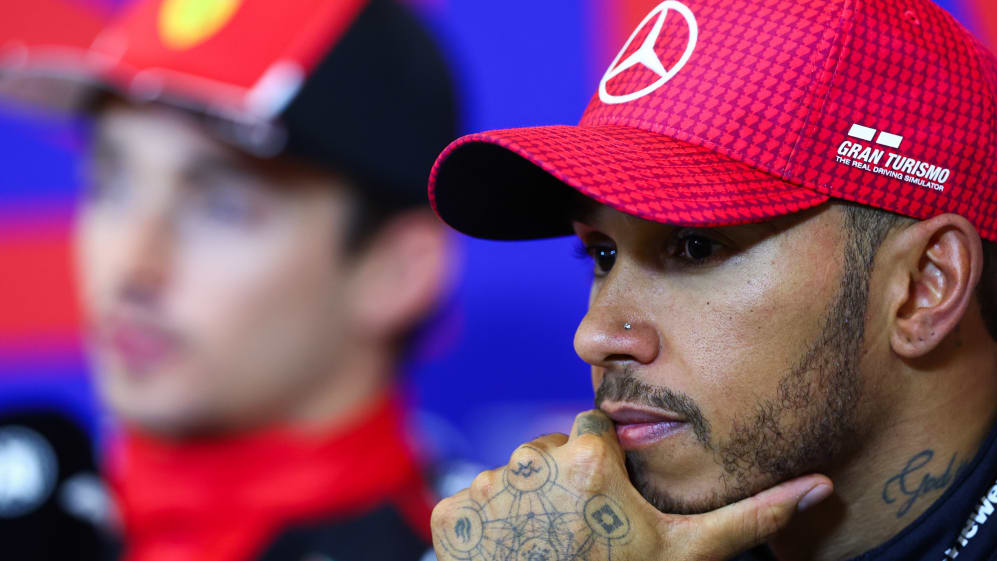 Lewis Hamilton admits he is hoping Ferrari may struggle more in Sunday's United States Grand Prix after the Mercedes driver was unable to match pole-sitter Charles Leclerc in qualifying.
The seven-time world champion displayed good pace in Friday's session, and at one stage looked to be on course to top the timesheets, but ultimately he finished in third, with his final lap being 0.139s away from that of Leclerc in P1.
Hamilton will share the second row of the grid with Leclerc's teammate Carlos Sainz amid Mercedes' continued battle with the Scuderia for P2 in the constructors' championship.
READ MORE: Leclerc outduels Norris and Hamilton to take pole in Austin after Verstappen has time deleted
With the W14 running a new floor for the event in Austin, Hamilton was quizzed after the session on where he felt he was at with the balance of the car.
"The balance is pretty much very similar to what we had before, but we're just generally a little bit faster than we were before," he explained.
"But unfortunately not quick enough to get the Ferraris or the McLaren [of Lando Norris in P2] today, but we've got to keep pushing and I know that's what everyone's doing."
In terms of where Ferrari have the edge over the Silver Arrows at the Circuit of The Americas, Hamilton added: "I think it's just they're quicker on the straight than us. We can maybe equal them through the corners but we lose out down the straights, so we're a little bit more draggy than we want to be."
Despite this, the 38-year-old remains optimistic about Mercedes' chances of challenging their rivals on Sunday.
"I think our race pace is not so bad," Hamilton commented. "Ferrari often tend to run generally less wing than most people, but more often than not they struggle a little bit more in the races.
READ MORE: Leclerc admits surprise at Ferrari's pace after taking pole position for United States GP
"But they're quick here, they always have been, so I'm hoping that we'll be quicker in the race and hopefully we can challenge them."
Hamilton's teammate George Russell will line up in P5 for the Grand Prix. The Briton felt that he had struggled pace-wise throughout Friday's running, but believes that the team could have a better outing in Saturday's Sprint Shootout.
"For me it's been a really challenging day," Russell said. "I've been off the pace, don't really know why. I've been feeling quite good with the update, we can feel the improvements, but it's been a bit of a strange day for me, so I'm actually pretty pleased with P5 because at some points it was looking likely we may not have even got through to Q3.
"I'll take those positives, try and work on it tonight. Always for Saturday morning, Sprint qualis tend to go better for us than they do on the Friday evenings barring Qatar, and we'll go from there."
In terms of the issues he faced in free practice and qualifying, Russell is looking at himself for answers rather than the car.
HIGHLIGHTS: Watch the qualifying action as Leclerc takes United States GP pole after Verstappen loses lap time
"I think to be honest I'll take it on my shoulders," he admitted. "I've just been off the pace today and struggling to understand why, but Q3 was a reasonable lap.
"I made a bit of a mistake at Turn 1, probably cost me one more position on the grid but, all in all, as I said, P5's a great place to start on Sunday and, when it was looking likely at points [that] we could've been much further down the order, I'm pretty satisfied with that position."