Leclerc admits surprise at Ferrari's pace after taking pole position for United States GP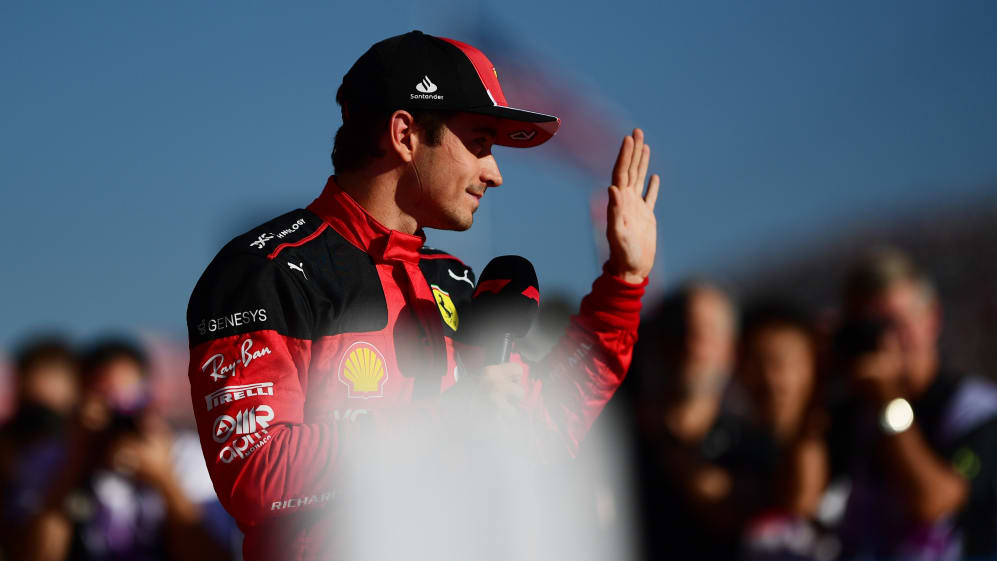 Charles Leclerc admitted that he was surprised by Ferrari's pace in Austin but praised the work of his team after he went on to take a stunning pole position for the United States Grand Prix.
Leclerc was in fine form for much of the day and followed up his second place in FP1 to top the timesheets in Q2. Already in P1, Leclerc improved on his final effort in Q3, with his time of 1m 34.723s good enough to take pole, after Max Verstappen had his time deleted.
READ MORE: Leclerc outduels Norris and Hamilton to take pole in Austin after Verstappen has time deleted
This is the third time this season that Leclerc has taken pole position on a Sprint weekend – after Baku and Belgium – and when asked why that continues to happen, Leclerc said: "I don't know. I think as a team we did a great job.
"We know that in this Sprint weekend it's more important than ever to have a clean FP1 [and] we did.
"We had a good FP1, we started with a strong base thanks to the work the guys have done to prepare this weekend, with a car straight away feeling good, then I was feeling good.
"I was happy throughout qualifying, the last lap in Q3, there was a bit of mistakes here and there, but I think it wasn't easy for everybody. So, really happy to be starting on pole for Sunday."
Asked if Ferrari were surprised by their pace compared to their rivals, Leclerc said: "Yes, we are. In the last sector we have been very strong whether it's in FP1 this morning or in qualifying.
HIGHLIGHTS: Watch the qualifying action as Leclerc takes United States GP pole after Verstappen loses lap time
"But all in all we have a strong car and the feeling with the car is good. That is our strength, we've seen it quite a few times this year that whenever we have Sprint weekends, we are most of the time performing better than expected.
"We have arrived in FP1, we have a very solid base with the car, and then we get to qualifying, and then we do the job. It feels good, tomorrow might be a bit more difficult because people will learn from today and they will feel a bit better tomorrow in the car. But whatever, I will do everything to be on pole again tomorrow."
Sainz followed up his pole last year in COTA with fourth today and wound up over two-tenths off Leclerc's time. Speaking after jumping out of the cockpit, he revealed why he struggled to get the maximum out of the car in Austin.
"It's been a normal quali," said Sainz. "I was just struggling a bit in the last sector the whole way, always lacking one or two-tenths in that part of the lap. Everywhere else I felt good.
AS IT HAPPENED: Follow all the action from qualifying for the United States Grand Prix
"It's obviously a bit tough to set up the car to my liking with only one FP1 session and maybe there is some work to do there for tomorrow. But in general, we put together some decent laps.
"Obviously congrats to Charles for that pole because its great news for the team to know that we can be on pole on these kinds of tracks, and now focus on tomorrow, and the race that we will start fourth, it's not a bad position."