Hamilton: I forced Vettel error but didn't want to win with penalty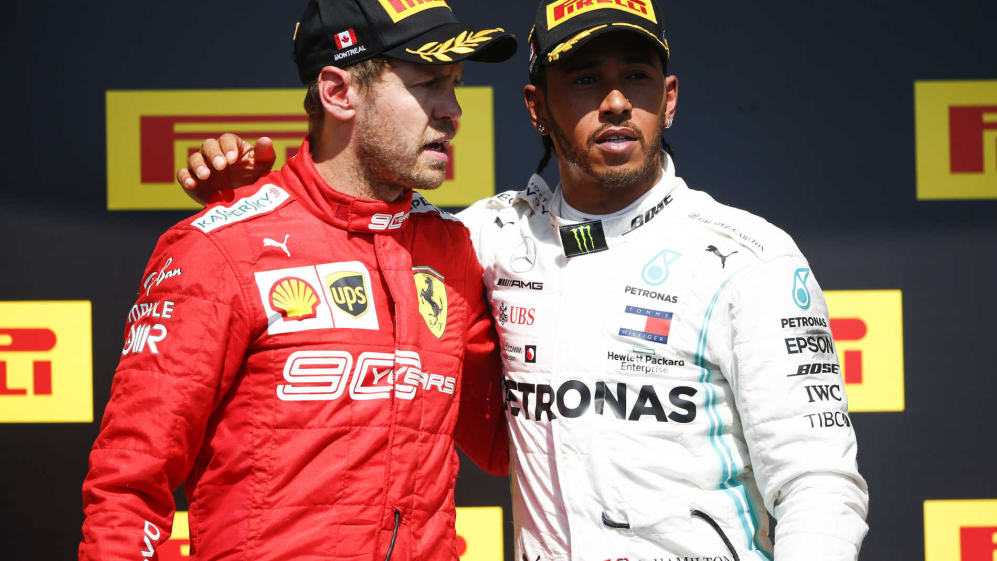 Sebastian Vettel and Ferrari were in good shape to end their winless start to 2019 for much of the Canadian Grand Prix – but with 22 laps to go, Vettel made an error, which Lewis Hamilton said he pressured the four-time world champion into committing, that ultimately cost him a first victory of the season…
Hamilton was around five seconds behind race leader Vettel after the first round of stops, but his pace on the harder compound Pirelli tyres was superior, allowing him to reel in the Ferrari and get within DRS range. He began heaping on the pressure – and on Lap 48, he made a breakthrough.
Vettel lost the rear heading into Turn 3, pitching him onto the grass. Wrestling the car as he re-joined, the Ferrari drifted onto the racing line and into the path of Hamilton who was looking to skip through the gap between the Ferrari and the wall. The gap wasn't there, though, so Hamilton backed out of it and Vettel retained the lead.
READ MORE: Vettel penalty hands record 7th Canada win to Hamilton
But the stewards investigated the incident and handed Vettel a five-second time penalty, to the Ferrari driver's immense disappointment. It meant all Hamilton had to do was stay within five seconds, something he comfortably did, to take a fifth victory in seven races this season.
Speaking after he climbed out of the car, Hamilton said: "Naturally, absolutely it's not the way I wanted to win. I was pushing to the end to try and get past. I forced him into an error, he went wide, I had the run on that corner and we nearly collided. It's unfortunate, but this is motor racing."
I took the corner normally. When you come back on track, you're not supposed to go straight back on racing line, you're supposed to come back safely
Martin Brundle, conducting the post-race interviews, suggested Vettel – who chose not to park his car in parc ferme and therefore did not complete his usual TV interview until the podium – believed he had no other option when he re-joined the track, to which Hamilton responded: "That's his opinion of course.
"I took the corner normally. When you come back on track, you're not supposed to go straight back on racing line, you're supposed to come back safely. I assume that's why…
Asked if he thought he'd had the pace to overtake Vettel on-track even without the penalty, Hamilton replied: "Not towards the end I don't think.
"I think we were all struggling with brake temps towards the end. The tyres were good at that point where he made the mistake, so I was as close as I was ever going to be. I got that block and then the gap opened up. It's very hard to follow here. It's such a great track, and if it wasn't for the fans, it wouldn't be as great as it is."
It was a strong end to a weekend that began with Hamilton crashing uncharacteristically in Friday practice, which ultimately caused problems for him later in the weekend, when the team discovered a hydraulic leak.
"Thank you to my team, I wouldn't be standing here without them," he said. "It was an incredible effort. We had a problem this morning with the engine, with my crash on Friday. If they hadn't been so diligent, I wouldn't have been able to race today as I have."
Hamilton later found himself being booed on the podium, with a large majority of the fans in Montreal supporting Ferrari. "All I can say is, I didn't make the decision," was the now seven-time Montreal winner's response. "I don't know what they are booing at. Maybe it's the decision…"
Sportingly, Vettel jumped in to defend his rival: "The people shouldn't boo at Lewis. I think he saw what was going on, I don't think there was any intention to be in his harm's way. I had trouble to stay on track. The people shouldn't boo at Lewis, if anything they should boo at these funny decisions."
Hamilton's victory means he extends his championship lead to 30 points over Mercedes team mate Valtteri Bottas.