Hamilton reveals how cramp left him in 'excruciating' pain on way to record 92nd victory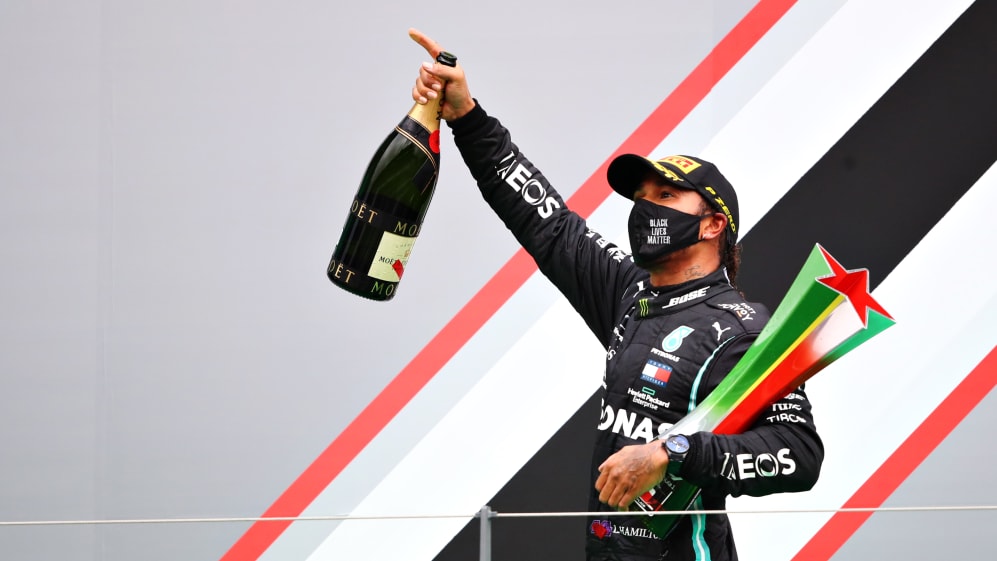 Lewis Hamilton stamped his name firmly on this era of Formula 1 by winning his 92nd Grand Prix and becoming the winningest F1 driver of all time in Portugal on Sunday. But the massive 25.5-second gap between him and runner-up Valtteri Bottas masked the sheer pain that Hamilton fought through to add another page to the record books.
Overcoming adversity has been a key theme in Hamilton's career, from the steely grit of his father Anthony – there to witness this momentous win – who worked day and night to make Lewis's dream a reality, to this win, number 92, which the six-time champion said was punctuated by pain.
READ MORE: Hamilton takes record-breaking 92nd win with dominant drive in Portuguese GP
For once, it seems, Hamilton's preparations weren't quite perfect.
"I generally didn't drink a lot today and I remember getting into the car thinking 'I'm probably going to be dehydrated'. I never drink in the race, ever," explained Hamilton.
"Anyway, I started having like small cramp, it's a very physical circuit, but your throttle pedal... there's lots of bumps and undulations, you're applying throttle pretty aggressively for pretty much every lap all the way and you never really get to rest.
"I was coming out of the last corner, out of Turn 15 onto the straight, and I got the feeling it was about to pull - like you're pulling a muscle - and it popped, and it hurt so much I had to lift.
"And I didn't really know what to do because every time I applied it the pain was there. But of course, I can't stay off the gas, I had to keep going, it's just mind over matter, so I had to keep pushing.
"It was pretty excruciating for a couple of laps. But then it kind of started to, I don't know whether blood starts rushing to it and the adrenaline takes over, but I've definitely got a bit of a knot in my calf. I will seek medical attention afterwards."
Now, the Briton has eclipsed a record that many thought was impossible to beat at one point – he has passed Michael Schumacher's tally of 91 wins and become the greatest F1 racer of all time.
"I never, I could only have ever dreamed of being where I am today and I didn't have a magic ball when I chose to come to this team and partner with these great people, but here I am," said the race winner.
WATCH: The moment Hamilton broke Schumacher's F1 wins record
"What I can tell you is that I'm trying to make the most of it every single day, everything that we do together, we've all grown in the same direction and that's really why you're seeing the success that we're having. I've got my dad here which is amazing and my step mum Linda is here and [beloved bulldog] Roscoe. It's a very blessed day," Hamilton concluded.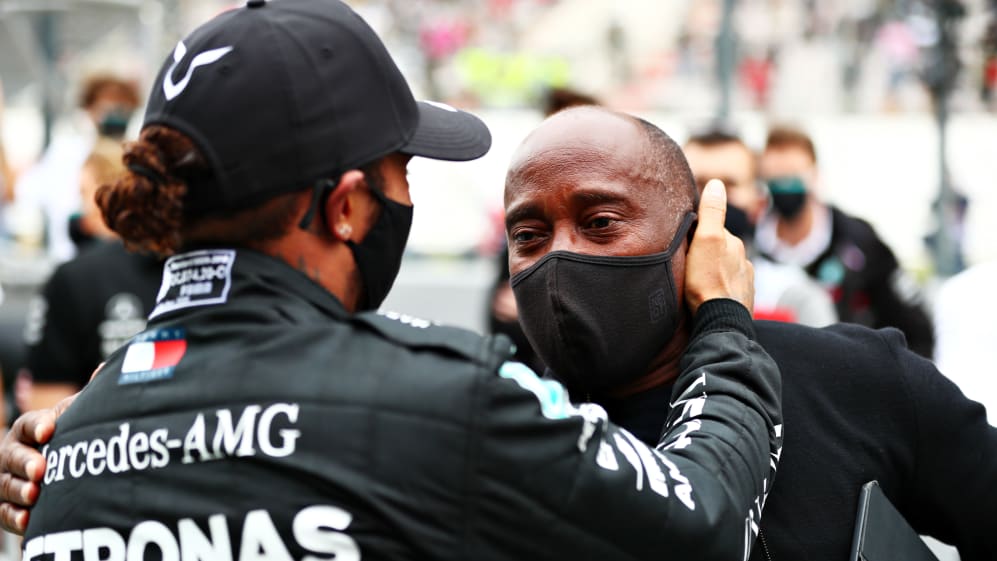 It didn't look so easy for Hamilton from the very start, even though he was on pole position. The #44 driver lost out to team mate Valtteri Bottas and McLaren's Carlos Sainz after a dramatic start, but regained the lead from Bottas on Lap 20 once his medium tyres came up to temperature in tricky and damp conditions. He then waltzed into the distance, revealing later that a pre-emptive set-up change had helped him overcome those tyre temperature issues.
"Today was tough, but it was all about temperatures today. That's something I was able to, with the set-up, I pre-empted it," he said.
READ MORE: 'Michael is, and always will be, a legend' – Hamilton 'humbled' to equal Schumacher's win record
"They said it was going to rain straight after the race but we got some spitting just after the start… Going into Turn 7 I had a huge oversteer moment and we didn't know what was next, so I really backed off massively, and arguably I probably should have tried to defend from Valtteri, but you know I was like, 'I'll come back later on', and fortunately that's what I was able to do."
Hamilton then rallied to win by a stunning 25.592s - the biggest margin of the year - with fastest lap to boot to complete an 18th career hat-trick. He now has a 77-point lead in the championship over Bottas with a record-equalling seventh championship now all but assured.