Hamilton says Mercedes have improved, but Bottas labels W12 'undriveable' on first day of practice in Bahrain
"It's undriveable" was Valtteri Bottas' stark assessment of the Mercedes W12 midway through Free Practice 2 of the Bahrain Grand Prix weekend, on a Friday when Mercedes were outpaced by the Red Bull of Max Verstappen and Lando Norris' McLaren. And Bottas confirmed that there was plenty of work for the Silver Arrows to do overnight if they were to be in the hunt for either pole or victory this weekend.
Following a difficult pre-season test for Mercedes, Bottas finished P2 to Verstappen in Free Practice 1, but was almost three-tenths off the Dutchman's pace. Team mate Lewis Hamilton would get closer in FP2, but was still 0.235s off Verstappen's session-leading time as Bottas finished P5, and with the Finn having been heard on team radio labelling his Mercedes as "undriveable".
FP2: Verstappen heads Norris to complete clean sweep of Friday sessions in Bahrain
"The last long run we did was pretty inconsistent, and I couldn't really put any laps together, and the car, as I said, felt undriveable at times," a downbeat Bottas explained at the end of Friday. "A bit puzzled, but it's Friday and that's why we practice."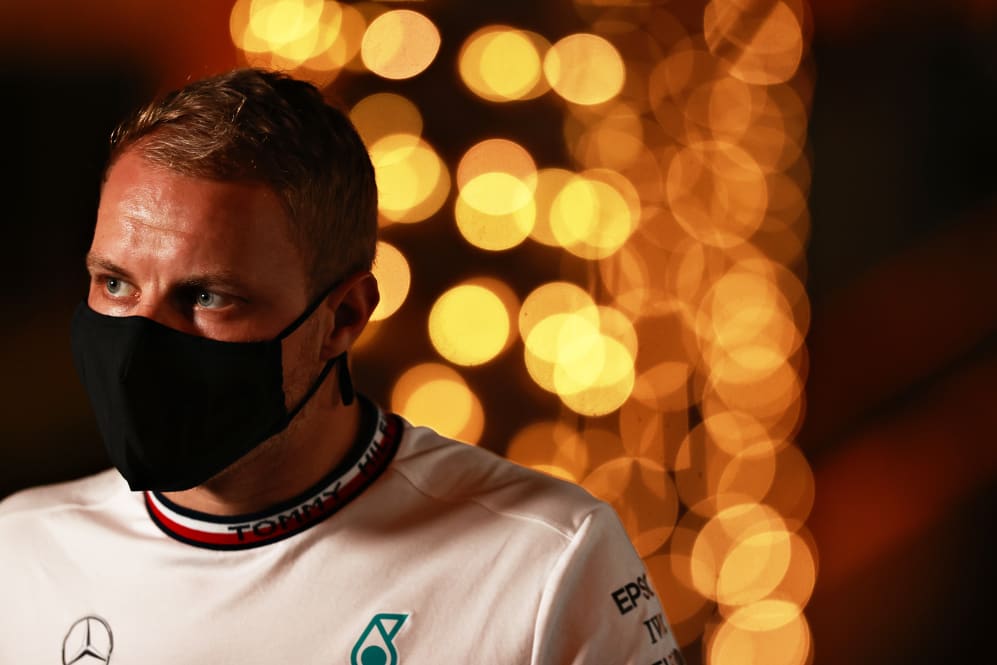 If evidence were needed of Mercedes' struggles it came at Turn 4. In total there were nine lap times deleted for track limits violations at the corner, and six of those were for the Silver Arrows - five for Bottas and one for Hamilton.
"I think the inconsistency in the balance, especially in the rear end of the car, was one big [issue in testing], and in terms of set-up approach we've tried to make it better," Bottas added. "It felt better than in testing in terms of how the car is feeling, so that's good… but it's not yet quite what I would like to have underneath me.
"At least it was a trouble-free day and no big issues, but I think the main thing in my mind is that we still have plenty of work to do if we want to fight for the pole and for the win."
READ MORE: Wolff says 'best scenario' for Mercedes in Bahrain is to be on Red Bull's pace
Team mate Hamilton agreed that there was still plenty to do to get the W12 into its sweet spot – but added that Mercedes were "staying positive" as they try and close the gap to Red Bull.
"I definitely do," said Hamilton, when asked if the W12 had taken a step since testing. "We've done a lot of work coming into the past week and I think we have taken a step forward. But we've still got more to do.
"With tyres and downforce reduced, the global balance has just shifted and it's not where we wanted. This weekend it's looking better but still not perfect so we're just working as hard as we can… I know we still have a hill to climb but we're staying positive.
READ MORE: McLaren gatecrashing Mercedes-Red Bull fight 'unrealistic' in 2021, says Brown
"We thought Red Bull would be as fast as they are, if not faster," the seven-time champion added, "so we know they're leading at the moment. McLaren are looking great and it's great to see them taking the step. It'll be interesting to see how the long runs are."
Both Hamilton and Bottas have strong records coming into the Bahrain Grand Prix weekend, Hamilton a three-time pole-winner here, while Bottas has won every season opener for the past two years. But with Red Bull seemingly in the ascendant, coming out on top in either qualifying or the race could be a struggle for Mercedes based on their Friday form.