Report
Hamilton takes victory in Brazil after stunning drive from P10 and pass on Verstappen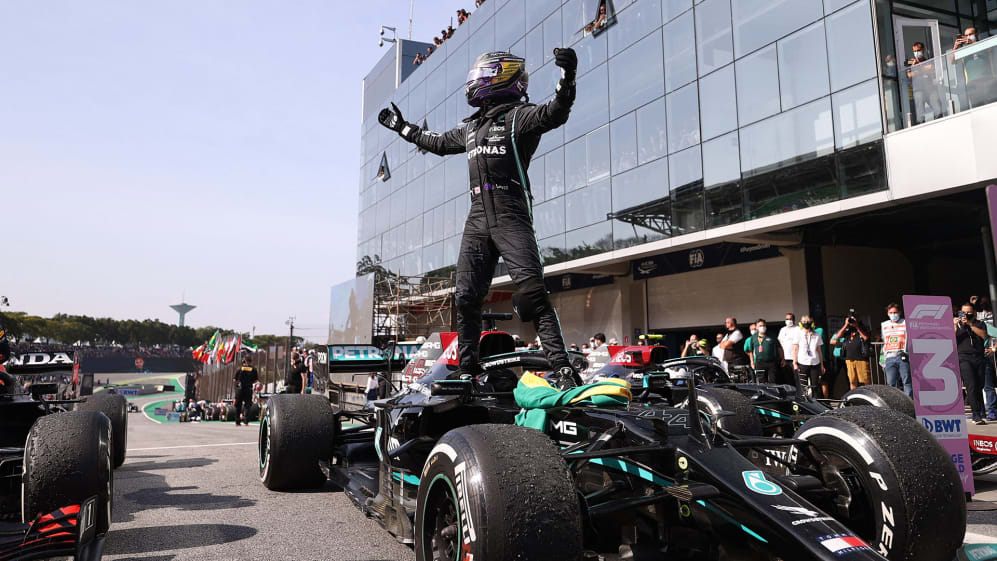 Lewis Hamilton won the Sao Paulo Grand Prix after a sensational battle with his rival Max Verstappen in an absolutely enthralling return to Brazil for F1. Verstappen finished runner-up ahead of pole-sitter Valtteri Bottas.
Hamilton enjoyed a terrific start from P10 on the grid and was clearly on the charge, team mate Bottas – who lost the lead to Verstappen at the start – letting him for P5 by on Lap 5. Hamilton then took P2 off Perez in a duel that began on Lap 17 and culminated in a Lap 19 pass at Turn 4. The first stops took place around Lap 25 but the action built up to a terrific crescendo after Verstappen took a second stop on Lap 41, Hamilton on Lap 44.
The Mercedes driver bore down on Verstappen and despite being shoved wide at Turn 4 – the stewards noting but not investigating – on Lap 48, Hamilton didn't give up, trying it again on Lap 58 only to meet a stubborn defence. A lap later came the winning pass with DRS on the run up to Turn 4, this time Verstappen having no choice but to concede. Hamilton ended up 10.4 seconds up the road in first place at the flag, cutting Verstappen's championship lead from 21 points to 14 points.
READ MORE: 'I don't remember another weekend like this' says Hamilton after sensational last-to-first comeback in Brazil
Bottas, who took an opportunistic stop during the Lap 30 Virtual Safety Car period and another on Lap 41, finished third ahead of Sergio Perez, who started fourth, was up to second, but lost places to the two Mercedes. The Mexican however took fastest lap at the expense of Hamilton, on the final tour, having pitted for softs on Lap 70.
FORMULA 1 HEINEKEN GRANDE PRÊMIO DE SÃO PAULO 2021
Brazil
2021
Race results
POSITION
TIME
POINTS

1

Lewis

Hamilton HAM

Mercedes

1:32:22.851

25

2

Max

Verstappen VER

Red Bull Racing

+10.496s

18

3

Valtteri

Bottas BOT

Mercedes

+13.576s

15

4

Sergio

Perez PER

Red Bull Racing

+39.940s

13

5

Charles

Leclerc LEC

Ferrari

+49.517s

10
The Ferraris pulled off a two-stop strategy to see Charles Leclerc home in fifth and Carlos Sainz – who lost three places amid contact with Lando Norris (P10) at the start – in sixth. Pierre Gasly picked off the Alpines after pitting twice, his Lap 50 change to hard tyres heling him pass Esteban Ocon (P9) and Fernando Alonso (P8).
Norris picked up a puncture on Lap 1 after Sainz nicked his rear-left tyre, but recovered from there to take the final point, his pitstop during a Lap 7 VSC leaving him on hard compounds right until the finish.
Sebastian Vettel missed out on the final point by a second to Norris ahead, and finished 11th having started P9, his Aston Martin team mate Lance Stroll eventually retiring – as did McLaren's Daniel Ricciardo.
READ MORE: 'It was a good battle' – Verstappen gives his take on his Lap 48 defence from Hamilton in Brazil
But it was Hamilton who stole the show here in Brazil – recovering from his disqualification from qualifying on Friday and clawing his way back up to P5 from dead last in Saturday's Sprint, before he took another grid penalty for an engine change on race day. From P10 he put in the drive of his life – and pulled off an impressive move on his title rival Verstappen to seal the victory in front of an ecstatic crowd at Interlagos.
As it happened
The Sao Paulo Sprint shook up the grid on Saturday with Lewis Hamilton given a P10 start for the Grand Prix – demoted five places due to an engine penalty – while Valtteri Bottas swiped the lead off Max Verstappen to start on pole position ahead of the Red Bull driver, Carlos Sainz taking P3 to start alongside Sergio Perez on the second row.
It was all to play for then as Verstappen held a 21-point lead over Hamilton going into the Grand Prix, the weight of the Briton's hopes seemed to rest on his team mate Bottas; the weight of the Dutchman's hopes on team mate Perez. Not to forget the constructors' fight with Mercedes just two points ahead of Red Bull going into Brazil.
Moreover, Ferrari driver Sainz had the McLaren of Lando Norris (starting P5) to hold off in order to consolidate the Scuderia's 14.5-point lead, and AlphaTauri's Pierre Gasly was aiming to outscore Alpine's Esteban Ocon – the pair starting P7 and P8 respectively – with those two teams level on 106 points. And all but AlphaTauri's Yuki Tsunoda would start on medium tyres, the Japanese rookie starting instead on softs.
Surrounding the starting grid there was a carnival atmosphere, Interlagos's grandstands heaving with passionate fans, with excitement at fever pitch as the lights went out. And away they went: the front two had great starts but it was Verstappen who had the inside into the esses, aggressively grabbing the lead into Turn 2 while Bottas fell into the clutches of Perez, ran wide at Turn 4, and the Mexican was now backing up a Red Bull one-two.
WATCH RACE START REPLAY: Verstappen grabs the lead into Turn 1 as Sao Paulo GP gets under way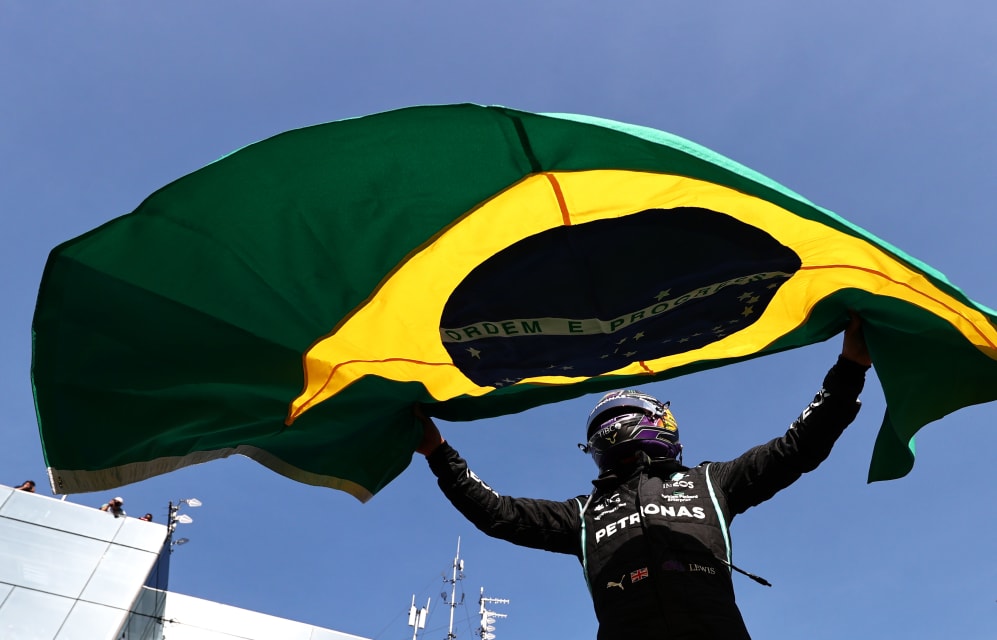 Hamilton made up three places to seventh at the start, taking another place off Aston Martin's Vettel at the end of Lap 1 for P6. And despite getting ahead of the Ferrari, McLaren's Norris fell to the back with a puncture after contact with Sainz's front-right tyre. Hamilton took P5 off the Spaniard into Turn 1 on Lap 3, his team mate Charles Leclerc for P4 on the main straight one lap later. He was now just two seconds off team mate Bottas, who graciously let Hamilton through on Lap 5.
Then the Safety Car came out on Lap 6 for shards of carbon fibre and the front wing of Tsunoda, who had collided into Turn 1 with Aston Martin's Lance Stroll on Lap 4. "Tell Valtteri to follow… let's get these guys," said Hamilton as the field filed single-file through the pit lane under caution. The race would resume on Lap 10.
On the restart, the front four held station despite Leclerc's attempts to take P4 off Bottas, the Finn defending admirably and doing his utmost not to jeopardise Hamilton ahead. Verstappen was over a second ahead of his team mate by the next lap, Hamilton two seconds behind Perez ahead.
The green-flag action was brief, a Virtual Safety Car coming out on Lap 12 to clean up debris from Mick Schumacher's Haas. The rookie lost his front wing in contact with Alfa Romeo's Kimi Raikkonen in the Lap 10 restart.
The VSC ended for the race to resume properly on Lap 15 and the Red Bulls continued as before, but Hamilton was rapid and right on Perez's tail three laps later. The Briton went into the inside of the Mexican and led through Turn 2, but Perez returned the favour on the run up to Turn 4. Verstappen was now enjoying a 3.8 lead. Hamilton came back a lap later on the main straight, around the outside of Perez into Turn 1.
The lead was held steady by Verstappen but the tyres were beginning to fall off, Hamilton making his team aware of that fact on the radio as the pit window approached. Hamilton decided to bite first, pitting on Lap 27 for a swift change to hard tyres to emerge sixth. Verstappen responded one lap later, his stop also lasting 2.4 seconds, and the Dutchman emerged ahead of Hamilton – but crucially, the Briton had passed Ricciardo just before that, so he was just 1.6 seconds behind Verstappen after the first stop.
Perez was next to pit, on Lap 29, emerging in P5 to leave Bottas in the lead with Verstappen and Hamilton bearing down on new hard compounds.
Cue another VSC on Lap 30 for debris off Stroll's car, during which Bottas took the lucrative decision to stop and emerge well ahead of Perez, in P3. The gap between the leaders hovered around a second and on Lap 40, Mercedes unusually asked Hamilton which tyres he would prefer for a second stop. So Red Bull responded and put Verstappen in for new hard compounds on Lap 41. Then Mercedes pitted their driver – Bottas – a lap later. The game was unfolding, but the Finn had reservations as he asked: "Are you sure about this?" before he quickly took P4 off Leclerc. Perez went in on Lap 42.
And Hamilton? Number 44 pitted on Lap 44, running second and 1.5 seconds behind leader Verstappen with a fastest lap instantly coming for him. Bottas then remarked on the radio: "I think we just threw away an easy 1-2."
Hamilton turned on the afterburners and on Lap 48 he closed in on Verstappen, trying to move around the outside of the Red Bull at Turn 4 – but Verstappen pushed him wide, off the track, and kept the lead. The stewards noted it, while Hamilton continued within a second as the fight continued. And soon we had the message: no investigation necessary.
READ MORE: We've taken 'many punches in the face this weekend' says Wolff as he brands Verstappen's Lap 48 defence 'over the line'
"Of course, man, of course," responded Hamilton on the radio. So the lead battle continued. Just under a second in it. Again, at Turn 4, on Lap 58, Hamilton attempted a move on Verstappen but the Dutchman put up a stoic defence. Another go. Lap 59, Hamilton was within a second of Verstappen and had DRS on the run up to Turn 4. He took no chances and made the move stick around the outside on the straight while his rival was given a black-and-white flag for weaving.
So from last in the Sprint on Saturday, Hamilton was up to first on Sunday afternoon. He made it count, ultimately winning by 10.4 seconds. After Hamilton made the winning pass, Bottas was told by Toto Wolff to take P2 off Verstappen but that proved an ambitious message; the Finn finished third and just three behind the Red Bull by the flag. That left Perez where he started, in P4, but a Lap 70 stop for softs gave him fastest lap. He took it away from Hamilton on the last of the 71 laps.
The Ferraris were fifth and sixth – Leclerc ahead of Sainz, who had fallen three places after contact with Norris at the start – having pulled off a two-stop strategy to end the race on hard tyres after two medium-shod stints.
Pierre Gasly's two-stop strategy (medium-hard-hard) saw him emerge on newer tyres on Lap 50 and he took P7 having passed Esteban Ocon then Fernando Alonso in the closing stages. Ocon finished eighth, Alonso ninth, in a double-points showing for Alpine.
Norris shrugged off opening lap contact with Sainz to take the final point in P10, having pitted during the early Safety Car to nurse his second set of hard tyres to the end for more than 60 laps.
Sebastian Vettel lost two places from his P9 start, but a late stop for medium tyres gave him a chance at taking the final point. He missed out on Norris's P10 by 1.2 seconds and finished 11th for Aston Martin. Meanwhile, team mate Stroll retired on Lap 50, carrying damage from when Tsunoda (15th) made contact with him on Lap 4. The Japanese driver took a 10-second penalty for his troubles.
Alfa Romeo's Raikkonen mirrored Vettel's strategy and finished 12th – making up eight places as he started from the pit lane – ahead of George Russell, who gained four places to P13 and finished ahead of the other Alfa Romeo of Antonio Giovinazzi, P14, whose second set of medium tyres dropped off towards the end.
READ MORE: Sao Paulo GP Facts & Stats - Hamilton-Bottas match Schumacher-Barrichello win record
Nicholas Latifi finished 16th having pitted just after the first VSC ended, and kept Nikita Mazepin of Haas away by nearly 42 seconds as the Russian finished 17th. Schumacher finished 18th having made contact with Raikkonen earlier on while McLaren's Ricciardo retired on Lap 51 with an engine issue.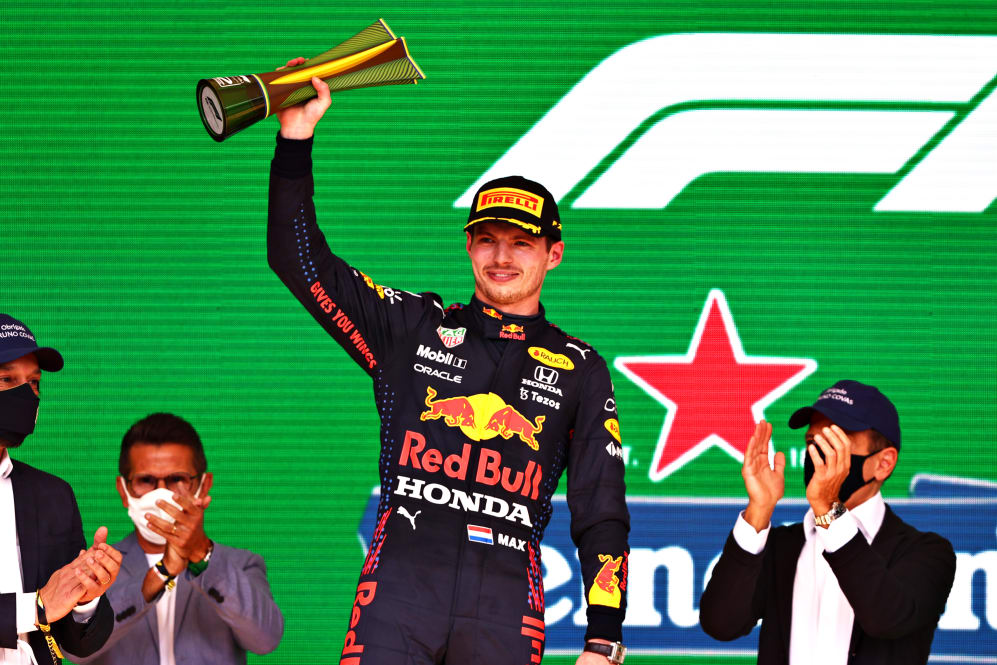 Key Quote
"Firstly, I know, I think I feel what it was like for you here with all the support in 2007 with your amazing country," said Lewis Hamilton to ex-F1 driver Felipe Massa.
"And yes, I've been saying 'Obrigado, Brasil' – I'm so, so grateful. What a race, the team did an amazing job, Valtteri did a great job today to get as many points as possible. I was pushing as hard as I could, but from last on the grid and again another five-place penalty, it was I think, the hardest weekend I have had.
"I mean, coming into this weekend, I never, ever thought that we'd be able to close the gap like we have today. And then these things that just kept going against us. But I think it really shows, just for everyone, just never give up whatever you're facing...
"It feels like the first, because I don't feel like I've had a win for a long time."
What's next?
Hamilton has a 14-point deficit to Verstappen with the inaugural Qatar Grand Prix up next on November 19-21. Mercedes are 11 points ahead of Red Bull after this unforgettable Sao Paulo Grand Prix.