Hamilton targeting Abu Dhabi return after 'one of the hardest weeks' out with Covid-19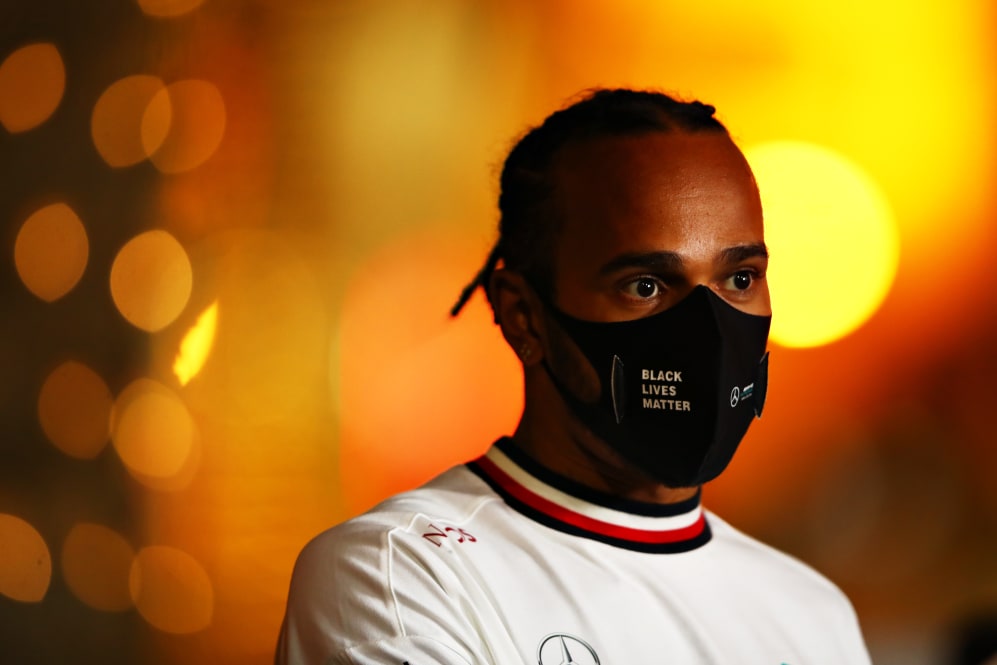 Seven-time Formula 1 champion Lewis Hamilton has updated fans on his recovery from Covid-19 having endured "one of the hardest weeks" after he tested positive for the virus following the Bahrain Grand Prix – and now the Briton says he's targeting a return to racing for this weekend's season-ending Abu Dhabi Grand Prix.
Hamilton said he was "devastated" to be missing last weekend's Sakhir Grand Prix, which turned out to be a spectacular affair in which his replacement at Mercedes, George Russell, was deprived of victory after a pitstop mix-up and puncture, as Sergio perez took his maiden win for Racing Point. Hamilton now says he's hoping to be back in his car for this weekend's race.
READ MORE: Breaking down the huge mental and physical challenge Russell faced in Sakhir
In a message posted on Twitter, he said: "Hi everyone, I hope you're all well. I know I've not been in touch this past week but it's definitely been one of the hardest weeks that I've had for some time.
"I've just been focusing on recovering and trying to get back in shape so I can get back and race the final race in Abu Dhabi.
Oops! Error retrieving Twitter post
"I woke up today feeling great and got my first workout in so I just wanted to send you guys a message of positivity, let you know that I'm ok, and thank every single one of you for sending me the amazing messages and videos and I really, really appreciate it.
"I hope that wherever you are, you're staying positive and fighting through whatever it is that you're facing and I hope that I can get back in the car soon. I'm sending you guys love," he concluded.
READ MORE: Wolff says Hamilton contract negotiations on hold until 7-time champ returns to full health
Hamilton's return would mean Russell would not get a second chance to drive the Mercedes W11 this weekend. The Williams driver shone on his maiden Mercedes race, taking second on the grid and leading until Mercedes' double-stacked pitstop and a puncture ruined his chance of taking a brilliant victory.
Hamilton has so far taken 11 wins and 10 pole positions this year, with five career Abu Dhabi Grand Prix victories under his belt.