Hamilton 'would have raced for the win' in Spain without Magnussen contact, says Wolff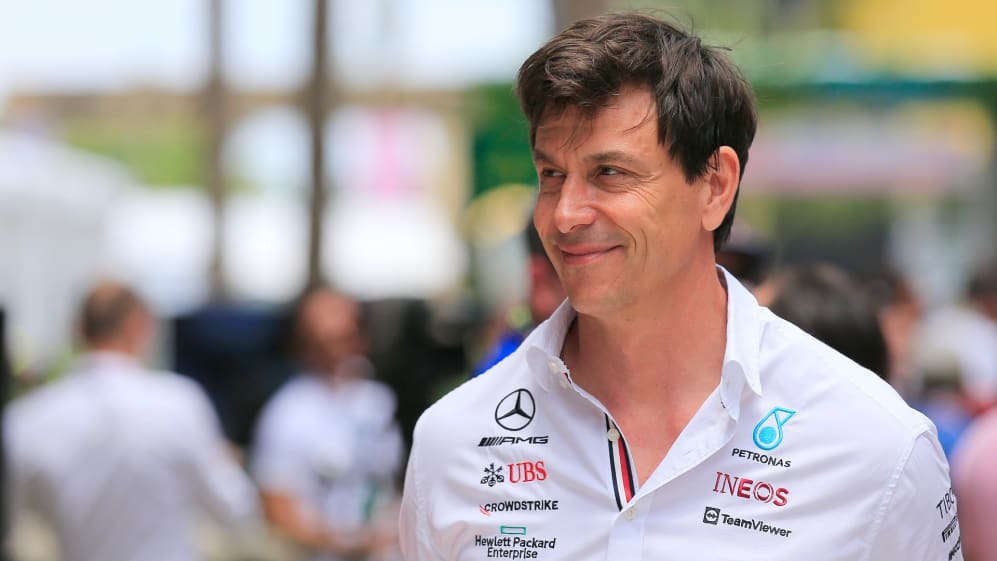 Mercedes Team Principal Toto Wolff admitted that his team's performance in Barcelona was better than he could have predicted, as he praised the performances of his drivers George Russell and Lewis Hamilton – after they finished in P3 and P5 respectively – declaring "we have two unbelievable drivers"
Mercedes entered the race in Barcelona with renewed optimism after bringing a set of upgrades that they hoped would solve their issues and bring them closer to Ferrari and Red Bull at the top. Russell and Hamilton started the race in P4 and P6 respectively, and while Russell moved into third at the start, Hamilton suffered a front-left puncture that sent him to P19 after a collision with Kevin Magnussen.
READ MORE: Hamilton left ruing first-lap contact with Magnussen after 'amazing' recovery to P5 in Spain
Hamilton, however, managed to make it back through the field and was at one stage in P4, until a water leak meant he had no defence against the attack of Carlos Sainz in fifth. And Wolff believes Hamilton's pace was so good, had he not collided with Magnussen, he could have been standing on the top step of the podium for what would have been a record-breaking sixth consecutive time in Spain.
"I'm happy that we didn't retire Lewis, as that was the most valuable race for us to compare the two cars, to compare set-ups, and tyres," said Wolff. "It's always the call when you've basically lost the race to decide: what's the benefit of continuing?
"But as a driver's perspective you're like, 'That can't be possible, I'm 50 seconds behind the leaders.' But it's still valuable mileage, we are never giving up anyway. At the end, his [Hamilton's] race pace was stunning. He would have raced for the win."
Wolff also praised the defensive skills of Russell. The former Mercedes junior driver proved a tough opponent for Max Verstappen and Sergio Perez to overtake for parts of the race, and although he could not keep them behind in the end, he managed to get his second podium finish of the season.
"His defence was unbelievable, how he positioned the car, defending and then [holding him up] around the apex of Turn 2 so he couldn't make the inside for Turn 4," added Wolff.
"He's always in the right spot on the track with a car that at that stage was more than half a second slower. So, I'm really happy to see him racing like this. We have two unbelievable drivers. It's the right guys to sort our car and go back to the front."
TECH TUESDAY: Have Mercedes finally cracked their porpoising issue with Barcelona upgrade package?
Overall, Wolff was happy with his team's performance, as he believes they have closed the gap to their rivals. However, he is confident that there is more pace in the W13 that can be unlocked.
"I think on the first stint, we need to look at how we managed the tyre… it looked like, okay, we have no chance to actually follow the pace," said Wolff. "Without DRS, Max was able to overtake with the new tyre.
READ MORE: Horner wary of renewed Mercedes pace, as he reveals plan to discuss team orders 'openly' with Perez
"But then somehow the car flipped in terms of performance, we saw Lewis storming to the front with the same age tyres and we thought, okay, there's something to learn here. Suddenly we unlocked the potential by tweaking some things.
"It's better than expected [Mercedes' performance] because I'm always so pessimistic about things," admitted Wolff. "We've played clear from the midfield, at least in Barcelona, and caught up by half a second to the frontrunners. We were a second off and now it's half a second and there's more to come, more understanding now which we can unlock in the car, I'm sure about that."