Feature
'He brought the sport to life' – The great Murray Walker remembered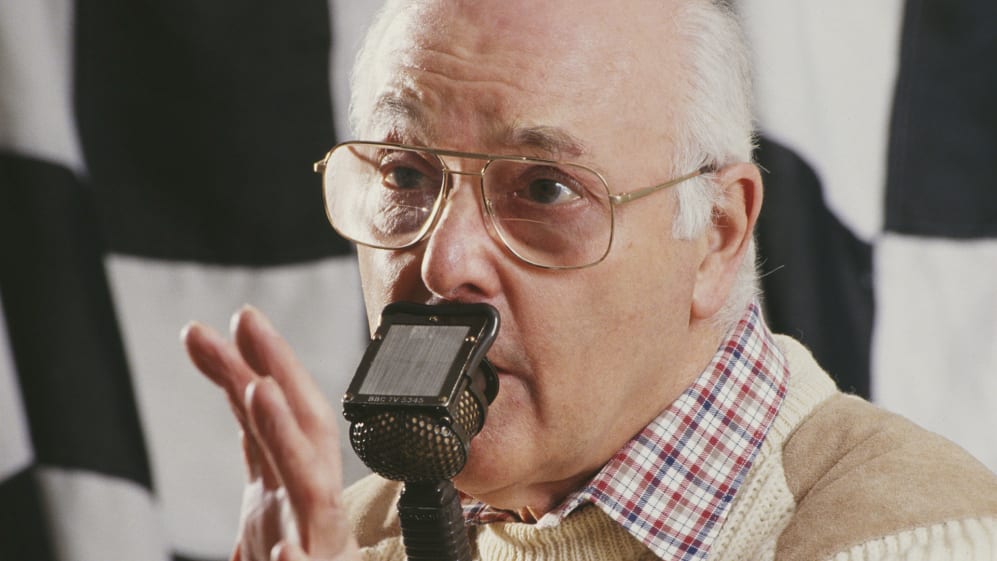 He was a man for whom nobody in F1 had the slightest animosity. Such was his passion that even Murray Walker's infrequent mistakes were endearing.
Who could forget such pearls as: "Unless I'm very much mistaken – which I am!", "This would have been Senna's third win a row, if he'd won the two before" or "There are seven winners of the Monaco Grand Prix on the starting line today, and four of them are Michael Schumacher."
It became de rigueur to poke fun at him for them, but the truth behind such occasional gaffes – which his audiences came to love - was that few ever prepared so carefully and professionally for their job, nor had such an encyclopaedic knowledge of their sport.
And Murray's 'pants on fire' style of commentary gave everyone a sense of the true thrill of Formula 1, first for the BBC between 1976 and 1996, and subsequently for ITV from 1997 until his semi-retirement in 2001. He couldn't keep away, however, and began broadcasting special F1 programmes again part-time in 2005, with appearances on the BBC, Channel 4 and Sky Sports F1.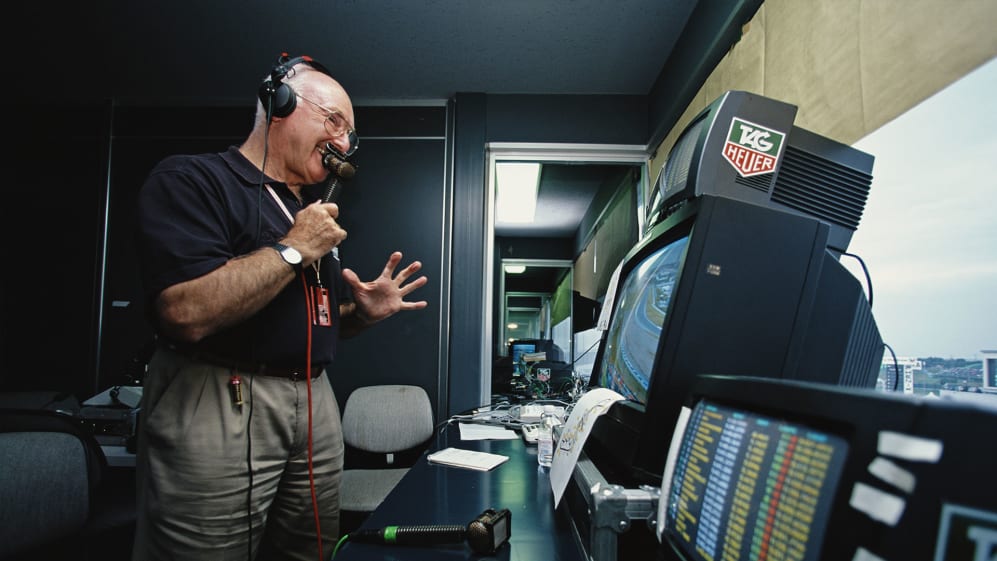 In many ways, Graeme Murray Walker – who died on Saturday aged 97 – was born to his role. His father, Graham, was a talented motorcycle racer who later held a microphone. Murray came into this world in Birmingham's Hall Green (later home to Nigel Mansell) on October 10th, 1923, and grew up lionising his father's exploits. Walker Snr was a works rider for Norton who competed in the Isle of Man TTs.
I remember Murray once telling a moving story of how as a young lad he had many 'uncles' during that period, whom he would see while accompanying his father each year on the island. One in particular always used to give him a tin of toffees. When that stopped in one year's visits, it began to occur to his young mind that many of those benefactors had disappeared over the years. But his love of motor racing never dimmed.
A graduate of the Royal Military College at Sandhurst, Walker commanded a Sherman tank in the Battle of the Reichswald during World War 2 and later in life he would surprise viewers, and racer Derek Bell who accompanied him in one part of a documentary on his life, with his adroit handling of tracked vehicles.
READ MORE: Tributes flood in for legendary commentator Murray Walker from the F1 community
When he was demobbed, Captain Walker briefly raced motorcycles, competing against the emergent John Surtees. He would forge a lifelong friendship with the only man ever to win World Championships on two and four wheels. He had greater success in motorcycle trials, however, particularly in the International Six Days Trial where he won a gold medal, and the Scottish Six Days Trial in which he received a first-class award.
Away from two wheels, Walker made his mark in the advertising world, where he continued to work long after his commentating career had taken off. Clients included British Rail, Vauxhall Motors and Mars, with his slogans 'Opal fruits, made to make your mouth water' and 'Trill makes budgies bounce with health' becoming extremely well known.
But it was in the commentary booth where he was destined to become best known.
In 2016, when Hans Stuck drove a replica of his father's famous Auto Union C-Type up the hillclimb at Shelsley Walsh, a small group of us raised a glass to the venue as the place where Murray had started his career with a mic in hand in 1948. That had led to a try-out with the BBC in the Easter Monday meeting at Goodwood the following year. His first public radio broadcast was made at that year's British Grand Prix at Silverstone, where he watched from Stowe corner. He remained not just a firm fan of the circuit, but a fiercely passionate defender in the battles it faced in the future.
He made his television debut later in 1949, commentating on a motorcycle hillclimb at Knatts Valley in Kent before returning to the Isle of Man to share TT coverage with his esteemed father. They maintained that partnership for 13 years, and Murray succeeded his parent when Graham died in that final year.
He did myriad broadcasting jobs for the BBC, notably in the British Touring Car Championship from 1969, the Macau GP, rallycross (where he befriended Jenson's dad, John Button), rallying and motocross, before commentating from the British GP in 1976, going fulltime in 1978.
From 1980 to 1993 he had a very successful relationship with colour commentator James Hunt, though he did not always approve of the former world champion's timekeeping and private life, which often shocked not just Murray, but his loyal wife Elizabeth whom he had married in 1959.
Few commentators differed more. Where James was laidback, yet could be very outspoken and critical, Murray would stand, grasping the mic as he shouted into it, and part of his charm was that he was so rarely critical or negative in what he said. He genuinely loved the sport, and saw his role as being to convey that love to viewers while filling them in to the best of his ability on what was happening on track and behind the scenes.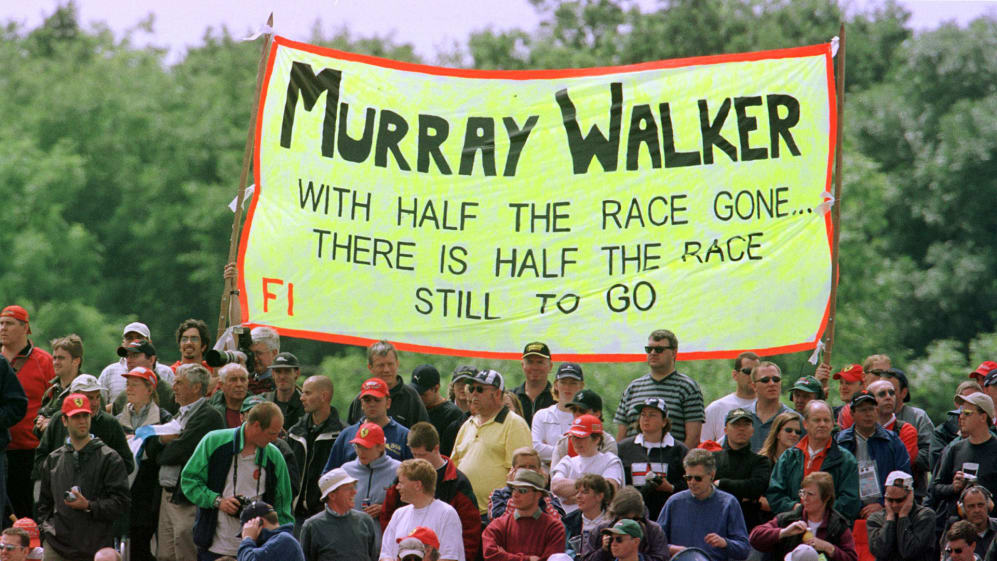 He and James came to respect one another deeply, and Murray paid a heartfelt tribute to his co-commentator when James succumbed to a heart attack in June 1993.
Murray was an innately kind man, who read everything he could on motor racing and did his best to encourage newcomers. I remember, late in 1984 when I was still a baby hack covering the British F3 Championship, being overwhelmed to receive a handwritten letter. We had yet to meet, but he was very kind in expressing how much he had enjoyed my review of the season that Motoring News had just published.
I did gain an insight into his intensity on one occasion at Donington Park when he, Damon Hill, Autosport's Nigel Roebuck and I were part of a discussion panel. Damon and Nigel spoke first, and by the time I got my turn to speak into the single microphone, Murray's pants were on fire again as his hand kept reaching for it in his anxiety to have his say. I had the distinct feeling that he felt that Damon was meant to drive, Nigel and I were meant to write, and he was the only one meant to talk!
It reminded me of the time when he and James had once nearly come to blows when James had grabbed the mic and refused to hand it back to him during one grand prix commentary. Rather than being a show of aggression, though, I always felt that said more about Murray's intense passion to perform his role to the best of his considerable abilities.
He could laugh at himself, too. We still kid Damon now and then about that advert they did for Pizza Hut, when Murray pushes Damon aside as they enter a restaurant and commentates at high volume all the way through the ordering process until their pie arrives. 'Hmm, pasta!' Murray exclaims, as an increasingly vexed Hill corrects him. 'It's pizza, Murray!'
That same year, 1996, he was deservedly awarded an OBE for services to broadcasting and motor sports.
In later life he demonstrated the sort of courage more often seen in the people about whom he commentated. A fall in May 2013 left him with a fractured pelvis but in turn enabled doctors to make an early diagnosis of lymphatic cancer. Murray was 89, but defeated the disease.
It can sound a little trite upon someone's passing to suggest that there will never be another of their ilk, but in Murray's case the words ring so true. There have been some great commentators since he stopped – Martin Brundle and Toby Moody spring immediately to mind – but Murray had such a unique style. In 'resting' mode he was a super-friendly, wholly approachable man who loved meeting people and talking about motor racing, a well-bred and well-read man who was genuinely interested in what others had to say.
With a mic in his hand he was an energetic, voluble man on a mission, and his audience loved him for it because it was real, and they looked upon him as one of their own who was lucky enough to be in the commentary booth. He didn't talk down to anyone, and he brought things alive, and though he was still making the same sort of minor errors towards the end of his career that he had been making at the outset, it didn't matter. His incredible enthusiasm and knowledge made his commentaries intense and gripping, and his Murrayisms became an endearing part of racing's rich lexicon.
He entertained thousands of fans worldwide, helping Formula 1 immensely in its huge growth spurt in the Seventies, Eighties and Nineties. Even today, two decades after he stopped live commentary on F1, his remains the most mimicked voice.
That says it all about a remarkable man of wonderful character, who really was a legend of his sport.