'He really has what it takes to be here' – Magnussen backs Schumacher to deliver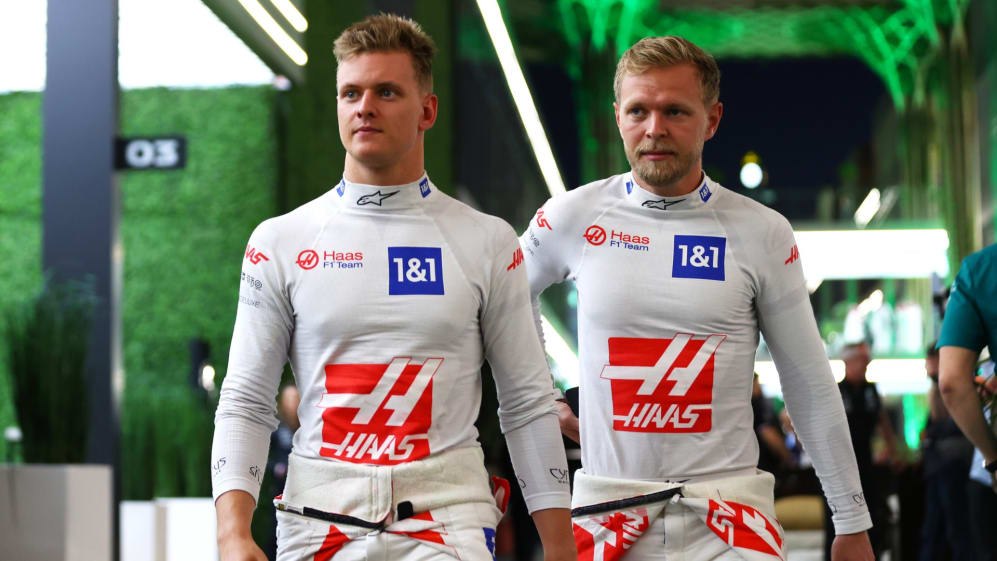 Kevin Magnussen has backed Haas team mate Mick Schumacher, having said on Beyond The Grid that the German has gone beyond proving his credentials to drive in Formula 1.
Magnussen – who has scored all 12 of Haas' points this season – spoke about his first impressions of working with Schumacher on the latest episode of Beyond The Grid, and urged people to look past his team mate's famous surname. Schumacher hasn't yet scored in F1, this season finishing 11th in Bahrain and 13th in Australia after a heavy qualifying crash ruled him out of the Saudi Arabian GP.
BEYOND THE GRID: Kevin Magnussen on the 'misery' he felt before leaving F1 – and his triumphant return
"He's obviously very talented – he won F3, he won F2 before F1, so I feel like he deserves to be here," said Magnussen of Schumacher. "It's kind of tough because he has this surname. His dad is the biggest Formula 1 driver ever, and some people may think that he is here just because he is a Schumacher – but he really has to what it takes to be here.
"He has done what is needed [to be in F1]. Maybe more: some drivers got here and didn't win F3, like myself. I finished second in F3 and loads of other drivers in F1 didn't win everything before."
The 29-year-old Dane made a sensational return this season as Haas replaced Nikita Mazepin, only stepping in from the Official Pre-Season Test in Bahrain – yet completed what Team Principal Guenther Steiner dubbed a "Viking comeback" in his first race in the 2022 machinery.
He's only worked with Schumacher for just over a month, but Magnussen spoke very favourably about the first impression made by the 23-year-old.
READ MORE: How does the F1 Sprint work? The format explained ahead of Imola
"He's a super nice guy, very down to earth, very polite. He's good with everyone, everyone likes him," continued Magnussen. "Immediately, he's been very open, he's very keen to learn, he's asking questions. And you don't always have that between drivers; sometimes they are too proud or whatever, so they don't want to work together.
"Maybe some drivers are scared of showing weakness or whatever, but Mick does not really care about that – he just wants to learn. I feel like in the debriefings his feedback is good, and he doesn't make excuses, he's very honest with the team if there is something that was his mistake, he is open about that. He's not trying to find excuses, so I feel like his attitude is very good."
Listen to the episode of Beyond The Grid with Kevin Magnussen in the player above – or tune in via your preferred podcast provider.