'He'll be kicking himself' – Horner reflects on Perez's Monaco crash as he hails pole-sitter Verstappen's 'best ever qualifying lap'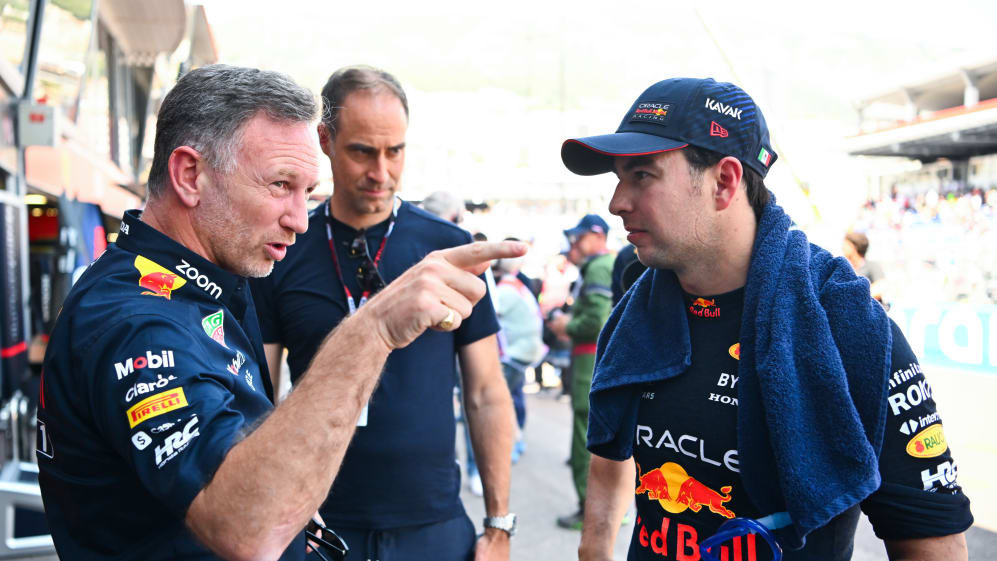 Red Bull Team Principal Christian Horner will see his cars start first and last in the 2023 Monaco Grand Prix, after Max Verstappen took a scintillating first pole in the Principality, as team mate Sergio Perez shunted out of the running in Q1.
Perez lost the rear of the (thus far this year) all-conquering RB19 going into the Sainte Devote corner in the first segment of qualifying, clattering into the barriers before watching his early lap time get pushed down the order – meaning the Mexican, who declared himself "really disappointed" with his crash, will start 20th and last.
MUST-SEE: Dramatic start to Monaco qualifying as Perez crashes into the barrier
"For Checo, unfortunately a mistake too early in Q1," said Horner of Perez, last year's Monaco winner, who currently sits P2 in the drivers' standings, 14 points behind Verstappen.
"I can only think that maybe he was distracted by the Alpine on the right-hand side. He just misjudged that first turn and the circuit was only going to get faster and faster. He'll be kicking himself for that.
Horner added: "I think we might have to change… the chassis just as a precaution, to be honest with you. We're just getting the car back and we'll make that call when we've got it back.
"It's so hard. Max started from that position [in 2018] and I think he just made it into the top 10, so scoring points tomorrow will be the target for Checo. Because it's likely to be a one-stop race, you're caught in the crocodile and you can't use your pace."
Disappointment at Perez's crash was mixed with elation at Verstappen's first pole at Monaco – with Horner not holding back in his praise of the two-time champion.
"I think that was one of the best laps he's ever driven in quali," said Horner, after watching Verstappen out-qualify Fernando Alonso by just 0.084s. "When he arrived at the Swimming Pool, he was [0.2s] down on Fernando, and then all the time [came] through that last sector – I think he hit the wall on both sides, but he carried the momentum, carried the speed, and I could see him gaining the time. I knew it was going to be close, and then he just did it.
READ MORE: Verstappen snatches pole position from Alonso in thrilling Monaco GP qualifying session
"That session was gloves off. It's a track that doesn't play to the strengths of the car, and we needed Max to be on the top of his form to deliver that… so that was down to him today.
"I'm elated for Max – probably the best qualifying lap of his career."
Horner will now watch on nervously on Sunday as Verstappen and Alonso start alongside each other – with the Red Bull Team Principal only too aware that Alonso will be keen to grab his 33rd career victory, and first since the Spanish Grand Prix 10 years ago.
FACTS AND STATS: A first front row start in Monaco for Alonso in 16 years
"If we can get a good start, I think we'll be strong in the race," said Horner. "There's a great respect between Fernando and Max but they're very similar characters, they're cut from the same cloth.
"They're both hard racers, they both want to win this race, and I'm sure Fernando, he sees a chance, he knows how valuable that start is tomorrow, so that first 500 metres is going to be what dictates this Grand Prix."