'He's one of the greatest drivers ever' – Verstappen expecting Hamilton renaissance in 2023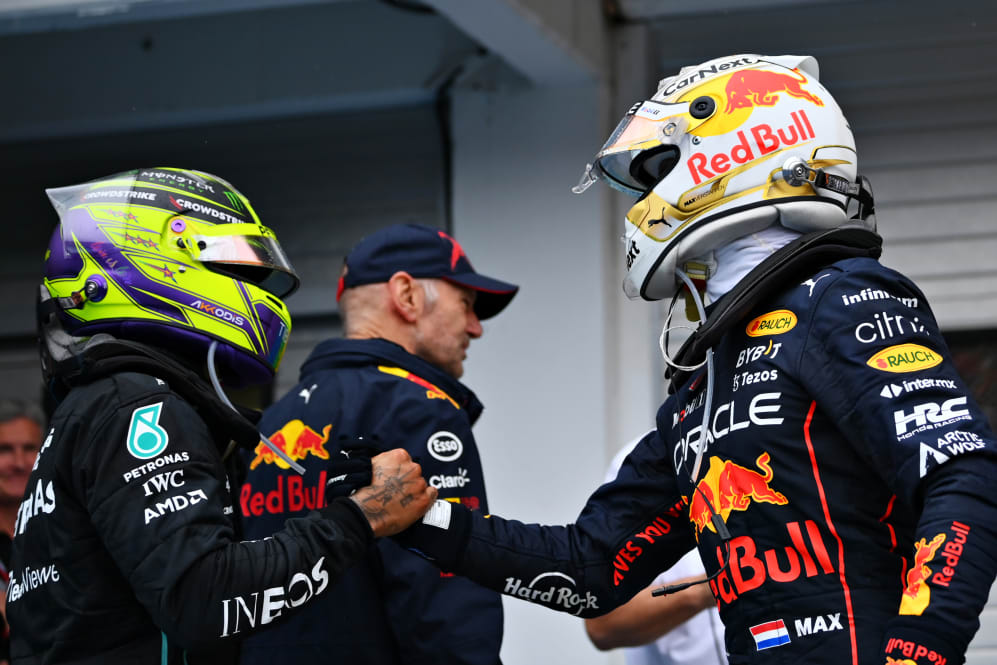 Defending world champion Max Verstappen is expecting his rival Lewis Hamilton to be right back in the title hunt this season – but reckons the Mercedes man isn't the only driver he'll need to fend off to retain his crown.
Verstappen narrowly beat Hamilton to the title in 2021, and while the Dutchman was able to make it back-to-back championship wins in 2022, the seven-time world champion and his Mercedes team struggled for much of the campaign – with Hamilton going win-less in a season for the first time in his career.
READ MORE: 'It's been a good lesson for us' – Hamilton explains how 2022 struggles have made Mercedes stronger
However, speaking to Sky Sports at Red Bull's launch of the RB19 last week in New York, Verstappen was adamant that Hamilton could compete for the title again in 2023, as long as Mercerdes get their car right.
"He has been one of the greatest drivers ever in the sport, so for sure if he has the car to do it, he can fight for the title again," said Verstappen. "But, that's the same for George [Russell], and the same for Charles [Leclerc], it's the same for Lando [Norris]. If you give them a car which is capable of winning a championship, they can.
"But it's also about when you have the car, the pressure comes. You cannot afford mistakes or at least you cannot afford big mistakes, but that's the level of the different pressure you have. But I'm confident that once these guys, they get into a role like that, it is all possible. They have the talent to do so."
Verstappen comes into the 2023 season looking to become just the fifth driver ever to win three championships in a row, and while he is excited by the prospect of achieving this record, he says he's unsure where Red Bull currently stack up compared to their rivals coming into the year.
READ MORE: Verstappen names team who will be biggest threat to Red Bull in 2023 as he targets third title
"Well, my favourite number is of course number three. Of course, you always try to go for it, but I don't know if we are going to be good enough," he admitted. "Of course as a team we believe we are, we are very motivated, we come off the back of a very strong year and we are working flat out to try and achieve that.
"Everyone back at the factory, the whole winter was working flat out and once I came back from my holiday, I was also working flat out to try and be in the best shape possible and once you get back into the car, you know that its go time and you have to deliver."
Verstappen will begin his title defence with the season-opening Bahrain Grand Prix in March.