'He's raised it to another level' – Horner hails 'truly, truly dominant' Verstappen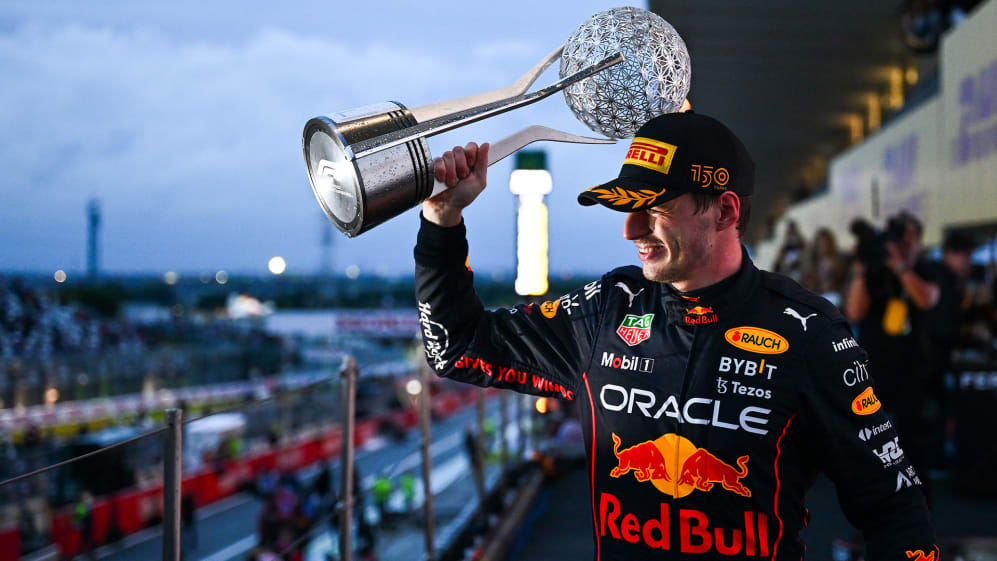 Red Bull team boss Christian Horner heaped praise on Max Verstappen and the rest of the squad after the Dutchman sealed a "truly special" 2022 championship win at the Japanese Grand Prix.
Verstappen took the crown with four races to spare as victory at Suzuka – and Charles Leclerc's dramatic time penalty – gave him a points lead that cannot be overturned across the final four races.
READ MORE: Verstappen crowned world champion with Japanese GP victory after late penalty for Leclerc
Speaking to Sky Sports F1 after the race, Horner said: "It's beyond all our dreams. Max has been truly, truly dominant [this season]. We came back from some difficulties in the first couple of races, but honestly, he and the team have just raised it to another level.
"I'm incredibly proud of everything he's done, everything the team [has done] – all the men and women back in Milton Keynes have gone way and beyond under massive pressure. To achieve this championship is truly special."
Horner went on to share some words of praise for Honda on their home soil, with the Japanese manufacturer and Red Bull recently extending their power unit support arrangement through 2025 – the final year before new engine regulations come into place.
"It's an amazing thing for Honda to win this here as well. That's why we sent Asaki-san (Yasuaki Asaki), a long-time member of the Honda group, to go and get the constructors' trophy for us today," said Horner.
READ MORE: Verstappen left feeling 'very emotional' as he becomes two-time F1 title winner
"We're truly grateful for the support that they've provided us in previous years and as a supplier this year. They've done a great job. All our partners, like ExxonMobil, with this new E10 fuel as well.
"It needs everything to come together to achieve the kind of results we have. We've done that, we've achieved it. It was unexpected, we didn't think we'd be able to achieve the necessary points today, but wow – that's phenomenal."
Horner also hailed Perez for doing a "super job" as he pressurised Leclerc into his costly late mistake, explaining that Red Bull's goals for the remainder of the season are to help him secure P2 in the drivers' standings, while also wrapping up the constructors' title.
"I think Checo's had an incredible year. He should be second in the championship [and] that's going to be the target to keep him there. And of course, one of the big goals for us is to bring that constructors' championship home after eight long years," Horner continued, referencing their last constructors' triumph in 2013.
TREMAYNE: Why Max Verstappen's majestic run to his second title should finally silence his doubters
As for how Verstappen and Red Bull plan to celebrate, Horner added: "I think it'll be a little muted tonight. We'll get together as a team. Obviously people are rushing back to Tokyo to get flights to get back to Europe and so on.
"We'll probably save it for also after the constructors' championship, because again that has so much weight to it as well. We'll get everybody together and celebrate in style."