Feature
TREMAYNE: Why Max Verstappen's majestic run to his second title should finally silence his doubters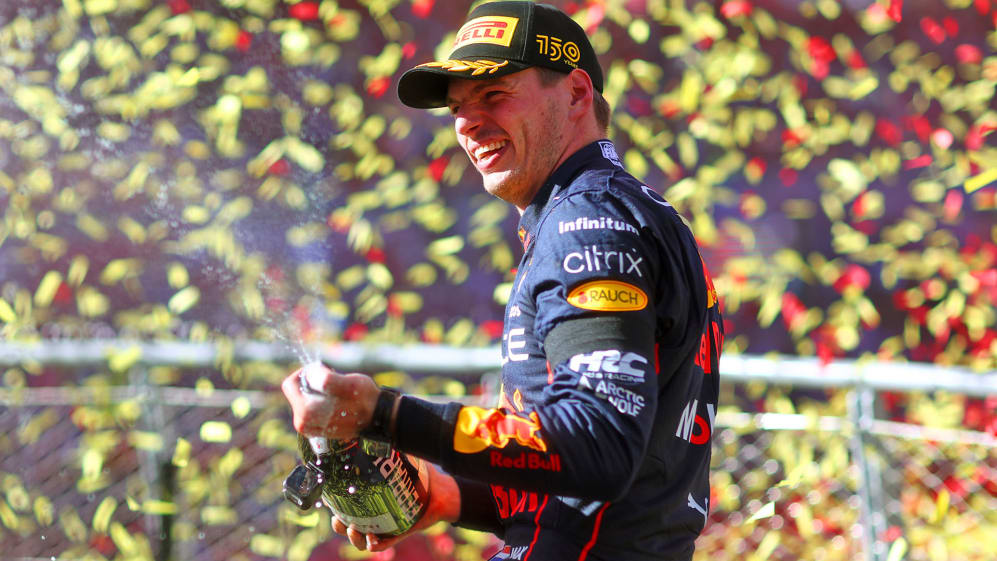 I wonder how different are the levels of inner satisfaction for Max Verstappen, now that he has claimed his second world championship? Surely, when he dreamed of winning a title, his 2022 campaign was more what he'd had in mind…
Back in the late 1980s and early 1990s, things happened the other way around for Ayrton Senna, as he became the new dominator of F1. He won his first title cleanly in 1988, but there was tarnish on his second after the incident at Suzuka in which he deliberately took out Alain Prost at the start of the Japanese GP in 1990.
READ MORE: Verstappen crowned world champion with Japanese GP victory after late penalty for Leclerc
Max has always made it very clear that he felt fulfilled winning his first title at the last gasp in Abu Dhabi last year, regardless of the circumstances. It was what it was, and however it happened he was the world champion. As I have written recently, I believe he felt that he needed to 'destroy' Lewis race-by-race (metaphorically speaking), the same way that Ayrton had felt he needed to dismantle Alain. And that's why Max Verstappen, 2022 world champion, was such a stark contrast to his 2021 alter ego.
Last year there were several moments – I'll select the start of the Spanish GP for convenience – when his tactics were extremely tough. The way he thrust his Red Bull to the inside of Turn 1 left Lewis two choices: collide or move over. Sensibly, he chose the latter, but later had the satisfaction of beating Max to the win. But Max's move, and the praise it drew from Red Bull boss Christian Horner, left no doubt about the intensity of their title intent and ambition.
Looking back, I think Max felt in his heart that he had to drive in that BAM (by any means) way. He simply had to beat Lewis. And with the revised rules that season, which partly clipped Mercedes' aerodynamic wings, he had in the Red Bull RB16B a car that was at that stage of the season generally better than the Mercedes W12. Finally, after years of waiting, he had the means and thus a really serious chance to challenge the acknowledged master on even terms.
Things have been so much different this year, haven't they? In the RB18 Max has had the equipment to display a very different side to his skillset. He has looked sleek, cunning, incredibly fast, and very highly polished. Like a man who has embraced his destiny, and been wholly comfortable realising it because, in terms of self-confidence, machinery, and other factors such as the differing levels of other drivers' competitive packages, he found all of the planets aligning for him.
READ MORE: Verstappen left feeling 'very emotional' as he becomes two-time F1 title winner
Yes, there were a couple of uncharacteristic spins – in Spain and Hungary – but predictably he recovered almost instantly from them where a lesser man might not have, and they barely delayed him, though he won in Spain thanks to the compliance of team mate Sergio Perez. But otherwise he has hardly made an error, and he has certainly not needed to get his elbows out the way that he did so often in 2021. He has slipped seamlessly into his new status as the pace-setter – The Man.
You saw it not just in his impeccable driving, and his ability to get the best out of the RB18 and its various Pirelli tyres – once it had been changed slightly after the period around Monaco time when perhaps it lost its super-grippy front-end traction and thus favoured Checo's driving style more.
Even when there were times when he might not have been able to squeeze quite as much out of it in qualifying as the racer in him would have liked, he generally got it the way he wanted it in races, when he was able to ally that to some superb tyre management that often proved crucial. What he did with it at Spa was utterly peerless.
But he sure as eggs are eggs didn't win 12 of the 18 races so far this year through simply having the best car, or luck. Where Mercedes floundered and Ferrari, who probably had the fastest machine, often blundered, he and Red Bull so rarely got it wrong. They complemented one another beautifully.
READ MORE: 'He's raised it to another level' – Horner hails 'truly, truly dominant' Verstappen
But you also saw the change in his manner out of the cockpit. Perhaps feeling less under attack from elements of the media who would question his driving tactics in the past, he has become once again the relaxed, amusing character he could be in press conferences and post-race interviews, happy to oblige with eloquence and candour rather than the petulance of the besieged by going deep into selected topics of discussion that engaged him.
But it would be wrong to suggest that he has grown up or matured, because Max has always been incredibly mature; he's just a much more relaxed and satisfied sportsman who knows he is currently at a fresh peak in a career that may eventually elevate him to challenge even the astonishing tally of Lewis's successes. He is, after all, still only 25. Can you imagine what he might achieve in another 10 years with Red Bull?
One of the best aspects of his season, besides the lack of controversy, has been the closeness of his racing at times with Charles Leclerc, and the manner in which it has never become as intense as the fights with Lewis, which often crossed the line. Now that might say something about how Max views the Monegasque, who has certainly kept him on his toes at times, in comparison with Lewis, who of course has not had the car with which to compete on even terms this year. But it also speaks to the competitiveness of his equipment in 2022.
The Ferrari has been a better car at times, but the Red Bull has nearly always been within striking distance, and the way in which the new ground effect cars work when running close together has perhaps also played a key role. As Max says, the older cars could get a little edgy when running as close, which may go some way to explaining why there has been no contact this year.
WATCH: Relive the moment Max Verstappen became a double world champion
Equally, it might also be a case of Max knowing that Ferrari are more likely to drop the ball than were Mercedes in 2021, and that his advantages are sufficient that he just doesn't need to take risks. That's exactly the sort of mindset that a champion can afford and a pretender can't; when you have a car such as the RB18 and a team such as Red Bull calling the shots, you don't always have to win.
Indeed, after the summer break, they engaged reheat with that fantastic back-to-front win in Belgium and then first-to-the-flag repeats in Holland and Italy. I loved it when he said thereafter, "We don't need wins anymore," though of course added, "but we still want them." Once a racer, always a racer, right? And that sentiment goes right through the folks at Red Bull.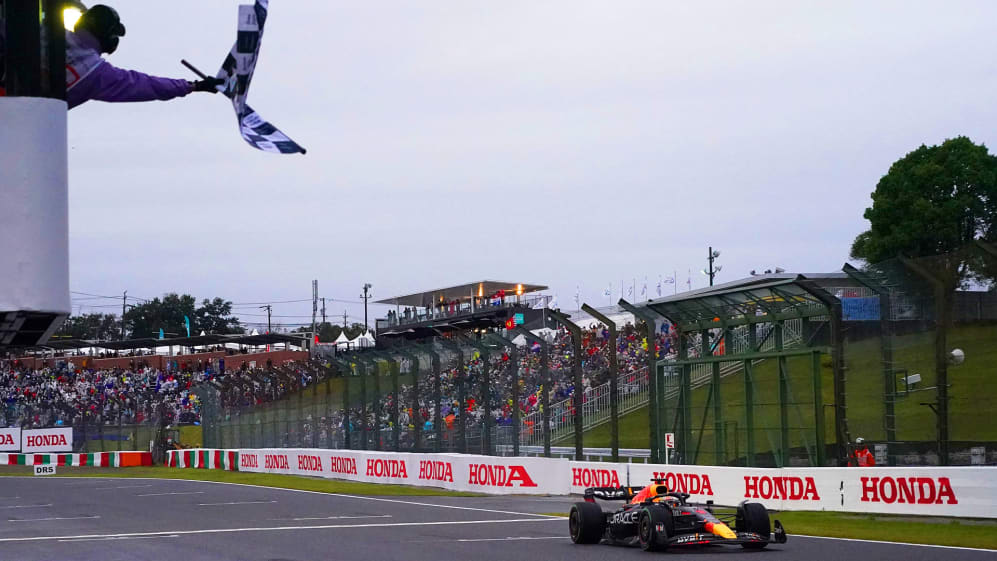 However he has found the inner peace he has displayed in 2022, Max has been far more of a Mohammed Ali than a Francis Ngannou. Much more a rapier than a cutlass. And in that stylishness has lain the cornerstone of his title defence. But that's not to say that his old character might not reappear, should Mercedes give Lewis a fully competitive car in 2023...
One has to be honest and accept that, for many fans across the globe, there will always be hair on the cake of Max's 2021 title success because of the extraordinary circumstances in which it was won. Not that Max cared about that.
FACTS AND STATS: Verstappen matches Alonso's title and win tally after claiming championship in Suzuka
But this time around, in what will surely be just another step in a slew of title successes to come, there can be absolutely no questioning the fundamental elegance and justice of a second title won in a manner reflective of the very best the sport has witnessed since 1950. 2021's success might have soothed some of the inner fire that burned within him when he was a pretender. But 2022's is one that a double champion will genuinely be able to savour forever.