Horner calls Red Bull's Baku 1-2 'redemption' for Verstappen losing 2021 win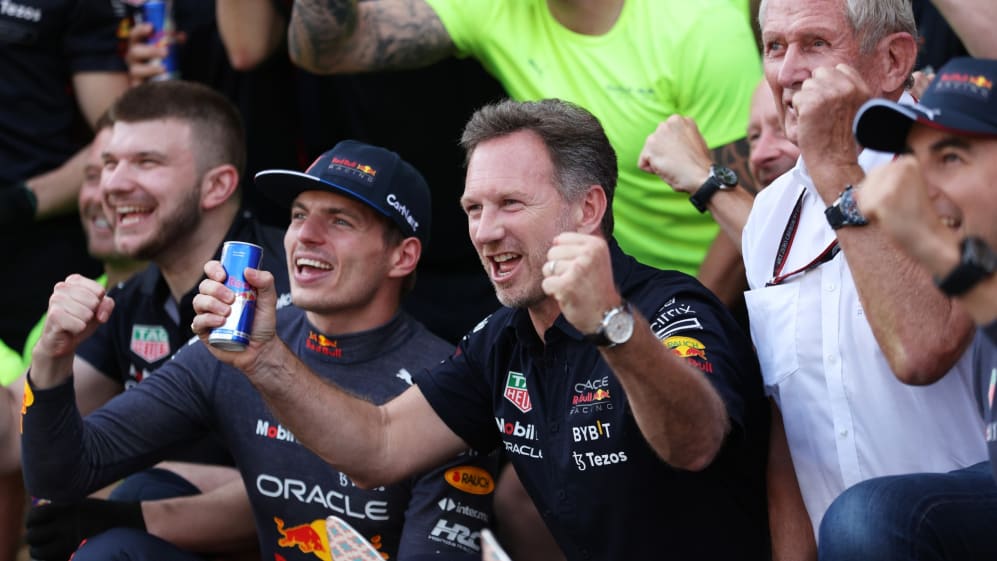 Red Bull Team Principal Christian Horner described Max Verstappen's victory at the Azerbaijan Grand Prix as "redemption for last year" after the Dutch driver led team mate Sergio Perez across the line in Baku to seal the team's third one-two finish of the season.
Verstappen came into the weekend believing he had "unfinished business" in Baku, after a tyre failure in last year's race saw him crash into the barriers on the home straight while leading comfortably. And Horner praised the performance of his driver, admitting that last year's incident was on the team's mind during the race on Sunday.
"That was a really mature drive from him," said Horner. "I mean in many ways it was redemption for last year, for the frustration he had with the tyre blow-out and that's also why we changed tyres with 20 laps to go or less.
READ MORE: 6 Winners and 5 Losers from the Azerbaijan Grand Prix – Who leaves Baku the happiest?
"But a really mature drive, almost a Le Mans-style drive today, I mean we were giving him a lap time to drive to just to try and take risk out of pushing the car or extending the car too much."
Verstappen had started the race in third, behind team mate Perez in second. And while Verstappen could not make any gains at the start, Perez was able to leapfrog pole-sitter Charles Leclerc at Turn 1 to take the lead.
However, Perez struggled in the first stint on the medium tyre, while Verstappen excelled, especially once Leclerc came into the pits, with the reigning world champion overtaking his team mate on Lap 14 of 51. And Horner was able to provide an insight into why there was such a big difference in pace between the two.
READ MORE: MONDAY MORNING DEBRIEF: Would Leclerc have triumphed in Baku without his Lap 20 DNF?
"[Sergio] was magic yesterday and again, a great start and went away from the field," said Horner. "But he started to get into rear tyre graining earlier than the cars behind, so maybe we just emphasised a little bit too much qualifying on his side of the garage rather than the race. Whereas Max's car seemed to have much better deg in the race. Of course, the drivers are contributing to that as well.
While Horner was pleased that his team came away from Baku with maximum points, including the point for fastest lap, he admitted it would have been interesting to see how the race would have played out strategically had Leclerc not retired.
READ MORE: Bad luck has 'evened out' in title fight asserts Verstappen, as Perez says 'miscommunication' cost him in Baku
"I think it would have been fascinating to see it play out because Charles went for [a stop under] the early [Virtual] Safety Car," said Horner. "It was very early, it would have been a very long stint and we obviously had quite an overlap with staying out with both drivers.
"And I think with that eight or nine-lap overlap advantage tyre-wise, plus the pace advantage we did have, I think we would have been in good shape. Unlucky for Ferrari today, and you know particularly for Charles, but a great day for our boys, who drove brilliantly."