Feature
How Ferrari and Mercedes' six straight constructors' titles stack up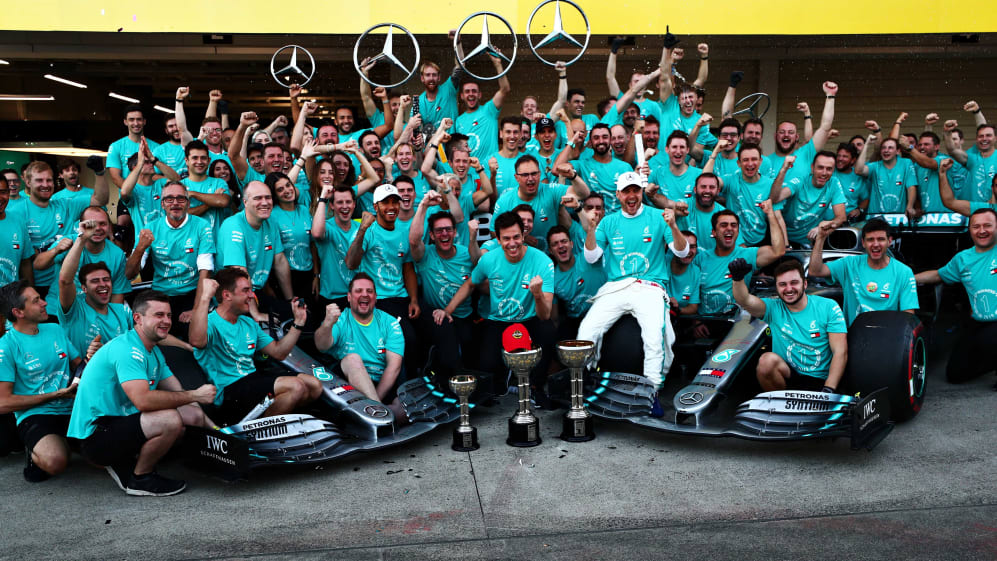 The Japanese Grand Prix saw Mercedes equal a landmark record in Formula 1 history, as they tied Ferrari's streak of six back-to-back constructors' titles, earned by the Scuderia between 1999-2004. So, with the record now in the bag, we take a look at how Ferrari and Mercedes' runs stack up alongside one another.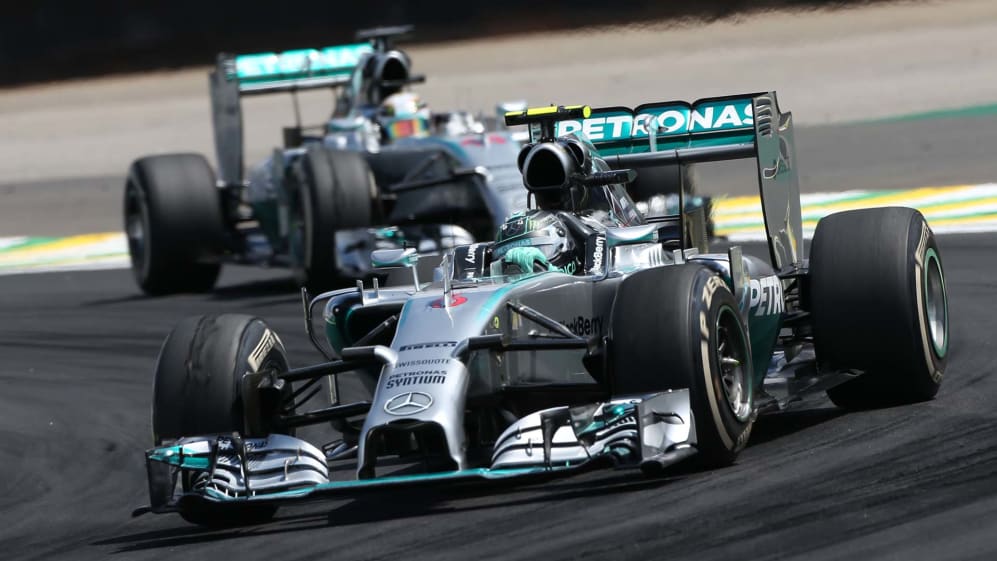 1999 vs 2014
And straight away, we come to the main point of difference between Ferrari and Mercedes' six consecutive constructors' titles. 2014 was the beginning of Mercedes' run of double titles for both drivers' and constructors' championships. In 1999, meanwhile, Ferrari were denied their first drivers' title since 1979, as McLaren's Mika Hakkinen took the crown. A large part of that was down to Michael Schumacher's leg-breaking smash at the 1999 British Grand Prix, leaving wingmen Eddie Irvine and Mika Salo to handle the mid-to-late season races between them, Irvine ultimately coming up two points short of taking the title as Ferrari won their first constructors' crown since 1983.
There were no such injury issues at Mercedes in 2014, as Nico Rosberg and Lewis Hamilton sailed almost embarrassingly away from the pack as the turbo-hybrid era dawned, winning all bar three races as Mercedes claimed the crown by nearly 300 points from Red Bull, Hamilton taking the drivers' title. The relationship between the pair, though, had veered from edgily friendly in 2013 to downright dysfunctional in 2014, as the glitter of the greatest prize in motorsport tore the boyhood karting team mates' amity to shreds, with stand-out flashpoints in Bahrain, Monaco and Belgium that year.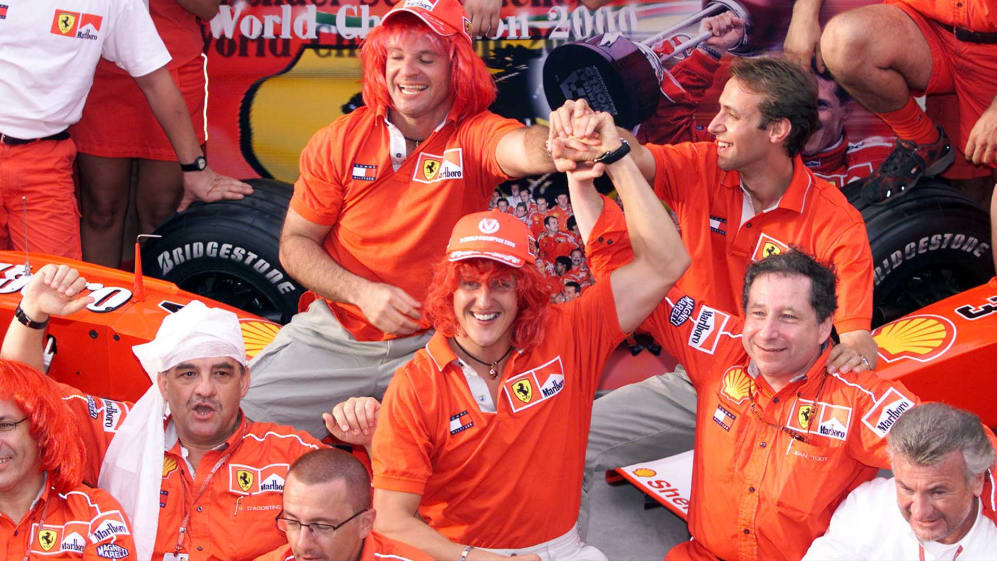 2000 vs 2015
With Schumacher properly back in the saddle, and Irvine out in place of the less spiky Rubens Barrichello, the architecture was in place for Ferrari to begin their run of Ross Brawn/Jean Todt-led dominance. Hakkinen was still a force to contend with, but Schumacher would ultimately win nine times to the Finn's four (and David Coulthard's three) that year to claim his third drivers' title as Ferrari took their second championship on the bounce.
Meanwhile, for Mercedes, there were worrying early signs in 2015 of a Sebastian Vettel-led Ferrari resurgence, as the German won his second race for the team in Malaysia. He'd go on to win twice more that year, but ultimately couldn't string the performances together enough to get on terms with Hamilton and Rosberg, Hamilton winning his third title as Mercedes again finished almost 300 points clear of the field – breaking their record for one-two finishes in a season from the year before in the process by taking 12.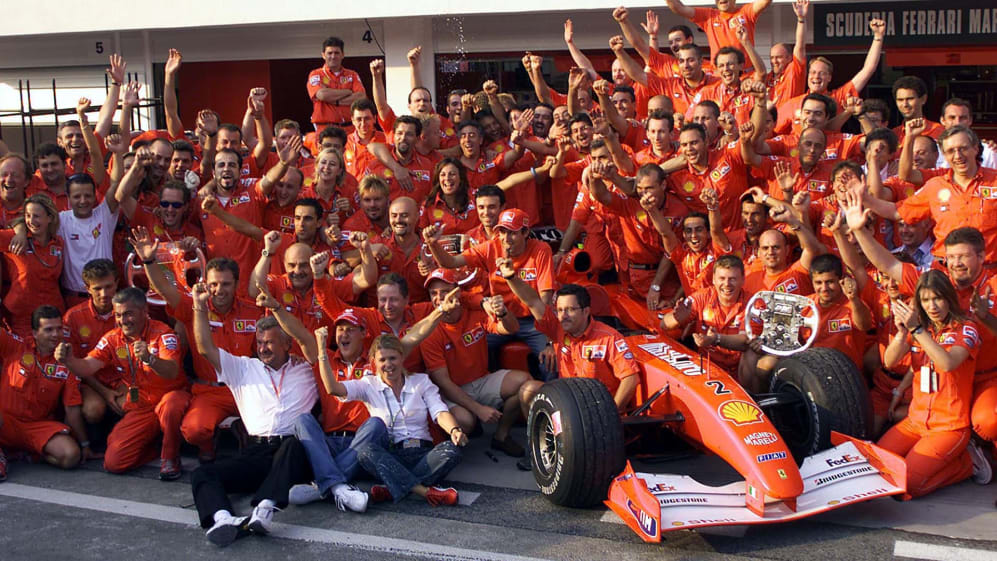 2001 vs 2016
By 2001, Ferrari had selected an extra gear, as McLaren were left to deal with a resurgent Williams team nipping at their heels. Those two teams would claim four wins apiece, but it was Michael Schumacher who devoured the other nine, Barrichello playing his wingman role to such an extent that he took 10 podiums that year without ever winning a race.
Turmoil continued to reign at Mercedes in 2016, however, as Rosberg and Hamilton wiped each other out of the Spanish Grand Prix and came to blows in Austria, following Rosberg's clumsy 'motocross block' move on the final lap. But the pair were operating at such a high level that Stuttgart could mostly afford to turn a blind eye, the pair winning 19 of the 21 races (second in the all-time list for percentage wins in a season, behind McLaren in 1988) as Rosberg narrowly claimed the crown, before promptly retiring.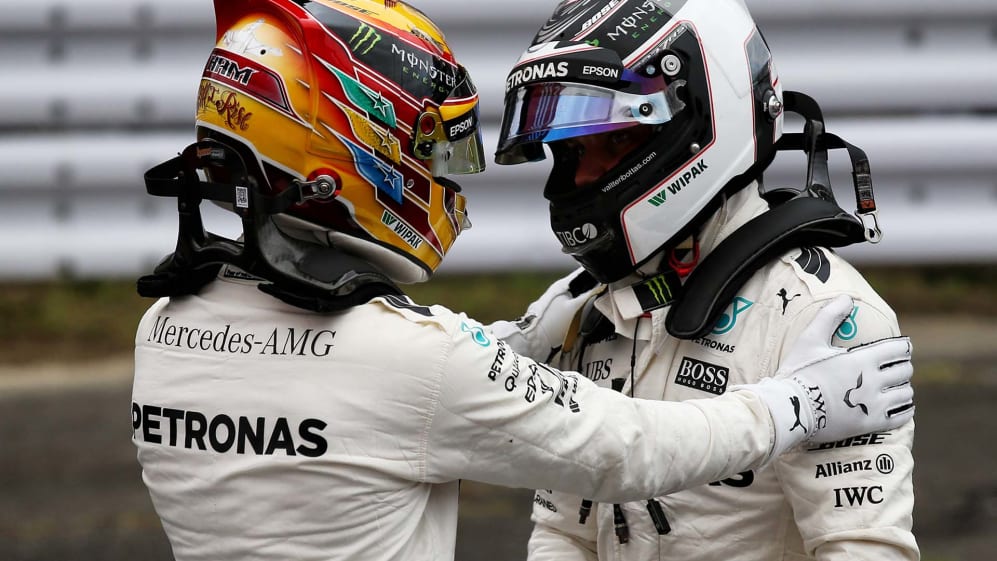 2002 vs 2017
Arguably the finest year in Schumacher's Ferrari reign, as he claimed the drivers' crown after just 11 of the 17 races. 2002 also witnessed the debut of one of the great F1 cars, the Rory Byrne/Ross Brawn designed F2002 – a car so good it won 14 of the 15 Grands Prix it competed in that year (the team having begun the season with the F2001B). Schumacher and four-time winner that year Barrichello's performances with the car simply embarrassed the opposition, as Ferrari took the title by 129 points – in an era when a win was only good for 10, mind – carving up all but two wins that season between them.
Fast-forward to 2017, and with Rosberg having left Mercedes in the lurch with his retirement announcement, Valtteri Bottas was hastily drafted in as a replacement, adding a calm Finnish salve to the Silver Arrows' operation. You could argue that the lack of spice between their driver pairing dulled Mercedes' edge, as both Ferrari and Red Bull enjoyed multiple wins in a single year for the first time since 2014. At any rate, a 'dulled' Mercedes still amounted to a 146-point lead over the Scuderia when the curtain came down, as a less fraught Hamilton claimed his fourth drivers' title in Mexico.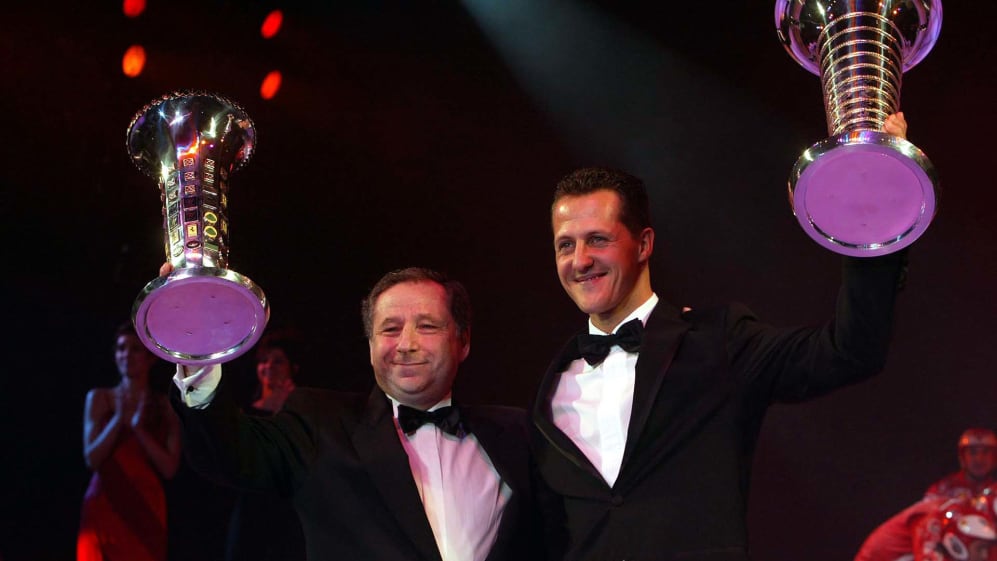 2003 vs 2018
On the back of their all-conquering 2002, 2003 was a much tougher campaign for Ferrari, with McLaren and Williams a far more consistent threat. Schumacher would ultimately squeak his sixth drivers' title by just two points from McLaren's Kimi Raikkonen as the Finn took the fight to the wire in Suzuka, while Ferrari claimed their fifth straight constructors' win by just 14 points from Williams, with McLaren two points further back.
2018, meanwhile, saw Hamilton once again having to fend off threats to his reign, chiefly from Vettel as Bottas endured a win-less season, handing over his near-certain Russian Grand Prix victory to Hamilton to help his team mate's cause. Ultimately, however, a second half of the season bludgeon by Hamilton, which saw him win six of the final eight races, ensured him of the crown, as a series of mistakes from Vettel undid his challenge. Constructors'-wise, however, with Bottas finishing a lowly fifth, it had been Mercedes' least-dominant campaign to date, as they claimed the title by less than 100 points for the first time since 2014.
2004 vs 2019
"Mercedes have reached a higher level than their rivals and so far have been almost untouchable. However, without wishing to be the bearer of bad tidings, sooner or later the wind changes. It's the law of the jungle in every sport." So wrote Ross Brawn after Mercedes took their sixth crown in 2019 – and he knows what he's talking about. Under his technical stewardship, 2004 marked Ferrari's last truly great year in Formula 1, Schumacher back to his demoralising best as he and Barrichello helped Ferrari extend their record for consecutive constructors' titles to six, winning 15 out of 18 races that year between them. But the era of Fernando Alonso and Renault was dawning…
The wind looked as though it had changed already for Mercedes ahead of the 2019 season, as Ferrari dominated pre-season testing in Barcelona. But then the Silver Arrows rolled up to Australia and embarked on a devastating run of eight straight victories to near-as-damnit guarantee them of equalling Ferrari's constructors' record before we'd even got to the summer break. They'd ultimately end up matching Ferrari's remarkable feat in Suzuka, while with Bottas first and Hamilton third in Japan, it's now guaranteed that one of them will be drivers' champion this year as well – meaning they'll become the first team to ever secure six double championships.
Two titans of the sport, and two incredible records. The big question now is: can anyone stop Mercedes from making it seven in 2020?