Feature
How Mercedes' aggressive tactics helped them beat Red Bull in Bahrain – despite having a slower car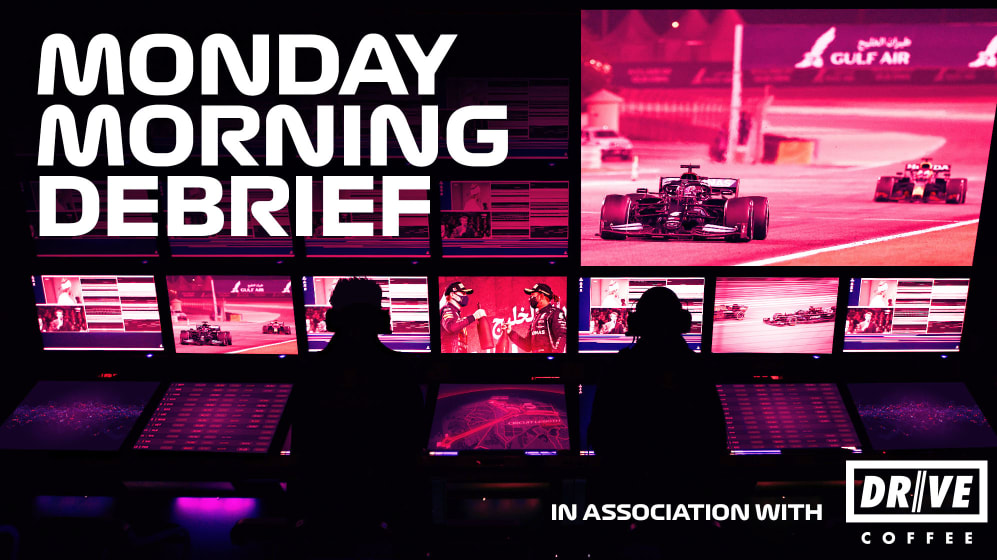 Mercedes and Lewis Hamilton took a strategy victory over the faster Red Bull-Honda of Max Verstappen in Bahrain for the opening race of the season. The drama was all about Verstappen's failed overtake bid a few laps from the end – but the story was really about how he even ended up behind the Mercedes in the first place, having qualified on pole by 0.4s and led the opening stint.
The answer lay in how Mercedes, realising they had the slower car for once, had put into play an aggressive, no-compromise strategy of grabbing track position and defending it. To make it work would require a masterclass of precision and patience from Hamilton and that is what he delivered.
So how did Mercedes go about pulling the rug from beneath Red Bull?
READ MORE: Hamilton wins epic season opener by just 0.7s after thrilling battle with Verstappen in Bahrain
Tyre choice
Such is the high thermal degradation rate of the tyres around Sakhir that the harder the compound of your chosen race tyres the better. Each car this year is allocated eight softs, three mediums and two hards for the whole weekend.
Mercedes planned their race around retaining those two sets of new hards for the second and third stints of what was always set to be a two-stop race. Which meant not using them in practice at all.
Given that they planned to do Q2 and start on the medium, two sets of which would ideally be required for Q2, that obliged them to do much of practice on the soft tyres which they would not be running in the race. Which left them with only three sets of softs going into qualifying, two of which would ideally be needed in Q3 to maximise grid position, the other to get through Q1.
READ MORE: Last laps were 'horrifying' says Hamilton after he fends off Verstappen to win Bahrain GP
It's risky because just one problem in qualifying such as a yellow flag or traffic, and you can be in trouble. Valtteri Bottas illustrated this by having to take a second set in Q1 after his first soft-tyred lap wasn't deemed secure enough to get him through (it would have been, as it turned out and Bottas was not in agreement with the decision). Which left him just one new set for Q3.
The tyre choice was the first indication of Merc's no-compromise strategy. Red Bull had given Verstappen one new set of mediums and one set of hards for the race. The medium was not as good a tyre over the stint, with a range around five laps less, faster only for a few initial laps and slower over the duration of the stint. But the choice allowed Red Bull a more representative practice of the tyres they'd actually be using as well as not making them so vulnerable to any qualifying incidents. It was the luxury afforded by the confidence of having a faster car.
READ MORE: 'It is what it is' - Verstappen philosophical about surrendering lead to Hamilton following off-track pass
Stop Timing
Mercedes were resolved to bring Hamilton in as soon as there was a pit stop's-worth of a gap in the traffic to drop him into.
That gap was created by Alpine bringing Fernando Alonso in as early as Lap 11 to undercut Lance Stroll's Aston Martin. This created a cascade of stops around that group as they each sought to defend from the various undercuts. That was the gap Mercedes needed and Hamilton was brought in from 1.8s behind Verstappen on Lap 13. Which was very early for a high-deg race of 56 laps and enforced longer-than-ideal stints for the remainder.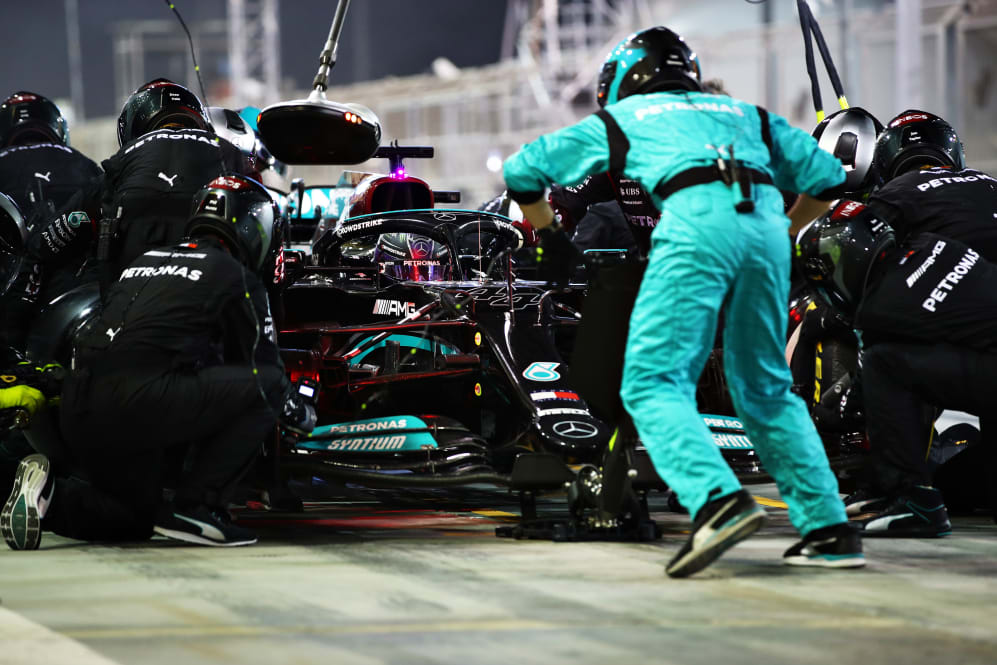 As soon as Hamilton pitted, because he was only 1.8s behind and the degradation rate was so high, Verstappen had already lost track position.
It was the race-winning move in hindsight. It may not have worked and Mercedes was far from certain that it would. But at least it would give them a possibility. Had they just done the same as Red Bull they would definitely have been beaten. There was no downside risk, as they were sufficiently far clear of the rest of the pack for their second place not to be threatened even if the strategy failed and Verstappen was later able on his fresher tyres to pass on track.
DRIVER OF THE DAY: Perez's pit-lane-to-P5 fightback gets your vote
Bottas was used by Mercedes to minimise how much longer Verstappen could stay out, Valtteri coming in on Lap 16, obliging Red Bull to bring their man in on the next lap and have his new mediums fitted.
So should Red Bull have brought Verstappen in when that gap had appeared, as Mercedes did with Hamilton? In hindsight, perhaps. But it would have been a crazy thing for the leader to do. Had they done so, Mercedes may have left Hamilton out to run as long as possible – leaving Verstappen vulnerable on older tyres later. The feeling in both camps was that Verstappen had performance in hand even if he lost track position.
Hamilton's second stop on Lap 28 was in response to Verstappen having caught up quickly and got close to undercut range. That left Hamilton having to do half the total distance on his last set of tyres.
Mercedes again used Bottas, pulling him in a couple of laps later in order to force Verstappen to pit in response, thereby minimising the age difference between Hamilton's tyres and those of the Red Bull. But it didn't work out like that. A problem attaching Bottas' right-front wheel delayed him by over 8s – and suddenly Verstappen had no undercut threat and could run as long as Red Bull reckoned was the optimum. Which turned out to be 11 laps longer than Hamilton.
READ MORE: Bahrain Grand Prix Facts & Stats – Hamilton takes another Schumacher record
The tyres on Verstappen's car should in theory have been over 1s quicker than those on Hamilton's and the car itself was also theoretically faster. He rejoined 8.8s behind with 17 laps to go. That sounded a perfectly bridgeable gap. But such is the high degradation rate that Verstappen still had to judge his pace against tyre life to ensure he still had grip when he arrived on Hamilton's tail.
He just about did – but had to run beyond track limits at Turn 4 to make the pass. Which obliged him to hand the place back. As he renewed his attack, his tyres gave out. Hamilton was off the hook and on the way to an unlikely victory.
An enthralling start to the season with a strategic sting in the tale.