Feature
WATCH: All the key moments as the fierce Hamilton vs Rosberg rivalry unfolded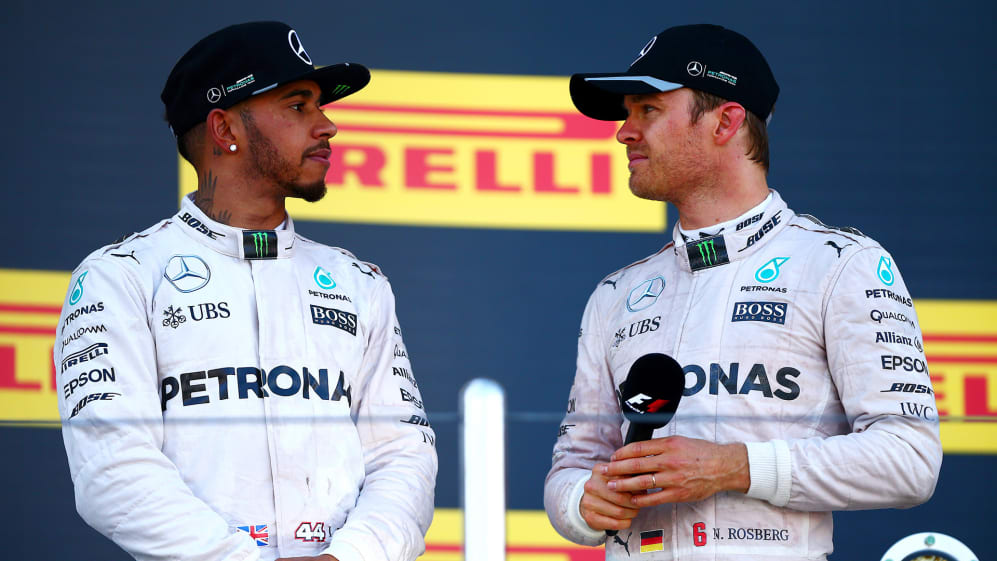 Lewis Hamilton and Nico Rosberg were childhood friends and karting team mates who one day dreamed of making it to Formula 1 and racing each other at the highest level of motorsport. Of course, both realised that dream, and were reunited at Mercedes where their once close relationship morphed into a bitter rivalry.
On Saturday we showed the 2014 Bahrain Grand Prix in full here on F1.com, which was the moment that rivalry first began to ratchet up. So here are all the key moments in the competitive relationship that came to define the early years of the F1 hybrid era...
The first face-off, Bahrain, 2014
There were inklings of discontent as Rosberg was ordered to back off Hamilton in 2013 at Malaysia (when the 'Multi 21' saga reared its head at Red Bull) but the 2014 Bahrain Grand Prix showed what the Silver Arrows pairing could do when let loose wheel-to-wheel.
In just the third race of the season they produced an incredible display of close racing as Hamilton took the lead off the line and eventually won by just 1.085s over Rosberg. No wonder hundreds of thousands of you joined us on YouTube to watch this epic on Saturday.
READ MORE: The Top 10 races of the decade – as chosen by you
Hamilton refuses to budge in Hungarian thriller, 2014
With Hamilton starting from the pit lane and Rosberg on pole, it seemed unlikely that the two would clash in this race – moreso after Hamilton spun on Lap 1.
Yet, as two Safety Cars fell at inopportune times for Rosberg, Hamilton was ahead by Lap 39. Rosberg had another pitstop in the bag and Mercedes requested Hamilton to let him past.
"I'm not slowing down for Nico," said Hamilton on the radio, goading his team mate to overtake, and things only escalated between him and the furious Rosberg from then on...
The Silver Arrows collide, Belgium, 2014
"Nico hit me! Nico's hit me! That's not cool, guys. That's unbelievable guys," clamoured Hamilton on Lap 2 of the 2014 Belgian Grand Prix. He retired from the race later on and Rosberg finished second, giving Red Bull's Daniel Ricciardo a second win on the trot.
Toto Wolff's furrowed brow showed just how incensed he was post-race. He stressed: "It cannot – and will not – happen again."
Oh, to be a fly on the wall of the Silver Arrows' debrief that day.
Trading barbs before the title fight, Abu Dhabi, 2014
"Lewis can do something to keep it clean, which is to drive cleanly himself. So it's not like he can't do anything," said Rosberg as we were treated to press conference gold before the 2014 title decider.
Hamilton was 17 points ahead before Abu Dhabi – a double-points race that he won after passing his team mate at the start to seal his second title – and 67 points ahead after. Rosberg limped home in P14, but next season the rivalry would only escalate.
Ferrari presence triggers tension in China, 2015
Race three of the 2015 season, and Ferrari were back in contention after a dismal 2014 campaign – Sebastian Vettel was just three points behind Hamilton before this Shanghai showdown.
Hamilton had two threats to worry about – Rosberg and Vettel in his mirrors – as he led the Grand Prix. His stubborn defence led some to accuse Hamilton of backing Rosberg up into the grasp of Vettel.
"It's not my job to look after Nico's race," responded Hamilton.
Rosberg throws his cap – and throws down the gauntlet – in Abu Dhabi, 2015
"I'm feeling very happy," said Rosberg with a smirk on his face after winning the Abu Dhabi Grand Prix, his third victory in a row.
Three-time champion Hamilton's reply? "Being world champion sounds a lot better than winning the race."
And who could forget that tense moment in the cool-down room when Rosberg chucked his hat back at Hamilton? It was clear that Rosberg was chomping at the bit to come back at his team mate in 2016.
Mercedes implode at the 2016 Spanish Grand Prix
Max Verstappen's first win – on his Red Bull debut – is also remembered for an unbelievable performance by the Mercedes drivers.
Unbelievable, in that they crashed into each other on the opening lap.
To this day, the debate still continues as to who was at fault for a collision that left Hamilton third in the standings, 43 points behind his team mate, and four points behind Ferrari's Kimi Raikkonen.
And it almost happened again, just three races later…
Unbridled aggression in Austria, 2016
Hamilton was just 24 points behind Rosberg before the 2016 Austrian Grand Prix and his looming presence caused sparks to fly on the final lap of the race.
As Hamilton went for the lead, Rosberg refused to yield. Contact followed, and Rosberg had to limp home for P4. The stewards punished him with a time penalty and points on his licence, while Hamilton's victory cut the German's championship lead to just 11 points.
Hamilton shows his frustration, Abu Dhabi, 2016
With Hamilton on pole, Rosberg just needed to finish on the podium in the 2016 season finale at Yas Marina to become world champion.
The Briton, fully aware of his team mate's position, couldn't hide his feelings and trundled around the circuit, perhaps hoping that Rosberg would fall into the grip of Ferrari's Sebastian Vettel, who was in third.
Urged to speed up by the team, Hamilton said "I'm actually in the lead right now. I'm quite comfortable where I am," in a tetchy radio exchange.
The race summed up just how fraught this rivalry had become and how little ground either driver was prepared to give up – and F1 was all the richer for it.
Just five days later, Rosberg announced his shock retirement from F1 and we were left wondering what would have happened had he stayed to defend his sole title and what fireworks would have come next.
Delve into F1 TV's archive: highlights of every race of going back to 1981, with more than 1000 hours of on-demand content, including season reviews, on-boards, qualifying highlights and much more! It's all available on F1 TV here.