Feature
How to get the most from F1 TV Pro over a Grand Prix weekend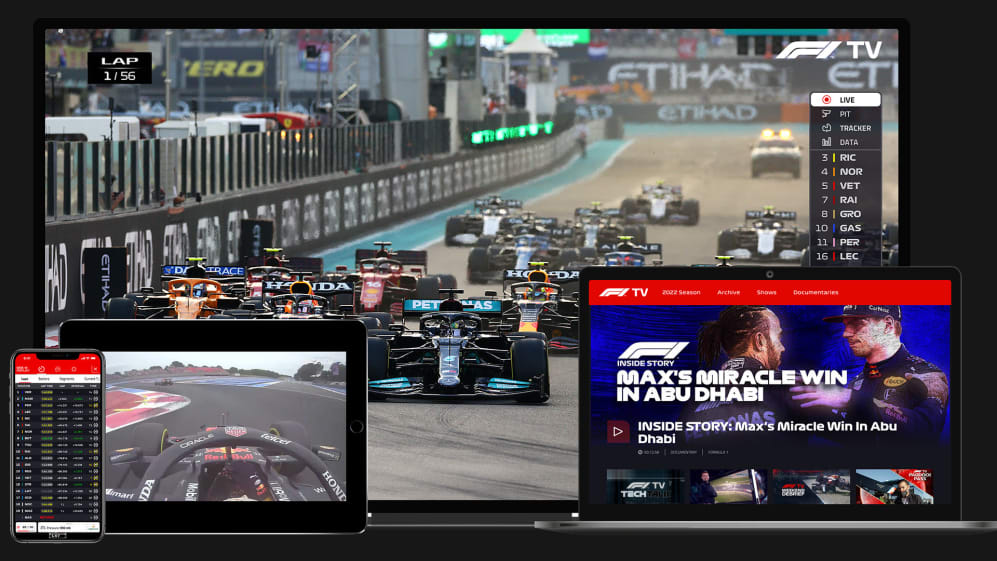 Formula 1 is the most exciting sport on the planet – and F1 TV Pro is the dedicated streaming service here to help you enjoy it even more.
Read on to find out how to set yourself up with F1 TV Pro for the Grand Prix weekend – and we're going to have a look at the best content on the platform so you'll know exactly how F1 TV Pro can be customised for your best possible viewing experience of your favourite sport.
If you aren't already a subscriber, F1 TV Pro allows you to live stream every single Formula 1 session when the cars are on track, including free practice, qualifying, this season's six Sprints, and of course, the main event, the Grand Prix itself.
And if you're not in a territory where F1 TV Pro is available, you'll find F1 TV Access where you'll get access to live timing data and telemetry as well as tons of great stuff to watch, from in depth analysis to technical explainers, and bags of archive footage, including classic races. Simply tap here to see what shows are available where you are in the world.
F1 TV on the big screen
These days F1 TV isn't just for the small screen – you can now watch it on your favourite device, whatever that might be. As well as live streaming across web, mobile and tablets, the F1 TV app is available on Apple TV, Amazon Fire TV, Roku, and Google TV – and you can cast the stream across Apple Airplay and Chromecast, so you can watch all the action on your big screen at home.
Then you can add other laptops, tablets or mobiles to show the live data feeds alongside your main screen – multiscreen viewing is one of the best ways to enjoy F1 TV, but we'll come back to this later.
Any time replays
One of the great things about Formula 1 is how truly global it is, with races in Europe, Asia, the Middle East, the Americas and Australia.
But that does mean some races might be taking place at a time of day or night that's not so convenient for you. Perhaps you have work commitments, maybe you're out with the family, or perhaps it's the middle of the night and you're fast asleep. Either way – F1 TV Pro has you covered, because you can replay and watch any on-track session you like after the event, as live.
That means no more waking up in the dead of night to catch the race if you need to get your sleep – instead you can play it all whenever you like. Then the only thing you'll have to watch out for are spoilers on your social media channels…
Watch live and navigation
But let's say you do want to watch live – because let's face it, there's nothing better than catching it as it's happening – then from the F1 TV Pro landing page, simply click the '2023 Season' tab at the top. That will open up a new page with the current race at the top, and all the other Grands Prix listed below.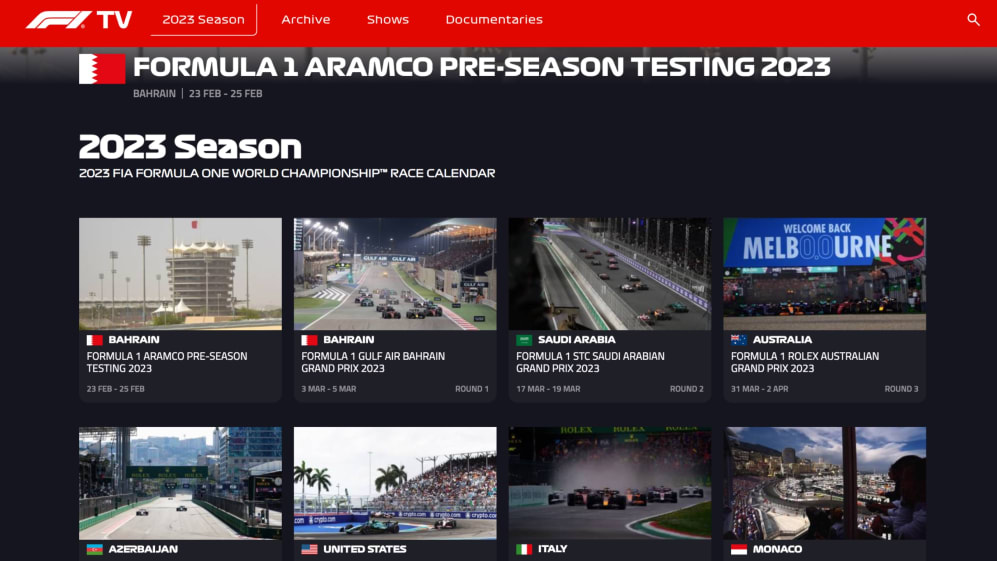 Click on the race you want to watch and underneath the weekend schedule, you'll see the 'Live & Replays' section. This is where you can click to watch whichever session is currently happening – be it practice, qualifying or the race – or catch up with any sessions you may have missed from earlier in the weekend.
READ MORE: Get up to speed on the 2023 season with F1 TV Pro – and enjoy 20% off an annual subscription
So, you're now watching the session and enjoying the on-track action. But this is where F1 TV Pro really comes into its own, because this is when you can customise how you watch – and add multiple screens into the mix.
In fact, you can have up to six screens running at any one time to get all the info you need to maximise your race experience.
For example, you will obviously want the main race coverage – perhaps on your main TV – but you might also want to have the driver tracker running, which shows where all the cars are on the circuit.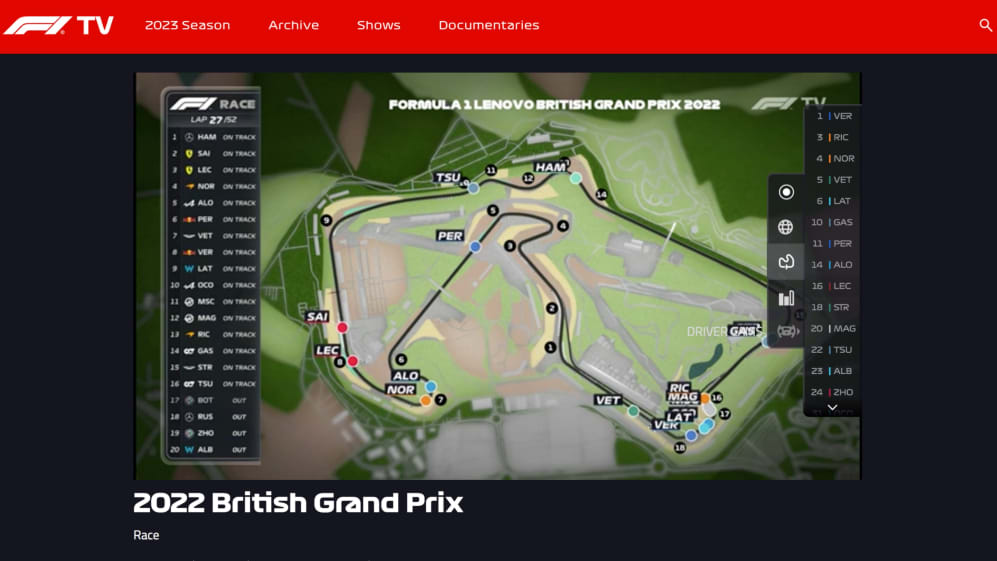 On a third device you could have the data screen. Here we see each driver's timing, gap to the leader and tyre history. The best sector times are on the right. The map and weather at the bottom.
This allows you to have a truly immersive experience as you get to watch the race coverage, listen to the expert commentary, and keep an eye on the track timings and all the data you need.
To find these extra features – and switch between the F1 TV feed and the international feed – simply hover your mouse over the video player or tap the screen, and a menu will appear on the right-hand side. Then simply select the feed you want to run on that particular screen.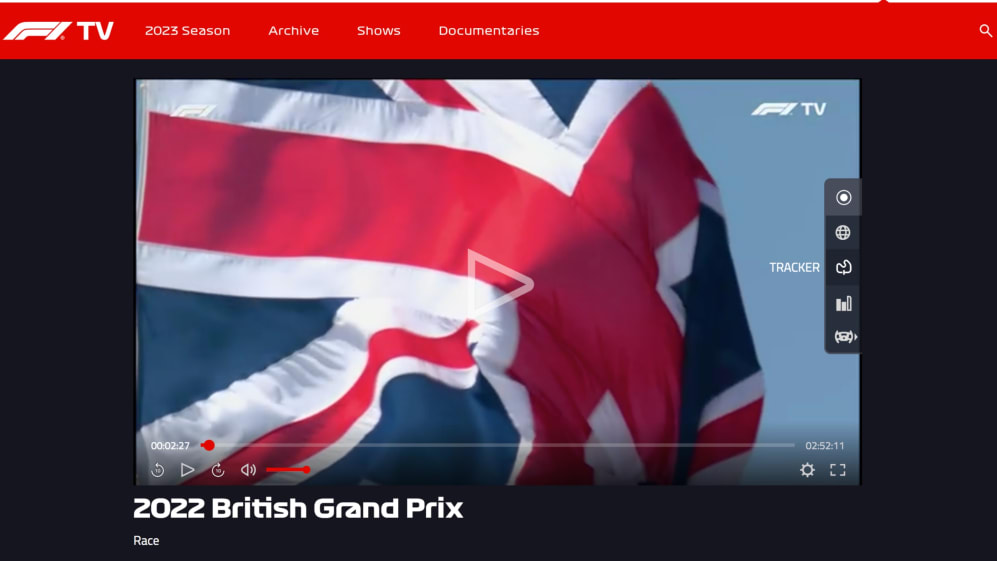 Ride onboard with any driver
On F1 TV Pro you can also ride onboard with any driver at any time in any session – and switch to their view in real time live or in replays, and hear their team radio feed.
Perhaps one driver is about to embark on a make or break final dash for pole in qualifying and you want to ride onboard – or maybe you're just a huge fan of one particular driver and love to watch the race from their point of view in the cockpit.
You can also listen in to their communications with the team over the radio here – and pick up on how their race is going or get hints as to what strategy they're looking at.
You can access these feeds through the same menu shown above, by tapping on the steering wheel icon at the bottom, then selecting which driver you want to ride with.
Live timing
With Live Timing from the F1 app you can add more feeds and build your own version of pit wall – it is after all the same data that the teams are looking at trackside. You can keep track on who is posting purple best sectors times, and monitor driver tyre history to see how the race strategy is playing out.
To get even more live timing you will need to download the F1 App as well as the F1 TV app – or view it on the web. You have access to live timing as part of your F1 TV Pro or F1 TV Access subscription but of course you'll need to log in.
Once you do, you will get additional displays of live data, including a live leaderboard, real time telemetry from the drivers, and live driver maps – so you can see where they are on track and their tyre history.
You can also tell who still needs to come in to pit. And when you click on the driver you can even get their personal telemetry showing speed, gear and throttle.
It's exactly like having your very own pit wall set up – with the same data the teams are using – right in your own home.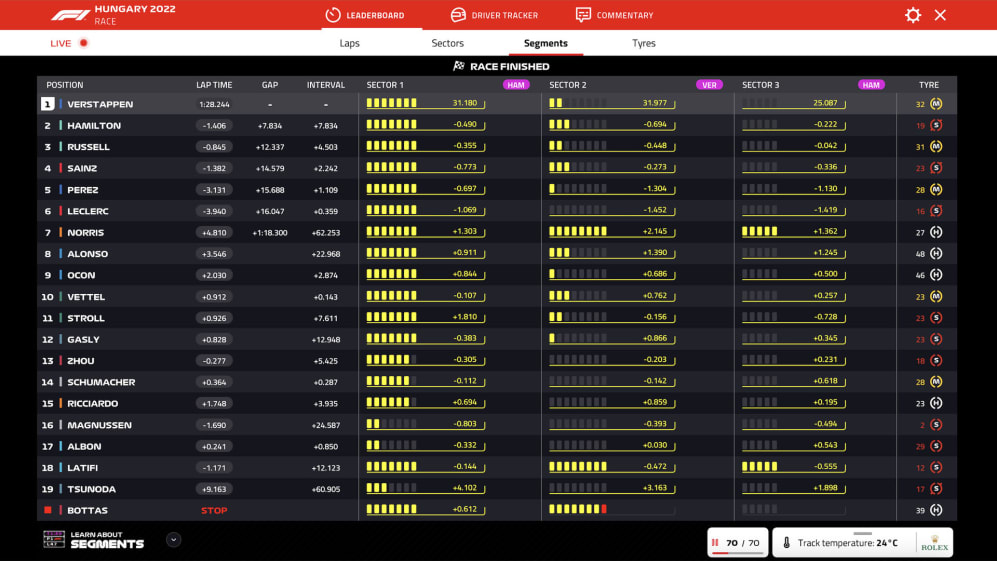 Multiple languages
F1 TV caters for a host of different languages – you can have commentary in English, German, French, Spanish, Dutch and Portuguese. Simply select which option you want at the bottom of the player. Alternatively, if you like your race experience more like being at the circuit, just select sound from the track only.
Your race weekend and F1 TV expert shows
But watching the live races is only part of the story – there's tons more happening on F1 TV across each race weekend.
The brilliant coverage from Will Buxton, Laura Winter, Lawrence Barretto, Rosanna Tennant, Jolyon Palmer and Sam Collins begins with Thursday's Weekend Warm-Up. This is where the team reveal all the rumours and insider gossip they've heard from the paddock in the build-up to the weekend.
READ MORE: What to watch on F1 TV – Our presenters pick their favourite shows ahead of the new season
F1 TV also covers every Friday Free Practice where we first get a sense of the performance of the cars as they look for the optimum set-ups for each particular track. You can also see the press conferences uploaded to F1 TV to hear directly from the drivers and team principals themselves.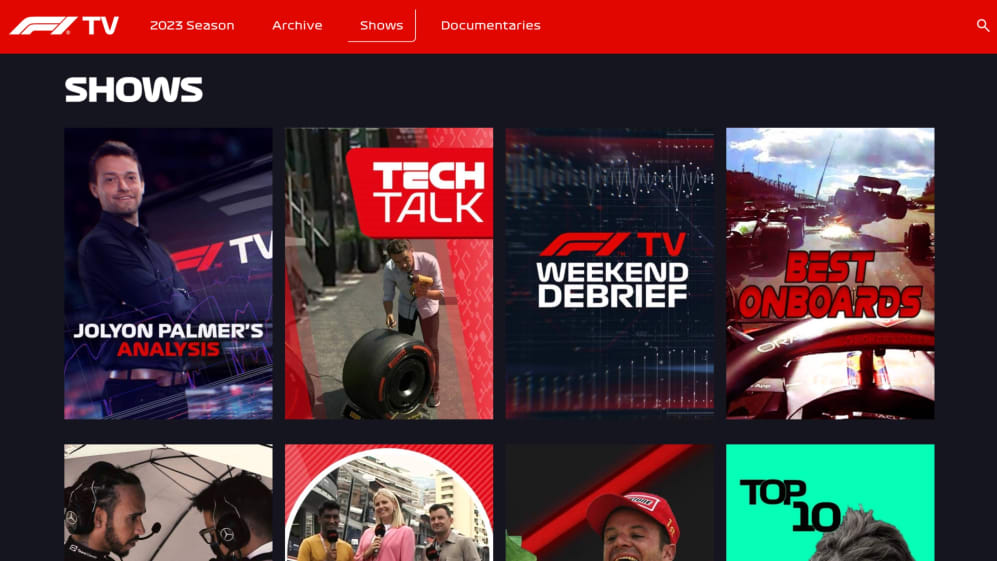 Saturday sees another free practice, with qualifying usually on Saturday afternoon (track time) – unless it's a Sprint weekend. On the six Sprint weekends this season, qualifying is on Friday with the Sprint on Saturday, and the team will be there with pre-Sprint and post-Sprint shows.
Sunday's race day coverage starts with the pre-race show, where you'll get all the latest information, interviews and of course the grid-walk before the Grand Prix.
And after the main event there's the post-race show, with interviews from drivers, team principals and guests analysing all the big talking points from the race.
READ MORE: F1 TV unveils new features and presenter line-up ahead of 2023 season
Watch classic races from the F1 archive
F1 TV has an unmatched archive of F1 races and you can see full races, highlights in 30 minutes, and quick recaps in under ten minutes to relive classic races going right the way back to the 1970s.
The full race replays of recent seasons also come with driver cameras and live data feeds, so you can follow them just as if they were being run today.
F1 TV ARCHIVE: The best ever wet-weather drive? Watch extended highlights of the classic 1996 Spanish GP
Brilliant documentaries
If F1 history is your thing, F1 TV has you covered there too, with a brilliant selection of documentaries on the sport, and deep dives into stories from more current races.
Here you can watch episodes of the fascinating Jolyon Palmer Analysis: Classics – where the ex-F1 racer takes a brilliant Grand Prix from history, like Jenson Button's amazing win in Canada in 2011 or Damon Hill's shock victory at Spa in 1998, and analyses it like a modern race.
Chasing The Dream is another belter – that series follows the young stars in the lower rungs of the motor sport ladder fighting to make it to Formula 1.
So if you're not already a subscriber, tap here to sign up now!