Hulkenberg and Magnussen encouraged by 'promising' Haas upgrades in Austin despite missing out on points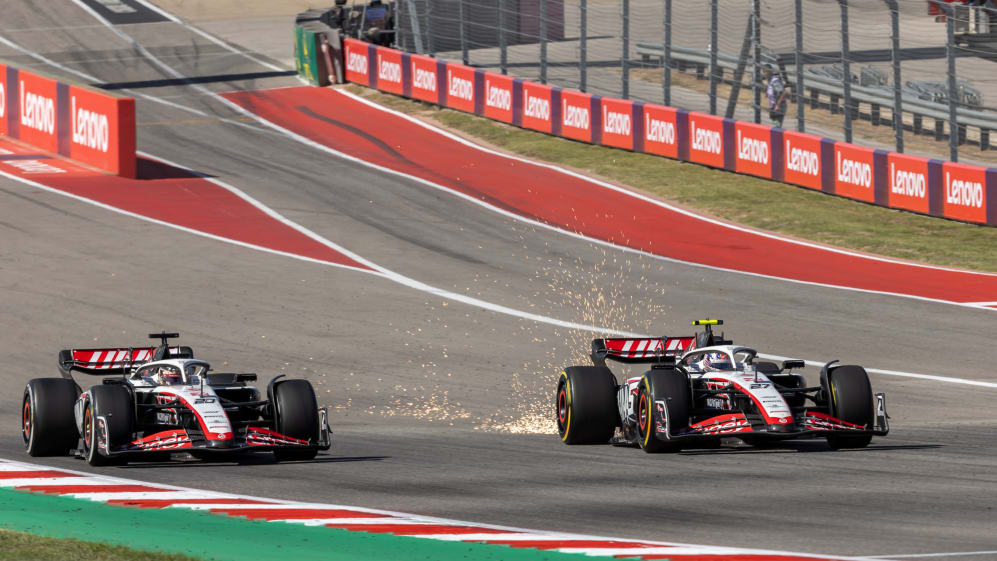 Nico Hulkenberg believes points were possible at this weekend's United States Grand Prix had he qualified better, after the Haas driver finished the race in 13th – but gained two places thanks to Lewis Hamilton and Charles Leclerc being disqualified.
Haas brought a raft of upgrades to Austin in their bid to improve the pace of the VF-23 but struggled throughout the weekend, as Hulkenberg finished 15th in the Sprint after being knocked out in Q1 on Friday.
MONDAY MORNING DEBRIEF: Exactly how did Verstappen negate a brake problem to rise from P6 and take the win?
The team then opted to start both Hulkenberg and Kevin Magnussen from the pit lane after making changes overnight to their cars, and the former believes that, had they not been forced to do that, points would have been a possibility.
Asked if the car had felt better on Sunday compared to Saturday, Hulkenberg said: "Yeah, it did, definitely felt better, and I think the relative performance also looked a lot more promising than yesterday.
"But obviously it came at a cost, at a price, starting from all the way back there. I feel that if we had a halfway decent qualifying and qualified somewhere in the midfield, we might have been able to fight and challenge for points today.
"[Yuki] Tsunoda was only 10 seconds ahead of me in the end. So, some positive and encouraging signs but at the same time it was still difficult out there.
"A lot of tyre management going on but having said that I think that was the same for everybody, everybody was fighting, challenging conditions with the wind out here and the bumpy track."
READ MORE: Verstappen holds off charging Hamilton to claim 50th F1 victory at the United States GP
Asked if the performance gives Haas confidence in their upgrades heading into Mexico next weekend, Hulkenberg replied: "Yeah. Obviously now one Grand Prix under our belt with it, so lots to go through and to analyse, [and] to learn.
"Obviously happy that the set-up changes paid off and were positive. Now heading to Mexico, I hope that we can optimise around it and still extract a bit more from it."
Magnussen was set to line up 14th – the same position he finished the race – until Haas opted to start him in the pit lane, and while the Dane believes the changes overnight by the team helped, he still did not believe they were fast enough.
HIGHLIGHTS: Relive the action from the United States GP as Verstappen clinches win ahead of Hamilton
"Yeah, I think the race was better because of the changes we did," said Magnussen. "Still wasn't enough, we weren't fast enough. Finished in the position that we [would have started from]. We need to find more but we live to fight another day."
Asked if he had got a better feel for the updates during the race compared to any other point in the Austin weekend, Magnussen replied: "Yeah, it felt better today after having done the changes – putting more downforce on was definitely a better set-up, but still not enough."