Feature
Hundreds of laps led, chauffeuring Schumacher and feeling like James Bond – Bernd Maylander on life as the FIA F1 Safety Car driver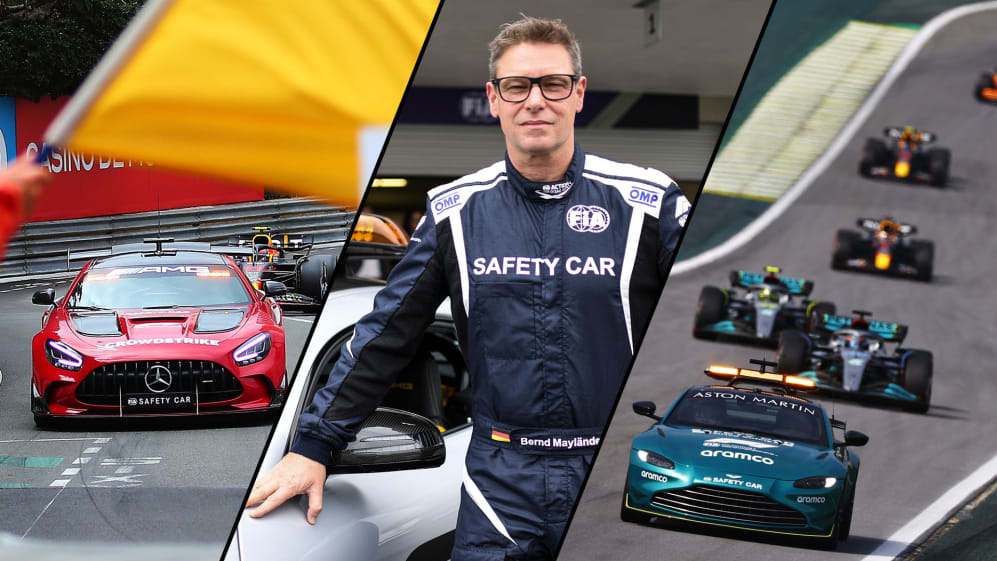 This weekend, F1 is marking 50 years of the Safety Car – a machine that transformed the sport when it was permanently introduced and one that continues to play a key role in the running of each event. Behind the wheel for almost 25 years has been Bernd Maylander, who tells us all about the past, present and future of his job in a special interview…
At the 1973 Canadian Grand Prix, F1 history was made when a Safety Car – or Pace Car – appeared on track for the very first time at Mosport Park, with native racing driver Eppie Wietzes piloting a bright yellow Porsche 914 sporting matching flags at the rear.
TIMELINE: The 50-year history of the Safety Car's evolution in Formula 1
While there were a few teething problems during that appearance, and the Safety Car did not appear again for some three seasons, it represented a significant development in the sport's quest for improved safety and offered a first glimpse at the future.
After several other outings over the next two decades with a Porsche 911 and Lamborghini Countach, it was the 1993 season that marked the official introduction of the Safety Car, which took the form of a Fiat Tempra, Ford Escort RS Cosworth, Opel Vectra, Honda Prelude, Porsche 911 GT2, Lamborghini Diablo and Renault Clio in the years that followed.
However, the arrival of the Mercedes-Benz C36 AMG midway through the 1996 campaign changed the game, with F1 and the German manufacturer kick-starting a relationship that runs to this day – duties now split with fellow car giant Aston Martin.
Maylander's journey to the F1 grid
For almost all of that period, Maylander has been the driver trusted to sit in the cockpit. Born just over two years before the Safety Car first appeared, the German climbed the motorsport ranks in the early-1990s to contest the DTM touring car and FIA GT championships in Mercedes machines, alongside a race-winning stint in F1 support series Porsche Supercup.
It was during his time in the Porsche Supercup category that Maylander caught the eye of F1 Race Director Charlie Whiting and Deputy Race Director Herbie Blash, who were looking to fill a position that had come up in another series on the support bill: Formula 3000.
READ MORE: From Brawn GP's fairytale to Aston Martin's super start – The biggest year-on-year performance jumps in F1 history
"In 1999, I got a phone call from Herbie and Charlie," says Maylander, as we sit down to retrace his F1 journey. "They asked, 'Bernd, you're driving in the Porsche Supercup, are you available to drive the Safety Car for Formula 3000?' I said, 'Yes, why not?' I knew the [Mercedes] brand quite well, as I was racing for them.
"That was the first contact for me and an F1 paddock. I had never been before in an F1 paddock in my life, I had just seen it in the grandstands watching over the main straight into the paddock – that was my highlight, let's say, for that time."
It would take just one year for Maylander to be promoted to the top echelon, moving into the seat previously occupied by fellow racing driver Oliver Gavin. And so, on March 12, 2000, at the season-opening Australian Grand Prix, his F1 Safety Car adventure began…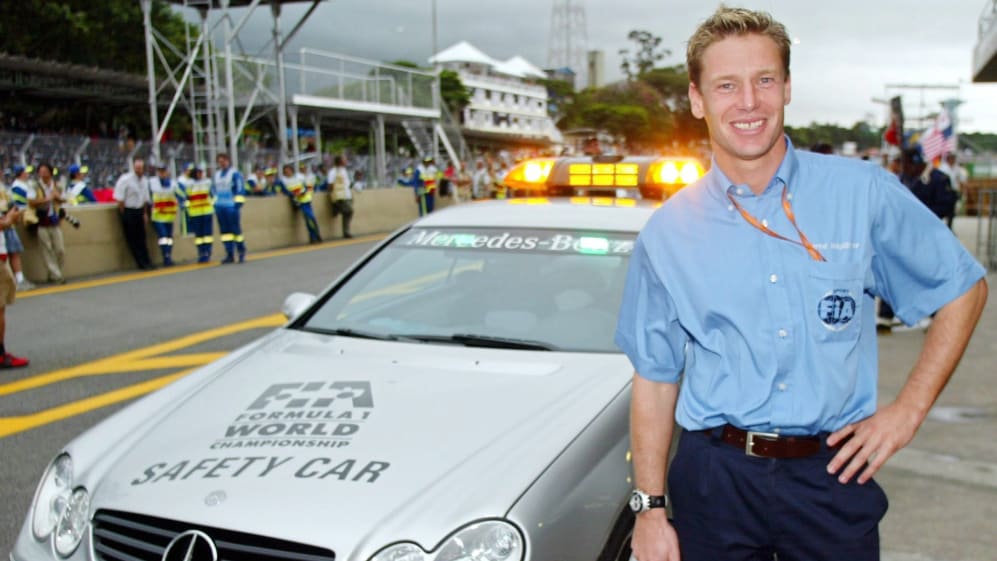 "I remember it exactly," Maylander comments, with his own anniversary of 25 years driving the Safety Car edging closer. "Peter Tibbetts, who had a lot of experience already as a co-driver, guided me a little bit. He said, 'Bernd, it's the same [job as Formula 3000], it's just a different race time'.
"But the pressure… For sure, I was nervous. I got deployed as well during the race. But you have to do your job. Driving-wise, it's OK, because I was used to driving a car on the limit – it was just a different situation."
UNDERDOG TALES: When Senna took the F1 paddock by storm with Toleman and made Monaco's streets his own
Except for a handful of missed races, (Monaco and Canada in 2001, and the United States in 2002), Maylander has been the driver on call between that weekend in Melbourne and this weekend's Canadian Grand Prix.
Two decades of Safety Car improvements
Unsurprisingly, a huge amount has changed in F1 across this period, from the technical regulations in place to the circuits on the calendar and everything in between. As Maylander points out, the Safety Car operation is no exception.
"It's changed a lot," he asserts. "Not [so much] driving-wise – for sure now we are quicker, we have completely different cars – but communication-wise. Right now, we have technology that's used in a 100% perfect way. You get all the information by radio, from the engineers, from the screens that you have inside the Safety Car.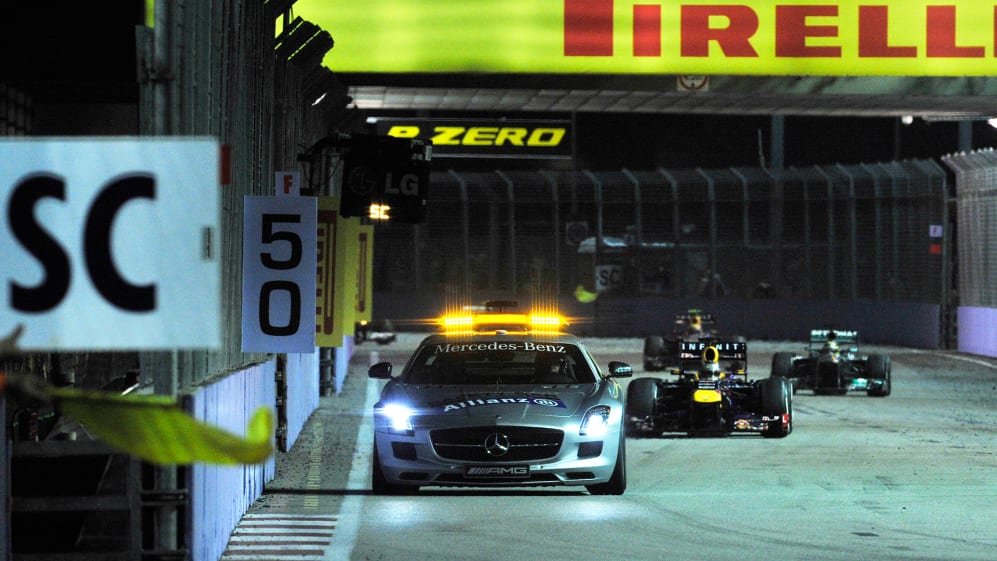 "I know if there is a blocked track, if I have to get past on the left or right side, or maybe there's an opportunity for a shortcut in a corner, like Bahrain Turn 1… There's GPS mapping, where the accident is, and you can see how big the impact was by G-force.
"If we look backward 20 years ago, we were organised for that time, but right now we have completely different opportunities technology-wise to work much quicker and more professionally. You deploy on the track with much more information, because the information is available.
READ MORE: From Schumacher to Hamilton and Martini – Which F1 drivers have spent the most seasons with one team?
"Engineering-wise, technology-wise, what we have right now in the car is a completely different thing than 25 years ago. We had the developments from all the designers and engineers, and that helps also us, the FIA, a lot to make better decisions, to work quicker, safer, to coordinate things in a better way."
Mr. Bernd or Mr. Bond?
Alongside those technology and communications-based changes, there have also been strides in terms of the Safety Car itself, with Mercedes introducing new model after new model before Aston Martin joined them as an official supplier from the 2021 season.
Maylander describes it as "a full-time job" for the dedicated teams of mechanics involved to prepare and maintain the cars from the Wednesday to the Sunday of every Grand Prix weekend, while both manufacturers "cover everything to 100%".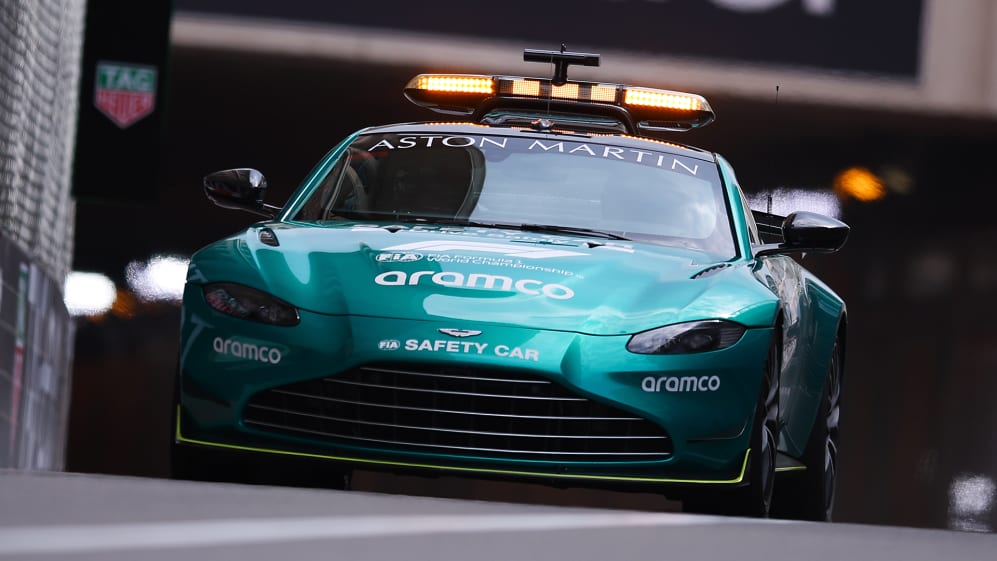 "We have two brands now, which is fantastic, I have to say," continues Maylander. "We have two teams from each brand and there are usually three mechanics with us, arriving on a Tuesday afternoon or Wednesday morning at the track, preparing the two Medical Cars and two Safety Cars.
"The Mercedes is the last edition of the GT generation. It's got 730bhp, a V8, four-litre, double turbo engine, so really it's a phenomenal track car. Still, you can drive it on the road, but it's more or less designed for a racetrack with the aero package, the power package, the transaxle and traction control…
F1 ICONS: Rally legend Sebastien Ogier on four-time F1 champ Sebastian Vettel
"The Aston Martin is the Vantage F1 Edition. I'm happy about the fact that they joined the FIA [to also supply] the Safety Car and the Medical Car. It's a nice brand, a fantastic brand. When I jump in the green one, the Aston, I feel a little bit like James Bond!
"Then we have a lot of suppliers looking after the electronic programmes inside the Safety Car, communications things. There's the GPS, the paddle light system, so a lot you never expect that is helpful for us, and what is also getting used in Formula 1 cars, like the marshalling system, where you can see the light panels also inside the car."
The routine for Maylander and his team
Maylander's duties start on a Thursday with an initial check of the cars that have been prepared by the aforementioned mechanics and a one-hour circuit test, giving him the chance to "remember the track and get ready for quick laps", while making sure all the systems are working as they should be – including internal and external cameras fitted by F1.
After some final tests on Friday morning, the track action begins for F1 and the various support categories involved at any given event on the calendar, with Maylander getting set for a busy weekend of racing that culminates in the main event, the Grand Prix itself.
"Let's say, the last minutes before the pit lane gets opened for the F1 cars, I know exactly what I have to do," he says of the build-up to lights out on race day. "I get changed, put my shoes on, first the right, then the left – that's one thing that I'm usually doing – then I'm walking to the grid.
READ MORE: 'He was walking on water' – Senna's magical Donington 'Lap of the Gods' remembered by his fellow drivers
"There's a check lap from the Race Director, Niels Wittich; a closing lap, we call it, for track inspections. He's usually doing this before all F1 free practice sessions, qualifying sessions, Sprint races or the main race on Sunday – it's always up to the Race Director.
"I make a radio check when I'm on the grid and when Niels is out of the car, then I'm checking the car and waiting until the 10 minutes sign for the formation lap, and the green flag lap. Then you're in the car. When the lights are off and the race is on, you never know what happens – you have to be ready for every situation."
But this is not all dealt with alone. Like Tibbetts before him, current co-driver Richard Darker acts as another crucial pair of eyes and ears – and makes use of the technology and communication advancements covered earlier – to free up Maylander to focus on driving.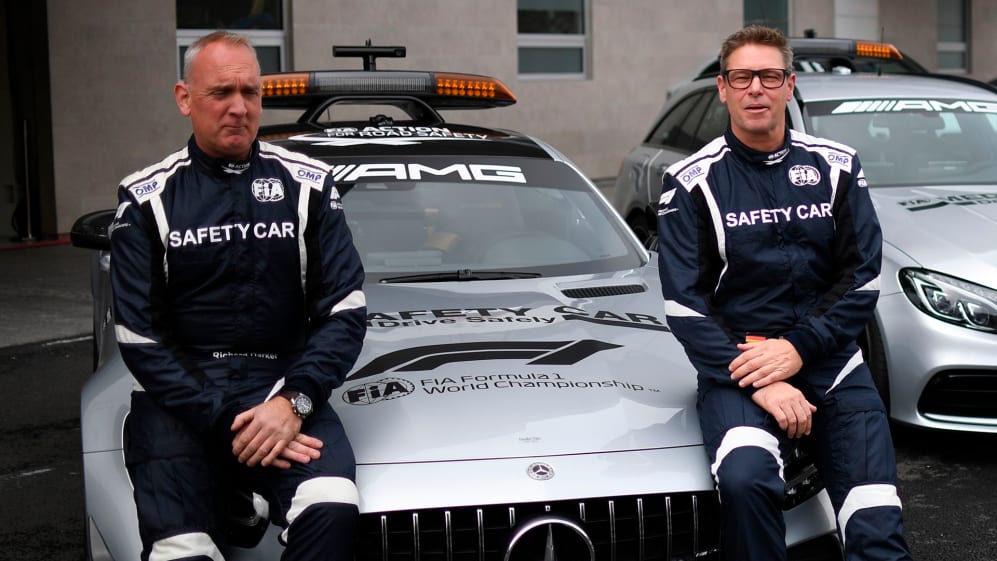 "For sure, my co-driver is really important," Maylander explains. "He's a spotter, he's doing all the communications things [with Race Control]. Four eyes and four ears see and hear more, and in the Safety Car it's like an airplane cockpit [with the technology].
"You have to do the right decisions in the right moments and you have to understand everything and see what's going on, and it's quite helpful if you have someone next to you. Even if you have a normal race and nothing to do, it's good to not be alone in the car."
READ MORE: From the six-wheeled Tyrrell to the dual rear wing Ferrari – 10 of the weirdest F1 cars ever raced
Working closely with the teams and drivers
For every 'normal race', there's another featuring plenty of drama – and the need for Safety Car interventions – just around the corner. Indeed, Maylander has completed hundreds of laps at the head of the F1 field, meaning plenty of world champions have filled his mirrors and pushed him around the track.
Asked about working with the different personalities up and down the grid, he comments: "I have with all the drivers a good relationship. For sure, you always talk to one or the other more than two other ones, but I think that's a completely normal character thing.
"If the drivers have something to talk directly to me, they always can talk to me. We see [each other] many times during a race weekend, then for sure on the Friday evening when we have the drivers' meeting, they always can ask questions about a Safety Car, they're also talking to Niels the Race Director and Niels is coming back to me.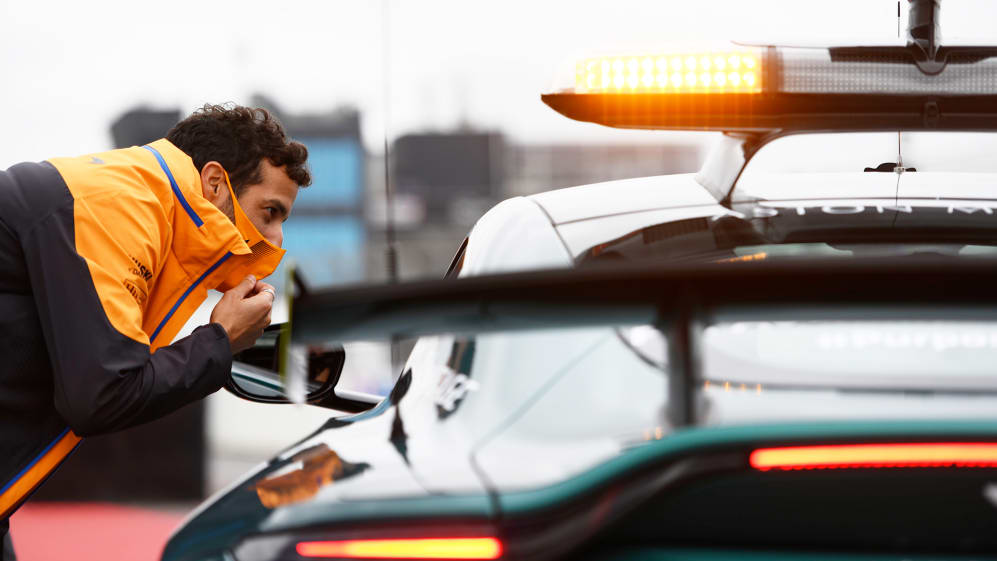 "I have my full information from Race Control and they guided me in a different way than a race driver, and in that moment I have to say 'safety first', and that's the reason why sometimes also we discuss about the Safety Car.
"I would prefer to go always as quick as possible in the Safety Car, I think that's in the DNA of a race driver, but the Safety Car sometimes cannot go at maximum speed because there is something on the track, the track is nearly blocked, or marshals are on the track or whatever.
LISTEN: Who's the most aggressive driver behind the Safety Car? Bernd Maylander reveals all in Beyond The Grid
"I'm a completely open door for everyone if they want to understand some situations. It's working together, explaining the situations, why the Safety Car was slow. There's a communication and I just try to explain the situation, why it was like that."
The races that stand out in Maylander's mind
Maylander's tally of laps led have come from almost 300 appearances between his first in Australia in 2000 and his most recent in Azerbaijan in 2023, but two of the wettest races in F1 history spring to mind as he looks back at the full list.
"Let's say, if you have a race like Fuji in 2007, where you were leading 25 laps, then Montreal in 2011, where we led for almost 30 laps – one of the longest races ever… If you're driving in very difficult conditions and you don't make any mistakes, for sure those are the big moments," he says.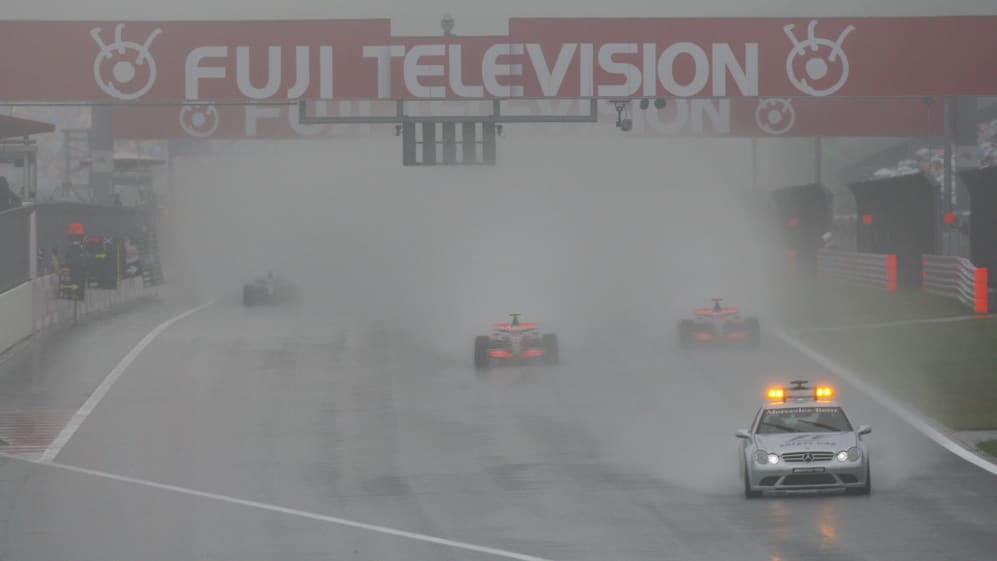 "Or when you have big people next to you who you've picked up and take back to the pits after the race – that's always great. Like with Michael Schumacher in 2001, when he stopped at Hockenheim and he was watching the race from the first chicane. I saw him on my last lap and he jumped in my car, and for sure those are moments you will never forget.
"I don't want to say I've been a part of [these races], but I saw it live, I saw it in the mirror, and I think that's something that you never will forget in your life. Those are the good things, the spectacular things, and for sure you have some races with big accidents.
CANADA 2011: Torrential rain, a Safety Car record and Button's charge – the longest F1 race remembered by those involved
"Not everything is nice and spectacular, great and fantastic, so sometimes you have to also cover moments that are not really nice. It's up to everyone how they can work with that; I think everyone does this in a different way, and I do this in my way."
What the future holds for the Safety Car
As for what's next, Maylander made clear that he is not intending to stop driving the Safety Car anytime soon and, as one of the most experienced members of the F1 paddock, took a moment to highlight some more of the positive developments he has seen during his time in the sport.
"I'm absolutely ready for even more years," he says. "I don't feel like 52 in my brain. I'm still on fire, I'm still nervous on the grid, I'm still full of passion. And in my time, in the last 24 years, it was quite exciting to see the step we have done. Every year, with every deployment, we are still learning – it's never a step backward, it's always a step forward.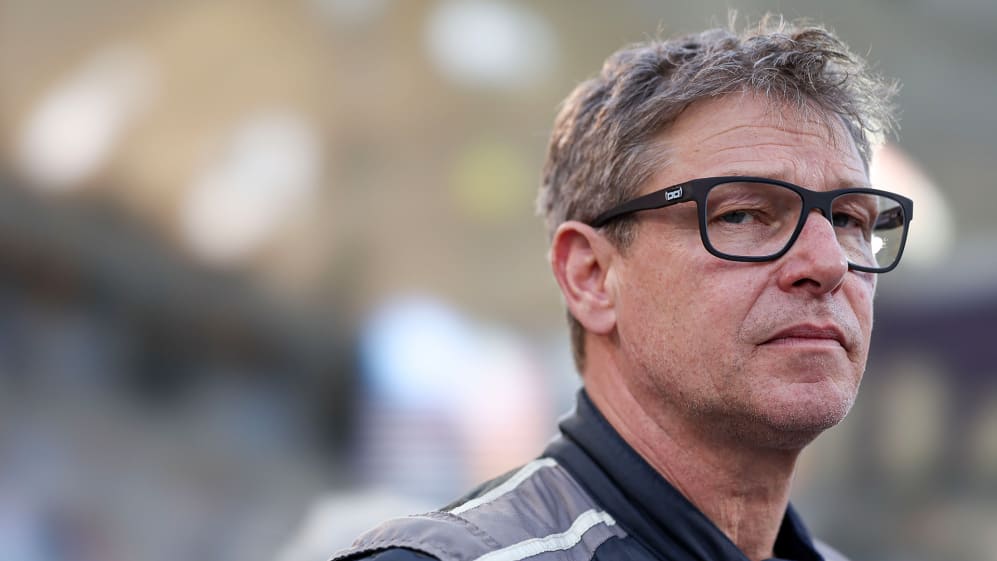 "I think 20 years ago, I never expected to give an interview on 50 years of the FIA F1 Safety Car – that was not my plan. It's growing in a really nice way and it's fantastic to do this. That's what we have done all together, everyone in F1, and the best thing is also the fans outside realise that it's something very special, and without the fans we would not be where are right now.
"What I'm really proud of, what I could absolutely see in the last years, is how we're working together, the FIA, FOM [Formula One Management], Liberty Media, the teams… That was a big, big step, because everything gets more open. We are one big family.
EXCLUSIVE: Inside the making of Drive to Survive, its impact on F1 and what the future holds
"I'm just there for the sport and for safety, and it's always really cool to see that in such a different way. F1 was always great, but what it is at the moment is absolutely fantastic. I'm happy to be there and to see that every weekend."