'I could have won the race' – Stroll left with mixed feelings after podium finish in Sakhir GP
Lance Stroll secured a second career podium and helped Racing Point to a double-podium finish in the Sakhir Grand Prix, but the young Canadian said he – rather than team mate Sergio Perez – "could have won the race" in Bahrain but for a mistake after he stopped for new tyres.
Stroll's race-defining mistake came after his sole pit stop of the race, on Lap 42, when he ran wide at Turn 1 to let Esteban Ocon through, and then locked up heavily at Turn 4 to let team mate Perez past. Ocon ended up finishing second and Perez first, which left Stroll ruing his mistake.
READ MORE: Sergio Perez takes sensational maiden win in Sakhir GP as tyre issues ruin Russell's charge
"Yeah, I mean, amazing race for the team," he said. "A part of me is a little bit disappointed; I think I could have won the race.
"I went a little bit deep on my pit exit after my pit stop and Esteban managed to get by me. Then I just didn't have the pace. I locked up – Sergio went by," he said.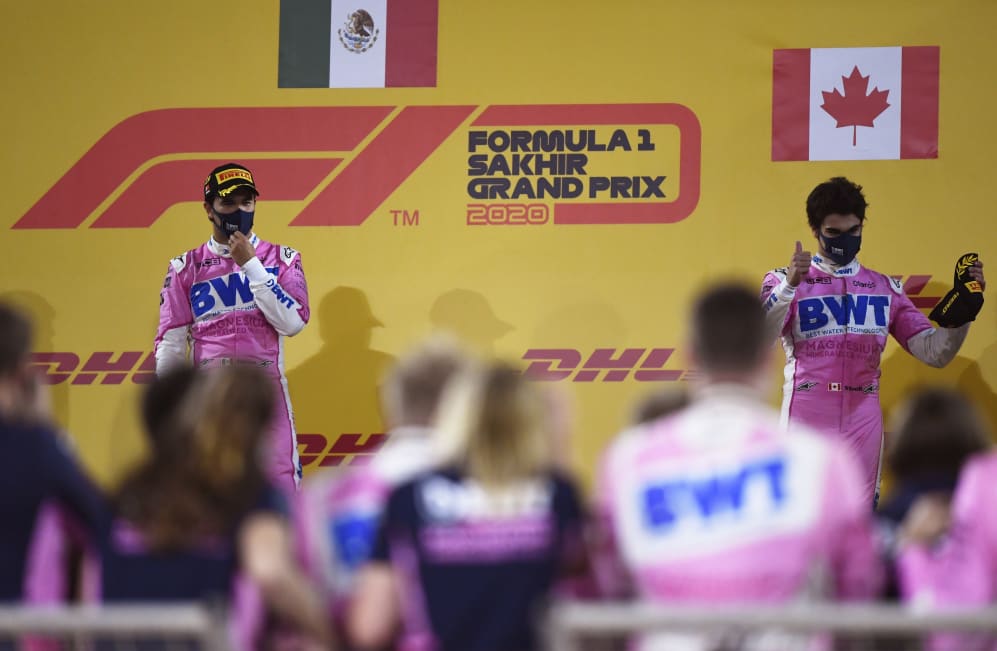 "I didn't have the pace to overtake Esteban, so I got held up there a little bit. All in all, very happy for the team. I mean, it's an unbelievable result and first and third is exactly what we needed this weekend for the championship," he concluded.
READ MORE: 'I hope I'm not dreaming' – Perez rendered speechless after ending 190-race wait for victory
Asked to explain his mistake further, Stroll conceded that it was a 'miscalculation' that led him to let Perez by with that Turn 4 lock-up.
"I think being in the fight with Esteban and Sergio, I was late on the DRS actually out of [Turn] 3, so Sergio got a good run on me and then I was defending and I just miscalculated it, braked a little bit late and locked up," he said.