'I hope I'm not dreaming' – Perez rendered speechless after ending 190-race wait for victory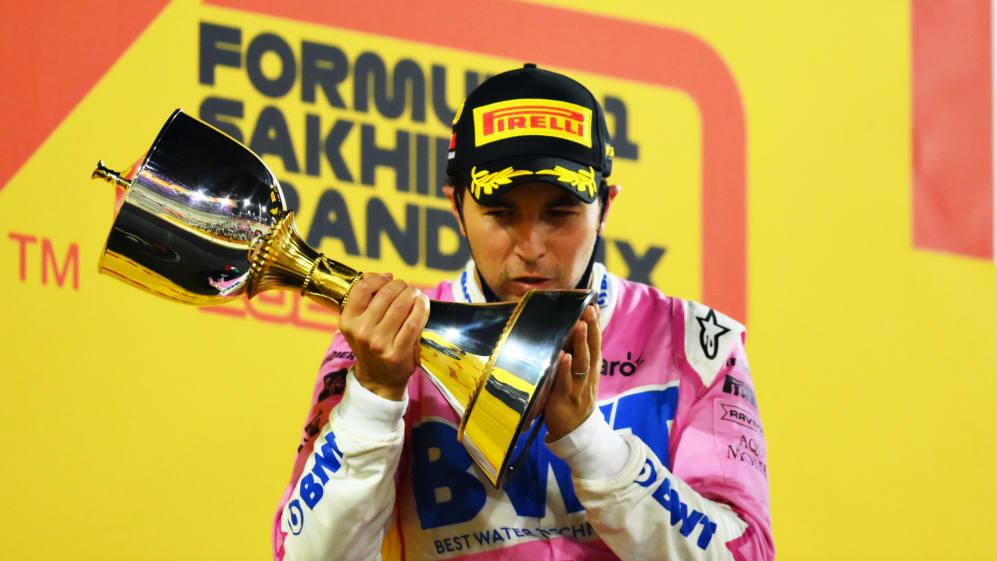 190 races. That's how long Sergio Perez had to wait - the longest wait in F1 history - to finally taste the winner's champagne in Formula 1, the Mexican taking his maiden victory the hard way after a breathless and dramatic Grand Prix in Sakhir.
As he climbed from his car and held his arms aloft in parc ferme, it was hard to believe that the Racing Point driver had been relegated to last on the opening lap after a clash with Charles Leclerc.
READ MORE: Sergio Perez takes sensational maiden win in Sakhir GP as tyre issues ruin Russell's charge
But in a season of incredible highs and lows for the 30-year-old, including contracting Covid-19 and missing two races, as well as losing his seat at Racing Point to Sebastian Vettel for 2021 with no other deal forthcoming, Perez was there to cash in when Mercedes' race unravelled.
"I'm a bit speechless," he said before a tear-filled trip to the podium. "I hope I'm not dreaming, you know, because I dreamed so many years of being in this moment. Ten years, ten years it took me. Incredible. I mean, I don't know what to say, you know."
After qualifying fifth on the grid, Perez – now 10 times a podium finisher, twice in 2020 – challenged for P3 on the opening lap. But having appeared to complete a pass around the outside of Max Verstappen into Turn 4, the Mexican was then tagged by Charles Leclerc as the Ferrari driver attempted to pass the Red Bull up the inside.
As Leclerc and Verstappen retired, Perez was dead last and retreated to the pits for fresh tyres. Then, as racing resumed after the Safety Car, he set about regaining lost ground. And by the time the second Safety Car was called, 62 laps later, he was in position to inherit the lead when Mercedes got it all wrong in the pits, losing long-time leader George Russell and Valtteri Bottas track position.
READ MORE: 'What did he expect?' – Verstappen says 'reckless' Leclerc has to accept blame over first-lap crash in Sakhir
"After the first lap the race was again gone - same as last weekend," said Perez, who'd suffered a late podium-robbing MGU-K failure at the same venue seven days ago.
"But it was all about not giving up, recovering, going for it, just making the best of what you possibly could. This season the luck hasn't been with us, but we finally got it."
Russell had been cruising up to the back of Perez after the Safety Car period, only to suffer a slow puncture which necessitated a further stop and dropped him out of contention. But the Mexican thinks he had the pace to win regardless, describing his car as 'a limousine'.
"I think today we won on merit. Yes the Mercs [sic] had some issues but in the end my pace was strong enough to hold George [Russell] who did a fantastic race today.
"I did a big mistake during the [first] Safety Car, I locked up my front left tyre badly, so during my first stint I had so much vibrations throughout the stint. But as soon as I recovered onto the second stint I told my team this car feels just like a limousine, so easy without the vibrations. We had tremendous pace and I think we read pretty well the race throughout the weekend; we came here thinking it was going to be a two stop but straight after my long run on Friday we knew what we had to do today."
Talk now will turn inevitably to whether this performance is enough to net Perez a drive on the 2021 grid, with Red Bull the only realistic landing spot for Mexico's first race winner since Pedro Rodriguez in 1970 - but still leaning toward Alex Albon. So does Perez think his win gives him a better shot at racing next year?
"It just gives me a bit more peace with myself to be honest," he replied. "What happens is not so much in my hands at the moment, but I know and I want to keep going, so if I'm not in the grid next year I will be back in '22."
And if that does happen, as a race winner - F1's 110th in history - he might find himself in demand...