'I don't think we deserved points' says frustrated Gasly after falling to P13 in Russia
AlphaTauri's Pierre Gasly cut a despondent figure after the Russian Grand Prix having failed to score points, as he rued a missed opportunity when the rain fell, as well as contact with Lance Stroll's Aston Martin late in the race.
Gasly had a challenging start to the weekend, calling his car "harder than usual" to drive despite finishing an impressive third fastest in second practice on Friday, and ended up qualifying 12th to start 11th on the grid (thanks to Valtteri Bottas's grid penalty). The Frenchman made it up to P6 in the race before pitting on Lap 33, and was in P10 before the rain fell in the final six laps – but fell back out of the points thereafter.
READ MORE: Ocon rues one of his 'most difficult Sundays of the year' after point-less finish in Russia
Asked if he was disappointed with 13th on Sunday, Gasly replied: "Yes, for sure. I think overall we did a very good first stint keeping Bottas behind for 30 laps and Carlos [Sainz].
"After that on the second stint we were right behind Bottas before the rain came and they pitted. We decided to stay out, and unfortunately, [Bottas] finished P5 and we finished P13. We lost quite a lot there and we'll revise what we could have done better.
"The pace was strong in Monza, the pace was again strong here, but we didn't capitalise on it so this weekend I don't think we deserved points, because we made too many mistakes and you know, when it's such a difficult sport where you need to get everything to perfection, I think we didn't deserve because we haven't done a job good enough this weekend – simple as that. We'll work and come back stronger in Turkey, added Gasly.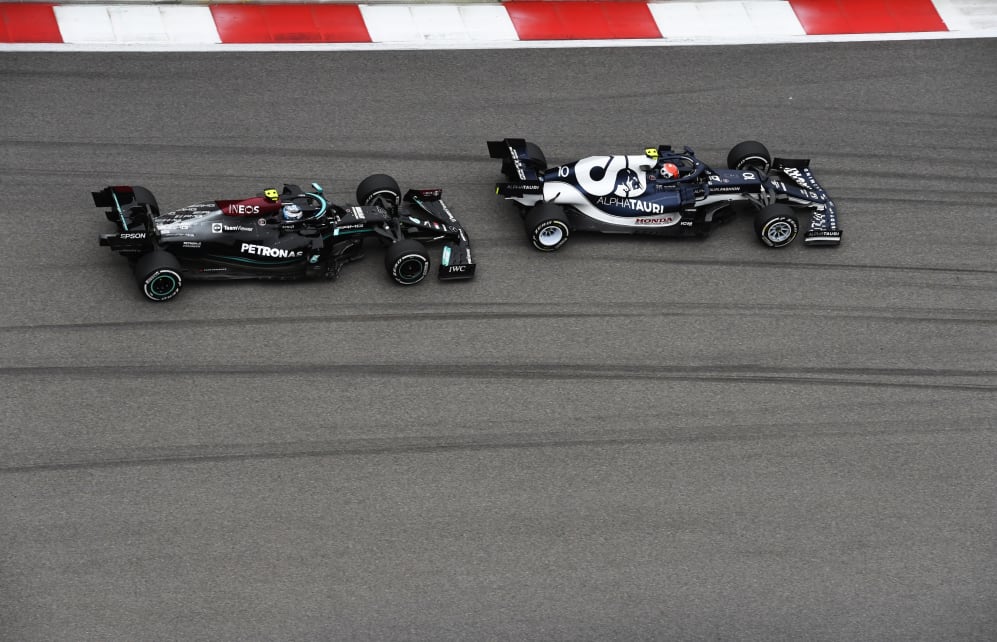 As one of the drivers to pit on Lap 50, Gasly was slightly late to take on intermediate tyres when the rain fell and potentially lost out on points at Sochi. But his race was also hampered by contact with Aston Martin's Stroll in the final few laps, for which the Canadian received a 10-second penalty and two penalty points – while Gasly was tipped into a spin.
READ MORE: Penalty-hit Stroll reflects on 'tricky' end to Russian GP after contact with team mate Vettel and Gasly
"I think he went in the wall and came back and Turn 8, clipped my wheel. I haven't seen the footage but just turned and suddenly just touched me and then I basically spun the car," said Gasly.
After a run of solid points-scores from Hungary to the Netherlands, Gasly has now suffered retirement in Italy and a point-less race in Russia. Turkey is up next – the AlphaTauri driver coincidentally having finished 13th there in 2020.