'I enjoyed every single lap' says Bottas as he predicts more pace to come at Mugello
Valtteri Bottas topped both Friday practice sessions for the inaugural Tuscan Grand Prix, with Mercedes team mate Lewis Hamilton unable to get within two-tenths of the Finn around Mugello. And Bottas said at the end of Friday that he'd been relishing his laps behind the wheel of the Mercedes W11 at the "amazing" Tuscan circuit.
Bottas headed FP1 by a narrow 0.048s from Red Bull's Max Verstappen, with Hamilton only managing fourth, 0.530s behind Bottas, as the majority of the field tackled Mugello in modern F1 machinery for the very first time. But Bottas then took it up a gear to finish FP2 0.207s clear of Hamilton – and the only driver to lap Mugello in under 1m 17s – marking the first time he's topped an FP2 session this year.
FP2: Bottas leads Hamilton and Verstappen, as Norris is first into Mugello barriers
"It was pretty good," said Bottas of his Friday. "The first session, I struggled quite a bit with understeer. Still in the second session in places we got it better, but still I think there's quite a bit of lap time to unlock.
"Always when it's a track that you haven't been driving with a current F1 cars, as a driver you can really find some pretty big gains from one day to another, so I think for sure from the car, and even more so from the drivers, we need to find the performance."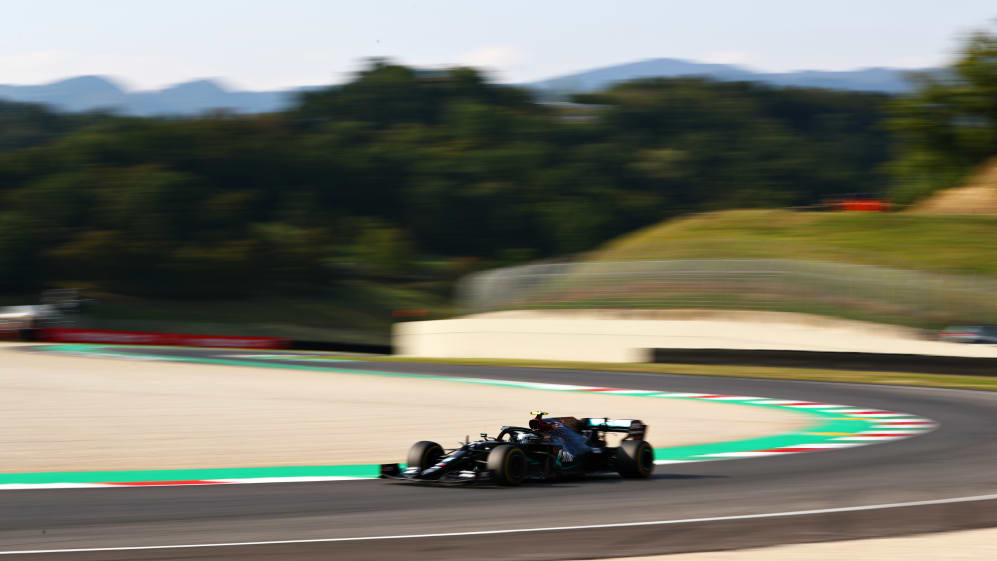 Bottas added that he'd been enjoying the old school nature of the 3.28-mile Mugello circuit – with 2020 marking the first time Formula 1 will have held a Grand Prix at the track – while predicting that Sunday's race could be a supremely physical encounter for the drivers…
"It's a lot of fun," said Bottas. "Really cool, especially once you go out of Turn 1 and the whole section with those high-speed chicanes and the second sector is amazing, so really enjoyed every single lap today.
READ MORE: 'It's better like this' – Norris praises unforgiving nature of Mugello after FP2 crash
"There's a few places where there's definitely not much space to do mistakes and I think that's how it should be. It always brings an extra excitement and if you make a mistake, you deserve to be penalised, so I like these types of circuits.
"It's one of the most physical tracks no doubt," Bottas added. "I still think we will only see it in the race distance once the fatigue starts to build up. But even today you could still feel that it's going to be a tough Sunday for everyone, and I think it's good."